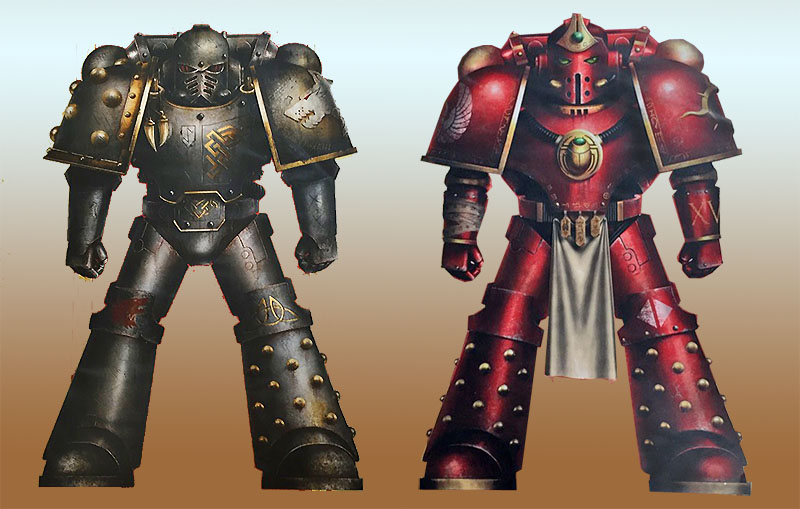 We've enhanced the BOMBSHELL image doing rounds of the long rumored Heresy boxed set and discovered a lot!
First of all, yesterday the internet caught fire with a leaked image confirming the sequal to Betrayal at Calth. Our initial coverage was here.
We've enhanced and color corrected this remarkably crappy image to give us all a better idea of what this game may hold.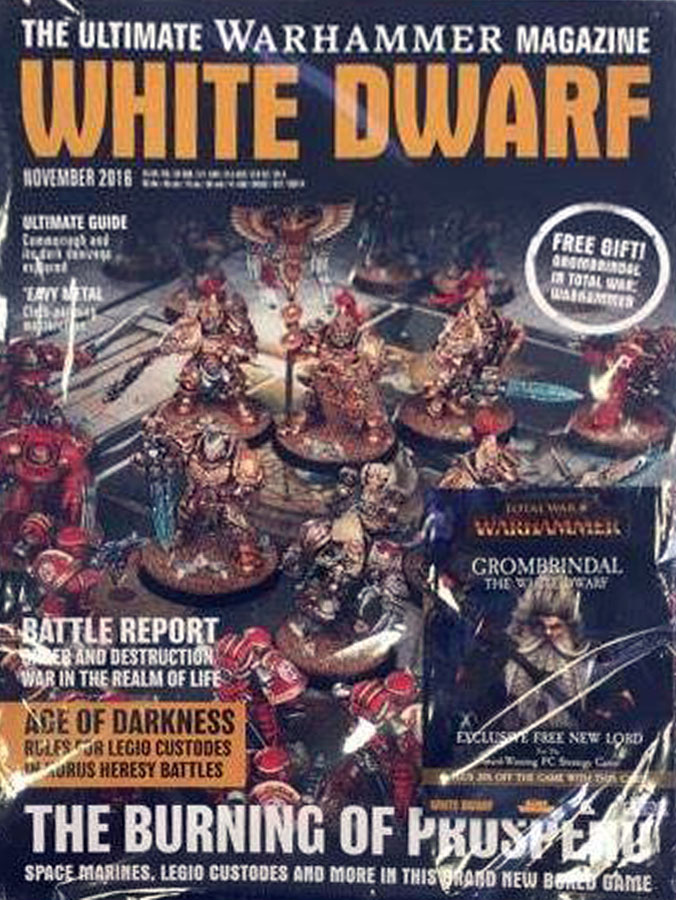 Earlier this year we reported that the Betrayal at Calth Sequal would be based on Prospero and include Space Wolves and Thousand Sons in plastic and feature MkIII armor and include "other factions" that we guessed vould be either Custodes or Sisters of Silence.  It looks like that rumor source was pretty close to the mark.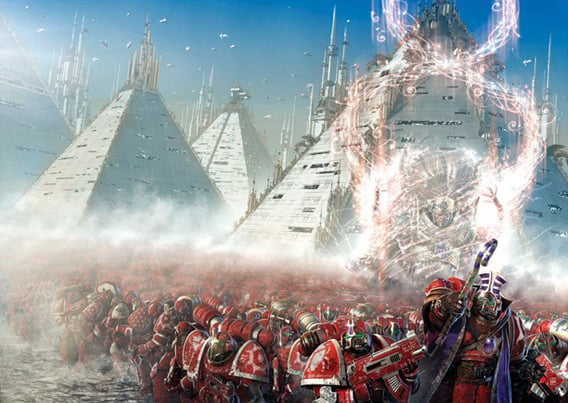 Going over the image in higher detail and brightened up so we can see the darker area reveals a lot:
It's title is The Burning of Prospero, so we have a confirmed theme.
That picture confirms Thousand Sons (in red), Space Wolves (in grey) and Custodes (in gold).
The Thousand Sons in the foreground are clearly in Mk.II, or Mk.III armor. Note the banded armor on their legs, and the older style backpacks. they bear no resemblance to the elegant and more advanced Mk.IV Maximus armor featured in Betrayal at Calth.
It's difficult to make out but there are more grey colored minis in the dark upper portion of the image, directly above the Custodes. They might be Space Wolves – maybe Sisters of Silence???
HOLY MOLY – Adeptus Custodes! There are five shown in that image:
Custodes Standard Bearer (top center)
Custodes "Leader" with helmet off (a GW classic), and sword pointed down. (lower left)
Custodes with staff-thing (upper left)
Custodes with sword/Shield (upper right)
Custodes with custodian spear (lower right)
What looks a LOT like Tartaros Pattern Terminator armor on the extreme left of the image, directly to the left of the Custodes "leader", in red Thousand Sons colors.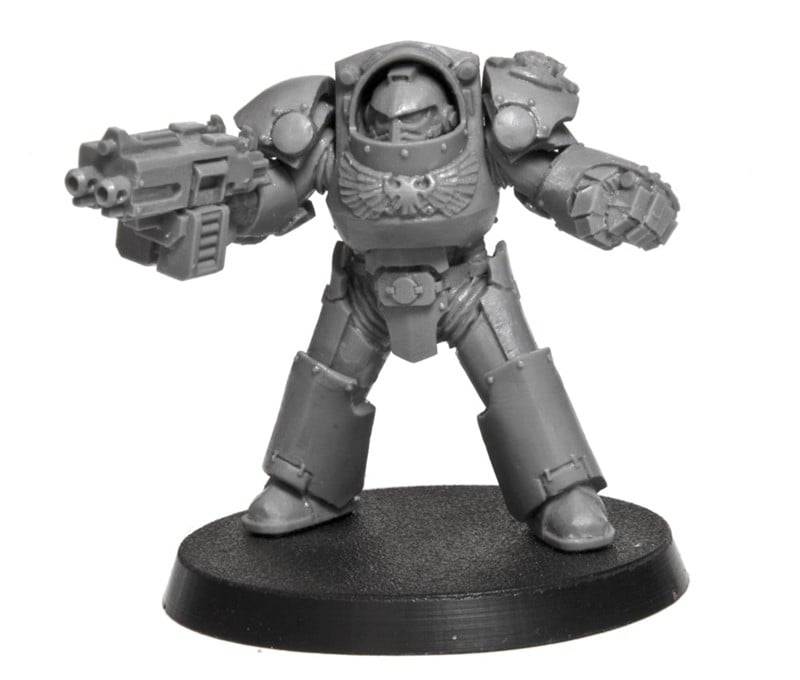 Forge World Tartaros Terminator. Compare with what's in the image – what do yo think?
Directly above the Tartaros is another Thousand Sons holding an outheld sword. It might be another Tartaros Terminator or a standard marine – hard to say.
Dead center in the pick is what looks to be Space Wolves hero many speculate may be Bjorn himself. He's got a mob of crazy blond hair and a beard, a large lightning claw and something unidentifiable in his rearward hand.
Onto the board itself, we see large squarish black and white sections. These bear no resemblance to the oversized hexes seen in Betrayal at Calth's board pieces, so I would assume the rules will not be identical.

What this Means
What we saw over the last year was Betrayal at Calth being used to launch a line of Horus Heresy boxed sets in plastic.  That single boxed set gave us:
Heresy Officers
Cataphractii Terminators
Maximus Armor Marines
Contemptor Dread
This set would in theory give us:
MkII/III Armor Marines
Tartaros Terminators
Adeptus Custodes
Bjorn/ Space Wolf Hero
Thousand Sons Librarian (seen earlier)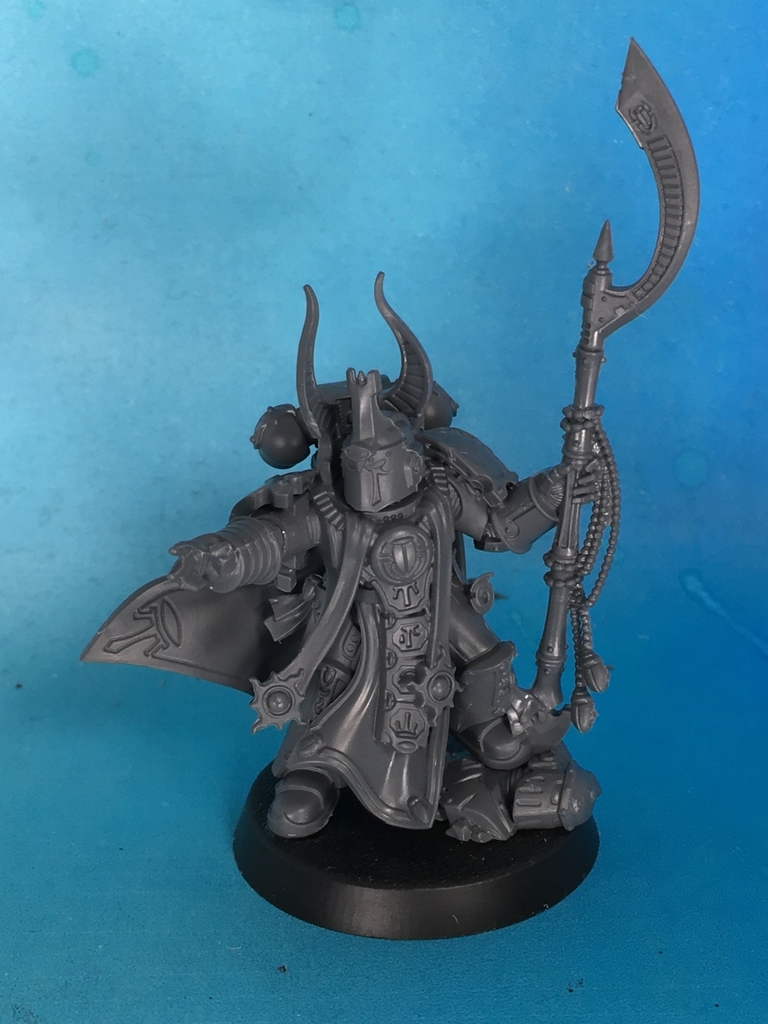 I think it's a safe bet this mini is from this boxed set.
Put that together and you have the makings of a decent core line of plastic Horus Heresy products.  What seems obviously missing after this set would be assault/heavy weapons infantry, and Rhino/Predators.  It would be very easy to knock those out and you have a pretty well rounded Horus Heresy line in plastic with Forge World around to sell you all the Legion specific bits and fancy stuff.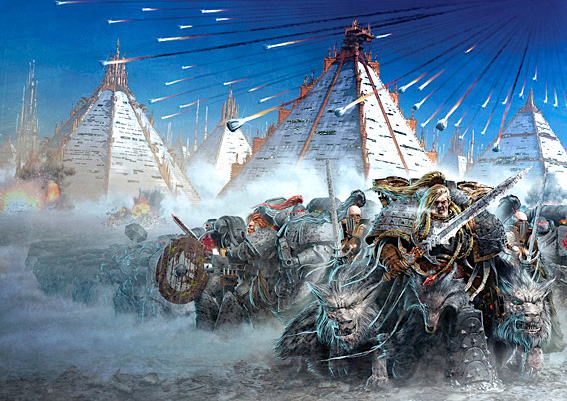 ~How excited are you for this?