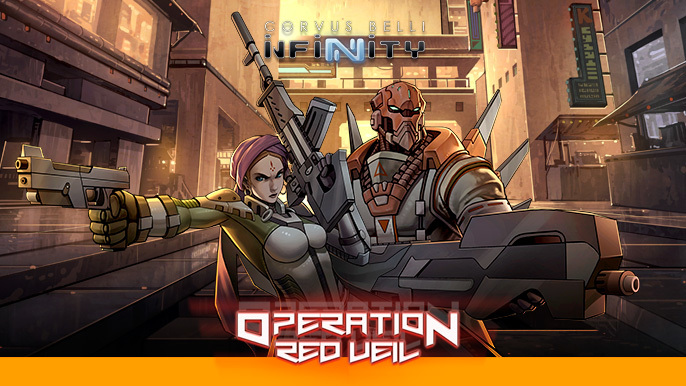 Come see what's inside the new Infinity "Starter" box from Corvus Belli – It's Operation Red Veil!
We got our hands on a copy of Red Veil at GenCon 2016 and I'm excited to get to finally show-off the contents of this new two-player starter for Infinity!
Hopefully this new set didn't come as a surprise to anyone. We covered the announcement all the way back in July. But if you didn't know this set pits Yu Jing vs Haqqislam in this new box. This box features two new re-sculpted starting forces for each faction and two new exclusive miniatures for each faction – only available in this set.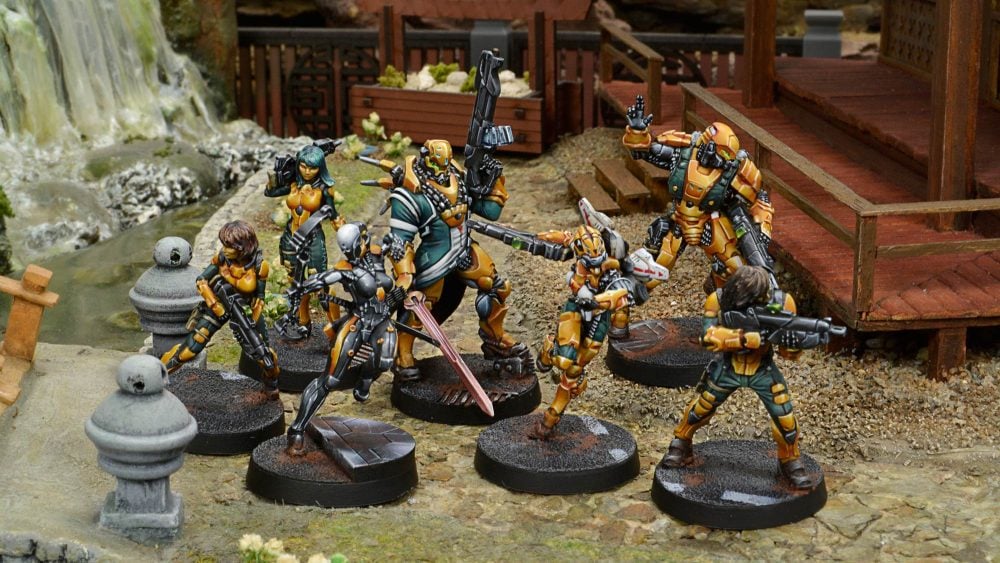 Yu Jing – Red Veil Forces
Aside from the awesome miniatures for Infinity this set has everything you need to start playing right out of the box. Just like we saw with previous releases for Operation Ice Storm and the USAriadna Box as well.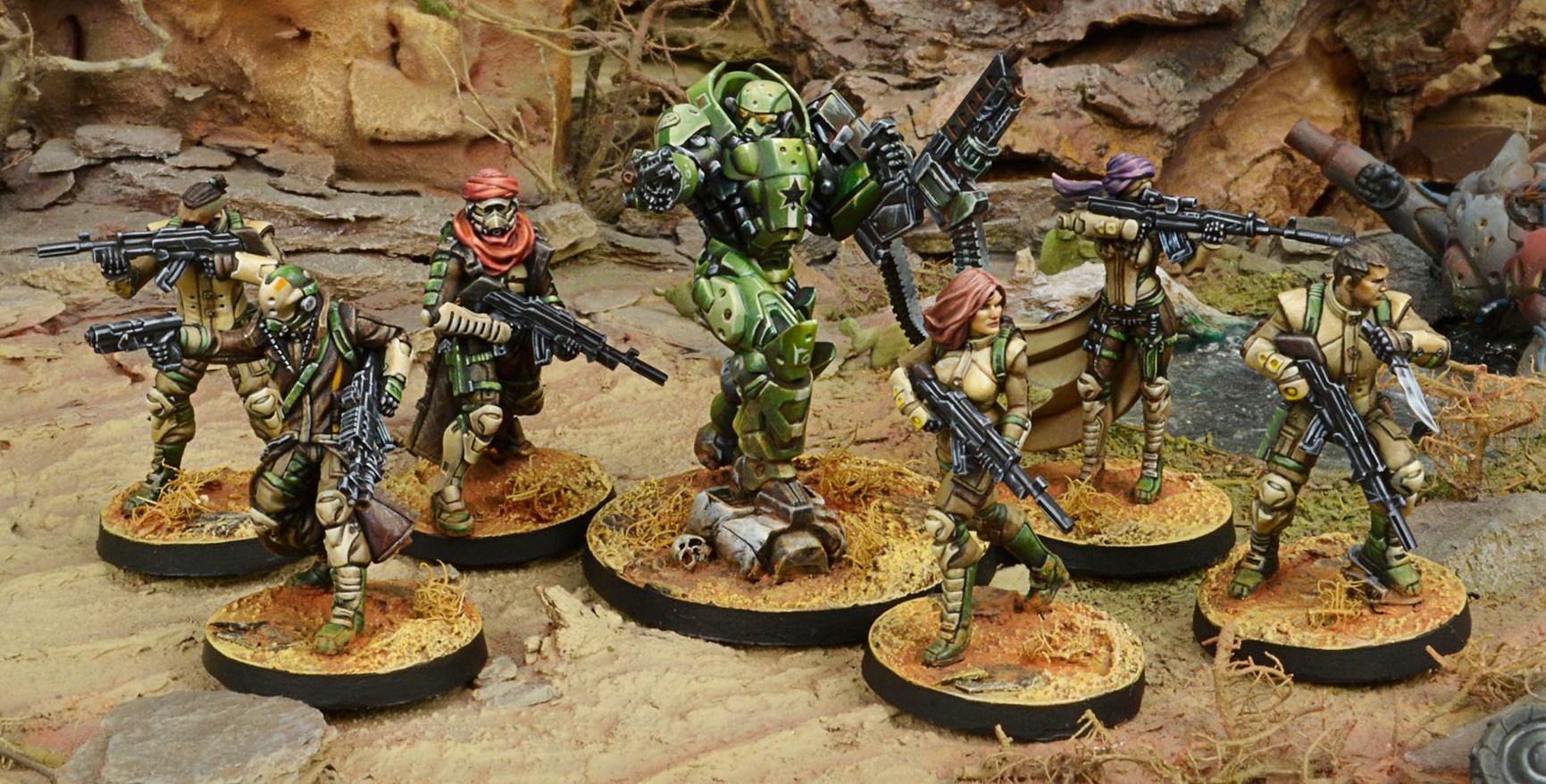 Haqqislam – Red Veil Forces
While it might not seem like much the gaming mat as well as the buildings all fit together thematically to really enhance the game. There is just something about playing on terrain that is as flashy as the setting that really makes the game come alive – even if they are card stock punch-outs. I wouldn't be dismissive of the terrain either because it's actually quite sturdy and will hold up your models right out of the box. However, if you're in a gaming group I would recommend using some type of adhesive to assemble them. Groups tend to put a lot more wear-and-tear on terrain than individual gamers.
Overall, this new starter set is a fantastic offering. You get some great new models, rules to play, dice, a mat, terrain, tokens, templates…Pretty much everything you need to start playing Infinity. Corvus Belli now has 3 different starter sets covering 5 different factions so far. I wonder what' next years boxed set will be…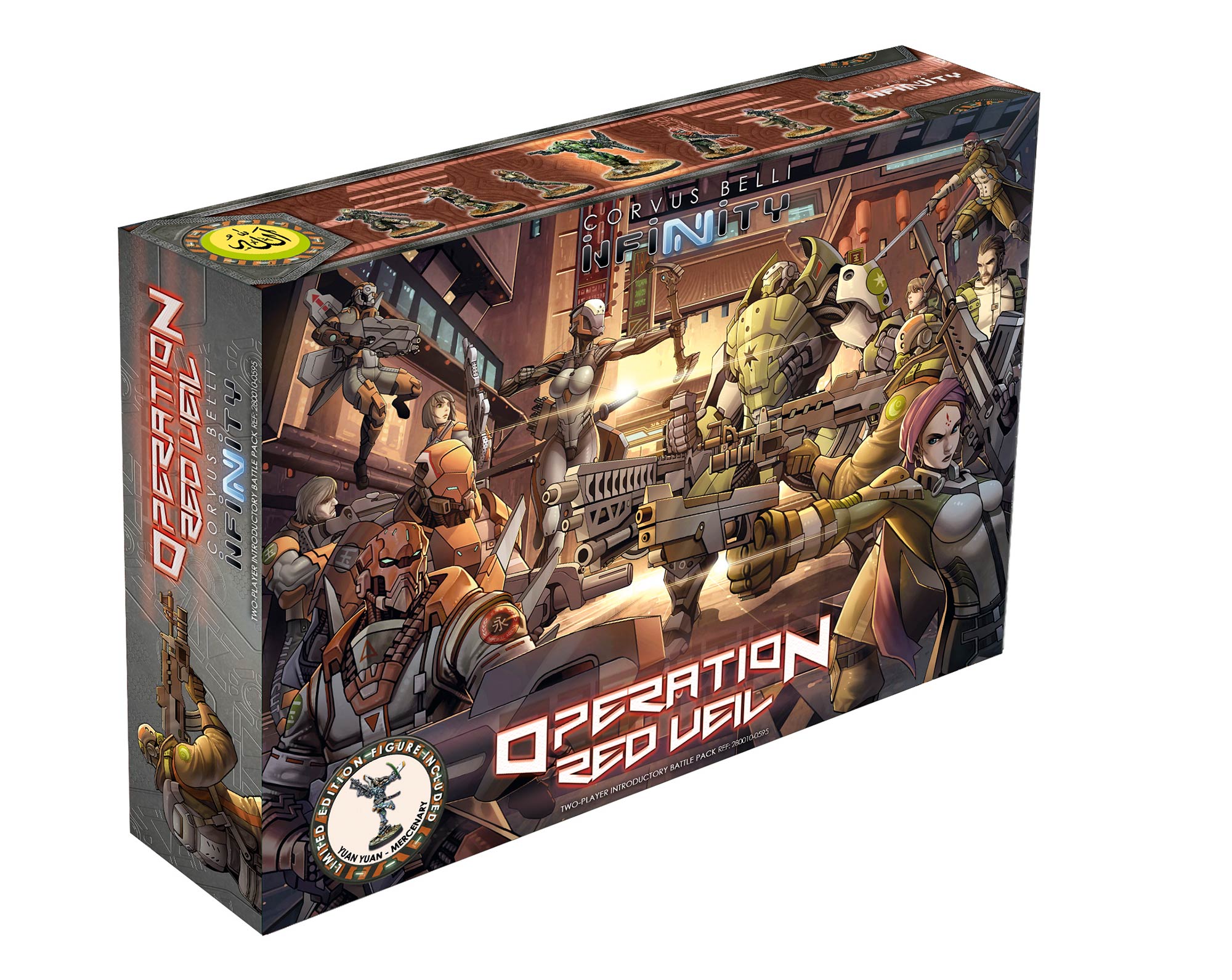 Infinity's Operation: Red Veil is a totally new product in the Infinity catalogue available this August. A box containing 14 miniatures belonging to two different armies, an introductory rulebook, scenery, dice… Operation: Red Veil has everything you need to start collecting Infinity or complete your collection!

In addition, Operation: Red Veil introduces the 3rd Edition of Infinity with a full-color 80 page rulebook (English/Spanish) containing five tutorial missions that make the Infinity core mechanics easy to understand.

In this book you will also find the background and troop profiles of each troop in the Battle Pack, one of which are totally new! There is also a brief guide to the Infinity universe, advice on how to delve deeper into it and a painting tutorial for each faction of this pack.

Operation: Red Veil contains two totally new and re-sculpted Starter Packs of two different factions: Yu Jing and Haqqislam. It also includes two exclusive miniatures, one per faction, only available in this Battle Pack. However, and only available during the pre-order, you also can get with this pack the totally new Yuan Yuan with Boarding Shotgun, the pre-order exclusive model!

To complete the game experience, the Battle Pack includes ready-to-play cardboard scenery (four buildings and six containers), a Game Mat, six twenty-sided dice (three with a Yu Jing design and three with a Haqqislamite design), as well as cardboard markers, templates and a ruler – everything you need to start playing!
Don't forget about the Yuan Yuan Merc, either!