X-Wing: Revisiting the ARC-170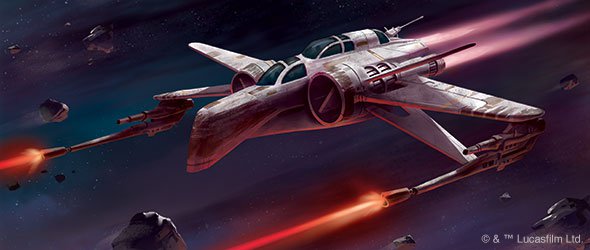 The Rebel Brawler is one hard-hitting ship. How hard can it hit? Let's find out!
Hey BoLS Readers and X-Wing Aces. I was looking at the new cards coming up in the Heroes of the Resistance and something about those cards just stuck in my head. Particularly Finn. Something about his ability was just screaming at me to find a way to include it.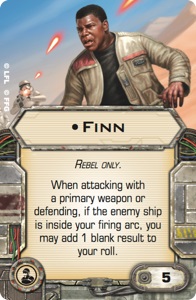 That ability to add a Blank result really stuck out. It's got some limited uses but I kept going back to it because I knew there had to be a way to really push the damage output with him on a ship to absurd levels. Then I started going back through some of the previous ships I've talked about and for some reason I kept going back to the ARC-170 and Norra Wexley.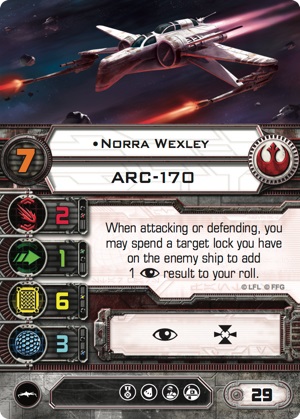 For those of you that may not remember you can really load this lady up and generate an astonishing 6 dice with a primary attack. But for those of you who don't remember here's a little refresher on how:
Norra Wexley
Alliance Overhaul
Expose
Experimental Interface
R7-T1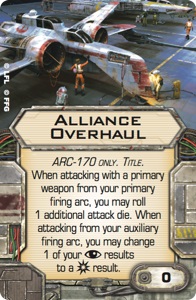 2 base shots + 1 (range) + 1 (expose)  + 1 focus result (pilot ability) + 1 (Alliance Overhaul) = 6 dice!
You want to have the Experimental Interface there just so you can Focus and Expose on the turn you want to unload. I also included an R7-T1 in the build just for the added TL+Boost if you weren't sure about using Expose…but either way it was all very situational. But theoretically it's still 6 dice with a primary which is no joke. I also mentioned if you ran her with Jan Ors in the HWK-290 that's another die as well pushing it up to 7 dice!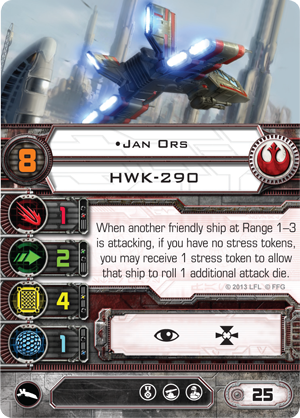 That's pretty nuts no matter how you slice it. But back to the matter at hand – How do I include Finn in her build in a way that takes advantage of his ability? Well, for it to really work you need to have a re-roll by some means. That could be via Predator, which is a solid choice, but the problem is that Finn is an extra blank – so while 1 re-roll is good a way to re-roll all those blanks would be better.
Subscribe to our newsletter!
Get Tabletop, RPG & Pop Culture news delivered directly to your inbox.
"Well Target Lock, Duh!" I hear you say from across the internet. Double check her ability – You have to spend a Target Lock to get the 1 extra Focus result. AND you need to have a way to have a Focus on the turn you want to unload. Ahh, not so easy is it? So I went back to the drawing board. I knew I remember a ship that allowed you to use it's Target Locks as your own who was that again? Oh ya – Shara Bey!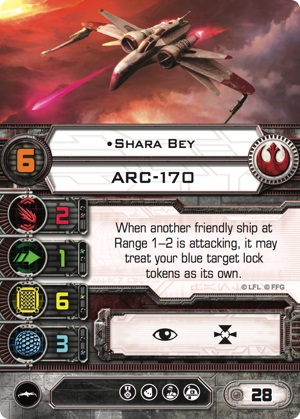 So this list is starting to shape up. That's now 3 ships and all the right pieces but now we have to figure out how to round out this jigsaw puzzle. But we need to keep the goal in mind with the rest of our choices:
This is JUST to achieve the maximum of an 8 die primary attack.
With that in mind this rest of this list isn't optimized and I don't think it's going to be anything more than a 1-shot list. But if you can pull this off I think the look on your opponents face will be worth it!
The good news is that we pretty much have Norra Wexley's build laid out:
Norra Wexley
Alliance Overhaul
Expose
Experimental Interface
R7-T1
Finn
Plus we know we need to include Shara Bey and Jan Ors in the list. Here's what I'm throwing together so far in version 1:
Norra Wexley – ARC 170 – 44 points
Alliance Overhaul
Expose
Experimental Interface
R7-T1
Finn
Shara Bey – ARC 170 – 29 points
R2 Astromech
Adaptability
Alliance Overhaul
Jan Ors – HWK-290 – 27 points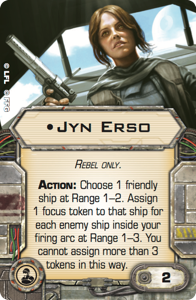 Okay – so what's up with the other two ships? Well, again, they are they just to support Norra Wexley in getting that EPIC 8 die primary attack. Shara Bey's pilot ability let's Norra Wexley tap into her Target Locks for the re-roll for Finn's Blank (and any others she may have). Jan Ors is giving her an extra attack dice for the primary AND Jyn Erso is riding with her so you can pump her up full of focus as well.
Now, you have to do with Norra is get close enough and use R7-T1 to get a TL and get a free Boost, which triggers Experimental Interface so you can pop Expose. With the other two ships you're now getting a free Target Lock (you did Target Lock with Shara Bey this turn, right…) and Focus from the Jan/Jyn HWK-290. Congratulations! We did it and you just got to roll 6 dice and add a Focus and a Blank – take all your Blanks and borrow a TL from Shara and re-roll those bad boys. As long as you get a Hit, Crit or Focus we're in business!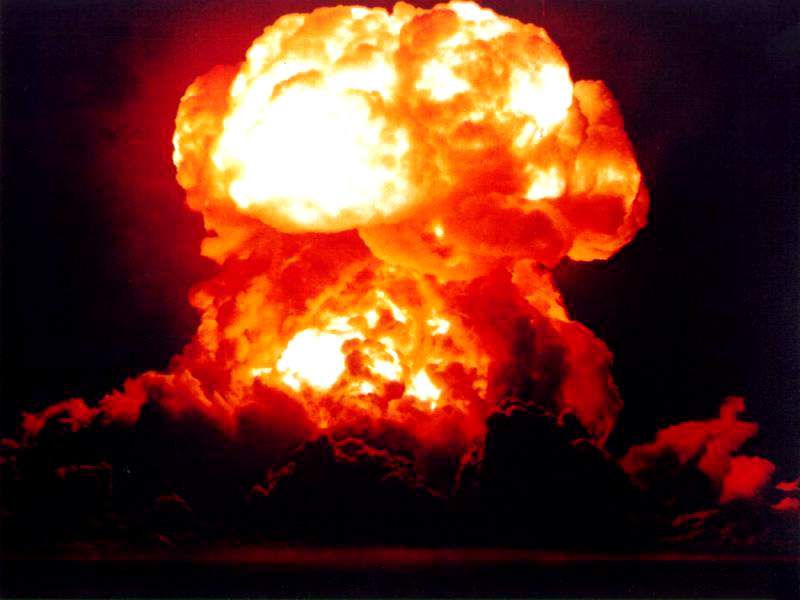 Okay – that was pretty awesome, right? But one of the things I included was Adaptability. Why? Because it was a free upgrade AND it also allows all 3 ships to move and fire at the same initiative step. That means the owning player gets to decided when they move and in what order – that makes it a lot easier to fly close together! Sneaky, right?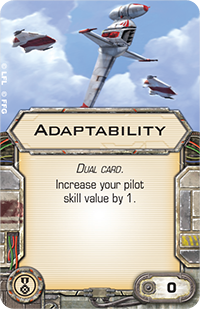 The other side lets you DECREASE your Pilot Skill by 1.
Now, that was a fun Math-Wing experiment…Getting a Mythical 8 die primary attack off would be pretty awesome to me. I might try that one game, but let's be real – the list itself is kinda "meh" so here is one I like as a better all-around list. It can't get an 8 die shot off, but what it lacks in a 1-shot, it makes up for with versatility…and it's the same 3 ships!
Norra Wexley – ARC 170 – 37 points
Alliance Overhaul
Adaptability
R7-T1
Finn
Shara Bey – ARC 170 – 32 points
R6-K6
Veteran Instincts
Alliance Overhaul
Nien Nunb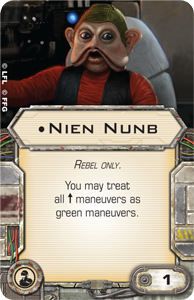 Jan Ors – HWK-290 – 27 points
Cool Hand
Jyn Erso
Dorsal Turret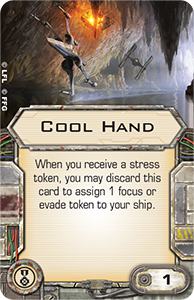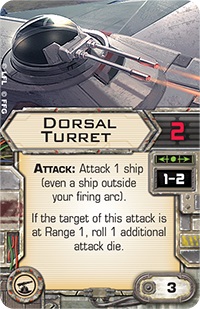 Norra Wexley is still your big hitter. That hasn't changed only now she's topping out at 6 dice, 7 with Jan Ors helping. But what you trade off for that 1 extra die is worth it IMHO. Shara Bey now has a chance to get back a her Target Lock that Norra is spending. I thought about going with Weapons Engineer instead of Nein Nunb, but I think she's still going to be playing clean-up duty on whatever ship Norra just blasted.
Nein Nunb helps her clear stress. Don't forget ARC-170's can shoot from behind as well – that means that 4 Red just because a Green maneuver so you can blast by a ship and still get some shots off. Hopefully it will be so damaged Shara Bey can just look in it's general direction to take it out of the fight. But if she can't then hopefully Jan Ors can seal the deal with that Dorsal Turret.
I think the Dorsal Turret helps the HWK-290 out in a major way. Taking it's almost shameful 1 die primary and turning into a potential 3 die attack is worth the points. Cool Hand is there so you can not worry about stress for at least 1 turn. Plus Jyn is tossing out Focus like beads during Mardi Gras.
Oh – and one last thing. All of these ships should be PS 8 due to VI and Adaptability when you start the game. Which means you should be able to manuver them how you want and hopefully get those first pivotal shot off at the same time. These 3 ladies synergize together pretty well and they have the potential to drop most big ships in one turn between the 3 of them.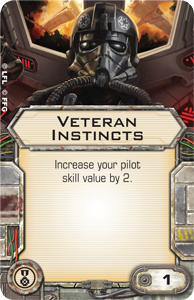 Will a list like this win the next big tourney? That's the great thing about X-Wing's Meta – I never can tell! But I do think that this load out will kill the Emperor in Palp+Aces and I certainly think it's going to put a damper on a U-Boats list's day. This list certainly has some weaknesses – it's not particularly fast or maneuverable.Two ARC-170's is tough to deal with, but not impossible and the HWK-290 is definately a support ship that can easily be murdered if you mess-up. But it shouldn't have a problem killing things! And really that's all I want in my lists: Dumb, Tough, Flies – 'Nuff Said!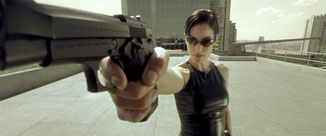 And PLEASE check my math on this one – but I still think it's 8 dice from a Primary attack. Dodge That!
What do you think? Are you up to the challenge of trying to pull off an 8 Dice Primary Attack?! Let us know in the comments below, you crazy Aces, you!