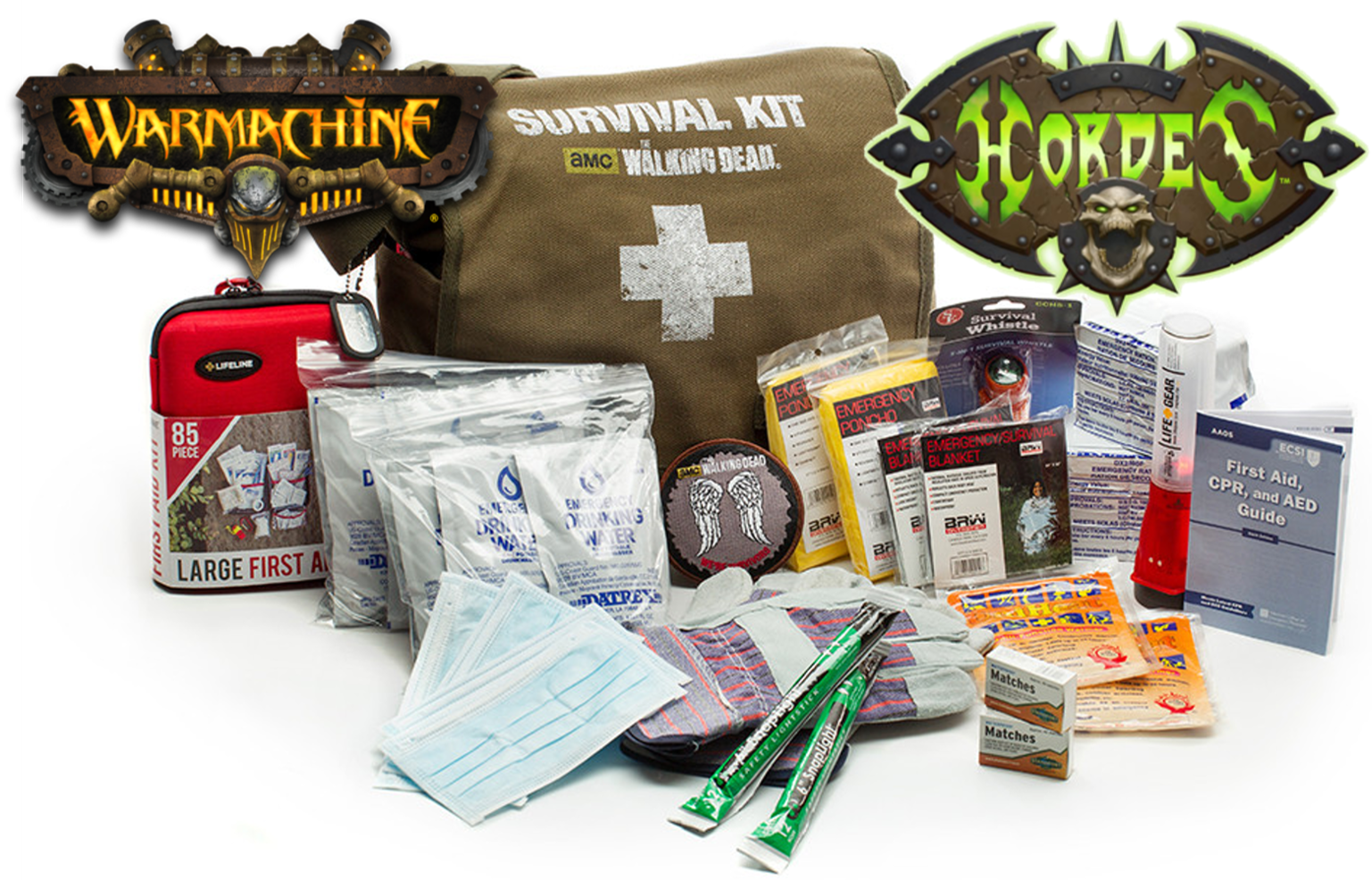 Ranking the top three Warcaster and Warlock Defensive Stats plus Abilities combos in Warmachine and Hordes.
Chalkboard here from Chalkboard War, continuing my series of articles on Warmachine and Hordes that examines the "Best of the Best" attributes across all models and factions. We'll examine the top Feats, Spells, Abilities, Weapons, Stat Lines, Damage Grids, and anything else that appears on model entries in the game. All to give you a sense for which models are among the best on those categories.
This Week, Defensive Stats and Abilities. We're talking about who has the best defensive tech. One part is the raw stats: DEF and ARM matter in the equation. You can use the old rule of add the two together, and compare to 30. Doesn't always work, but it's a good initial clue on who's feeble and who can take some hits. But of course, it's more than just those stats. It's about the ability package: the spells, Feat, and special rules that can make the model a true tank.
So let's get right to it! The following are my list of the top three Defensive Stats and Abilities Warcasters/Warlocks in Warmachine and Hordes. At the end is a bonus "Dishonorable Mention" for the worst defense Warcaster or Warlock out there.
Number Three: Madrak Ironhide, World Ender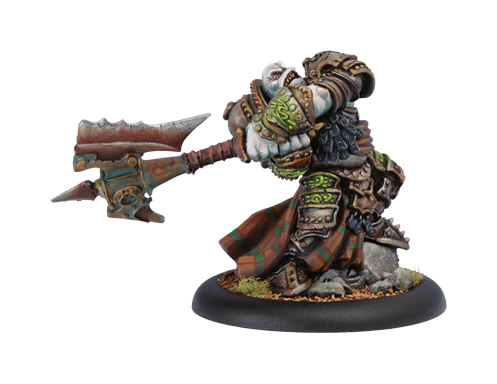 DEF 14 ARM 17 and Tough is a fair start, but nothing special in any way. Madrak2 also has the edge of using Fury, which means transfers to Warbeasts. He doesn't need to use a lot of his stack either, usually camping two or three. And he's in a faction with easy access to +2 ARM and immunity to Continuous Effects.
But all that pales next to his signature ability: Grim Salvation. When he's hit by a basic attack by an enemy model, a different friendly warrior model is hit instead. And while other Warcasters and Warlocks have Sacrificial Pawn or Call to Sacrifice, this one is the best of the set. While Call to Sacrifice triggers when disabled, this one happens on hit. That means it can move dangerous effects that might strip Fury or leave him with critical debuffs. Given the sturdy Trollblood models to surround him with, that means that Madrak2 can be a sheer beast to stop.
Number Two: Anson Durst, Rock of the Faith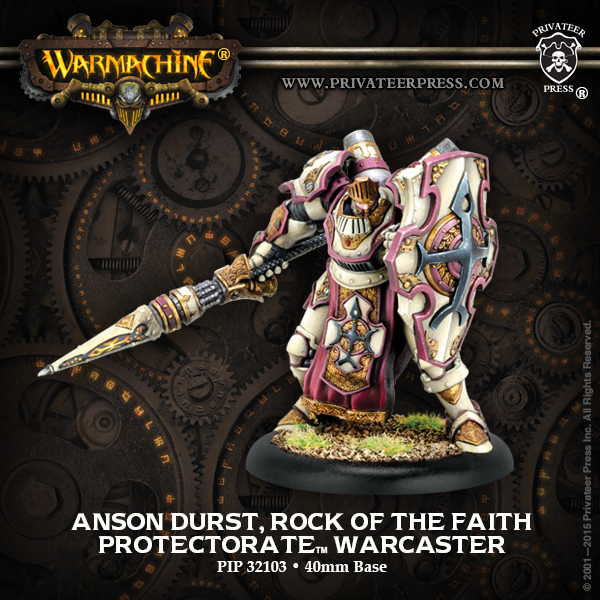 Anson Durst is a brick, pure and simple. DEF 13 and ARM 18 are again a good start, as high ARM helps the -5 damage for spending a Focus all the better. On the ability side, he cannot be slammed or pushed, and he has Retaliatory Strike to occasionally stop the multiple attack foe or cripple a system. Durst can adjust to opponents with his choice of spells as well, gaining +2 ARM against ranged attacks or +2 Defense and no knockdown if he's touching another battlegroup model. And to add to it all, he can create LOS-blocking clouds when he kills models.
On Feat turn is where he kicks it into overdrive. Similar to Stryker1, Lucant, or Helynna, his feat adds a healthy boost to ARM. It also gives him the ability to pass hits to that Warjack that he's base-to-base with (perhaps a Vigilant for even more defensive tech). His ability to adjust to situations and bring the defensive abilities that benefit him over multiple rounds gives Durst the edge over those other ARM boost casters. All this tech makes him surprisingly durable.
Number One: Borka Kegslayer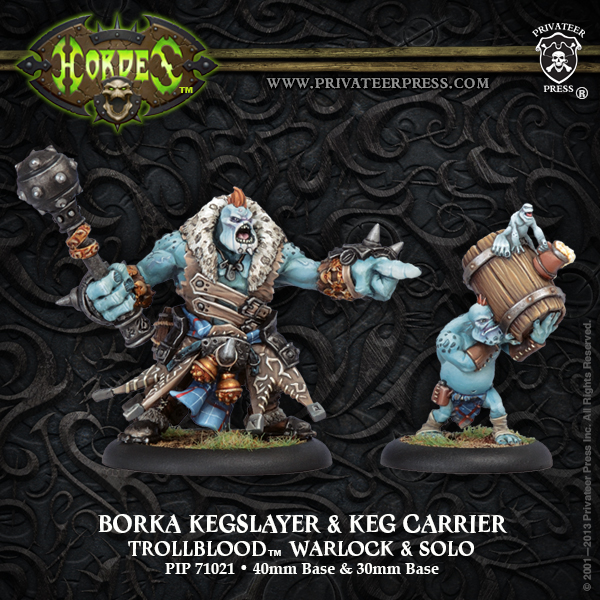 Borka1 starts in the same place as Madrak2: DEF 14, ARM 17, Tough, and easy access to +2 ARM and no continuous effects. And while Madrak survives based on his surrounding warrior models, Borka1 survives on sheer abilities alone. With Unyielding, he's +2 ARM in melee. He's also immune to cold, which doesn't hurt.
Spells are where he takes it up another notch. Arcane Ward can be cast on himself, and that's often a good choice. It adds +2 Defense and means he cannot be targeted by spells. Borka1 also can cast Wind Wall, which makes non-magical ranged attacks automatically miss him.
The Keg Carrier completes the package. It gives Borka1 Stumbling Drunk, which means that Borka cannot be knocked down and moves at random each time he is hit. Opponents have to be really careful with model placement or really lucky to keep him from wandering away from many melee assassination vectors. And even then, it's no-knockdown Tough that cannot be dispelled. There are ways to stop some of these effects (killing the Keg Carrier, dispelling his protections without direct targeting, etc.), but bringing it all together takes a whole lot of work.
Dishonorable Mention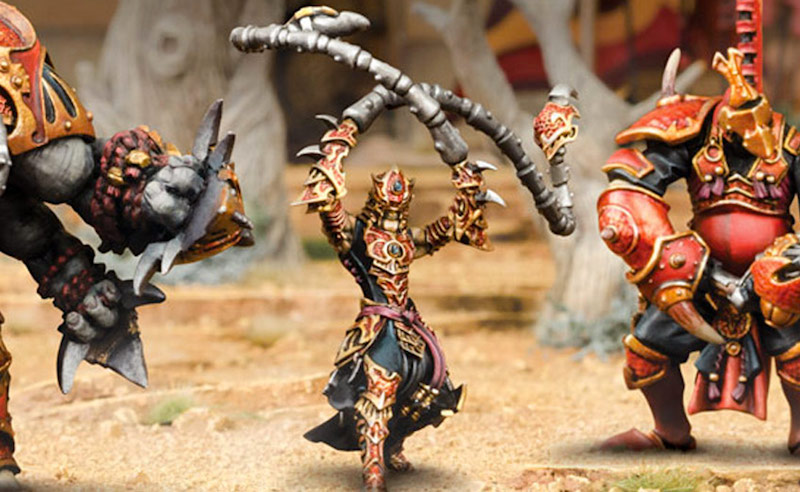 As if it would be anyone else. Yes, I skipped a few of the "old men" stat models here. Your Severius and Nemo and Doomshaper all have some pretty pathetic overall stat lines. All three have the one thing that Xekaar here is missing. They can actually stand somewhat far back. And distance from opponents is a fair thing to consider in defensive stats. Harbinger may have weak stats overall, but she gets to stand a mile away as long as it isn't a Killbox scenario.
DEF 15, ARM 14. Not a promising start. Lack of defensive abilities otherwise? Check. A meager number of hit boxes? Check. Spells and Feat that make him have to stand way close to the opponent? Check. Witchmark on his so-so melee weapons to tempt even more close play to foes? Check. Xekaar is just the definition of fragile, but has to take his fragile self right into harm's way.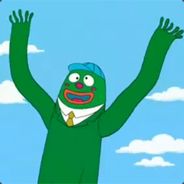 At least you don't need defensive tech to get people to stop at a place selling cars, washing machines, or mattresses!
~ Does this ranking fit your thoughts? Did we miss a critical attribute? Was a great model overlooked, or a powerful interaction missed? Is Number One really that good? Do you think the "Dishonorable Mention" is not so dishonorable after all? Let us know in the comments below!
To watch the worst of the worst hit the tabletop, check out Chalkboard's Warmachine and Hordes blog at: