Privateer Press: Reeling In The Big Ones With Black Anchor Heavy Industries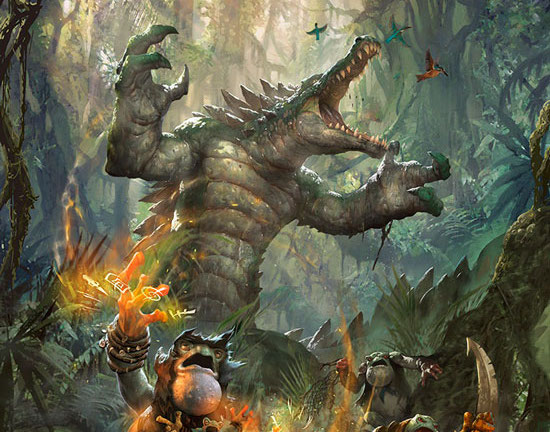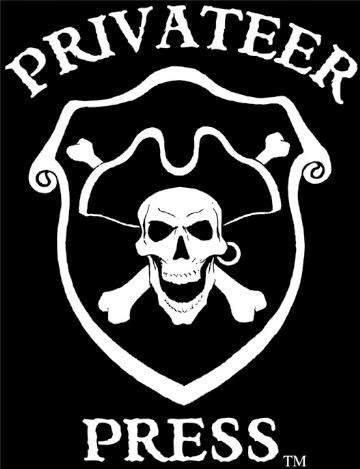 Privateer Press announces a new line of large-scale, direct-order-only models that'll help bring those truly behemoth models straight to your tabletop.
Just announced from Privateer Press: Black Anchor Heavy Industries is the new production label for Privateer Press' biggest models. Named after an in-game manufacturing consortium based out of Clockers Cove that specializes in creating massive machinery, vehicles, armaments and more–including the Galleon colossal, Black Anchor Heavy Industries will be responsible for producing the massive models that Privateer Press loves to create. They'll help bring beastly behemoths back, and ensure that your games always have a centerpiece. Check it out:
It's no secret that we like to make big models. WARMACHINE and HORDES are games about massive robots and humongous monsters, and we're constantly trying to push the envelope on size and scale with models like our battle engines, colossals, gargantuans, and even some upcoming structures. We like to call these "centerpiece" models because of the presence they have on the tabletop and within your army. But our vision for these centerpiece models doesn't always conform to traditional practical means of manufacturing and distribution. And so, we have created Black Anchor Heavy Industries (BAHI) as a new label to identify models offered exclusively through the Privateer Press Online Store and at select convention events where we have a retail presence.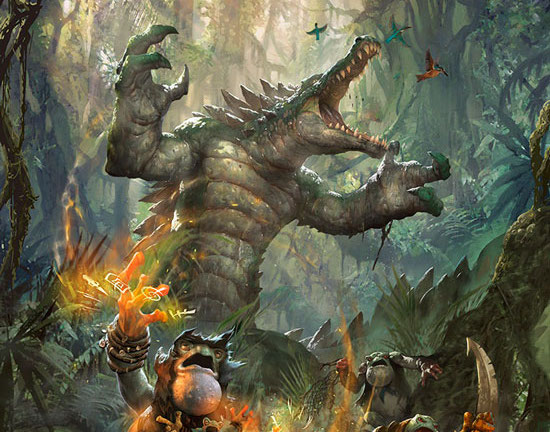 Most BAHI models will be large resin pieces. By offering them exclusively through our online store, we will be able to control costs and production numbers to keep them economical to produce and deliver to WARMACHINE and HORDES players. Each new BAHI model will be made available to preorder in limited quantity approximately 4–8 weeks before they ship, and most BAHI models will ship for free. Best of all, anyone preordering before the cutoff date will get a sweet piece of Black Anchor Heavy Industries swag along with their model when it arrives. After the preorder window closes, BAHI models will be available as normal items through the Privateer Press Online Store, so if you don't preorder before the cutoff, you'll still be able to get the model whenever you're ready.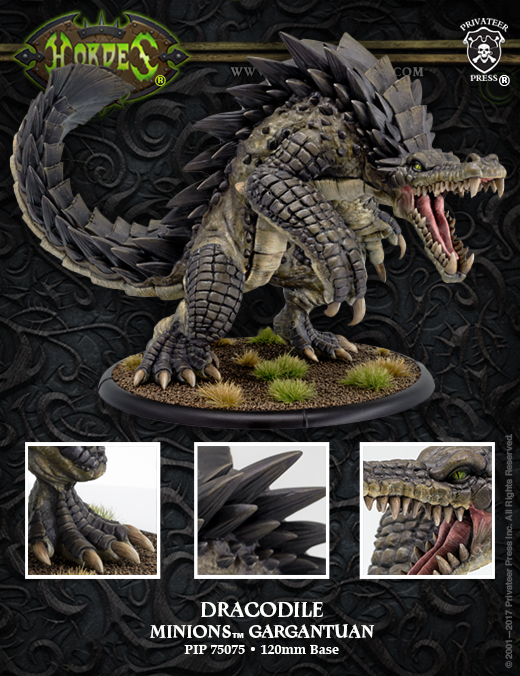 We also got a good look at the first offering from the newly crowned Black Anchor Heavy Industries: The Dracodile gargantuan. It's been through the CID testing, and is available to both Gatormen and Skorne, and you can absolutely pre-order it right now. It's certainly interesting to see how they handle this kind of production–they'll do a limited pre-order run, and then after that, whoever wants it can pick it up whenever they want, though they'll have to wait. The Dracodile, for instance, will be limited to 1,000 pre-orders. And following that, I imagine that the Northkin Hooch Hauler and Skarre 3 and her Ghost Ship will be similarly limited. It helps them gauge how many of these models they actually need to produce, while still leaving them available for collectors who really, absolutely must have them.
Stay tuned for more massive models, coming in the not too distant future (la la la) from Black Anchor Heavy Industries.