Cosplay Construction Spotlight: Shadow Border Cosplay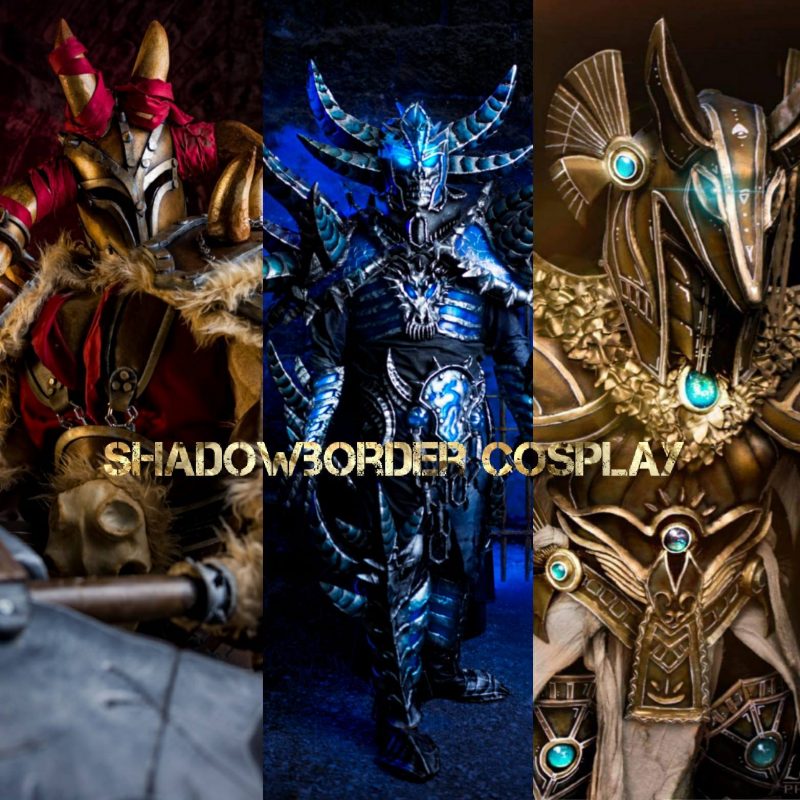 This week we're diving behind the scenes into the creation process of Male Sindragosa!
The Breastplate
"I started building a basic breastplate in V shape to look as muscular as possible. In a thorax shape cause the breastplate on the artwork looks a bit like this. After that I added some details with a pen to get a style in my head I would like to wear as an Ice dragon warrior."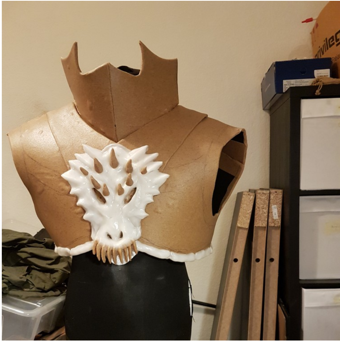 The Helmet
"Next Step is the basic helmet pattern from Kamui Cosplays pattern collection you can find on her page. I just looked which aspect makes the Sindragosa headpiece out like: the horns, the spikes and the skull style in the whole costumes make my helmet come out like this."
Helmet Accessories
"The skull like Grey thing is play which I added to the mouth part of the helmet. I dremeld a hole into the resin spikes and stuck some LED's inside of it. I put a bigger hole on the back of the helmet, where I stuck in a basic cosplay wig in silver. To keep the very strong looking hair stay in my version of the cos."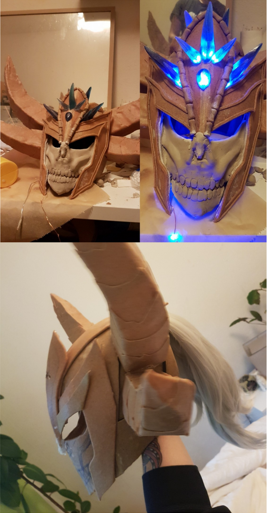 The Belt
"One of the bigger parts where I left the cosplay like in the art work is the armor belt. I cut the shape out of foam and add foam 3D edges. Its made out of 10mm EVA foam.
The Bracers
"I drew on some 2mm Eva foam how I thought the bracers should look, put some worbla on, and cut out the holes for the light up later. The white part on the bracer base is worblas deco art. It is like a modeling clay just out of worbla. The horns on the top I cast with polyethylene resin except the main horn. The yellow on the left side up on the picture is the insulation foam horn. The right side up is where you can see what I mean with dragon horn scales around the horn. Then I finished the bracer, and primed it with black acrylic paint."
Leg Pieces
"For the leg pieces I just drew on a shape with a little cut on the top to make it a bit more knee/ legshaped. After that I drew on some dragon style spikey things to make them out of craft foam and covered it in worbla. To do the whole scales, 3D edges worbla insulation foam thing again. And this is what the leg pieces look like. One is painted the other one is pure."The bones" or rips like looking things are just worbla with foam and worblas deco art on top."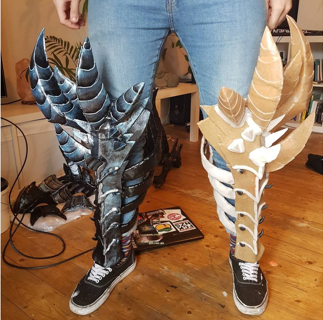 The Shoulders
"This was my most hated and most favorite part on a cosplay- huge shoulders… The artwork has 2 symmetrical pieces of them.. challenge accepted. The shoulder base is made out of 10mm EVA foam by cosplayshop. I just cut out 2 holes for the big main horns. They are made out of insulation foam. Surprise! And I was doing the insulation foam worbla dragon scales thing again on each shoulder."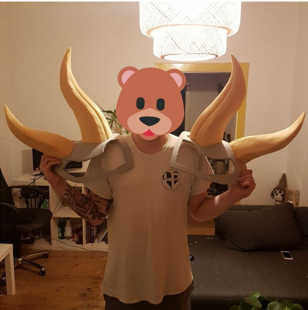 The Results
"This is the interim result of Sindragosa. And the first time I was wearing it. Nothing was really attached at this moment. Then, finally, after I do the attachment with big screws (you can see them on the picture) and the paint job with acrylics and high pigmented silver acrylic cream."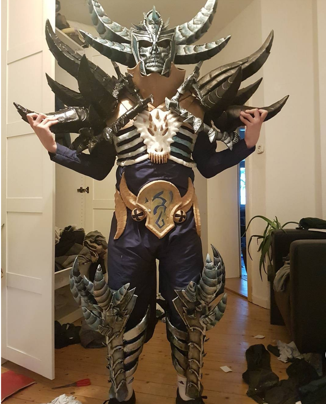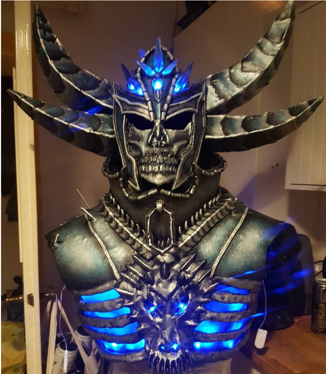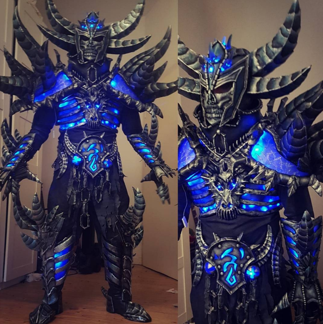 Where to find Shadow Border Cosplay
~Join us next week for more Cosplay! Coverage~