Cosplay Artist Spotlight: JAfantasyArt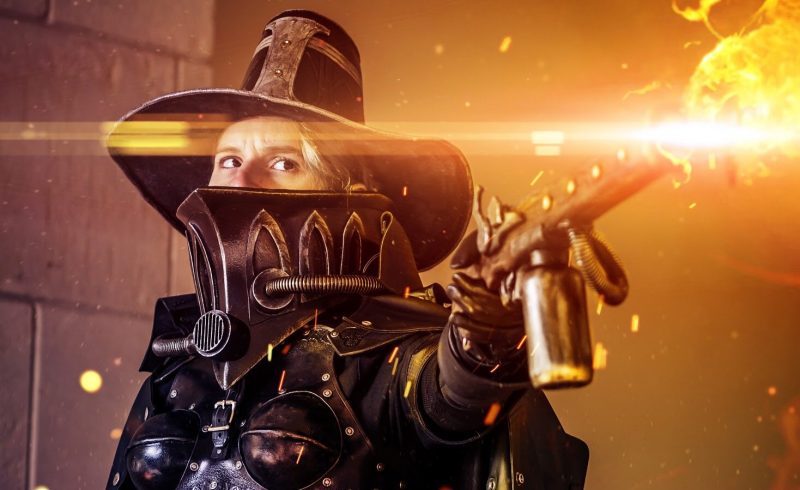 This week we're featuring an exquisite leather crafter and cosplay creator!
Welcome to the Cosplay Artist Spotlight!
This week's cosplay feature is of a prominent artist in the local Cosplay and Costume Culture, who has a THRIVING costume business.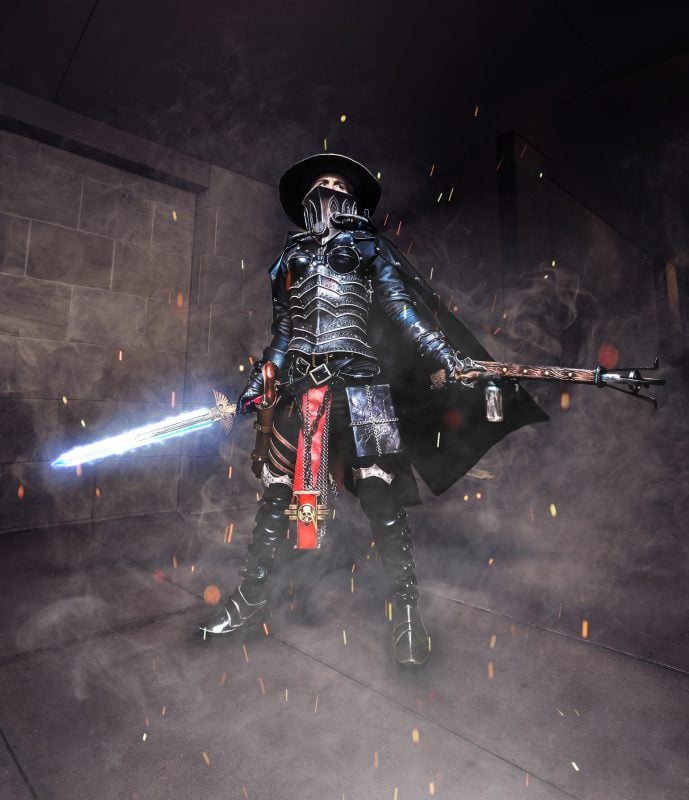 Her projects are diverse, elegantly constructed, and always show an element of authenticity which immediately draws the eye to her inspiration source. Enjoy the work of JAFantasyArt!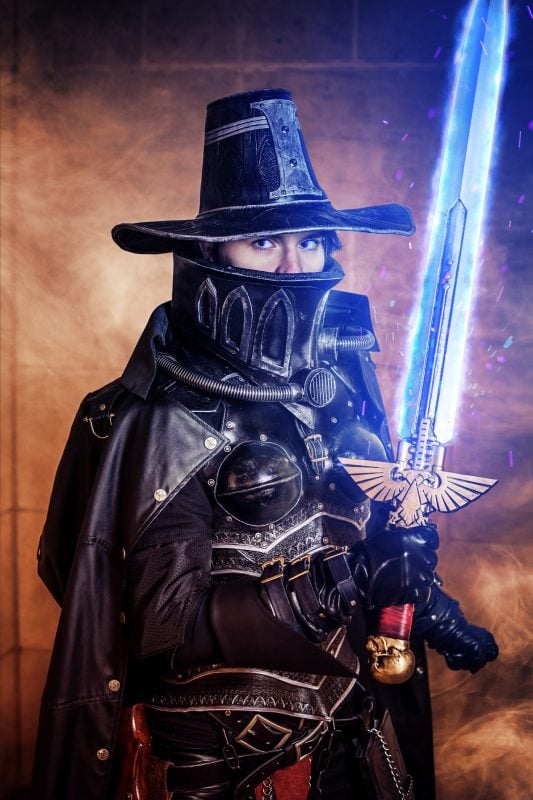 1. How did you get your start in cosplay? How long have you been creating your projects? What inspires you to work in the cosplay realm?
I have been dressing up and pretending to be characters since I was very young. Halloween was always my favorite holiday and my mom put a lot of time and effort into making costumes for me. My bestie's dad, who made costumes and was a 501st member (the major Star Wars costuming organization), took me to my first convention, Wonderfest (a sci-fi, horror, and model making convention) when I was 13 and I was hooked. I planned to one day learn to make things like that. In 2009, while in art school, I finally had the confidence and inspiration to make my first costume. Boba Fett was always one of my favorite characters so I did some research and discovered the Mandalorian Mercs Costume Club. I designed my own Mandalorian and with no real help or experience, I dove into the project. A few five gallon buckets and plastic tubs later, mixed with a lot of hard work and some tools, I brought to life my first full suit of armor. Since then, I trooped with local club members for a couple of years and at one convention, I met a group of steampunks, which once again inspired me to create a character. Leather is heavily used in Steampunk so it was clear that I had to start learning to use it. I began leatherworking in 2011 and it has been my obsession ever since.
2. What is your strongest construction aspect?
My leatherwork is really something that sets me apart from other cosplayers. But what I feel is my strongest aspect is my design ability. I was trained as an illustrator, so sketching and drawing is one of my strongest skills. I always preach that if you can give yourself a solid and well thought out design, it makes construction and patterning much easier.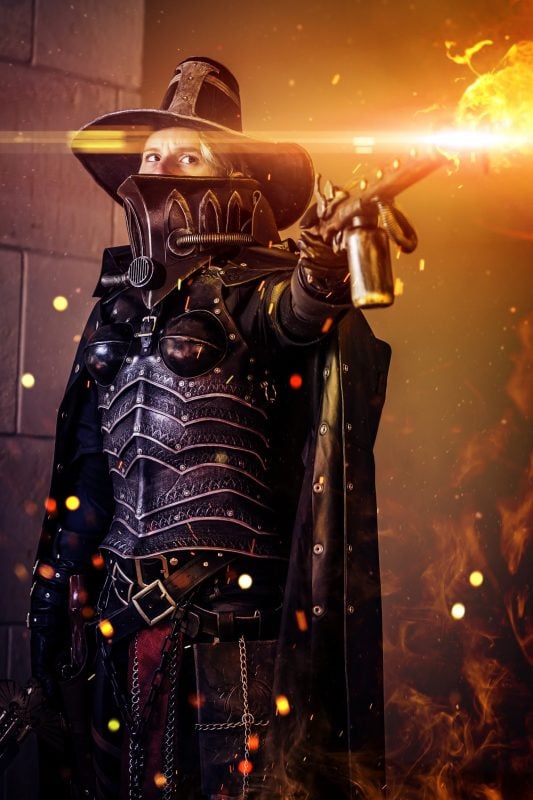 3. What is your favorite type of cosplay work to do?
My absolute favorite is original characters, like my dragon hunter and cyberpunk infiltrator. I like having complete artistic control of my design and it gives me the liberty of changing or adding to the design during the building process. But when I do an existing character, I add my own flare to it in the form of additional elements and decoration. For example, I added stained glass tooling to all of Adrastia's armor even though that detail is not in the game or character design, I wanted to reflect the style of many inquisitors and the influence of gothic style used in Warhammer.
4. What are your favorite completed projects, or your most popular?
My most popular is definitely my dragon hunter armor. The helmet is one of my most shared pieces online and people often recognize it before they recognize my face. It is definitely one of my favorites because it was my first full leather suit and I can always keep modifying and adding to it, since it is my original design. Custom characters are fun like that because you can always change things about them and they are never truly finished.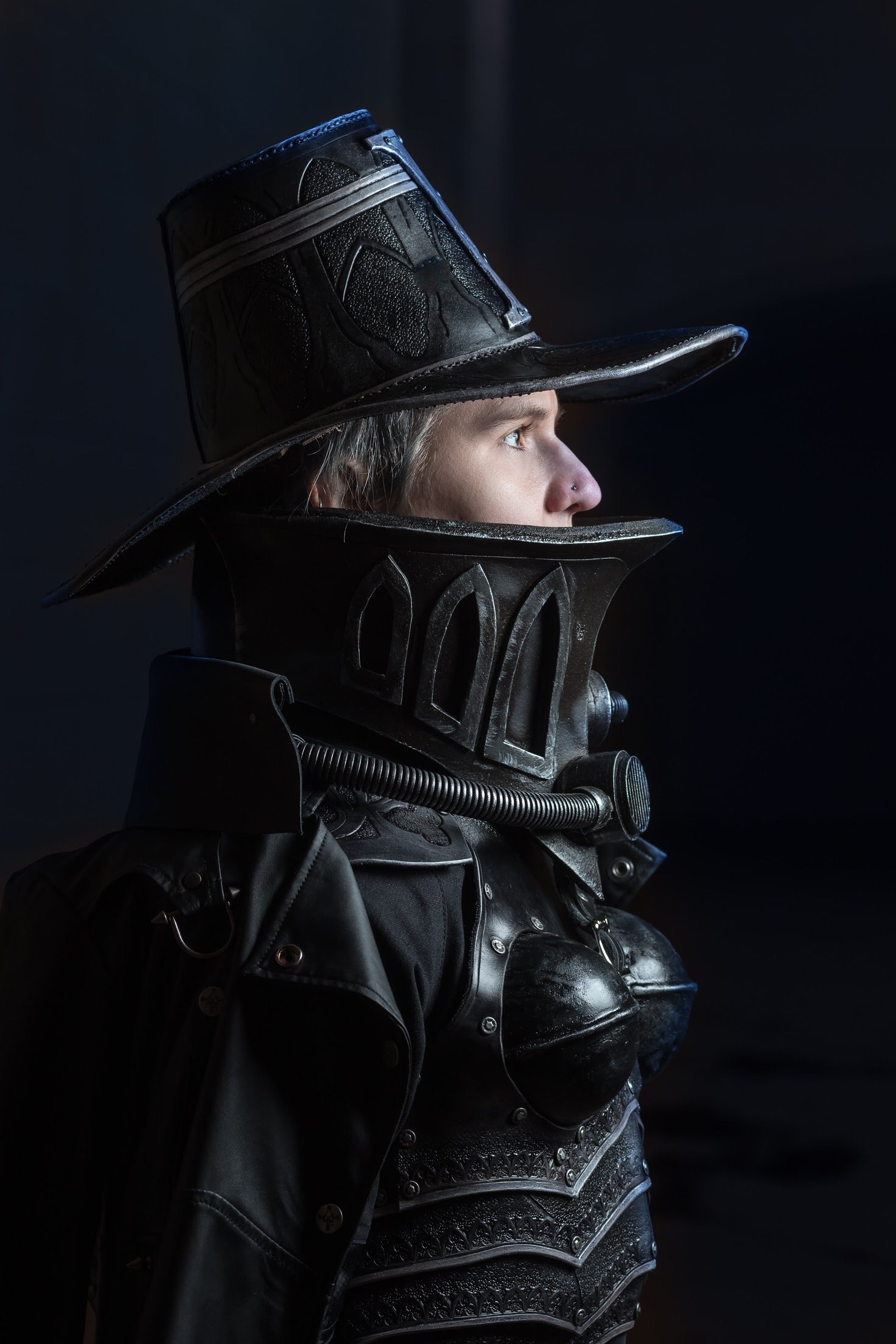 5. What material is your favorite to work with?
Leather is definitely my favorite to work with. It has taken years of effort, research, failure, and money to get a handle on the skill of leatherworking. I would not call myself a master, I still have much to learn. Some people swear by Worbla and other thermoplastics, but just about anything that can be done in Worbla, I can do in leather. It is very versatile and durable. My first suit of armor has been to a ton of conventions with me and still holds up just fine. Foam things that I have made in the past gets damaged easily and only lasts so long.
6. What are your favorite fandoms? Favorite characters?
Hmmm, lets see if I can narrow things down, I have so many loves and favorites. Star Wars and Steampunk are where I got my start so they will always hold a special place in my heart, but cyberpunk is probably my absolute favorite genre. Major Kusinagi from Ghost in the Shell is one of my favorite characters and I have always wanted to cosplay her. Dunin from Appleseed is another one. Someday I will have time to make the cosplays for both. Horizon Zero Dawn was a much anticipated game for me and the cyberpunk elements in it were some of the most fascinating things about the story. Aloy became a new favorite character of mine after just playing for a couple of hours. But of course, there's Warhammer, with much love and adoration for the wonderful 40k and fantasy universe, I am never without a Warhammer character that I don't want to cosplay! (Hail Slaanesh!)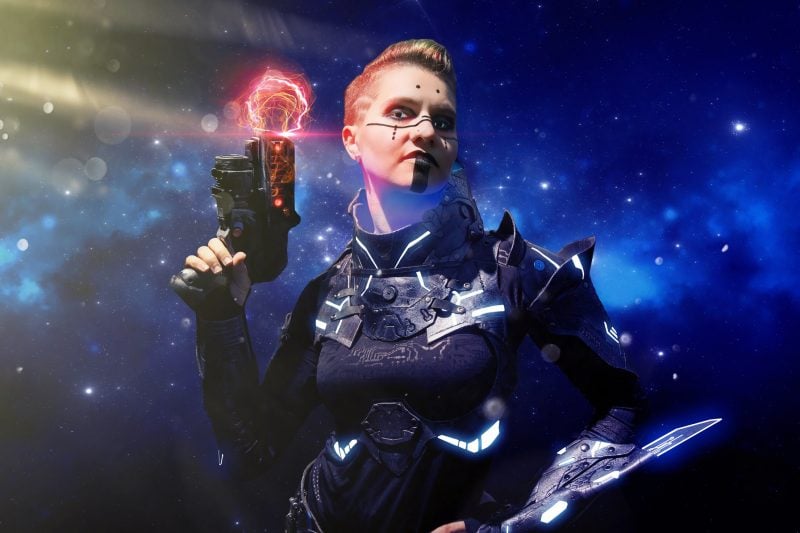 7. What kind of games do you play? Videogames? Tabletop? Wargames?
I'm an RPG gamer, whether it is tabletop or video game. I also attend many LARPS, including Mind's Eye Society Vampire games, Dystopia Rising, and a recently discovered local Warhammer LARP. Elder Scrolls is one of my favorite franchises and I love everything about it. After having played over 300 hours of Skyrim, the release of ESO was an exciting opportunity to learn more about that world. The same can be said for Fallout, I have always been a huge fan and love the style.
8. What conventions do you attend? Have you guested/spoken on panels/competed in contests?
I have been to so many conventions that I have a stack of con badges a mile high. Paneling and guest judging is something I offer to every convention I go to. Usually, I will be a guest at 2-3 shows per year, but I sell my wares and leather goods at 1-2 shows per month. I was a costume judge at Dallas Comicon in 2016, a guest at Yellow City Comiccon, All-Con, RealmsCon, and several smaller shows last year. I have also competed and won awards at multiple conventions over the last 8 years.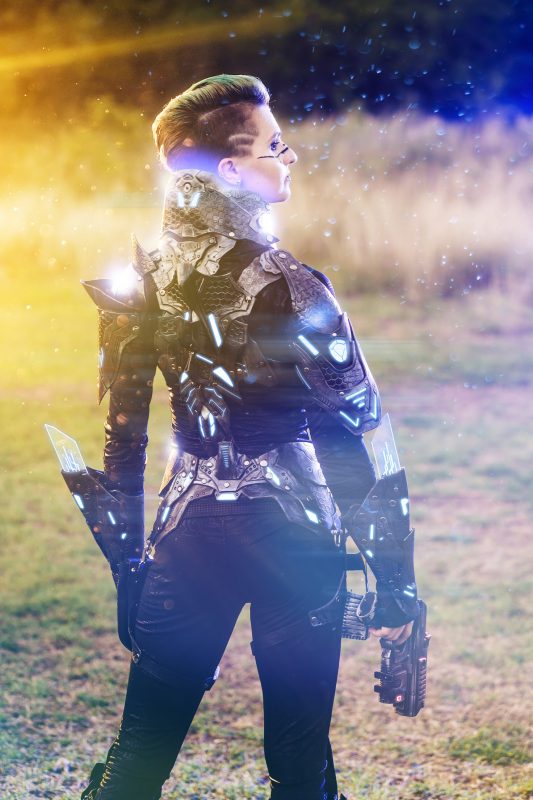 9. What projects are you working on in the future?
I am currently working on a Tomb Raider (Another of my favorites and one of the strongest gaming influences on me as a kid) cosplay and Aloy's Carja Blazon armor from Horizon Zero Dawn. My biggest project for the year is a Krampus, the Christmas demon of old German lore. The face is a canine skull with two sets of horns. It will have hooved satyr stilts, clawed hands and a bandoleer of clanging rusty bells with bones. I am creating it for a LARP event being held by Mad Raven Productions at RealmsCon in October this year. Crossing my fingers on the time for a Sister of Battle sometime soon as well!
10. What conventions are you attending this next season?
I only have a tentative list but I am planning to attend Fan Expo Dallas, A-Kon, San Japan, Little Rock Comiccon, GlitchCon, and HavenCon. I also attend PAX South in January as just an attendee, and I debut a new costume there every year.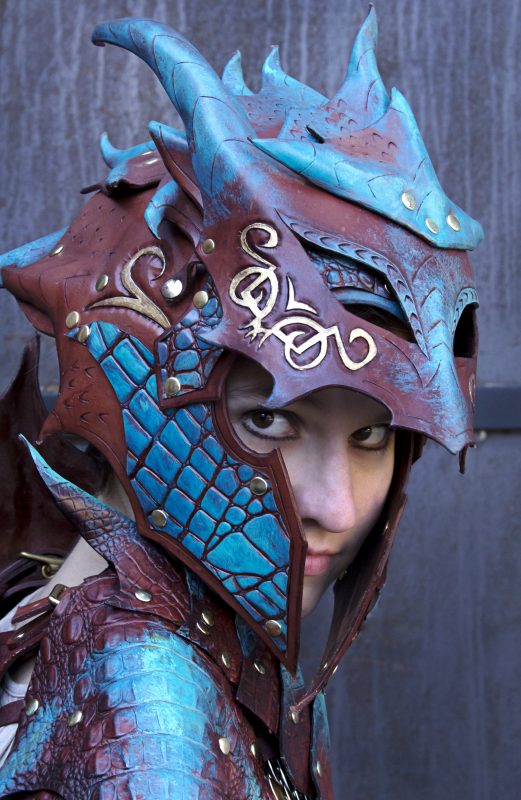 11. Who are your cosplay inspirations? Whose work do you admire or aspire to?
Svetlana of Kamui Cosplay is one of my idols, not just because she is one of the best foamsmiths around but because she does so much for the community and to help and inspire others to create. Evil Ted is also an amazing foamsmith and posts videos every week that are easy to follow and learn from, he also sells patterns for all of his pieces, which is oftentimes the hardest thing to figure out. In the field of leatherwork, Prince Armory makes the best armor suits around that are a creative blend of medeival style and modern fandoms.
12. What are your favorite movies/shows to watch or music to listen to while you craft?
For music, I love either Downtempo/ cyber EDM playlists or dark viking tribal music like Wardruna or Heilung. I also love soundtracks. I have blown through a lot of Netflix series while working but my favorite thing to watch while working is a show that
involves crafting or creating or renovating
, like Skin Wars, Miami Ink, American Pickers, Face Off, and Fixer Upper. It helps me get work done and gives me inspiration; and if I ever miss anything, I am not missing a crucial plot point in a story.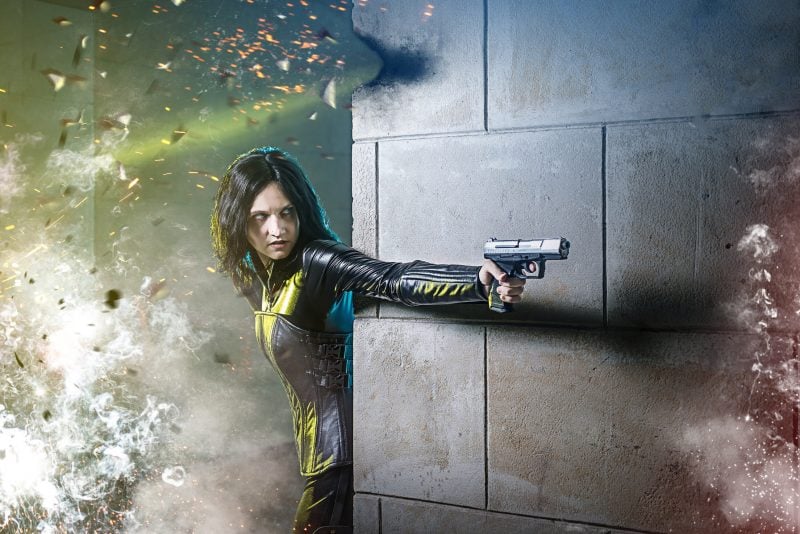 13. What message do you have for people wanting to break into cosplay? What have you learned in your time working in Cosplay?
My best advice is to not be intimidated. Be brave and try things. It is easy to be overwhelmed when you look around and see all of these amazing artists creating works that are advanced and detailed, but we all started somewhere, even the greats. You can make anything you put your mind to with hard work, experimenting, and research. Youtube is a great teacher.
14. What are your social media/website links? Where can we find you?
PHOTOGRAPHY CREDITS
~Join us next week for more Cosplay! Coverage~
Have a Cosplay question you would like Mayhem's Muse to answer? Send email here!