With the location of where your battles in Age of Sigmar take place mattering MUCH more in the new edition, we have to ask: How will tournaments and tournament organizers handle the new Battle Realm rules? Let's chat.
We previewed the Shyish Realm of Battle rules this past week. We're looking forward to seeing these rules in action as they can have some pretty big impacts on the game. Each realm has custom terrain rules, command abilities, and extra magic to use in your games. On top of that, they can also enhance Endless Spells that are taken as well. Plus, players can choose to have their army be from one of the realms thematically and it gives them access to a different set of relics and weapons, too.
AoS has a lot of new, interlocking features that are coming in the new edition all based around these concepts. While many players are talking about them and getting interested in incorporating them into their games I've got to ask – how will these new rules impact Matched Play and specifically the Tournament Crowd?
Let's Level Set
Before we get into that, we need to make it clear that 1) It's ALWAYS up to the Tournament Organizer – so if you have questions about a particular rule or interaction, check with them first. 2) Not all of these rules are what we consider "optional" – some of them are designed to be used in the army building process. Just so we're all on the same page there are two categories of these non-optional items: Endless Spells and the Realm Weapons/Relics.
Endless Spells are purchased during army construction and they even have Matched Play Points. However, they can also benefit from the Battle Realm rules with many of them getting an extra boost to movement or other enhancements to their abilities if the battle is taking place in their "home" realm.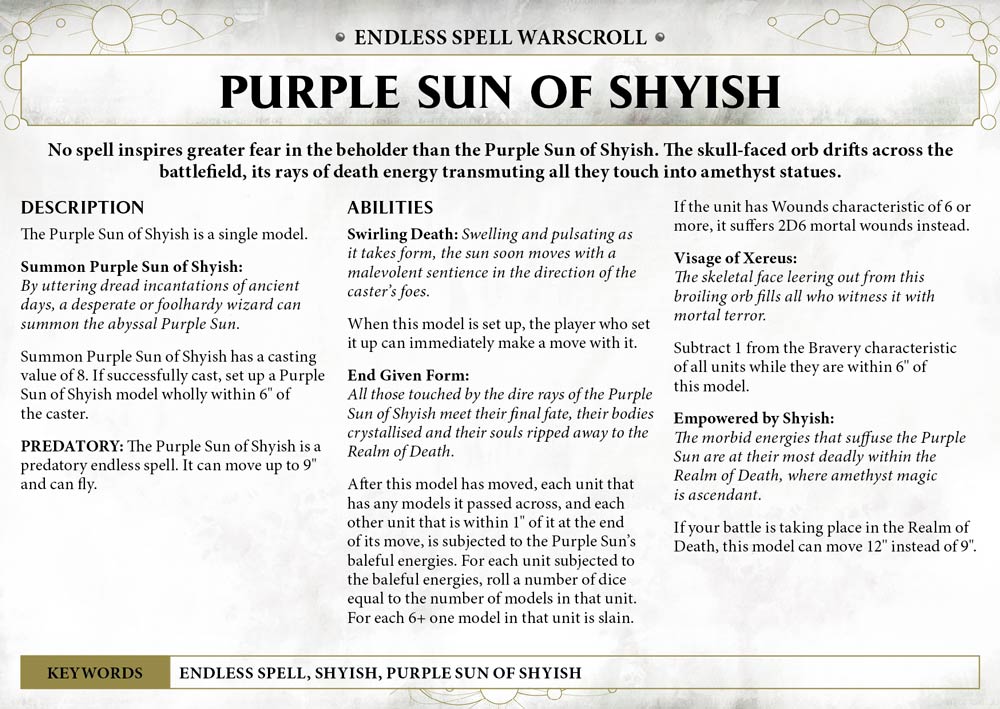 As for the Relics/Weapons – those are simply selected as part of the army construction process and generally add benefits like all the other magical items in the game. For the most part, we think they are just more options for players to use and don't see a problem with them in Matched Play.
So What About Tournaments
When it really comes down to it we think Tournaments have 3 options for the Realm Rules:
Ignore the rules
Enforce the rules
Modify the rules
Let's talk about each option.
Ignore The Realm Rules
Ignoring all the rules for the Realm of Battle is simple enough. It sounds like the easiest option and shouldn't have any major objections…right? Well I've got a pretty big one:
"If I'm paying points for Endless Spells, why are we not using ALL their rules? If I take a Purple Sun, I want that extra movement for playing a game in the Realm of Shyish!" That's the real crux of this argument – Endless Spells are costing me Points and I paid them so I want to play with all my toys.
I know a lot of folks are probably thinking – "Will that extra 3″ of movement really matter? Are we really going to get that pedantic and argue over some extra benefits just because we can? The spell still works without that benefit, so what's the big deal?"
For those folks I'd just like to point out that this is the INTERNET and folks get outraged over far, far less. So while it might not matter to you, someone will be bothered enough to email the TO and demand to have the Realm Rules enforced. But that's when we can refer to #1 above and say – don't like it, don't attend.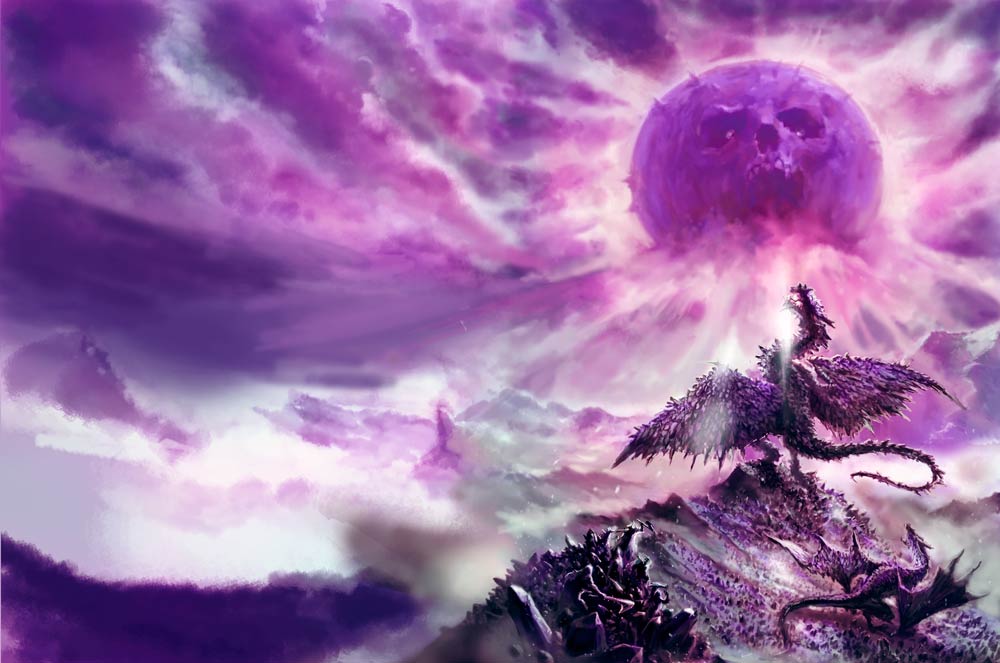 Ignoring those rules might be the simple and clean way to handle it – but at the same time there are a lot of really neat abilities and interactions that can happen when you're using them. They also impact each player the same which is key. They apply to both sides and that's what makes them balanced. I think that is a much stronger case to argue than simply throwing a fit about points.
Enforce The Rules
Enforcing all the Realm of Battle rules is a pretty monumental task. First off, there are 6-7 spells added to each realm that BOTH sides wizards will have access to, there are special command abilities to remember for both sides, and strange terrain effects that apply. And in the realm of beasts there are crazy extra monsters running amok on the table.
"Are we going to require that both players bring a copy of Malign Sorcery with them to the tournaments? What if one player doesn't – are they allowed to use those rules? Who's going to provide the extra monsters if we are playing in the Realm of Beasts? Furthermore, how are we deciding which realms we're playing on? Is every table at the tournament using the same rule/realm or are we rolling off to decide?"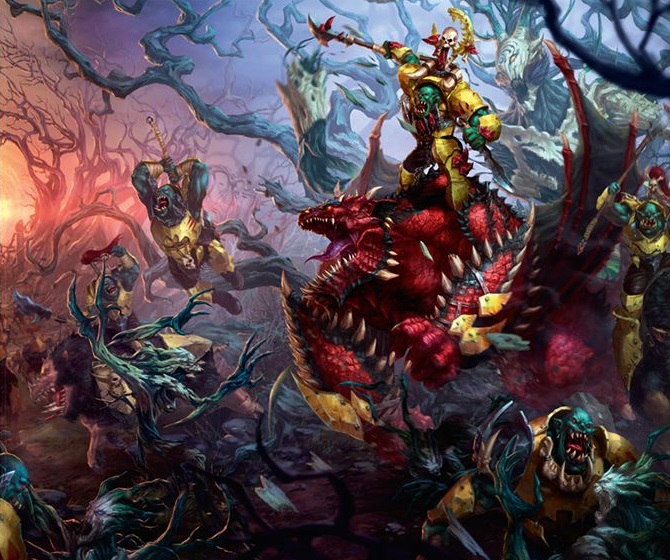 Oof. Isn't that a can of worms? If a Tournament is enforcing these rules those are the questions they are going to have to answer. While most of that can be fixed with some common sense, again, this is the INTERNET – common sense does NOT apply here.
Realistically, enforcing the rules puts some pressure on the TOs. They are going to have to be mindful of the strange interactions and might even need to review things before the tournament. They might even need to redo some of there battleplans and objectives to account for those things. It's a lot of extra work – will it be worth it? That's something I can't really answer. But that does bring us to our final option…
Modifying The Realm Rules
I think this will be the middle ground for a lot of TOs – if they want to bother with the Realm Rules to begin with. Using the un-filtered Realm Rules is like drinking from a firehose. There are a lot of rules and it can cause some messes that you can avoid by adding some extra structure.
Many tournaments already ignore the dangerous/magical terrain rules already – why not ignore the extra magical chart? But that doesn't mean you ignore things like extra magic spells or command abilities. Maybe the TOs just avoid having games take place in the realm of beasts?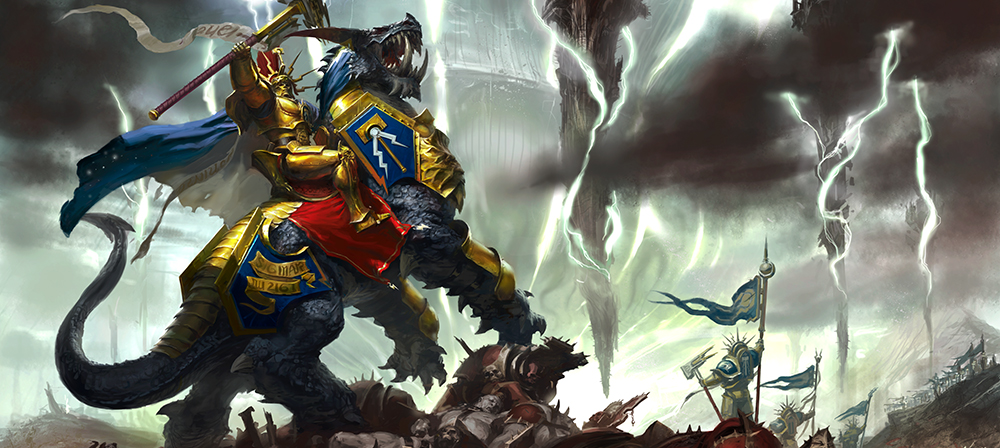 There are probably a million-and-one ways that Tournaments can modify the Realm of Battle Rules to "fit" their vision of the game. I think they are going to have to just for the sake of finishing on time. As the TO, modifying the rules will take the most work – however, if you're going to use the rules, use some common sense and you'll be fine. And if anyone gives you flak refer them to #1 above.
So what do you think about the Realm of Battle Rules? If you were running a Tournament what would you do?