Let's finish creating our Primal Terrors theme list using the Blighted Ogrun Theme force box! Check out what Anamag the Doom Feaster will be bringing to the table!
For the last two weeks we've been taking a look at the Blighted Ogrun Theme Force box and what it brings to the Primal Terrors theme. You can catch up on those articles here; Primal Terrors Review Part 1 & Part 2.
This week we're going to use the theme force box and create a list using another new Legion release, Anamag the Doom Feaster!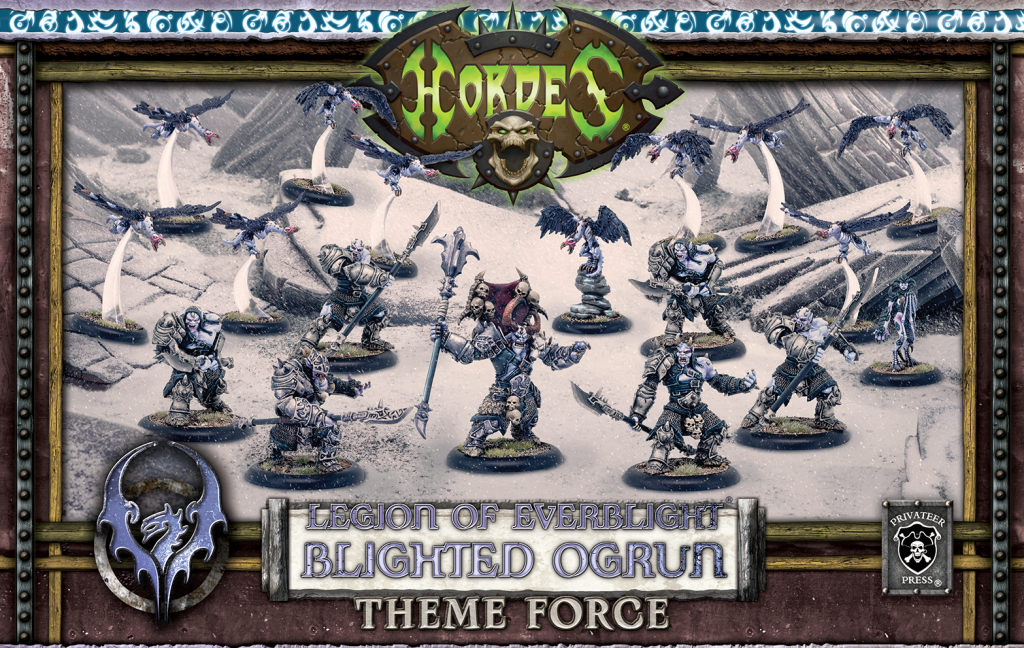 Anamag the Doom Feaster
Legion recently got a new Ogrun warlock with a ton of versatility. Take a look at Anamag's cards and try to find a spell or rule that isn't good.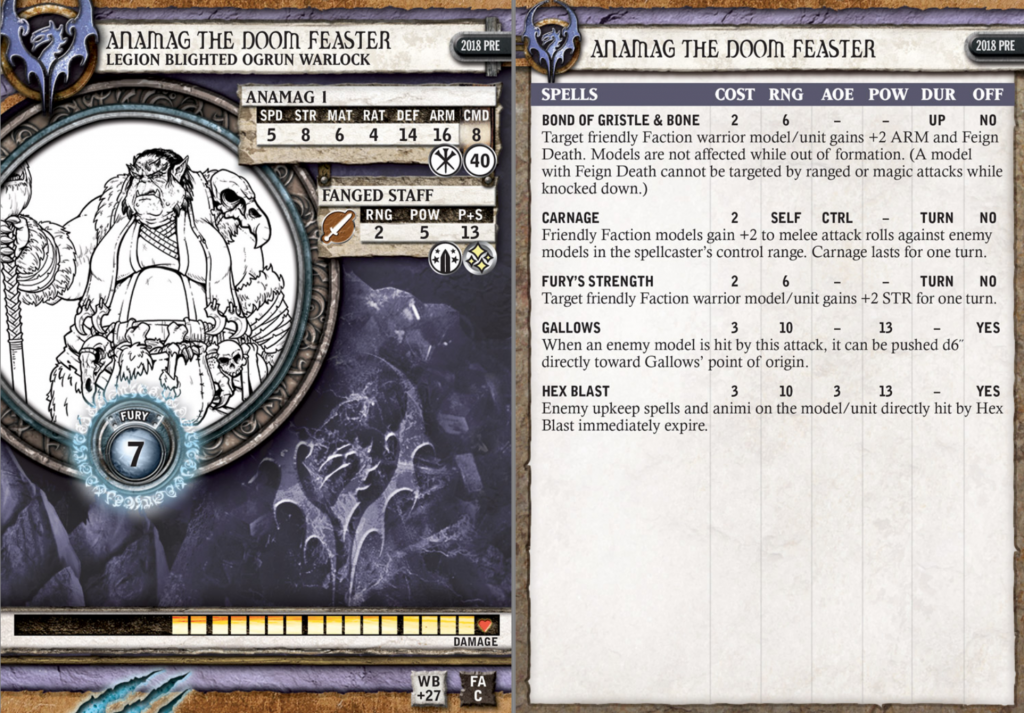 To be fair SPD 5, DEF 14 and ARM 16 aren't great stats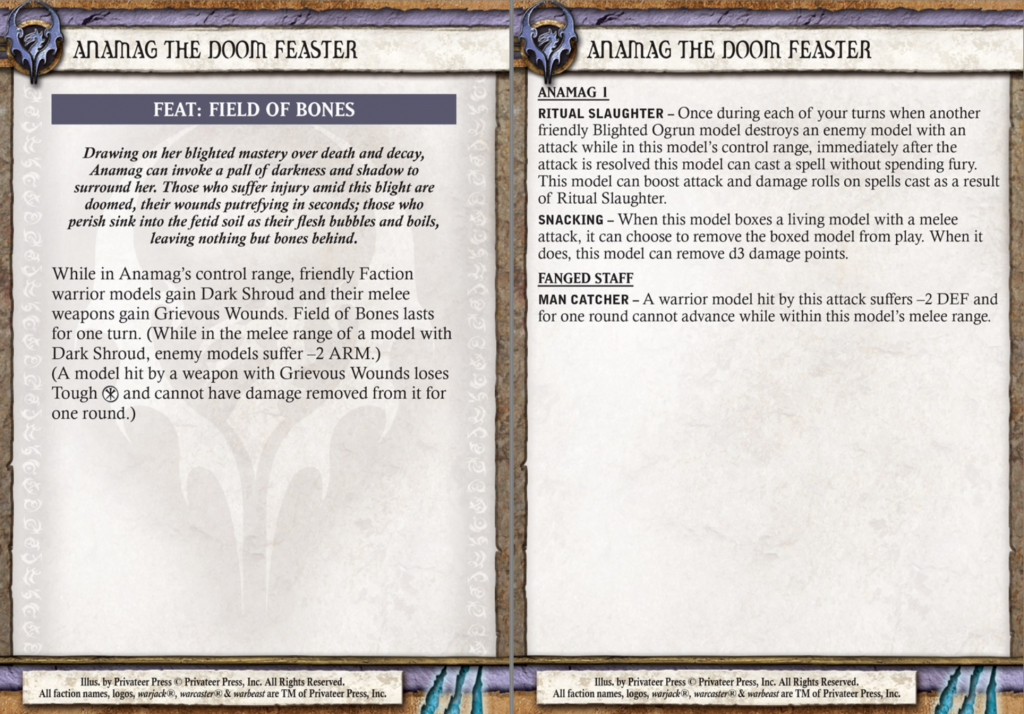 Anamag is an excellent problem solver. Want an Armor buff? Check. Need to hit high defense? Carnage let's the Warmongers reach absurd levels of melee accuracy. If you need to crack armor Fury's Strength is a great buff for a warrior model/unit. It's important to note that this isn't an upkeep which lets you put it on multiple models/units each round! Rounding out the toolkit is the always helpful Hex Blast, a decent power nuke that strips upkeeps and animi on direct hit.
My favorite ability of Anamag's is Ritual Slaughter. This will let her cast a spell out of activation and opens up your turn order to some unique options. Being able to get a potential 3 cost spell for free is really nice, but being able to do it out of activation is even better! It's easy to imagine a situation where you want to have Carnage up at the start of your turn, but you also want Anamag to activate later in the round. Well if you can get a solo like the Warmonger Warchief to kill a model your problem is solved. Another interesting option is Gallows, which isn't typically seen as an amazing spell due to it's randomness, but a free Gallows is an entirely different story. The potential for 2 or even 3 Gallows might pose some interesting problems for your opponent.
Anamag's feat isn't super flashy and most games it will be thought of as -2 ARM for your opponents. However Grievous Wounds is an excellent ability and adds yet another surprise in Anamag's bag of tricks. Facing down a ton of heavies? Pop feat and just try to cripple some important systems, your opponent won't be able to repair or heal and you can finish them off next turn!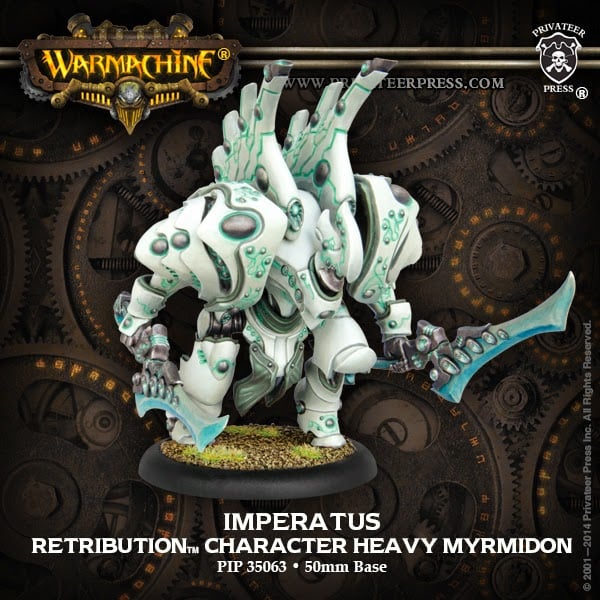 Grievous Wounds makes Imperatus sad
Golab
Anamag wouldn't leave home without her trusty warbeast Golab!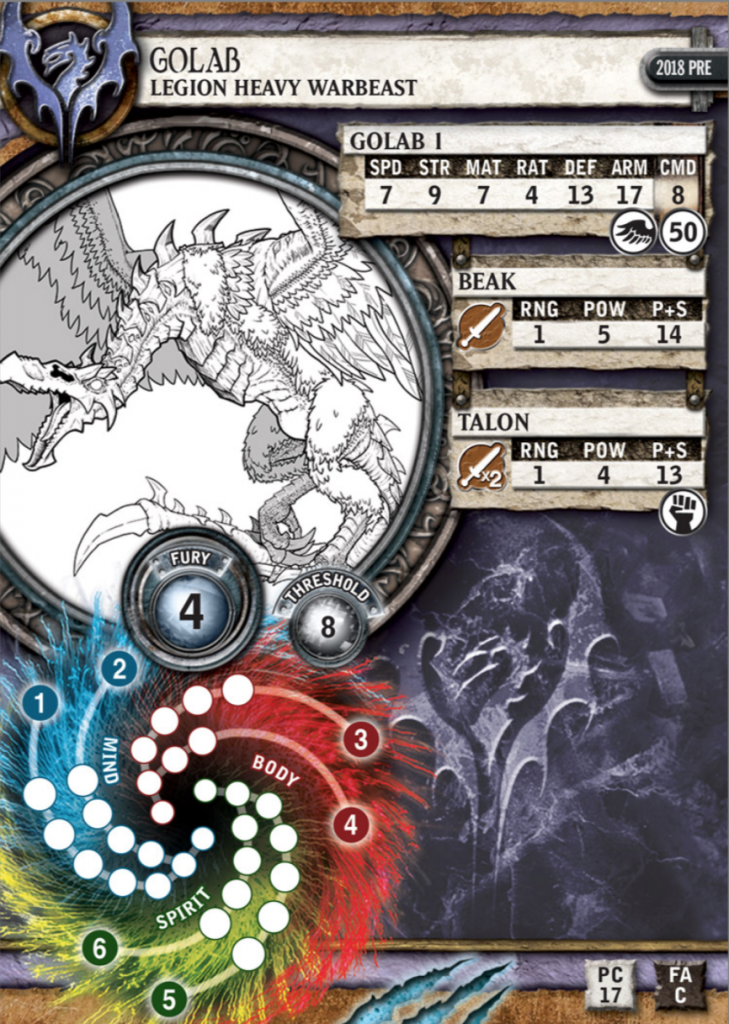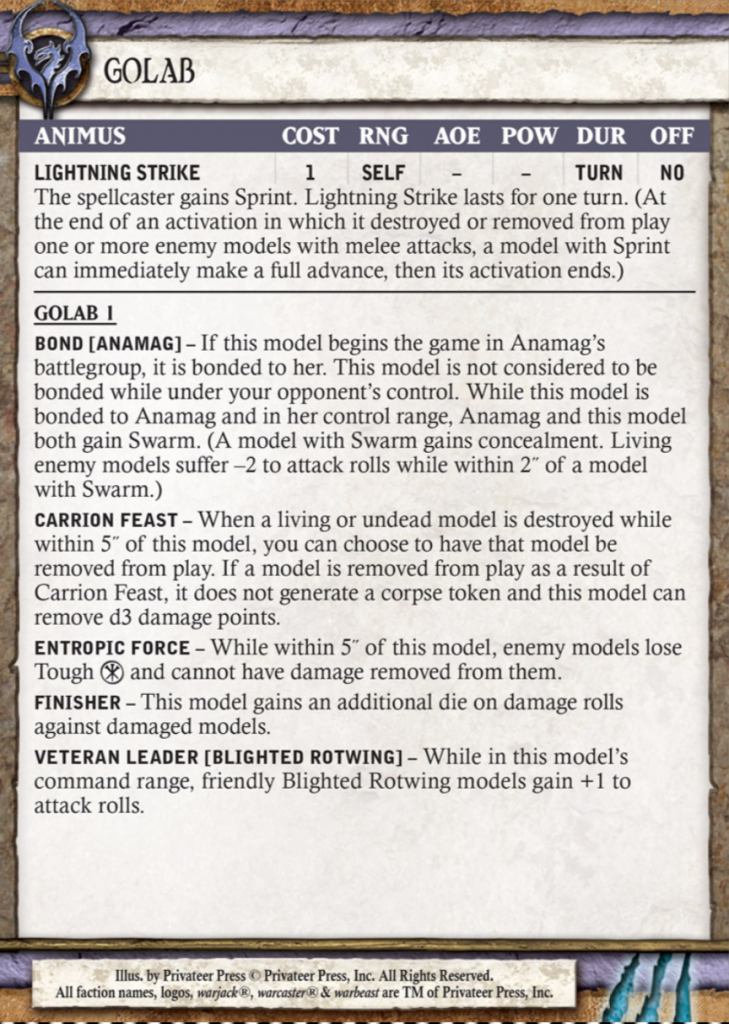 Both Golab and Anamag love that bond!
Golab is a little on the expensive side for a melee warbeast at 17pts. But like his favored warlock, Anamag, he continues the trend of bringing tools to solve problems. Having Sprint as an animus not only lets Golab strike and then retreat to safety, but it lets Anamag do the same; allowing her to potentially cast a crucial spell like Hex Blast and then retreat to safety if assuming she kills a model.
Entropic Force is a better version of Grievous Wounds as it affects Colossals and Gargantuans! This doesn't come up a ton, but when it does it's likely a game changer. Carrion Feast is a neat ability that lets you RFP(remove from play) models within 5″ of Golab! Look for opportunities to RFP unit leader models with special rules specific to the leader, like Gatorman Posse or Stormblades, as the unit will lose those rules for the rest of the game.
Lastly Finisher lets Golab hit with authority, making him effectively a weapon master with a potential 7 attacks! The downside to all these great rules is that Golab is pretty squishy for a heavy warbeast. Much like the other winged beasts of Legion he has a high defense of potentially 15, but pretty low ARM at only 17. However if you position carefully and get good use out of Sprint Golab should be a force to be reckoned with on the field.
Final List
So with all that in mind lets take a look at our list that expands on the Blighted Ogrun Theme Force box.
[Theme] Primal Terrors
Anamag the Doom Feaster [+27]

Blightbringer [32]

Golab [17]

Ammok the Truthbearer [4]

The Forsaken [4]

Warmonger War Chief [free]

Blighted Ogrun Rotwings (max) [12]

Blighted Ogrun Warmongers (max) [13]

Blighted Ogrun Warspears (max) [15]
With all of the tools available in this list you should have a the ability play into just about any matchup. The Blightbringer is a great compliment to an Ogrun army as it's Dragon's Breath attack type can be used to make AOEs of +2 STR & ARM on the table. In addition any model standing within 6″ of the Blightbringer is also affected by Dragon's Breath. This will give a nice bump in ARM to get the Ogrun up the table. In addition one unit will have an additional +2 ARM from Anamag's Bond of Gristle and Bone spell.
This list also brings a ton of armor cracking. With Anamag's feat, the Fury's Strength spell and the Blightbringer, Warmongers can hit for an effective POW 20! Warspears attacking their prey target can get to POW 21! High defense won't help much due to all the MAT fixers present in the list. Gorag Rotteneye, Rotwings, Warmonger Warchief and Carnage from Anamag all either lower defense or grant bonuses to hit. I mentioned this last week but Warmongers can get to an effective MAT 14, there is nothing in the game that wants to see numbers that high!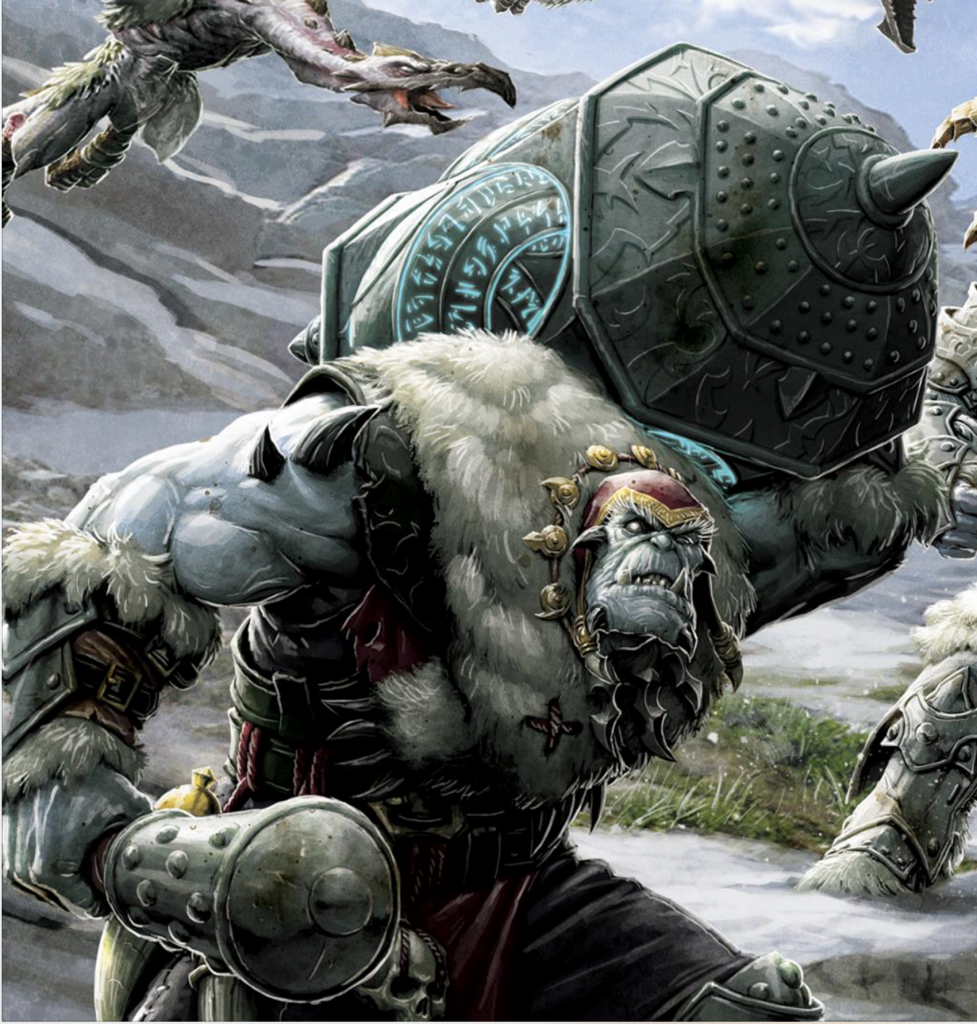 Ammok the Truthbearer is the final tool in the toolbox. His Exorcist rule removes incorporeal from models within 10 inches and without it this list might struggle to find enough magic attacks to deal with an incorporeal skew. This also is a nice tool against things like Maelok's Gatormen Posse or Skorne Immortals that can turn incorporeal and charge through your front lines. The other key ability Ammok has is Spiritual Conduit which grants his warlock +2 range on spells. This is excellent for spells like Hex Blast and Gallows as it allows Anamag to stay safe and still impact the game.
Wrap Up
For anyone looking to jump into the Primal Terrors theme force this box is an excellent start that provides a ton of room for expansion. The new Ogrun cavalry unit, the Chosen of Everblight, are amazing looking models and have some fantastic rules. This theme also has access to the infamous Hellmouth unit that it can potentially take for free! The list of warlocks and warbeasts options for this theme is extensive and we're sure to see some creative lists in Primal Terrors hitting the tables soon.
What do you think of the Blighted Ogrun Theme Force box? Will you be adding it to your collection?

Join us for a weekend of wargaming –
and put your Warmachine tactics to the test in the Iron Gauntlet Qualifier and more!
Registration for Wargames Con X is open now!