Lock & Load 2018 is here! Everyone stay tuned for all the latest news and reveals from Privateer Press!
Privateer Press is holding Lock & Load GameFest 2018 this weekend in Bellevue, Washington, and id kicks off today. They will be streaming for all three days including today's keynote, multiple gameplay and hobby events, and news and product reveals. Check in all weekend Privateer fans.  Here's the Streaming Schedule: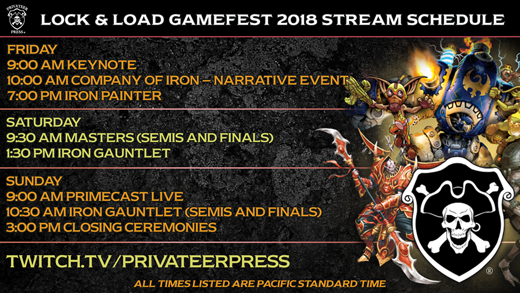 FRIDAY
9:00 AM Keynote
10:00 AM Narrative Event–Company of Iron
7:00 PM Iron Painter
SATURDAY
9:30 AM  Masters (Semis & Finals)
1:30 PM Iron Gauntlet
SUNDAY
9:00 AM Primecast Live
10:30 AM Iron Gauntlet (Semis & Finals)
3:00 PM Closing Ceremonies
Twitch is the world's leading video platform and community for gamers. More than 45 million gamers gather every month on Twitch to broadcast, watch and chat about gaming. Twitch's video platform is the backbone of both live and on-demand distribution for the entire video game ecosystem.
Click Twitch logo (lower right) to join us on Twitch.
Check out all the action and fun live at