Take a look at what's around the corner from Privateer Press–it's none other than the kings of (heavily armored) metal, a theme force for Man-O-War. So get ready, because in Khador, schedule releases you.
If there's one thing that Khador knows how to do, it's make the most of what they have. And what they have more than anything else is bodies and heavily armored metal plates–so they'll strap the one around the other, and bolt on some guns and you've got yourself an army that, while not technically full of Warjacks, is still heavy enough to tangle with pretty much whatever you can throw at them.
Why accomplish with technology and magic what brute force and manpower can do instead? If you can't think of an answer (like, to allow for manpower to be used more efficiently to be more productive and accomplish greater things), then the new Man-O-War theme force might be for you. Take a look!
via Privateer Press

Girded in steel and steam, the Man-O-War of the Armored Corps are the foremost mechanized heavy infantry of the Iron Kingdoms. They meld the might of machinery with Khador's irrepressible patriotism and fighting spirit, bringing ruin to those who oppose the Empire. Man-O-War soldiers and their armor are inseparable components of a united whole. The steam-driven strength of machines and armor can withstand punishment beyond that of mere flesh.

Take command of the unstoppable armored might of Khador with this box, which contains a full auxiliary force of the Man-O-War's Armored Corps ready to support your warcaster's battlegroup.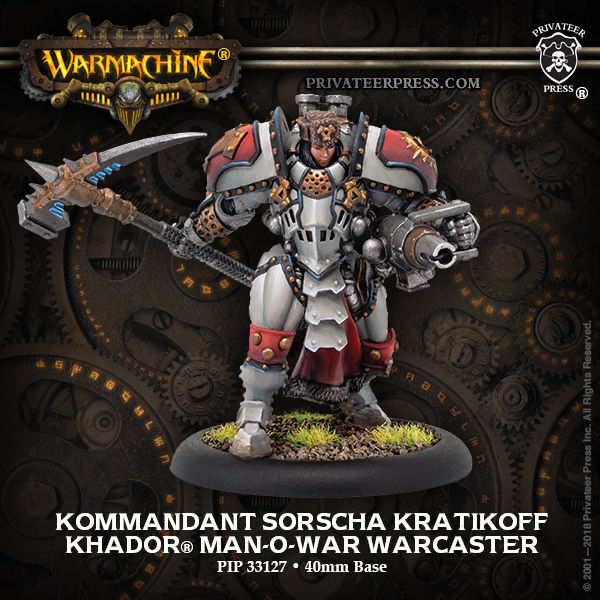 Having risen to the rank of kommandant at an unprecedented age, Sorscha Kratikoff has been tasked with commanding the full might of Khador's new Man-O-War division. Sorscha began her new assignment spending several months undergoing the rigorous training to control Man-O-War armor, a unique hybrid of warcaster armor and Man-O-War armor specially designed to fit her frame. In combat, Kommandant Sorscha is the avalanche in the storm. Her command of winter magic allows Sorscha's Man-O-War to perform flanking and ambush maneuvers never before seen with these steam-powered soldiers. Sorscha goes where the fighting is thickest, laying waste to man and machine.
There are more units, of course, such as the Man-O-War Tanker, but we'll have more on those as the June 15th release date draws closer.
Until then, for the glory of Khador, remember to polish your armor and be loaded for bear.