Today we have a look at the officers, attachments, and heavy-hitters of the new Man-O-War Themed Force. Heavy armor and high explosives are the order of the day.
We've got some of the command (sorry Kommand) attachments of the Khadoran Man-O-War force for you today folks. Even as Lock and Load unfurls, there's a ton of interesting stuff to dig through just from the CID. So strap in and let's take a look at the heroes of the Man-O-Wars. Men-O-War? Mans-O-War?
Why accomplish with technology and magic what brute force and manpower can do instead? If you can't think of an answer (like, to allow for manpower to be used more efficiently to be more productive and accomplish greater things), then the new Man-O-War theme force might be for you. Take a look!
via Privateer Press

The officers of the bombardier corps lead their soldiers to seize victory in the name of the Motherland. Each has spent a lifetime on the battlefield raining fiery death on the heads of the enemy. This wealth of experience lets the officers direct their units in cunning maneuvers, like slashing through thick underbrush with their steam-powered saws to flank an enemy emplacement before unleashing a hail of explosives with unrelenting precision.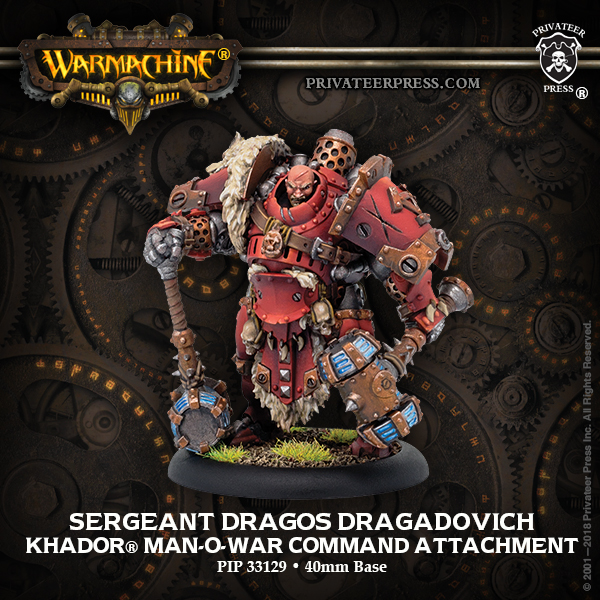 In another life, Dragos Dragadovich may have been one of the foremost manhunters to emerge from the forests of Skirov or a barbarian warlord with thousands of warriors sworn to him. Born in a modest trapping village, his youth was spent defending his family's homestead from wild beasts. Dragos had never even seen a city until his conscription, at which point his size and ferocity let him easily qualify as a Man-O-War. Unlike others of his rank, Dragos does not command a dedicated unit. Instead, he is given special assignments, traveling between kommands as the war effort demands.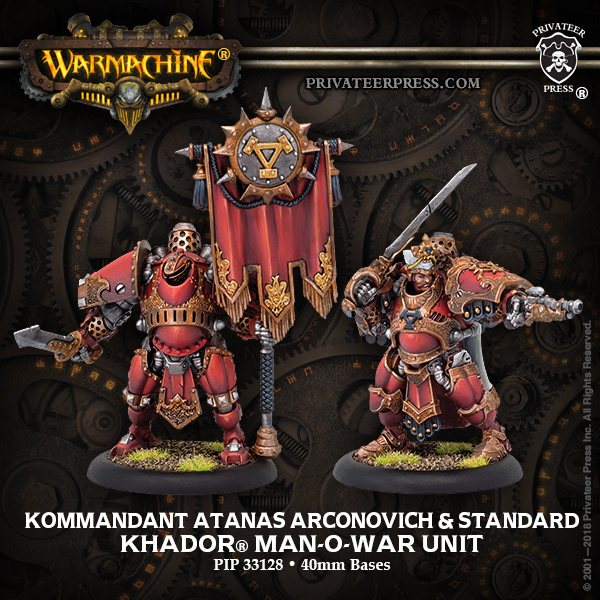 Atanas Arconovich participated in the capture of Northguard and subsequent occupation of the Thornwood Forest. He was one of the few officers who resolutely held his position against the southerners, refusing to give ground. In recognition for his bravery, Arconovich received the Star of the Motherland and was promoted to the rank of kommandant and given a special assignment to assist in restructuring the Man-O-War corps into a dedicated division. Arconovich abides by the principle that a kommandant must lead his soldiers from the front line, to provide an example of patriotic duty and to inspire them to acts of greatness.
Until then, for the glory of Khador, remember to polish your armor and be loaded for bear.