The terrain for Warhammer 40,000 is getting an upgrade with the new Sector Imperialis kits. Line of Sight blocking terrain never looked this good!
Kill Team got a lot of love this morning from Games Workshop. But let's take a moment to pause and appreciate the beauty of the new Sector Imperialis Terrain kits that were previewed. By the throne of the Emperor, these kits look fantastic!
We first got a tease of these kit from the July White Dwarf previews and they definately had us wanting more. Well – Games Workshop has delivered.
Designed by the team behind the Sector Mechanicus sets (and 100% compatible with them to boot), these marry the modularity and expandability of these kits with our most detailed vision of the dark and gothic cityscapes of the 41st Millennium yet.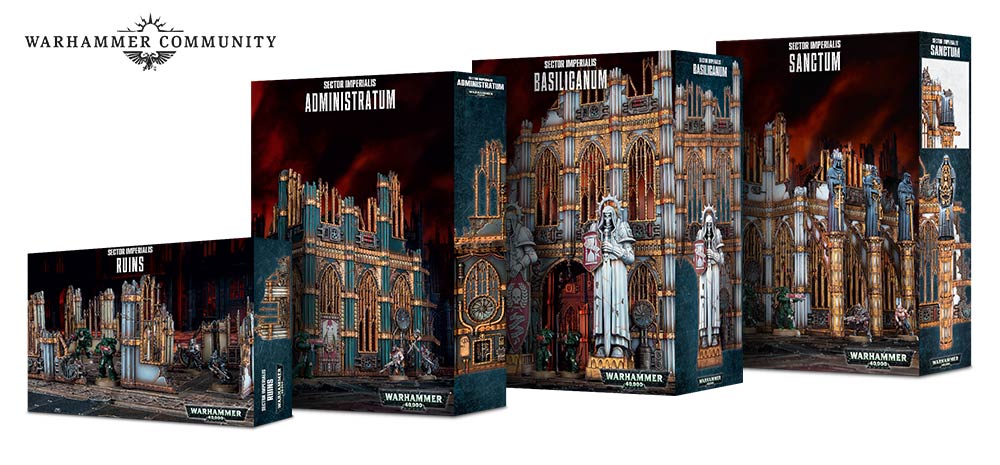 Every single section is exactingly detailed, moulded and designed to the same specifications as our multipart plastic kits, made to characterfully bring to life the world of the 41st Millennium while being flexible enough to build anything you can imagine. Each piece is compatible with every other, allowing you to build anything from low-lying ruins for close-quarters firefights to towering, imposing high-rises with fully detailed interiors.
Fully compatible plastic kits that you can build pretty much whatever you can think of with?! YES PLEASE! Holy Terra – I think I'm going to be faint…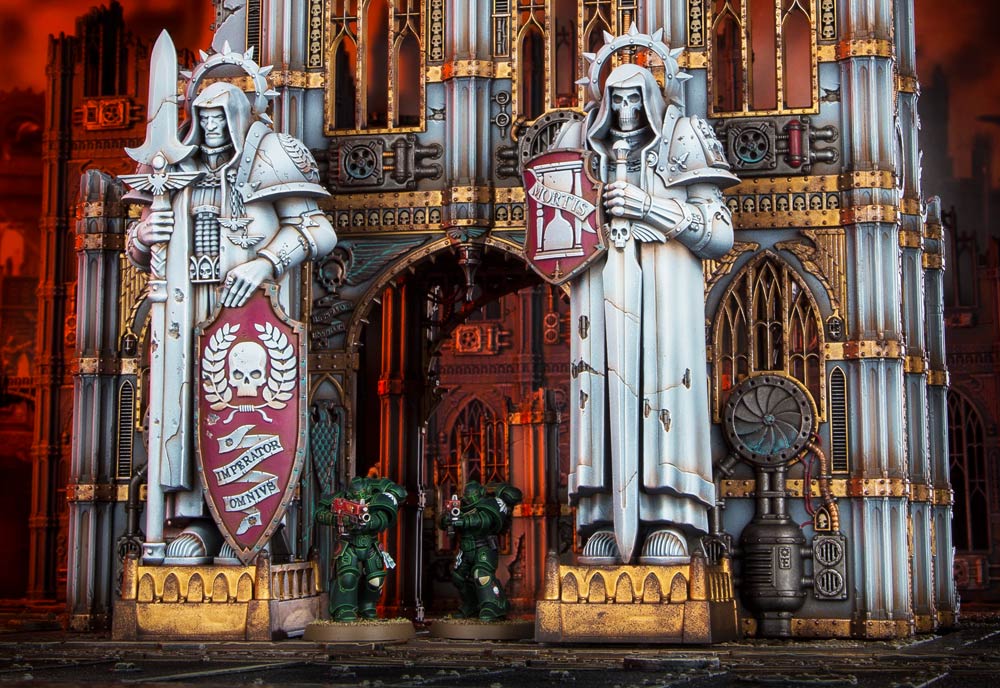 Of course, looking awesome is one thing – but we know that the true test of these scenery pieces will be how you use them in your games. The new Sector Imperialis range has been designed specifically to work with modern Warhammer 40,000, each piece acting as practical cover for a range of units. You'll comfortably be able to fit your Redemptor Dreadnoughts, Deff Dreads or any larger units within the new, upscaled buildings, while doorways, flooring sections and balconies are perfect for models with larger bases – whether you're rappelling in with a squad of Reivers or skittering across walkways with Sicarian Ruststalkers, you'll have plenty of space to do so.
Amazing looking kits that are also practical for playing games on? BAH! I'm in. Take my money GW – you win this round.
Seriously, I thought the Sector Mechanicus stuff was top shelf stuff – but these buildings are mind-blowing. We really haven't seen terrain like this since the old City Fight terrain kits. Those were a lot of fun for hobbyists to build because you could do pretty much whatever you could dream-up. These new buildings take that spirit and splice in some of the new tech that GW has been using on their other models. I can't wait to see what folks are going to do with this stuff. I really want to get my hands on a set or two and just go crazy with it!
And just incase you thought this was all you were getting GW has one more hint for you:
Whether you're looking for a practical and tactical way to add cover to your boards (for Kill Team and beyond) or you're ready to recreate Holy Terra itself on your tabletops, the new Sector Imperialis terrain is for you – and there are even more kits on the way.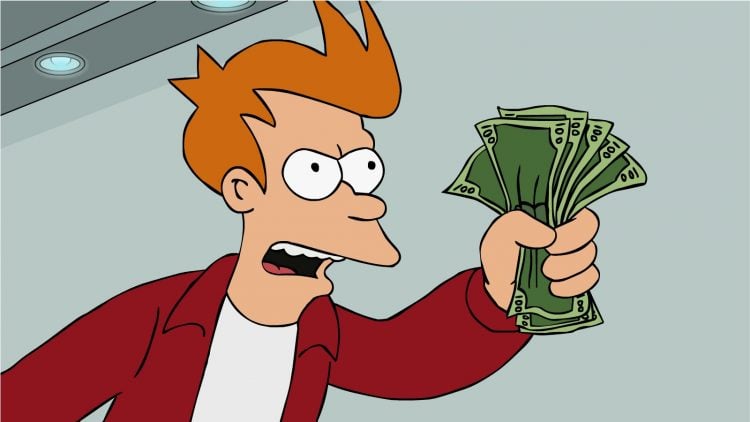 Are those tears of joy my wallet is crying?