Will you wager your possessions, your home or even your life to Macuilxochitl, the Aztec god of games?
It should be little to no surprise that humans have always enjoyed playing games. We've discussed games like Senet and Hnefatafl, but I thought today we could see what the Americas were up to during their early gaming. So, we'll be looking at Patolli, a game which was popular in Central America from about 200 B.C. until the 1500s A.D. when the Spanish Conquistadors took over and forbade the game from being played.
History of the Game
The earliest records we have of Patolli are from the Teotihuacanos (ca. 200 BC – 650 AD). However, it was also played by may other Mesoamerican cultures, including the Toltecs, Aztecs, Zapotecs, Mixtecs and the ancient Mayans.
While each culture had their own spin on things, the Aztecs played each game under the supervision of the god of games, Macuilxochitl (or Xochipilli).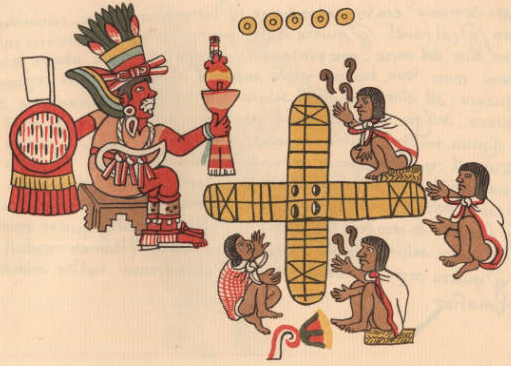 Also the patron of homosexuals and male prostitutes. So he's got a lot under his belt.
Patolli was, at its core, a gambling game and each player was expected to wager several things to play. During the game, these wagered treasures were offered to Macuilxochitl before they eventually made their way into the winning player's possession.
The game was so popular and so wide-spread that people would offer all sorts of things as their wager.  Anything from useful items, to valuable artifacts, to their homes or even themselves to be offered up as indentured servants.
There were accounts of Montezuma enjoying watching his nobles play Patolli at his court. However, when the Spanish arrived and…ahem…didn't get along with the locals, the priests expressly forbade the game from being played from that point forward.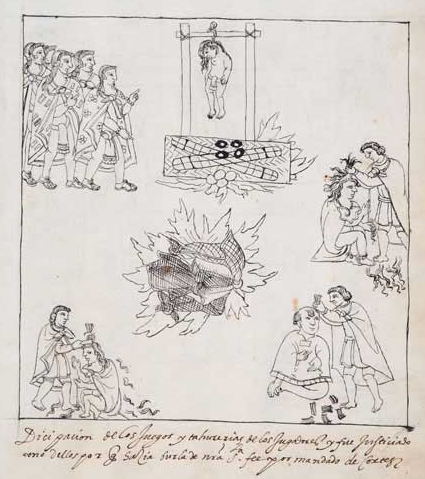 Execution of a Patolli player. His board, dice, counters and bundle with superstitious objects are being burnt.
Historia de Tlaxcala (ca. 1585), fol. 241r

Patolli wasn't played much after that.
How To Play
The ultimate goal of the game was to circumnavigate the board with all of your pieces. For each of your pieces that makes it around the board, you gain one of the wagered treasures of your opponent.
Each player has 6 pieces which all start off the board. Taking a turn consisted of rolling 5 beans that had a dot on one side and counting the number of dot-side up beans. A bean-toss score of exactly 1 allowed a player to move a piece from the off-board starting area onto their starting space; the central crossroad square closest to them.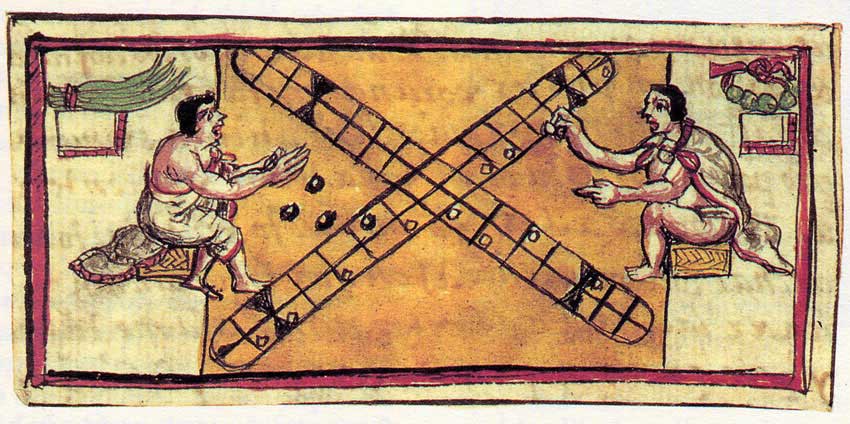 On subsequent turns, players could move any piece they had on the board the same number of spaces as they had rolled of dot-side up beans. Or with a roll of 1, move other pieces from the off-board starting area onto the starting space. If a piece moved exactly back onto the starting space after having made its way all the way around the board, it was removed and the opponent must give up one of their wagered treasures.
Once a player has removed all of their pieces in this way, the game is over.
There are also some special rules:
If all 5 beans land dot-side up, that counts as throwing a 10.
Landing on top of an opponent's piece in the central crossroad area sends that piece back into the player's starting area off the board. This also forces the opponent to give up a treasure.
Landing on one of the triangular spaces towards the end of each arm forces the opponent to give up a treasure.
Landing on the end spaces of each arm grants an additional turn.
If, during a throw of the beans, all the beans land on their side, the tosser automatically wins all treasures wagered.
Anytime a roll of 0 is thrown, the player must offer a treasure to Macuilxochitl by placing it in a special space above the board. Whichever player wins the round wins that treasure as a gift from Macuilxochitl.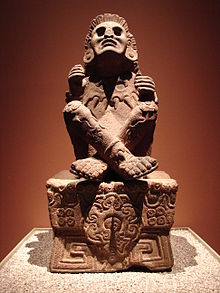 He was also into magic mushrooms so maybe be careful any gifts he gives you.
Final Thoughts
Compared to the other ancient board games we've looked at here, Patolli is certainly the most complex. It has a lot of special rules and requires much more strategy than others have. Plus, as the core of the game is gambling, that brings a whole new level of excitement. While there's nothing saying the Viking didn't bet over games of Hnefatafl, it wasn't required within the game.
If you've ever played Parcheesi, Patoli has some striking similarities. However, since Parcheesi was developed in India and Patolli in Mesoamerican it is believed this is just a coincidence and the games were developed separately from each other.
Hmm…. weird coincidence if you ask me.  Come to think of it, have you ever seen Shiva and Macuilxochitl in the same room at the same time??
I'm just saying there are similarities. Someone should look into it.
So, at your next game night bust out a copy of Patolli and maybe you'll earn yourself some cash (or servants) in the process.
Thanks for reading!