For the Emperors Honor: Grimaldus Cosplay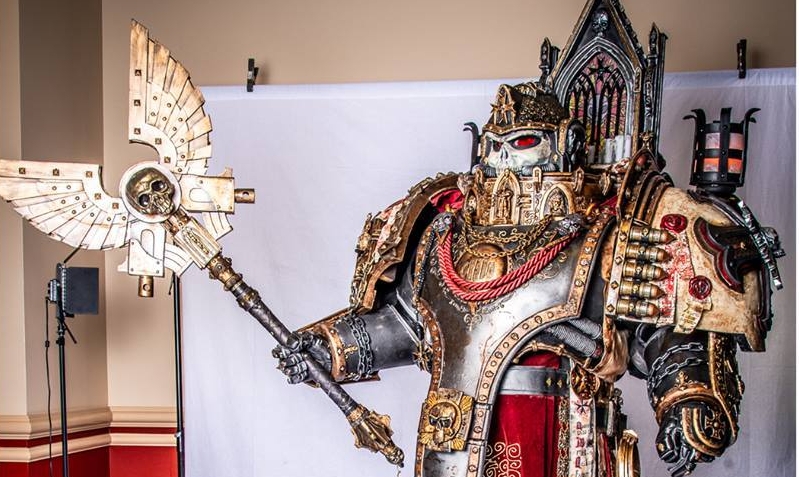 This week we are featuring a maker who has "Accepted any Challenge, no matter the odds" honoring the Emperor with his outstanding craftsmanship. Today we're taking a closer look at an intricately detailed Black Templar Chaplin cosplay powerful enough to stop the enemies of the Empire in their tracks!
"To the darkness I bring fire. To the ignorant I bring faith. Those who welcome these gifts may live, but I will visit naught but death and eternal damnation on those who refuse them."
—Merek Grimaldus, High Chaplain of the Black Templars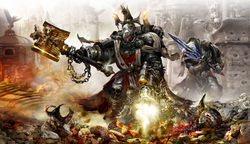 How did you get your start in cosplay? How long have you been creating your projects? What inspires you to work in the cosplay realm?
I started out tinkering with Nerf Gun mods and making Halloween costumes for my kids, then I stumbled across Obscurus Crusade (a WH40K cosplay forum) and I kinda fell down the rabbit hole.  That was 8 years ago.  I've always loved the Warhammer 40K Gothic Sci Fi 'Cathedralpunk' art style, so it was an easy starting place for my cosplay.
What do you do with your time outside of Cosplay? Any special skills or experiences? 
I'm married with twins, that's pretty much a full-time job outside of my actual 9-5 job.  My 'free time' is my cosplay. I plan on taking a little break after this but I'll probably start up again in January.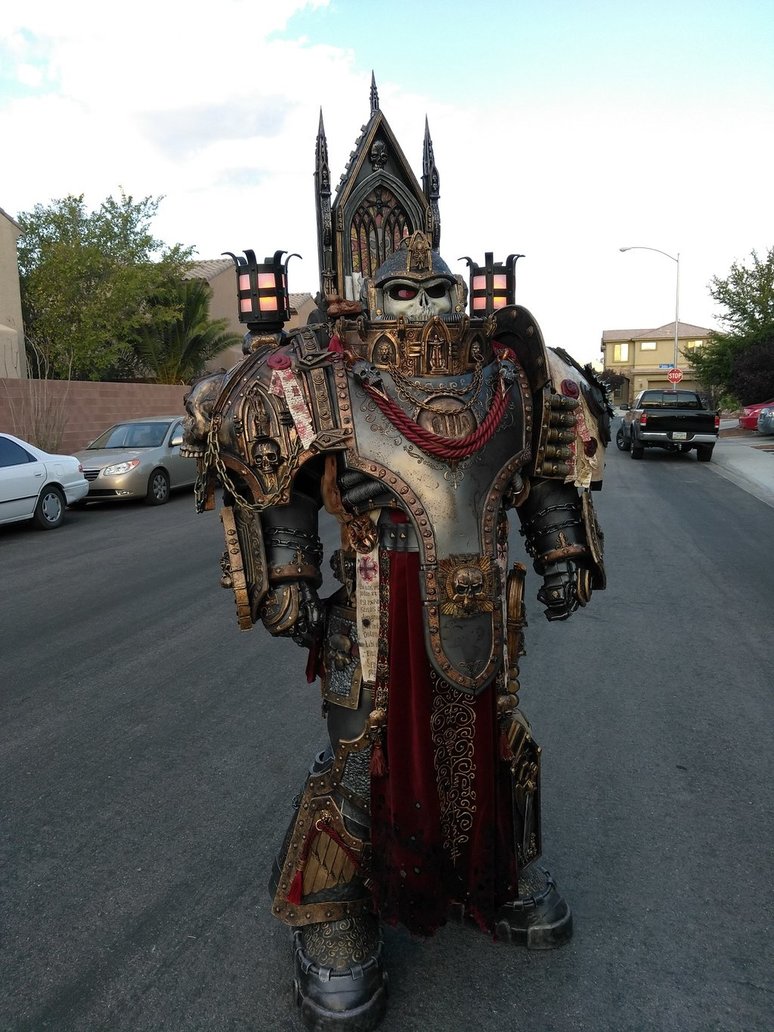 What is your strongest construction aspect?
I love the detail work. It's my strength and my weakness.  I obsess over blank, open surfaces on builds. I always go for the multi-layered, multi-detailed approach to my cosplays.  The down side is that I sometimes go too far, put too much stuff on it. I have a problem listening to the voice that tells you "That's enough".  The result of that is I always have a bunch of finished 'reject' bits at the end of every one of my projects. Although it looks great by itself and was fun to make, it was too much for the build.   I always end up recycling these bits for the next project.   Case in point, I used a bunch of unused leftovers from my previous Lord Inquisitor build for this Black Templar Chaplain build.  But then I also have a half-completed shoulder mounted plasma weapon, an unfinished wrist mounted chain sword-eviscerator and a bunch of leftover detail bits from this Chaplain build that will probably make to it the next build.
What is your favorite type of cosplay work to do?
Weapons. I've always liked doing the prop work.  That's my favorite part.  I always start with the characters accessories first and then work back to the main suit.  I built the Crozius first for my Chaplain because I knew that was going to set the tone and color palette for the rest of the project.

What are your favorite completed projects, or your most popular? 
I'm just a weekend hobbyist and I work very slow. I only have about four completed cosplays, and I'm the worst critic of my work. I look back at past projects and all I see is where I should have done something different.  That said, I think I'm pretty happy with my current one.  It definitely took the most amount of time, two years, but I'm pretty happy with the results.  My most popular? I don't know.  My Lord Inquisitor build ended up as a Meme on The Chive, which made me laugh.  The finished pic of my Chaplain build on Imgur has had over 116k hits and the YouTube video of one of my test walks in the suit got nearly 25K hits, both of which shocked me.
Subscribe to our newsletter!
Get Tabletop, RPG & Pop Culture news delivered directly to your inbox.
What material is your favorite to work with?
EVA Foam.  Especially now since there are lots of websites where you can get it online.  They sell it in huge rolls, blank on both sides, and in just about any thickness you want.  No more waiting for Harbor Freight coupons to buy those foam floor mat kits.  I bought a 3-D printer last year and used it to make a lot of the details on my Chaplain build. It's very helpful, but I'll always be a foam guy.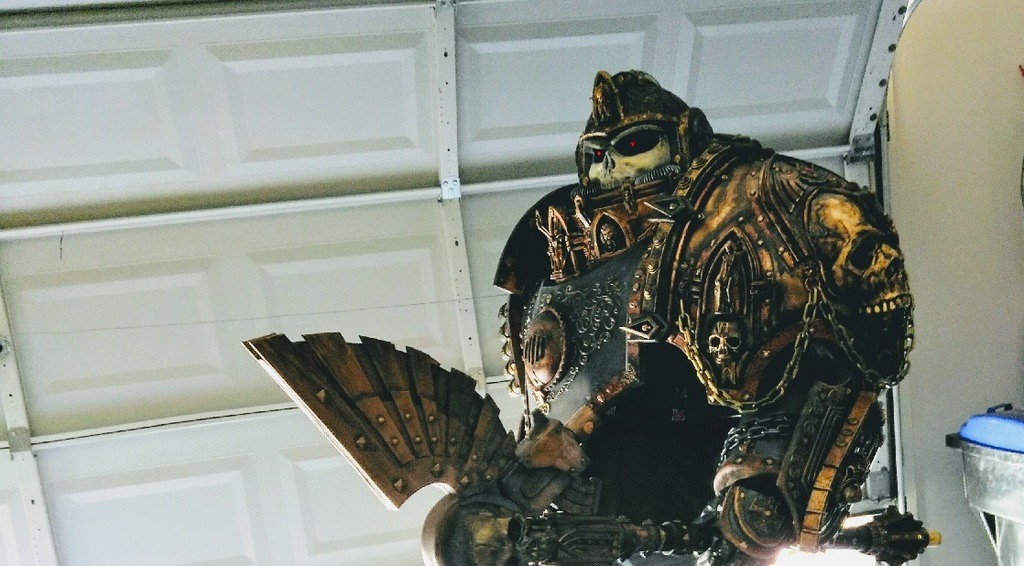 What are your favorite fandoms? Favorite characters?
I grew up on "Star Wars," "Star Trek," Marvel and DC, but Warhammer 40k has been the only one I've stuck with into my adulthood.  All my cosplays to date have been 40k.  Since I first saw "Star Wars" back in the 70s, I've always loved the 'used future' esthetic, and I've always gravitated to medieval Gothic art and architecture.  Because of that, the Black Templars have always been one of my favorite chapters, and Chaplains my favorite type of space marine.  So, when I felt my skill set was up to it, I started my Black Templars Chaplain build.  Early on I saw a 3-D rendered Space Marine Chaplain by an artist on Deviant Art called PabelBilly that had an INSANE amount of detail and I just knew that's what I wanted mine to look like.  Then about a year into it I decided to make him Grimaldus, Helsreach was one of my favorite books from the Black Library so it seemed like a natural, organic direction to go.  But not the Grimaldus from Helsreach, not the Grimaldus on one of his first missions, I wanted Grimaldus on his last mission like "Oldman Grimaldus".
What kind of games do you play? Videogames? Tabletop? Wargames?
Ironically, I don't really play the 40K tabletop game anymore.  I had five different armies at one point back in the day, but I sold them after I realized I had pretty much ran out of time for the hobby.  I have all the Dawn of War games, I still play the Ultimate Apocalypse Mod of DOW.  I just recently got my 8-year-old to start playing the Xbox 360 Space Marine game. We love that game.  It's a shame Relic died after that.  I'm really enjoying Focus' Space Hulk: Deathwing, that is a gorgeous game.  I also play Munchkin, Zombies, and the Marvel and Star Wars deck builder games.
What conventions do you attend? Have you guested/spoken on panels/competed in contests?
I grew up on San Diego. I attended almost every ComicCon from the early '80s until 2000.  I attended the Vegas WizardCon in 2015, which was the first time I wore a cosplay to a Con.  I just attended  the Salt Lake City FanX Con in September.  Believe it or not, this was my first time competing in an official Cosplay Contest, and I won Best in Show!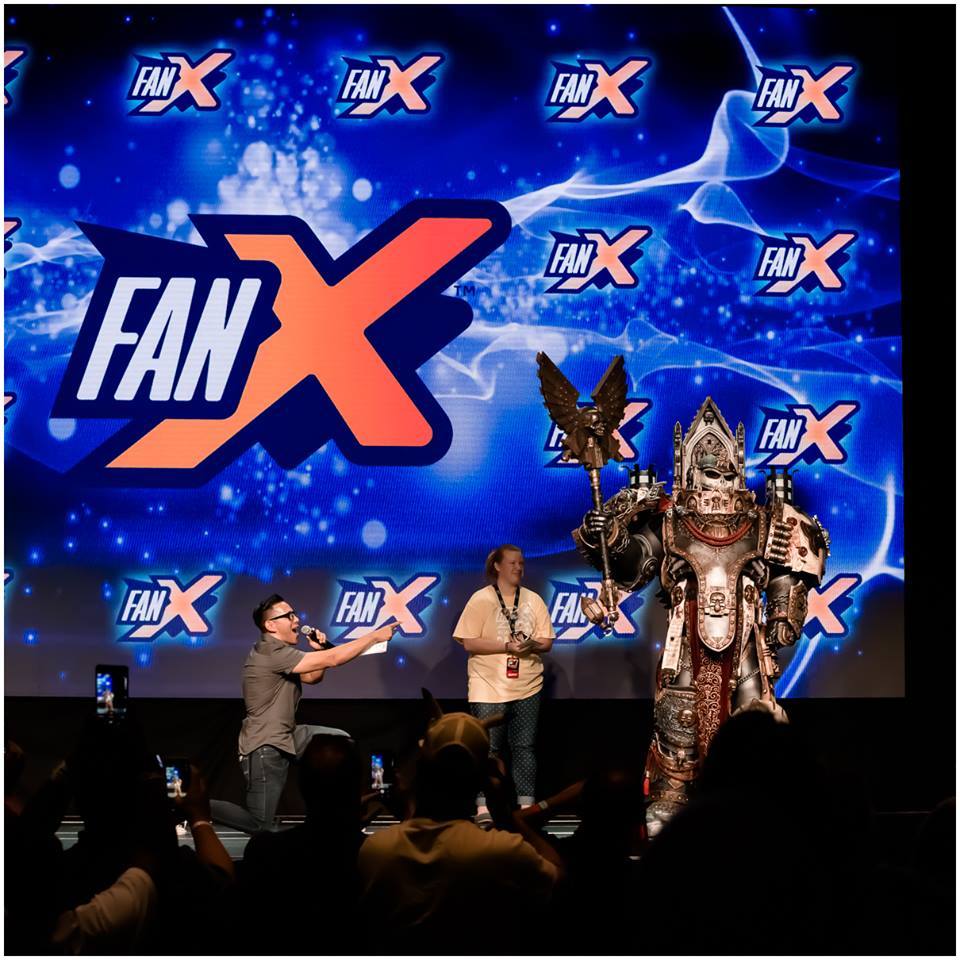 What projects are you working on in the future? 
I'm thinking about either adding an articulated power fist to my Chaplain costume or starting over with a hideously detailed Adeptus Mechanicus Magos that I've been sketching out.  I also have this 3-D printed Doctor Doom mask file on my PC that's been staring at me for the last few months.
What conventions are you attending this next season?
FanX Con in Salt Lake City.  Probably the Vegas Comicon next year.
Who are your cosplay inspirations? Whose work do you admire or aspire to?
I'm a huge Evil Ted and Bill Doran disciple.  Every bit of knowledge that I poured into my Chaplain cosplay I learned from their YouTube videos.  Also the Obscurus Crusade forum. It's a really good resource for Warhammer Cosplay and a very supportive and inspirational community.  There are a lot of really talented folks there.
What are your favorite movies/shows to watch or music to listen to while you craft?
According to Pandora, I've logged nearly 1,000 hours on my Rammstein and Mastodon channels. Apparently in the grim dark future of the year 40,000 there is only Dad Metal.
What message do you have for people wanting to break into cosplay? What have you learned in your time working in Cosplay? 
Do it!  Seriously, put that ridiculous Shia Lebouf video in your head and just do it.  Anybody can do it.  It's never too late.  I didn't start cosplaying until I was in my 40s, I started out making a very cheap looking chainsword out of posterboard, which turned into a very simple Commisar cosplay that eventually led to me to making an 8-foot-tall Space Marine with lights and a sound and cooling system.  You'll make a lot of mistakes but you'll learn from them.  Start out with small stuff and when you think you've developed a decent enough skill set, start that big project that you've been dreaming about.
What are your social media/website links? Where can we find you? 
https://www.instagram.com/skoli5000/
https://www.deviantart.com/bag-of-ham…
http://www.obscuruscrusade.com/forum/…
https://www.therpf.com/showthread.php?t=271125
Anything important we've left out that you want to share? 
Suffer not the glue gun to burn!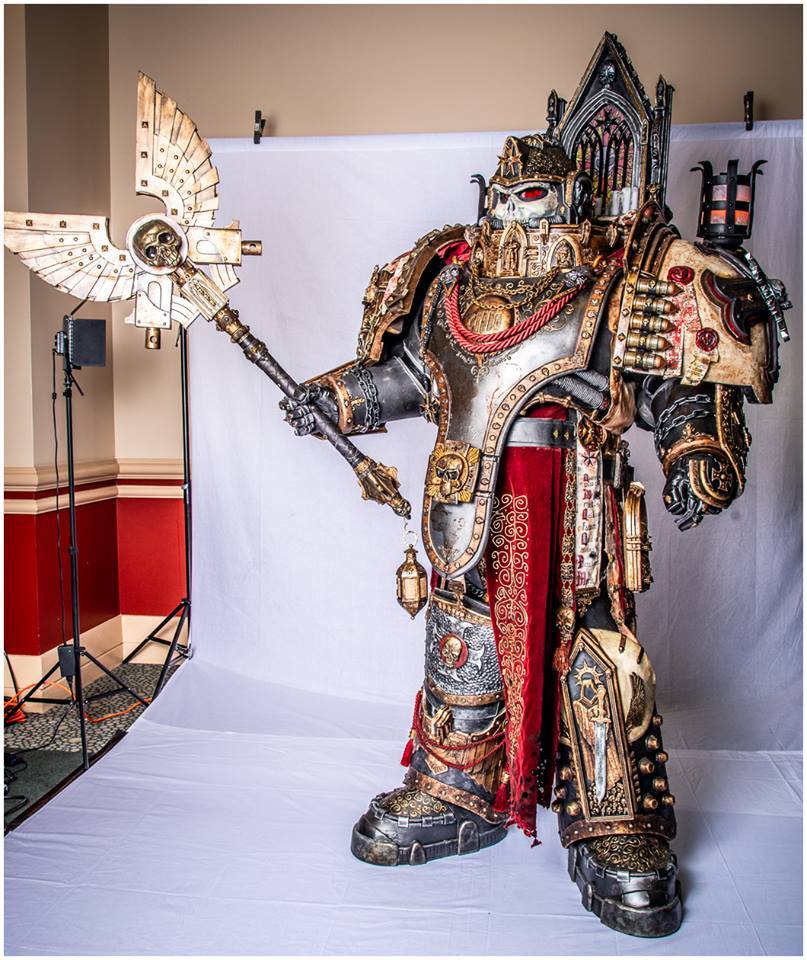 ~Join us next week for more Cosplay! Coverage~
Have a Cosplay question you would like Mayhem's Muse to answer? Send an email here!