Intercessors have had a hard road in 8th edition. Have Chapter Approved and Vigilus brought them up to snuff?
Remember back when 8th Edition came out? The new Primaris minis blew everyone away, folks were so excited, and ran out to get the Space Marine codex. Then they saw the point values:
Intercessors: 20 pts
Tactical Marines: 13 pts
Well that took care of that.

Chapter Approved 2017
GW could tell something was amiss and not 6 months later dropped the new shiny boys in Chapter Approved 2017:
Intercessors:

18 pts

Tactical Marines: 13 pts
Warmer… but still not quite there.  You did see folks experimenting with them, and there are certainly a lot of cool Intercessor tricks the Death Watch can pull off. Some argue the issue isn't even really an Intercessor vs Tactical issue, but that Marines Scouts are just too cheap to pass up at 11pts apiece.

Chapter Approved/Vigilus
Now we get Chapter Approved 2018 and GW is pulling out the stops.
Intercessors:

17 pts

Tactical Marines: 13 pts

Updated Intercessor datasheet

with more Sergeant options (power fists went from 12 to 9 pts)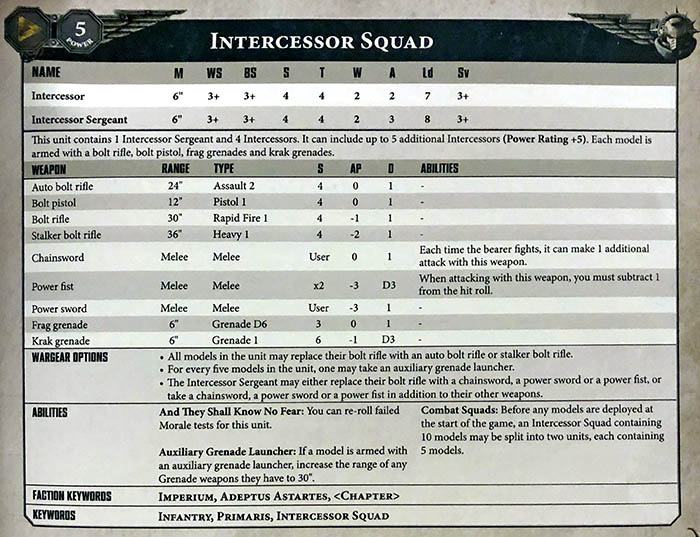 …AND Vigilus gives us Indominus Crusaders with a page of Stratagems to buff your Intercessors.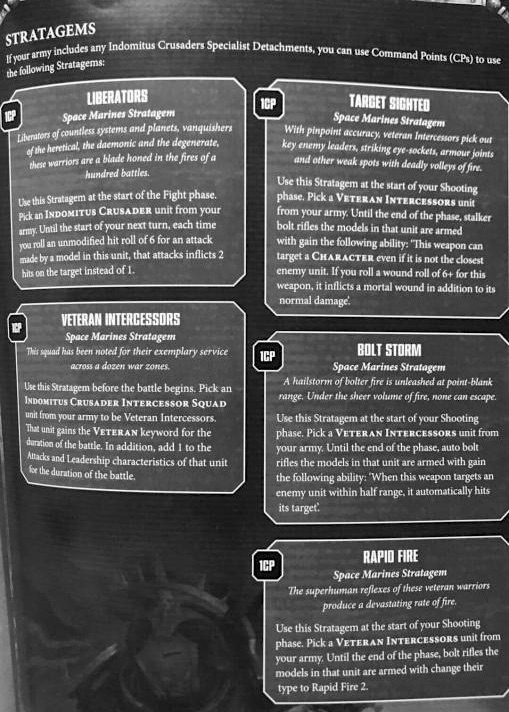 It's clear that GW is really, really trying to get the new poster boys of the Imperium priced just right.  Now those 4 extra points over the Tactical gets you double wounds, the extra attack, and the better weapons. We're building up multiple Primaris armies here in studio and are itching to try out an Indominus Crusader themed list to see how it does.
I think Intercessors feel right but time will tell if 17pts is the sweet spot, or if Tacticals/Scouts will still rule the roost.
~What do you think of Intercessors now?