We're taking a look at Circle's new warlock attachment, the Tharn Blood Shaman. Let's see how her abilities to turn blood into magic will impact your army!
The wave of Tharn models being released for Circle brings us this new warlock attachment. The Blood Shaman is a female Tharn model on a small base.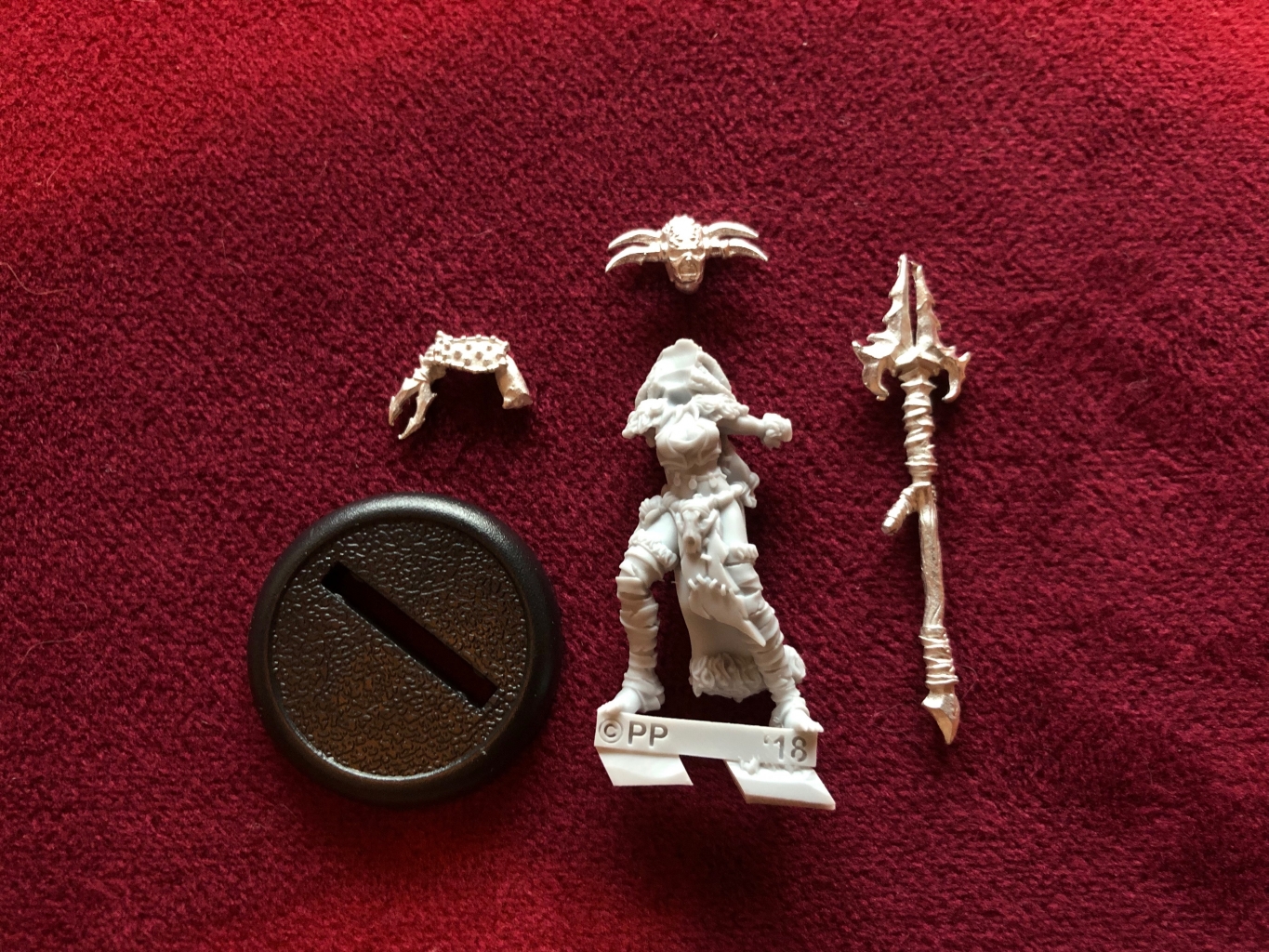 Let's take a look at her cards.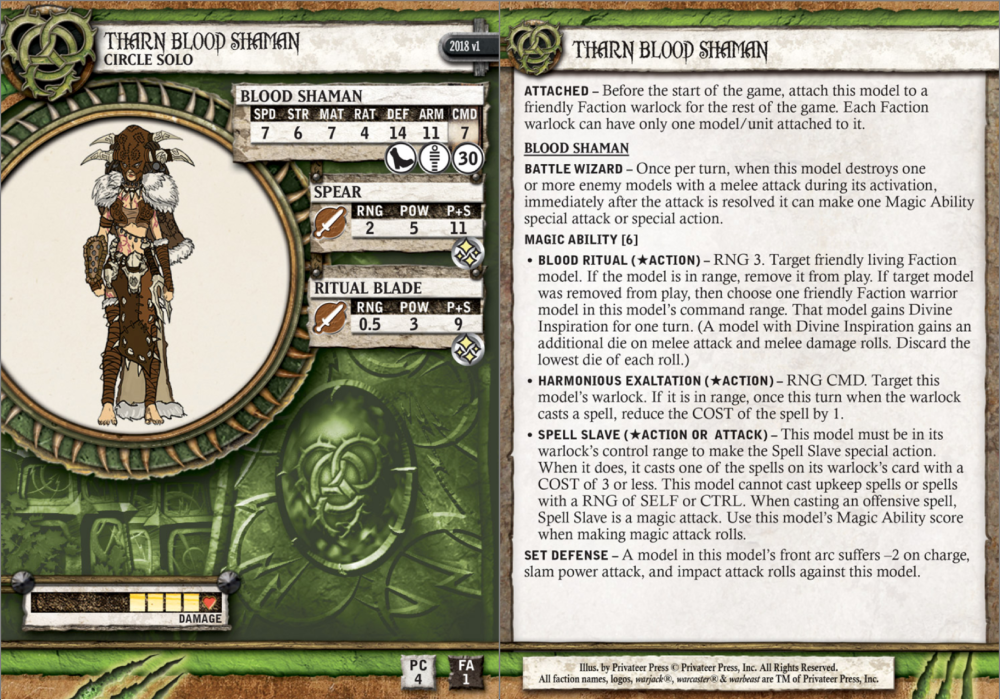 For this discussion, we're going to assume the Blood Shaman is being played in the Devourer's Host(Tharn) theme.
Base Stats
Like all small based Tharn models, the Blood Shaman has high DEF, low ARM, SPD 7, Pathfinder and Stealth. This makes her incredibly vulnerable to blast damage and electro-leaps, but pretty safe from normal guns and attacks. Given that she'll be a backline model it shouldn't be hard keeping her alive for most of the game.
In the late game the Blood Shaman is great at holding a flag or running to contest. Don't forget about Set Defense either, against a charge the Shaman will be DEF 16.

Magic Abilities
Blood Ritual – This is the spell that everyone is excited for, sacrificing one warrior model to give another Divine Inspiration. In a Theme like Devourer's Host that has a lot of good combat solos, this is a stellar ability. Lord of the Feast, Caul, Wolf Rider Champion, a member of the Death Wolves and even a single Tharn Ravager under mini-feat are all excellent targets.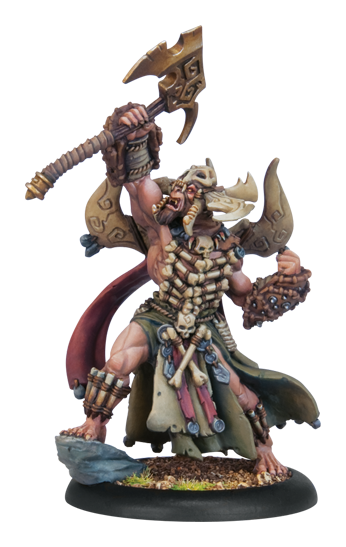 A Tharn Ravager under mini-feat and Divine Inspiration is a thing of beauty
You'll want to bring some models along in your list for sacrificing.  Bloodweavers are a decent choice, but then you probably are forgoing their Ambush ability which is kind of a bummer. Bloodtrackers also work, but even a min unit is still a little more expensive than the Bloodweavers. Given that you'll probably divine inspiration 2-3 times per game, you can take the Gallows Grove for a cheap 2pt sacrifice, then for any additional Blood Rituals just sacrifice the most expendable nearby warrior model.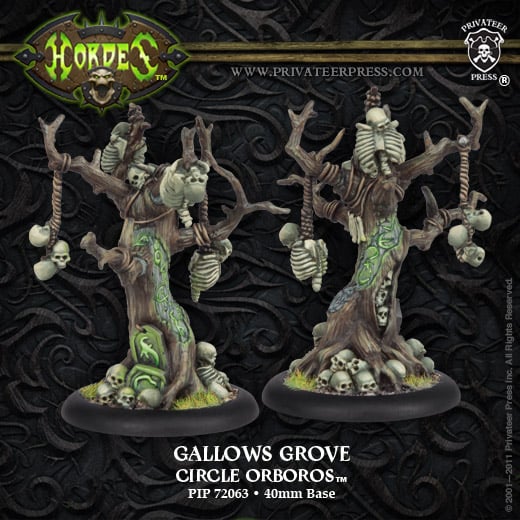 Harmonious Exaltation – Blood Ritual is great, but Harmonious Exaltation is how the Blood Shaman earns her paycheck on turns when you aren't sending in a super solo. Grayle, Morvhana1, Baldur1 and Kromac1 all like saving a Fury when casting a spell. Don't forget that animi are also spells and can be reduced in cost.
Spell Slave – Getting an extra Mortality with Morvhana1 is one of the more exciting things you can do with this ability. In most situations though, you'll want to keep the Blood Shaman safe so you can keep using one of her other abilities.
Combat Potential
The Blood Shaman is actually decent in melee combat. With 2 attacks, MAT 7 and Battle Wizard there is a some good infantry clearing potential. Charging in to kill 1 or 2 enemy warrior models, then using Battle Wizard to cast a 'nuke' spell from your warlocks card can earn the Blood Shaman a few kills. This should really only happen late game though, as you don't want to throw her away early for no reason. But when it does come up your opponent may be surprised with the caster attachment that suddenly killed 2-3 warrior models.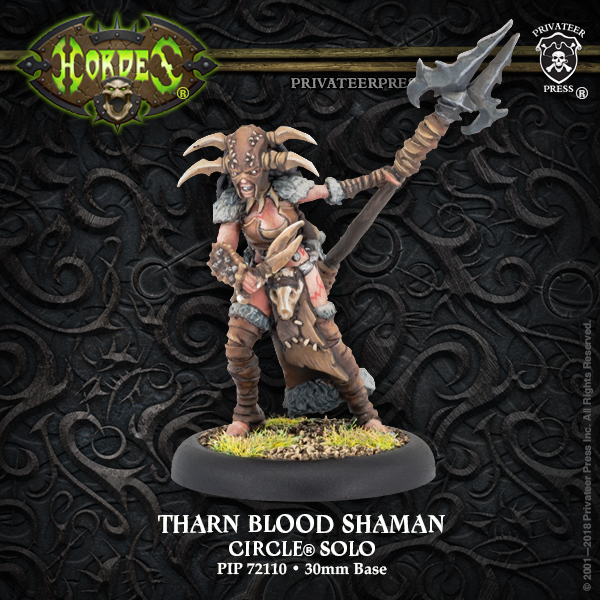 Wrap Up
A great caster attachment mixed with a decent combat solo make the Tharn Blood Shaman a nice addition to the Circle roster. Expect to see her in a lot of Tharn armies coming to the table.
Who is your favorite Blood Ritual target?