The corrupted trolls of the Bloodgorger trollkin have a brand new sculpt which shows off the twisted transformation that has befallen them, thanks to the influence of Cryx. Come check them out today.
In 1000 BR, Toruk the Dragonfather, fleeing his progeny on the mainland, settled in the Scharde Islands. The great dragon brought about immediate and cataclysmic change to the region, subjugating the island inhabitants and laying the foundations of a new empire. Over time, the trollkin worship of the Wurm evolved to incorporate Lord Toruk as their god. In practice their worship changed little, as the manner in which they viewed Toruk was not so different from how they had depicted the Wurm. The same bloody feasts were carried out, only devoted now to their new god. Additionally, Toruk's blight seeped into the surrounding area and eventually took root in the flesh of the Scharde trollkin. In the generations after Toruk's arrival, trollkin were born with the mark of the dragon, which only further strengthened their devotion to their Dragonfather.
Today they have a new sculpt that shows off the corruption of those tainted kriels even more–these Bloodgorgers look ready to live up to their name. Check them out today!
via Privateer Press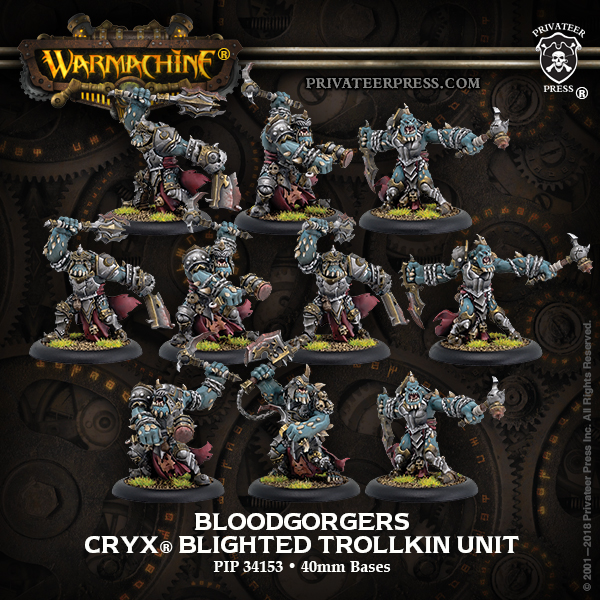 The murderous Bloodgorger trollkin hail from the blighted kriels of the Scharde Islands. Corrupted and black-hearted, they find no greater joy in life than charging into battle to maim their enemies before devouring them alive. Toruk's blight has blessed these trollkin with pronounced spurs and curving horns, enhancing their already-formidable ability to commit atrocity.

SPECIAL NOTE: PIP 34153 represents the same figures in the game as PIP 34103. The models in PIP 34153 are new sculpts and therefore look different from the models in PIP 34103. The replaced PIP will no longer be available from Privateer Press beginning January 2019.
What do you think of the new Bloodgorger sculpt? Let us know in the comments!