Cosplay Artist Spotlight: Order66 Creatures and Effects Pt 1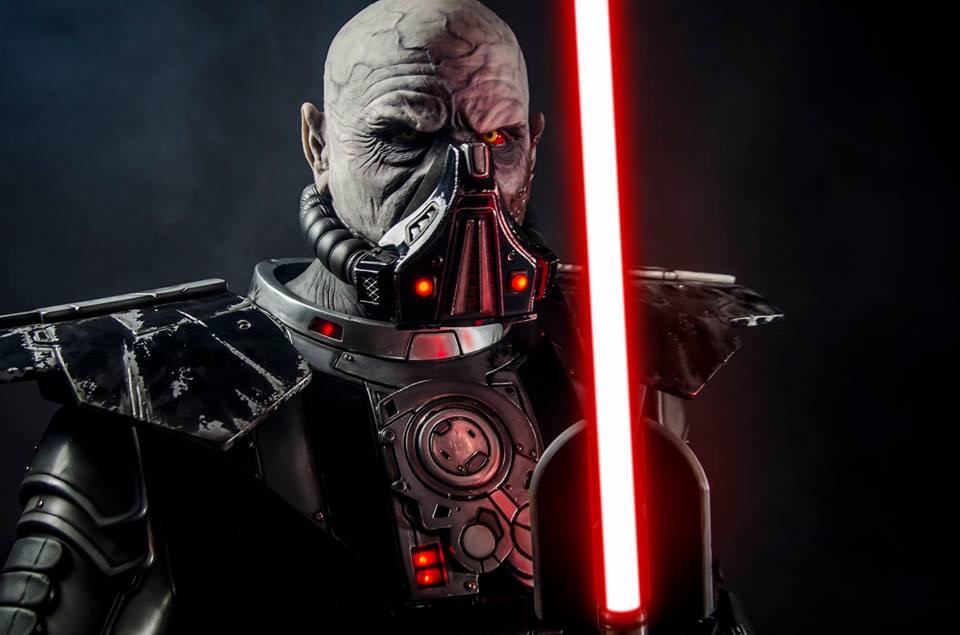 Larger than life cosplays, details, gadgets, and gizmos galore! This week we feature the stunning work of a studio that builds projects more true-to-life than their subject materials!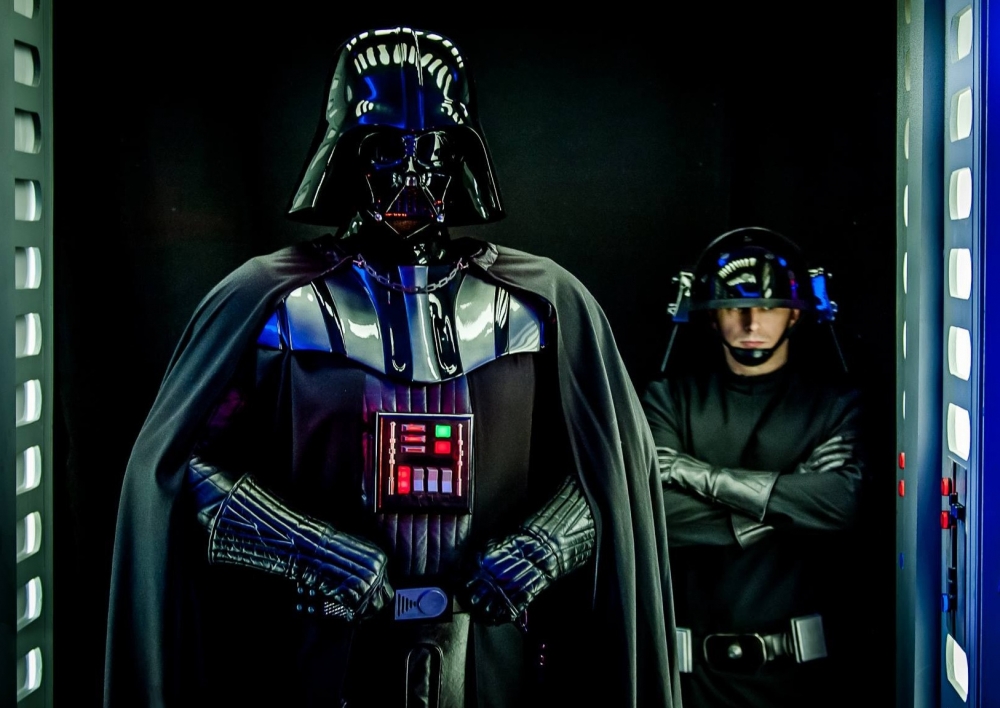 How did you get your start in cosplay? How long have you been creating your projects?
I had always been rather arty at school, spending most lunchtimes in the pottery room sculpting various monsters and film characters. All those years ago when I left school with A levels there weren't any Special Effects courses available like there are today. I ended up finding a 'Specialty Make-up' course at the London College of Fashion in London. Sadly, this turned out to be more of a hair dressing and beauty therapy course with around 1 hour a week glueing on rubber noses. In hindsight it actually stood me in good stead on set if an actor ever needed a quick trim or leg wax before a scene.
Following this I attended a costume and set design course at the Bristol Old Vic Theatre School. Once I graduated I set out to find work in the film industry. I was lucky enough to get work as a sculptor and a special effects technician, then onto the Art Department as an Art Director. After finding the hands on approach in the model making department more appealing I stepped sideways into the world of creating creatures, props and prosthetic make-up. Over the past 20+ years, I've worked on several major feature films and iconic television series in the UK's Pinewood, Shepperton and Titanic Film Studios.
After working this long in film and TV it started to become a bit of a drudge. The pay was excellent but it didn't make up for the long hours, the location shoots away from home and then the constant search for the next job once the production you were working on was nearing an end. The nail in the coffin was after 9/11 when many of the US production companies and actors were reluctant to come to the UK for filming. There were lots of lay-offs and myself and my wife who also worked in film found it hard to find the next job.
In the meantime we started our own business in completely different industry from film.
During this time we moved back to Ireland with our new business but I've always kept a small workshop for myself, just to keep my hand in.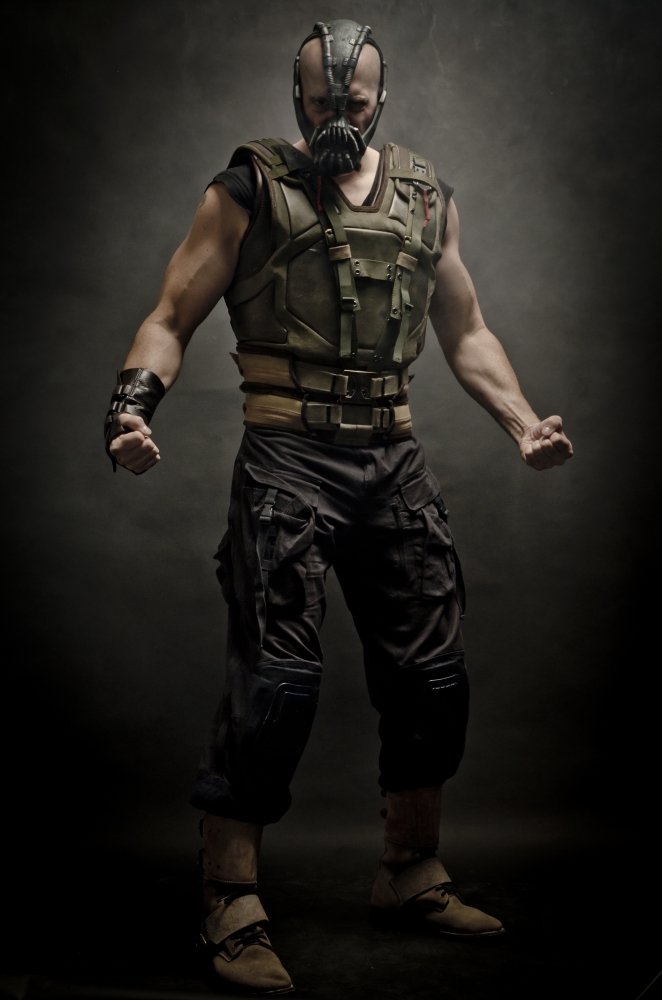 What inspires you to work in the cosplay realm?
I still do the odd film and TV job but more and more the private commissions from cosplayers began to dominate my time. It actually works out really well compared to working in film. I get to choose which commissions I'd like to take on, set the budget, decide the turn-around time and in doing so it let me continue to do everything from my own little workshop in Spiddal. We now mainly cater for high end collectors and cosplayers.
Also I find the cosplay community is an endless resource for interesting characters to create and bring to life. Film could sometimes be quite restrictive due to too much studio input, but creating cosplay gives me the freedom to really let loose.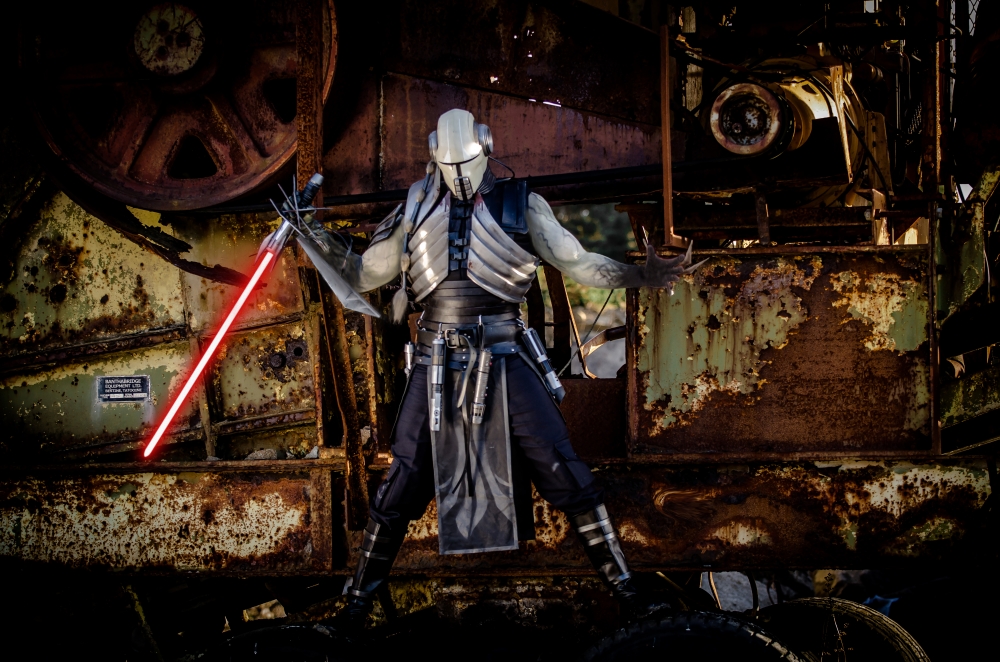 What do you do with your time outside of Cosplay? Any special skills or experiences, work, etc? 
If we were going to be really specific I don't really 'cosplay' per se these days. The only time I get into a suit would be for one of our promo shoots or if I'm doing a special appearance. My brother has recently started working with us and he has a very similar build to me (and not to mention 10 years my junior!) so I can now stick him in the suits instead.
Our company Order 66 Creatures and Effects is only very small but prosperous busy with various work, which thankfully is booked a good year in advance. So, between that and my wife's company with which I help with designing etc, we don't get a moments rest.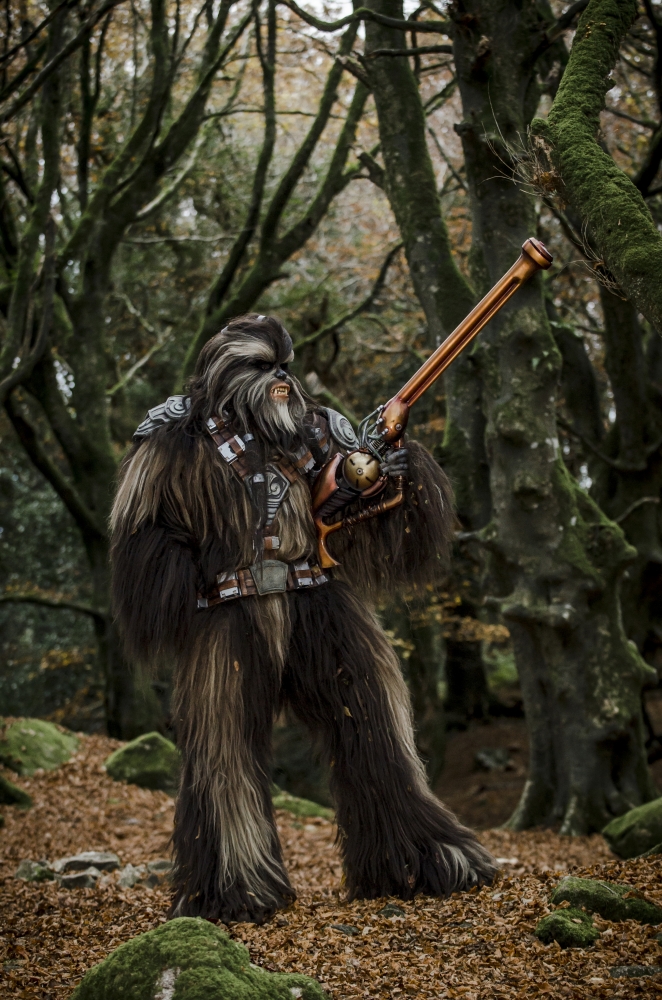 What is your favorite genre to work in? (Fantasy, Sci-Fi, etc)
I must say I'm a fan of the whole spectrum of genres but if I had to choose it would have to be sci-fi. That genre is just limitless with possibilities.
What is your strongest construction aspect?
I think most cosplayers would agree that you really need to be a master of many talents to create a good cosplay. For me the one I enjoy most would be the sculpting. I'm a bit of an old school chap and like to slap some clay down, beavering away until something comes of it. Its what Idid a fair bit of when working in film and its something I can do pretty fast. In this wonderful world of 3D printing I like to think I can still beat the bot!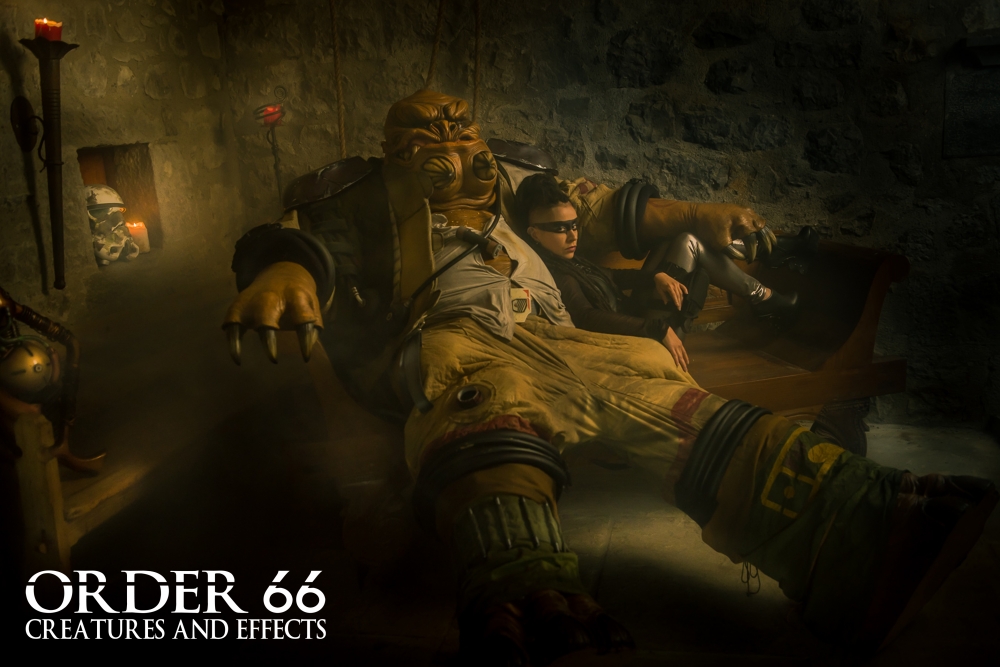 What is your favorite type of cosplay work to do? Armor, Fabric, Worbla, etc? 
As I mentioned I'm very old school so most things are sculpted, moulded, cast and then painted. This leads to me using lots of urethane and latex rubbers along with various polyester and urethane resins.
I am pretty good with leather but absolutely USELESS with fabric. Luckily I am able to outsource my fabric work to some amazingly talented people called Cantina Costumes for that side of things.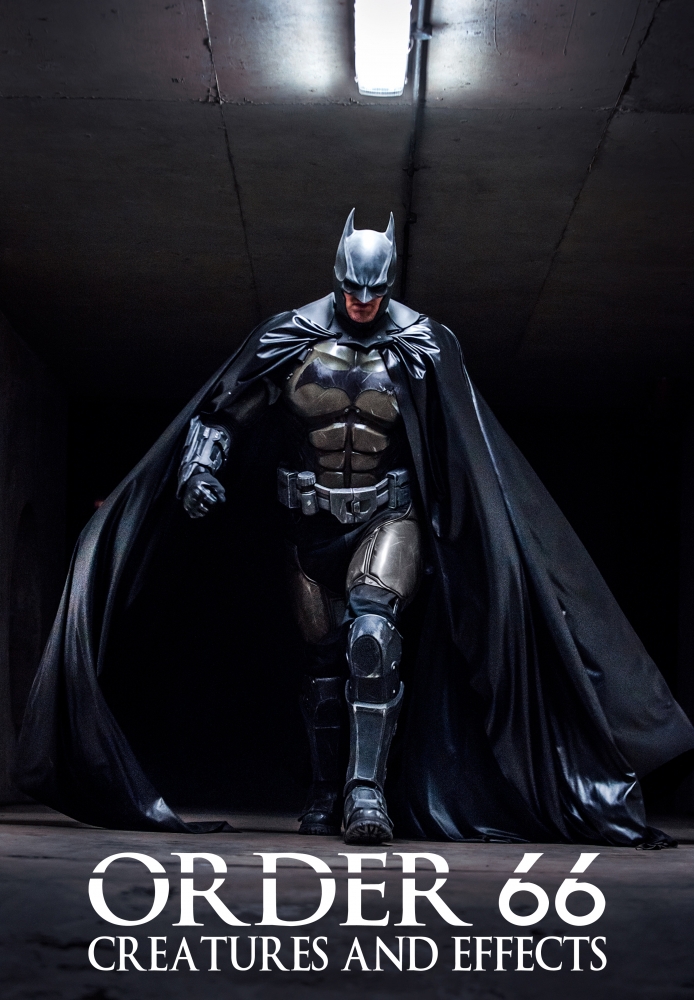 What are your favorite completed projects, or your most popular?
There have been a few of those over the years. Mostly they have been the challenges I have set myself. I suppose there are two that really stand out, the first was creating a character called Grummgar from Star Wars The Force Awakens, to be showcased at Star Wars Celebration (the worlds largest Star Wars convention being held in London at the time).
The original character was created as a seated puppet in the movie but we decided to take it a step further and have our guy walking and (not talking!) grunting.
Not only was the costume nearly 3 metres tall but it also required animatronic arms and a head along with articulated stilts and feet. We decided to do this at the last minute and only had 100 days to create this enormous costume from nothing. It was a huge effort to complete in time, weighing in at over 70kg, just getting the costume to the convention took up a whole Landrover. But in the end all the effort was worth it as we ended up winning the 'best in show' competition as well as earning a Guinness World Record for the worlds tallest Star Wars costume.
The second one turned out to be another Guinness World Record breaker in the shape of a Batsuit that had 23 functional gadgets. The gadgets included fireball shooters, remote tracking devices, EMP stun guns, smoke grenades and even the classic Bat-a-rang!
The amount of work that went into those gadgets took over a year to create and get each one working just right and fitted onto a Batsuit. We certainly learnt our limits on that one.
We took the opportunity to do one of our promo shoots for this gadget laden Batsuit and  received an amazing global response being featured in dozens of international publications as well as TV and media sites such as Rolling Stone Magazine, The Discovery Channel, The Hollywood Reporter, Wired, The Huffington Post, GQ and even Time Magazine.
Its also led to us being invited to some amazing events in far of lands, the positive response has been eye opening!
~Join us next week for more Cosplay! Coverage~
Have a Cosplay question you would like Mayhem's Muse to answer? Send an email here!