This week, the Steelhead Artillery are out in force. Bring heavy firepower to your Warmachine armies this week.
That's right, Privateer Press is rolling out the heavy firepower this weekend with their Steelhead Mercenaries. Grab yourself a crew for your favorite style of artillery–pick up a cannon, a volley gun, and a mortar, then give them an expert crew and rain destruction on your foes from a distance. Check them out!
via Privateer Press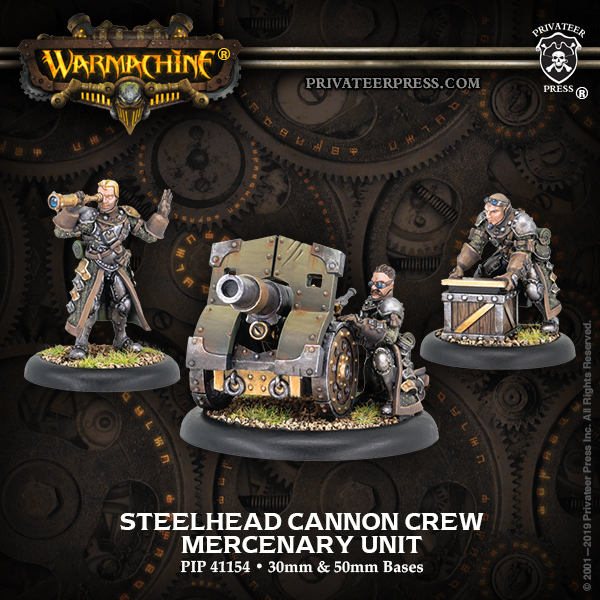 As the Steelhead Mercenary Company evolved into a larger outfit, capable of fielding full armies for hire, it saw the need to develop an artillery division. This cannon is the mainstay Steelhead artillery weapon, providing blasts of concussive firepower to complement withering volleys of riflemen and the charge of halberdiers. The heavy explosive charge packed into cannon ordnance is quite capable of knocking anyone caught in the blast to the ground, disrupting the formations of advancing soldiers and leaving even those who survive its lacerating shrapnel shaken.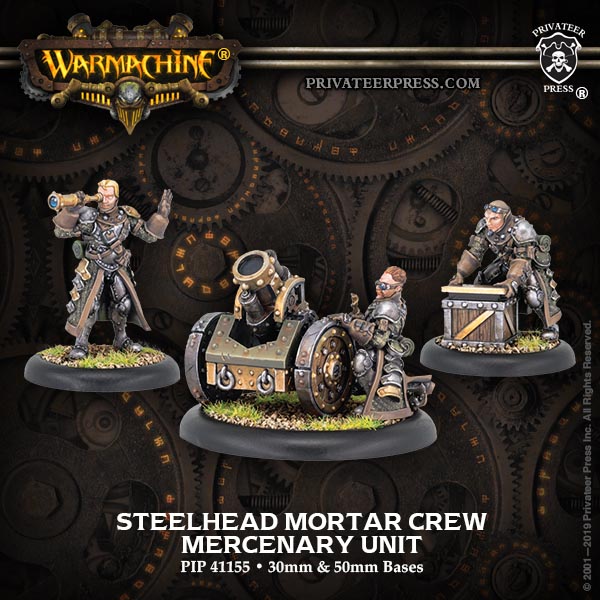 Each piece of artillery employed by the Steelheads has a distinct role, directed by veteran gunners to exploit that artillery's strengths. Mortars fire in high soaring arcs, directing explosive payloads onto the heads of distant targets, even those otherwise shielded from direct fire by intervening walls or warjacks. While such firing arcs make it difficult to aim with pinpoint accuracy, the size and impact of mortar blasts makes up for this. Mortar fire obliterates infantry and leaves the ground pocked with craters.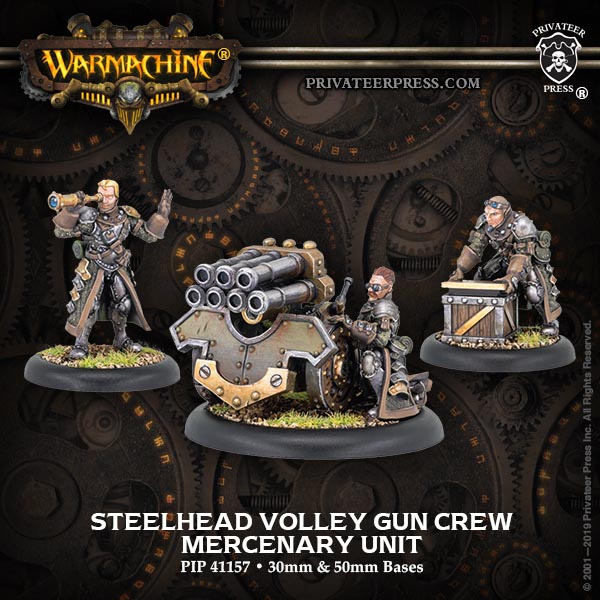 Engineered as a modified variant of an Ordic weapon first invented by Midfast Munitions, the Steelhead Volley Gun can unload a steady barrage into enemy lines. It utilizes a double-rowed rack of seven barrels firing solid shot in sequence to batter infantry and even light warjacks into oblivion. The crews manning these weapons are in constant motion as they compensate their trajectories after the recoil of previous shots and then reload to begin another cycle of destruction.
What do you think about the new Steelheads? Have at it in the comments!