Mercenaries got a new Privateer Warjack recently, the Swabber. Will Caine3 be joining the Pirates to spend more time with this new warjack?
The new Swabber warjack has me taking another look at Caine3 in Mercenaries. It's been generally agreed upon that Caine3 works better in Cygnar than Mercs, and I'm not arguing that's still not the case. But let's take a look at the Swabber and discuss why Ace might be getting a little jealous.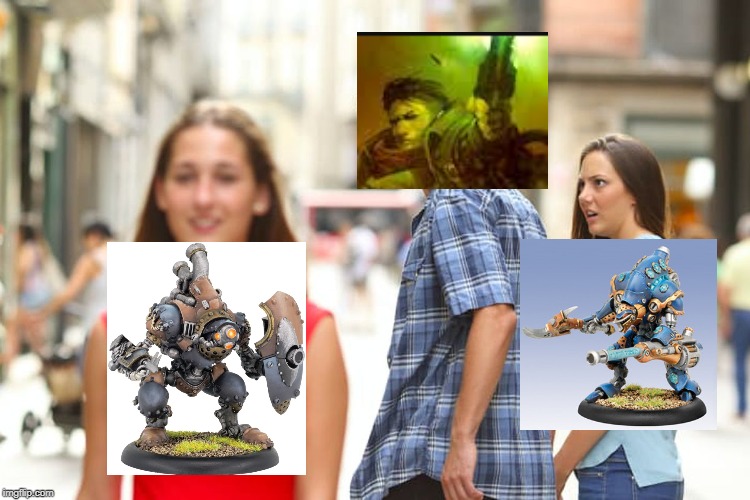 Swabber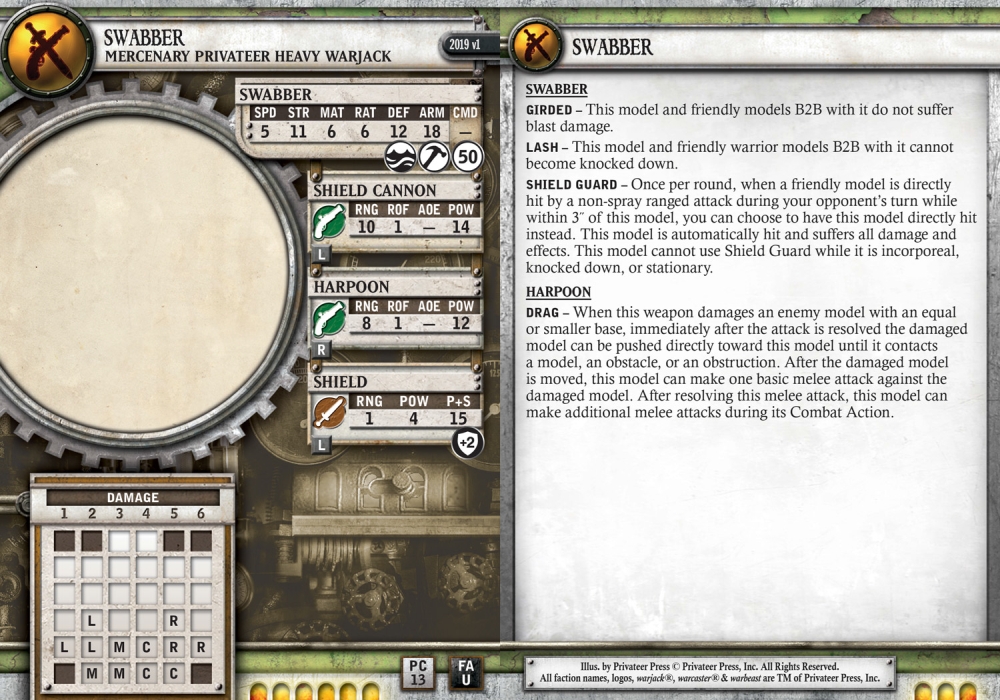 For this list, we'll be taking Caine3 in "The Irregulars" theme. This gives us access to two import solos; Master Gunner Dougal MacNaile and Ragman. Ragman lets us crack armor after Dragging something in. Dougal MacNaile is there for that important +2 RNG for Privateer models, likely on Caine's feat turn.
Reap The Whirlwind
The Swabber brings 2 good guns for Caine's feat. Previously most Merc warjacks only ever got 1 shot per turn, now for 13pts you get 2 good guns, albeit short range, with the survivability of a heavy. With +3 to hit and damage you are getting a RAT 9, POW 17 shot and POW 15 Drag attack. Those are pretty solid numbers for assassinating enemy casters or simply shooting heavies off the table.
Caine3 builds in Cygnar typically relied on the multiple Charger light Warjacks. The Charger is 9pts with 2 POW 12, RNG 12 shots each turn. For 4 more points, you get the Swabber with 2 shots, one that is POW 14 and the other Drags enemy models in. While shorter range, we're bringing Dougal for +2 RNG mini-feat so it's not that much shorter.
Keeping Caine Alive
The Swabbers bring another very important element to a Caine3 list, keeping him alive. In case you are unfamiliar, Caine3 is DEF 17, ARM 13 and likes to spend his focus. So if you knock him down or get some blast damage on him, you can probably kill him.
Girded allows Caine and his unit to not take blast damage. Be careful for things like Electro leaps or Ashes to Ashes, it doesn't help against those. Lash will prevent the Swabber and Caine from being knocked down. Lastly, having Shield Guard is great for protecting against one or two high quality ranged attacks.
List Building
The tendency with something new is to cram as many into a list as possible. But rather than put 6 Swabbers with Caine3(which admittedly does sound fun) I think the Swabbers lack of melee output prevents this from being viable. Dragging in enemy heavies isn't great if you can't kill them afterward. However, we still want a lot of shots for feat turn and being able to threaten a lot of drags sounds pretty awesome…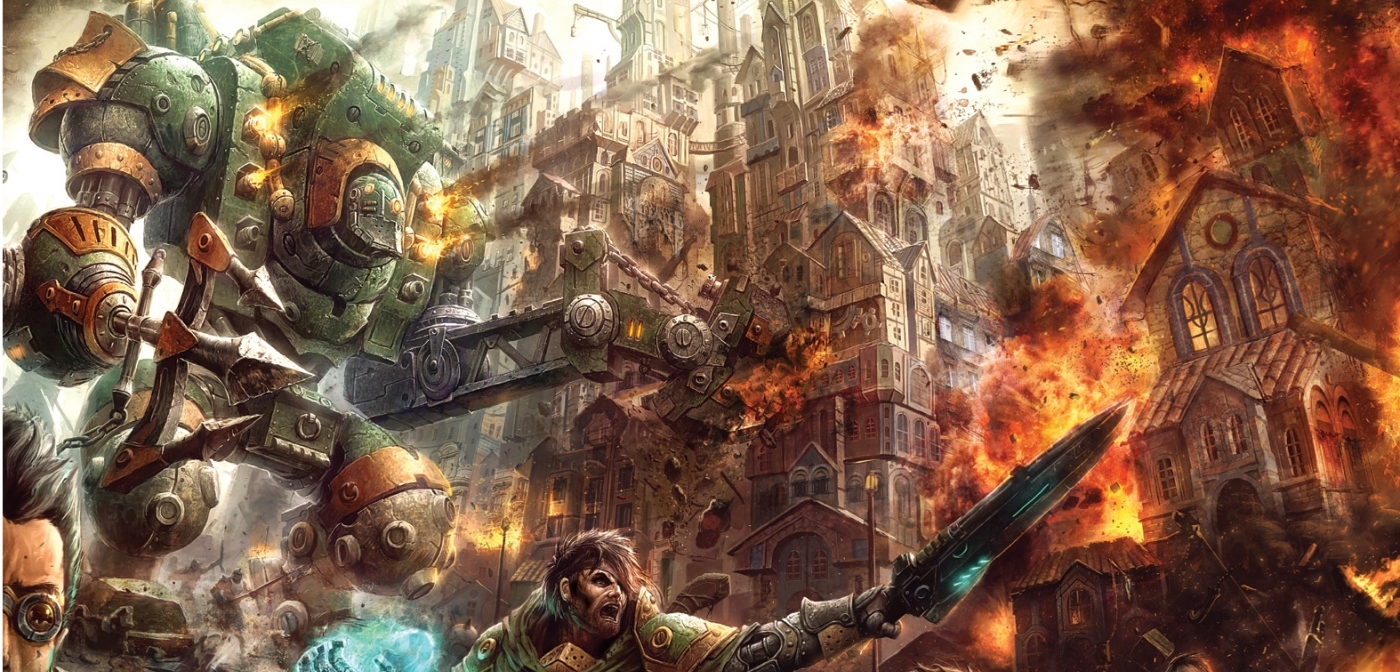 Did someone order more guns and a Drag Shot? 
The Galleon brings more of the guns we want, and a solid melee presence as well. With its recent point reduction and new Power Lifter ability I think it makes an excellent addition to the list. So far our list is looking like…
Caine3 & Hellslingers
Dougal MacNaile
Ragman
From here we could go more Swabbers, maybe Aiyana & Holt for even more ARM cracking. We also want a unit that provides a nice buffer and can score zones. Alexia1 feels like a solid choice, making Weapon Master solos is a welcome addition.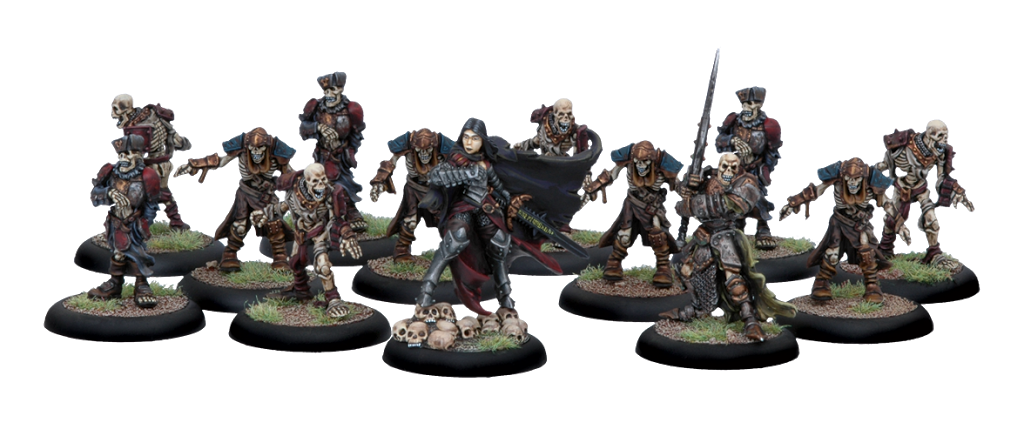 Let's round out the Battlegroup with Ace and a Mariner, rather than more Swabbers. Ace provides some great utility shots, a POW 15 on feat turn, plus more magic weapons and True Sight. I'm choosing a Mariner over another Swabber because of its melee weapon. At RNG 2, POW 17 this gives us another heavy to finish something off that a Swabber or Galleon drug in with their Harpoons. The RNG 15, POW 14(17 on feat turn) gun is also just an excellent gun.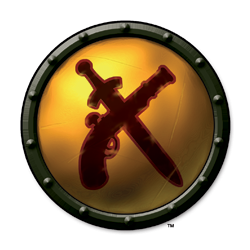 Final 75pt  List
Here's our final list.
Caine3 & Hellslingers

Galleon
Swabber
Swabber
Mariner
Ace

Dougal MacNaile
Ragman
Free Solo of Choice(Eilish, Eiyriss, Reinholt)
Alexia1 & Risen
We've got a list with some serious ranged firepower, able to kill casters and heavies. Keep in mind with all these numbers that Caine3 has Calamity, further lowering the enemy DEF and ARM by 2. On feat turn, that means getting Swabber shots up to POW 19 and Drag Shots to POW 17. With Calamity and Ragman the Swabber become respectable in melee, getting the Shield attack to POW 19.
Hope you enjoyed the list and it got you thinking about Caine3 and Swabbers. It's not going to be the new meta hotness, but it's definitely some decent jank that might catch some people by surprise.
Which jack do you think Caine prefers? Ace or the Swabber?