Let's talk about why the days of the classic Space Marine Mk. II Rhino might be numbered.
GW has been relentless in rolling out hordes of new Primaris units over the past two years. Recently they've teased a few more units that will be coming soon. With all these new units coming out it does seem like the days of classic Marines, both in fluff and table top are a little limited. In among the newest teased models is one that could be bad (or good) news for one partical classic model, the MK. II Rhino.
The Mystery Tank

Front and center in the new models is some kind of new tank. While details aren't clear thanks to the blur we can tell a few things pretty well:
It's clearly a hover/grav vehicle.
It's got some kind of "light" turret or gun.
It's got some sort of vents or sponsons projecting fromt the side (maybe allowing increased speed or deepstriking)
There is no obvious hull mounted weapons
Ultramrines can take them (no shock)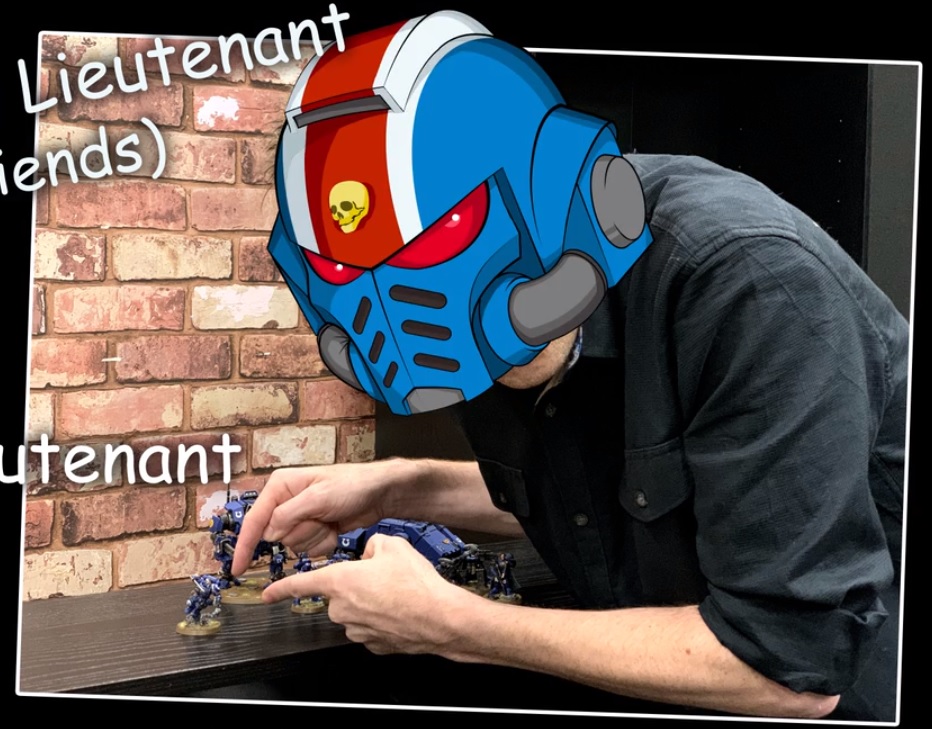 Now while the tank does remain a mystery it does fit some rumors we've been hearing. This tank would seem to pretty perfectly fit into the role of Primaris light transports we've been waiting for. Now a lot of people were expecting a stripped down version of the Repulsor, maybe without a turret, to act as the light transport. This tank however appears to be something all together different, with a pretty different overall profile and hull height-to-width ratio. What is does remind me a lot of is the Rhino MK. II. In particular the two front slits. So could this be a Rhino replacement?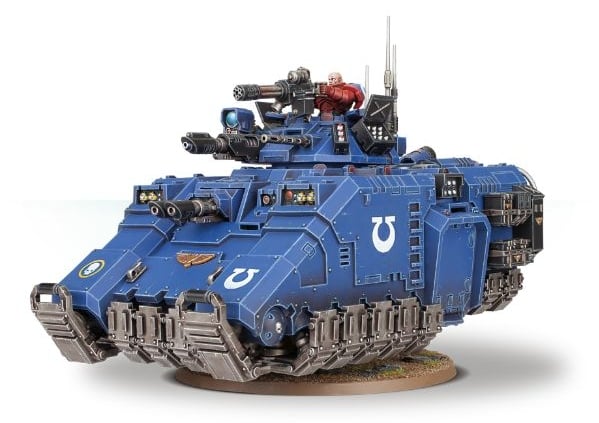 Mk. I to Mk. II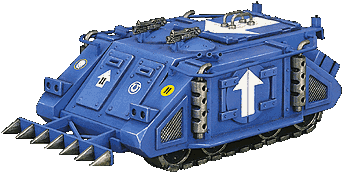 While it doesn't happen as often as some people might wish GW does at times update their models. Way back in the day when 40K first came out Marines rode to battle in the tiny plastic Mk. I Rhino. This Rhino was a staple of the game for the early editions. However GW eventually updated the model, introducing the MK. IIc Rhino that is the current standard. When they did this they phased the old Rhino model out of production. They also went and updated the Rhino based tanks, Predators, Whirlwinds, etc.. By the end of the process the old models were only available second hand –  the fluff had been updated.
MK. III Rhino? 
So lets take a look back at our mystery tank. To me it looks and feels a lot like a Grav version of the Rhino. It's got the classic double vision slit on the face place, a hallmark of Rhinos. It's clearly a lighter tank, and likely a transport. Even the turret, which looks like it doesn't have room for a gunner, reminds me of the turret on the Razorback, a Rhino variant. All of this says Rhino to me. And making this tank a new version of the Rhino would actually be really smart on GW's part.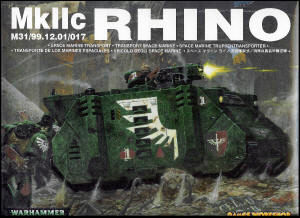 If they introduced this new tank as the MK. III Rhino (Or Cawl pattern?) it would accomplish a lot of things. First it would create a connection between the classic Marines and the Primaris Marines. Second it would kind of signal that they plan to use this tank as a base for several variants, to replace the Rhino variants. This is something they should absolutely do. Third it would allow them to phase out the older MK. IIc Space Marine Rhinos with less complaint since this would be a "replacement" model. They could then follow getting rid of the under gunned Rhino variants, like the Whirlwind or Predator  and replace them with new MK. III up gunned versions. This would allow them to put out new Primaris models but still keep the classic tanks.
Two Objections
I want to quickly address two objections, or quibbles some people might have. The first is that there is already a MK. III out there, The Sisters of Battle use the MK. IIIa Mars Pattern Rhino,and thats been around for a while. Now personally I think this is a minor quibble, if GW wanted they could simply call this new tank the MK. IV, or the Cawl pattern. On the other hand I think they'd be better off just re conning the bit of trivia that is the MK. IIIa, as it will confuse some people if the MK. II is replaced by the MK. IV.
The second objection is that this tank can't be a "Rhino" because it uses grav tech and is thus a whole different tank. While I have no doubt this tank is going to be different stat's wise to a classic Rhino the grav argument doesn't hold wait. In fact Grav-Rhino's are already a thing, and were used during the Horus Heresy.
End Of Classic Rhino?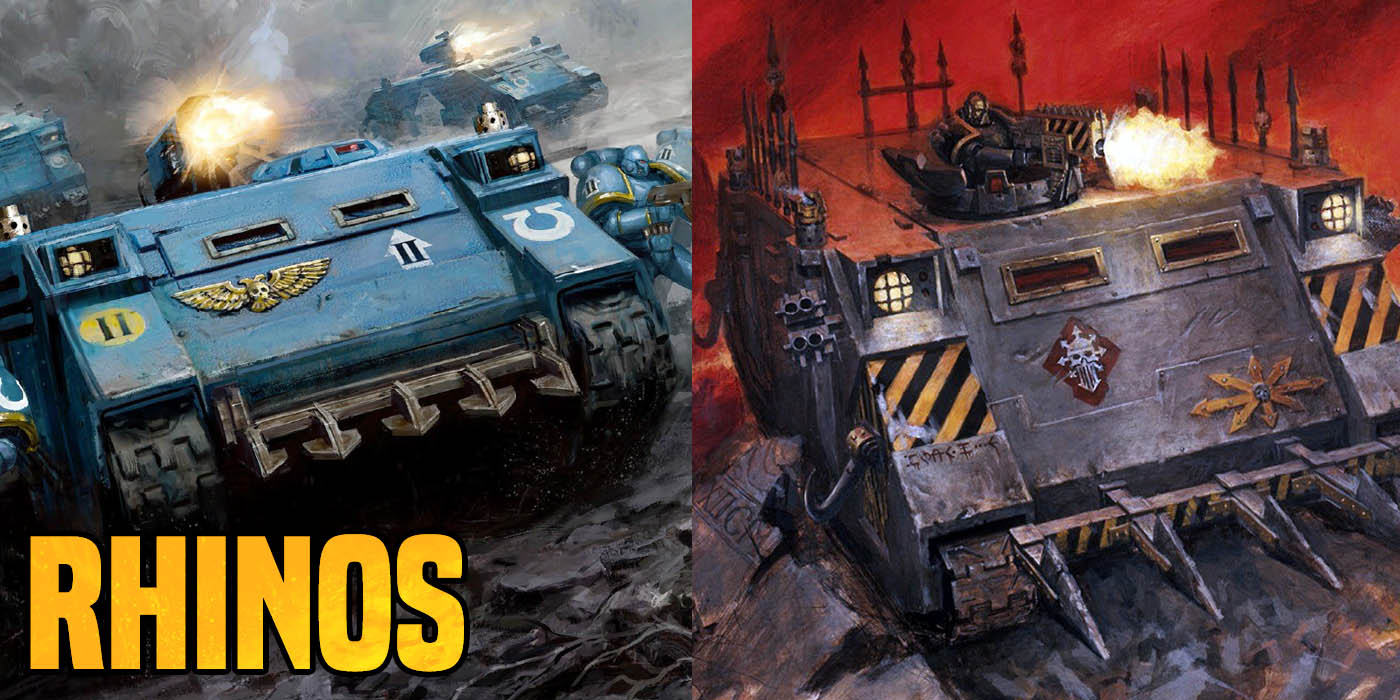 This is obviously a lot of speculation based off of a couple of blurry pictures. However I do think it makes sense for GW to take things in this direction. The Space Marine line is really massive right now, which is a problem for retailers. It seems likely at some point the classic stuff has got to start being phased out. I've long though it the Rhino was too iconic to get rid of. However making an upgraded replacement that keeps some of the iconic looks and features makes a lot of sense. This would allow them to have a middle ground, phasing out the older, under powered tanks, and replacing them with new upgraded versions, that aren't wholly new tanks. This could let them phase out old models and avoid some of the fan backlash. In addition, it seems likely the models would at least partially remain available through Chaos (and SoB to a lesser extent) so players who wished could still get their hands on them. Overall I think this would be a logical and smart move, that would mean the death of the MK. IIc Rhino for Loyalist Marines, and the birth of something better.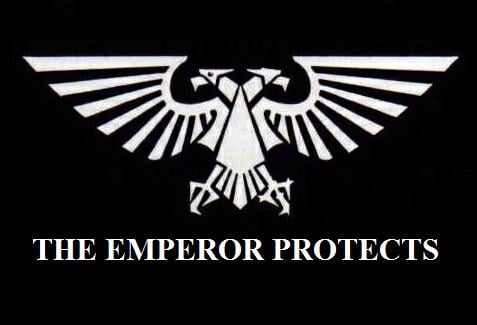 Let us know if you think this is Rhino replacement or something new, down in the comments!