Did you think GW was finished with the Warbands of Warcry? Think again because TWO more Chaos Warbands have been announced!
We've done a round-up of all the Warbands that are coming to Warcry already – or so we thought! Apparently there are going to be 2 more Warbands that are joining the scene post-launch and today we've learned their names.
At launch, not only will you get access to the Iron Golems, Untamed Beasts and Cypher Lords, but…
"You won't have to wait long until you can get your hands on the Corvus Cabal, Splintered Fang and Unmade warbands, and they're not the only ones on the way. We'll be supporting Warcry for a long time to come, with more Chaos warband planned for the future."
And those new Warbands are:
This is really cool stuff! The 6 Warbands we've seen so far have all been from a different Mortal Realm:
Iron Golems – Home Realm: Chamon – Realm of Metal
Untamed Beasts – Home Realm: Ghur – Realm of Beasts
Splintered Fang – Home Realm: Ghyran – Realm of Life 
Corvus Cabal – Home Realm: Ulgu – The Realm of Shadow
The Unmade – Home Realm: Shyish – Realm of Death
Cypher Lords – Home Realm: Hysh – Realm of Light
Now, we've got these two other Chaos Warbands to guess where they hail from. For the Scions of the Flame, I'm just going to take a wild stab and say they might be from Aqshy – Realm of Fire.
But as far as the Spire Tyrants, that is a really good question. There are 8 Mortal Realms total, 9 if you count "Chaos" as a Realm – but that's debatable. And the only Mortal Realm that isn't represented is Azyr – Realm of the Heavens, aka the home of Sigmar. From a lore standpoint, Sigmar did cut off Azyr from the rest of the Mortal Realms during the Age of Chaos. 
It makes sense these these other Chaos factions have spread to the other Mortal Realms. They were under the thumb of Chaos for hundreds of years. But Azyr? It was "uncorrupted" by Chaos. And it's the home of Sigmar. Surely a chaos cult/warband wouldn't form under the watchful gaze of Sigmar. Then again…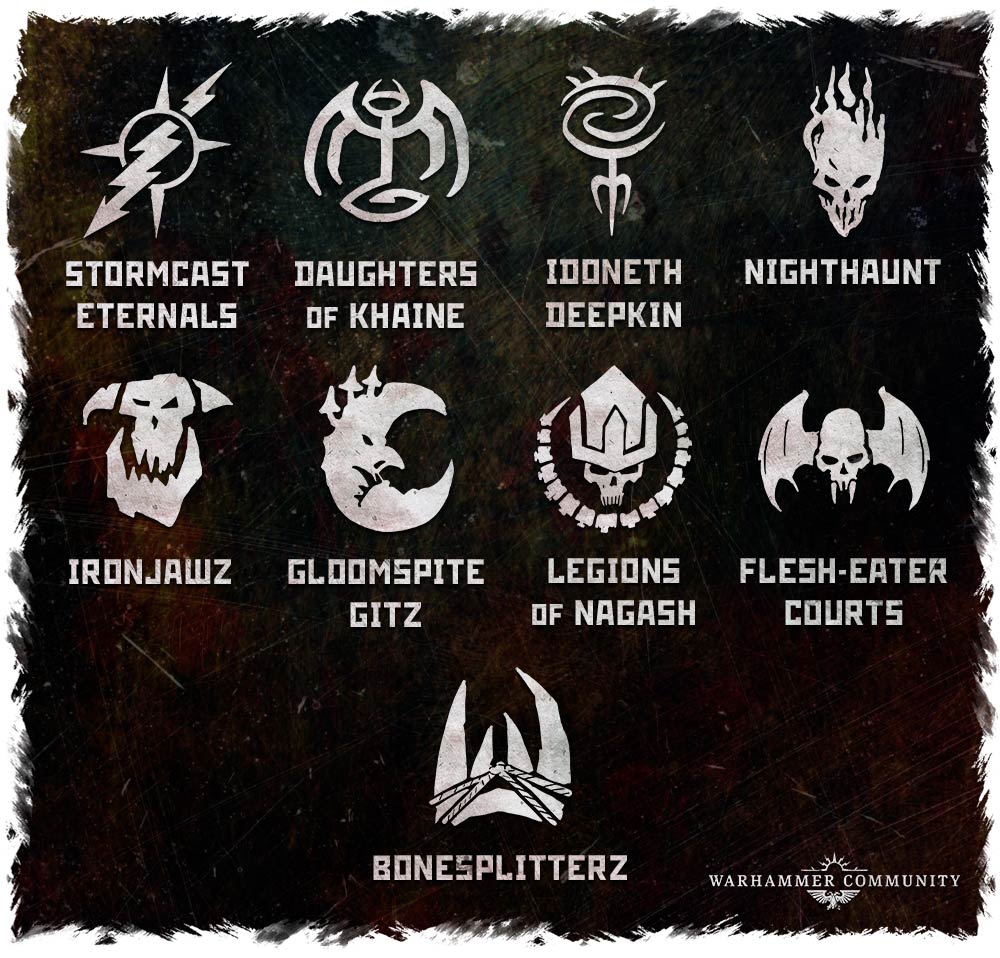 Don't forget the 9 other factions that will be playable day one also!
We don't have much else to go on besides these images. So we'll have to keep on guessing. It's great to know that GW is committed to not only getting the other 3 Warbands out soon, but also to supporting this game in the long run. It looks like all the Chaos Warbands are going to have Warband Cards with all their relevant rules included with them. If that's the case, then adding new Warbands to the game seems like it should be a pretty simple process for them.
I'm really hoping that these new Chaos Warbands are somehow incorporated into the Chaos Faction for Age of Sigmar at some point. The models look great and it's seems silly that GW wouldn't include rules for them in larger games of AoS. And now that we've got two more Mystery Warbands that have been teased, I'm REALLY curious to see how these 8 warbands will fit in the larger picture. But for now, it's time to start deciding which warband I want to play at launch. At least GW has a helpful video to guide our thinking on that:
So where do you think the two new Warbands will be from? And what Warband are you leaning towards!?