Lock & Load being over means that a new Steamroller is always never far behind. The Steamroller 2019 packet is now live, let's check out all the scenarios you'll be playing for the next year!
The Steamroller document shouldn't shock anyone too badly, no crazy format changes this year. Which is good, the 6 scenario formula has been working for a while now. It brings a good amount of variety to the games, but is also digestible and you can expect to become familiar with the scenarios and tailor your lists to them as the year goes on.
You can find the new 2019 Steamroller Document on the Privateer Press website.
Don't be fooled into thinking it's just the same as last year though, the 2019 packet has some very interesting things going on. Let's take a look at the scenarios.
King of the Hill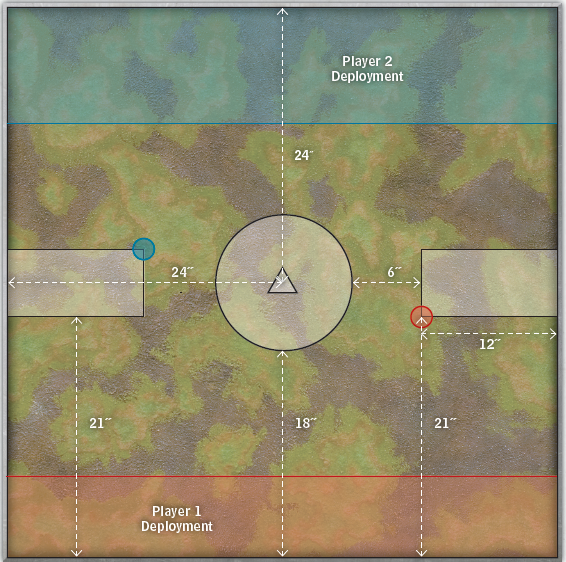 Look at those zones! Right against the edge of the table, plus a central zone with a flag in the middle. Remember that rectangle zones can only be scored by warjacks, battle engines, and casters; so you'll need to split your forces if you plan on holding both rectangles.
Battle Engine stock goes up(even more) as they can operate independently from a warcaster. Additionally, this may also mean that a 'refused flank' strategy where you attempt to dominate one side of the table and then push towards the enemy is effective.
Bunkers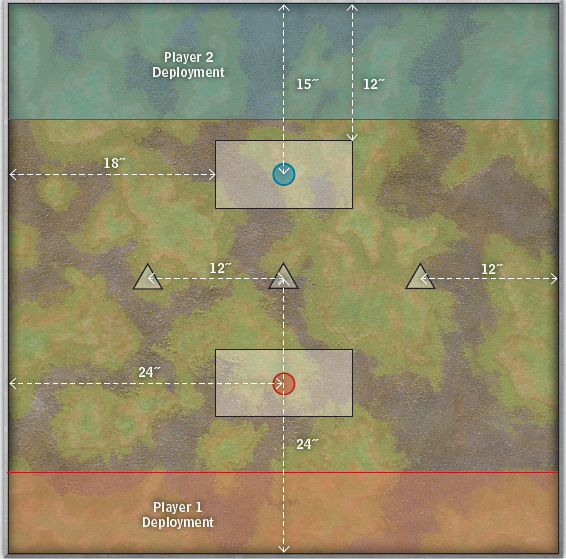 Watch out for the scenario monsters on this one. With 3 central flags, a friendly zone to easily score and an enemy Objective to shoot, it's possible to score 5 points in a single turn. Claiming table space and being able to contest the central flags with something difficult to remove is going to be very important. I think the new Dugout Objective(covered later) is going to be very valuable in this scenario.
Spread the Net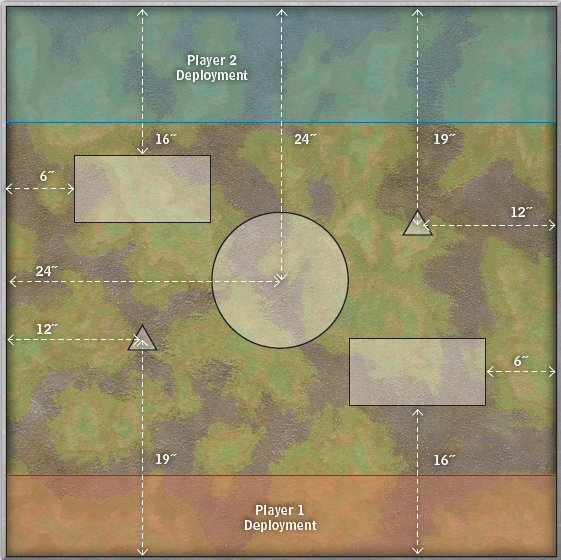 Spread the Net remains the same as last year. This used to be the scenario that was the most spread out, but now King of the Hill and Anarchy are fighting for that title. It's also worth mentioning that this is the only scenario without an objective. With objectives becoming more valuable this year this might be a big factor in some match-ups.
Invasion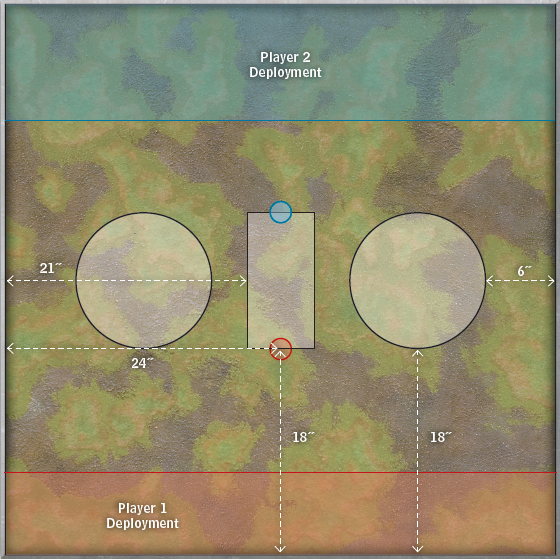 Invasion remains the same as before, and it's the only scenario without flags this year. Nothing new to say here, a good solid scenario I'm happy stuck around.
Anarchy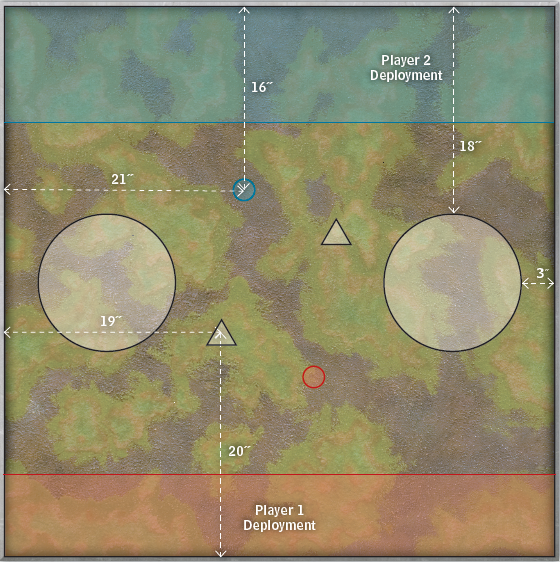 Ambushing units rejoice! This is another super spread out scenario, but this time its units that will be all over the place. With flags central, it may be hard for solos on them to stay alive early game. Keep in mind that many tables, if they are following the terrain guidelines, are likely to have a line of sight blocking piece of terrain central on the board. If that terrain piece happens to protect your flag, it might be easy to keep a solo there and scoring all game.
Recon II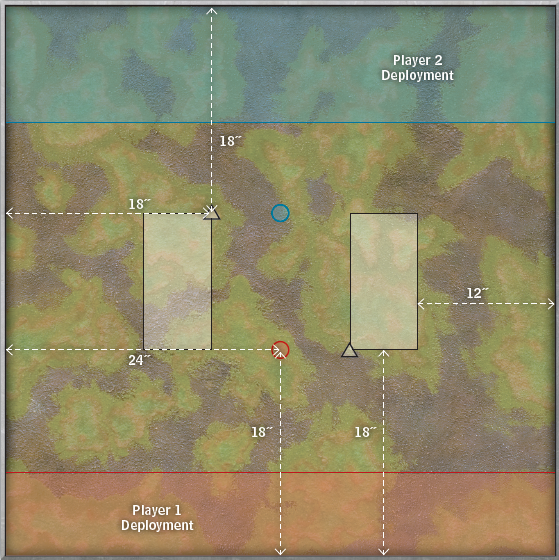 Another classic, Recon returns again this year.
Objectives
This year we're back to having 6 Objectives, the three from last year have remained and are joined by 3 new Objectives.
The Usual Suspects
Here's a quick reminder of the 3 Objectives we've been using this past year. Many people, myself included, have forgotten their original names and refer to them simply as the; Pathfinder, Healing and Magic Weapons objectives.
New Objectives
Dugout makes a model immobile for one round. Any attempts to remove that model, short of outright killing it won't work. Keep in mind that it won't prevent you from being knocked down though. I can see this being very helpful on the Bunkers scenario to prevent an opponent from pushing you off that center flag. With Dugout, you can put a hard to kill model exactly 4″ from a flag and be confident your opponent won't score.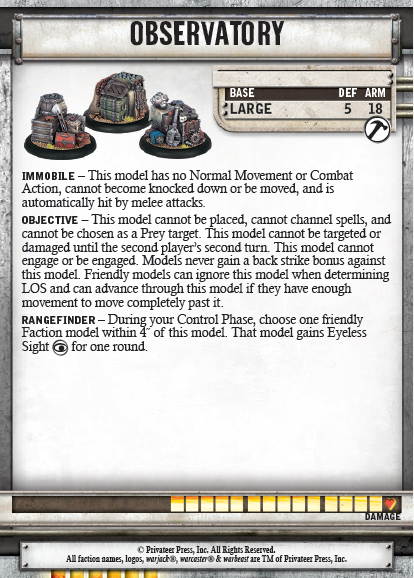 Observatory grants a model Eyeless Sight and is the reason I'll be dropping the Bog Trog Mist Speaker from my Circle lists. Remember that Objectives are chosen after list selection. So if you find yourself facing down a cloud wall or lots of Stealth models, you can add a last-minute tool to your list.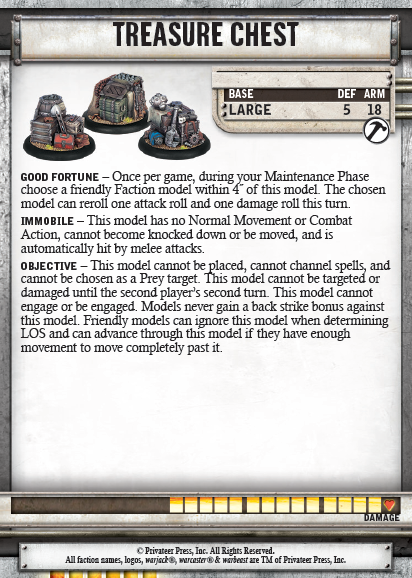 Talion Charter is obligated to bring this Objective
Treasure Chest is unique in that this is a once per game ability. If you have a plan you really need to work, especially if you are making an assassination focused list, this objective will allow a model to re-roll one attack and one damage roll during that turn. Drag shots really like this as well, as they both need to hit and damage to pull in models.
Wrap Up
It's always exciting to start playing with a new Steamroller packet and 2019 is no exception. Our local store ran a Steamroller last weekend with the new packet and everyone enjoyed the new scenarios. During one of my games, the Observatory objective was able to provide a useful tool vs a Gravediggers list. I'm looking forward to more Steamrollers and will be looking to include more Ambushing models in my lists.
What Scenario do you like the most? Which Objective in your favorite?