Adam, from TFG Radio, back with another article to help with the information overload that is competitive 40K. This week – the Chaos Marine buzzsaw – the Lord Discordant.
Now in my last article I mentioned that there is a unit in the chaos codex that can generate an insane number of attacks. That unit is the Lord Discordant. What was initially viewed an easy Headhunter kill when it was first shown, has become a staple of a lot of  the Chaos armies that you see on the tabletop. In this article we will go over the rules of the unit, what happened to make them a must have, in some people's view, if you are going to play chaos, how the blender actually works, and a couple of ways to defend against it. First off, though is the dataslate.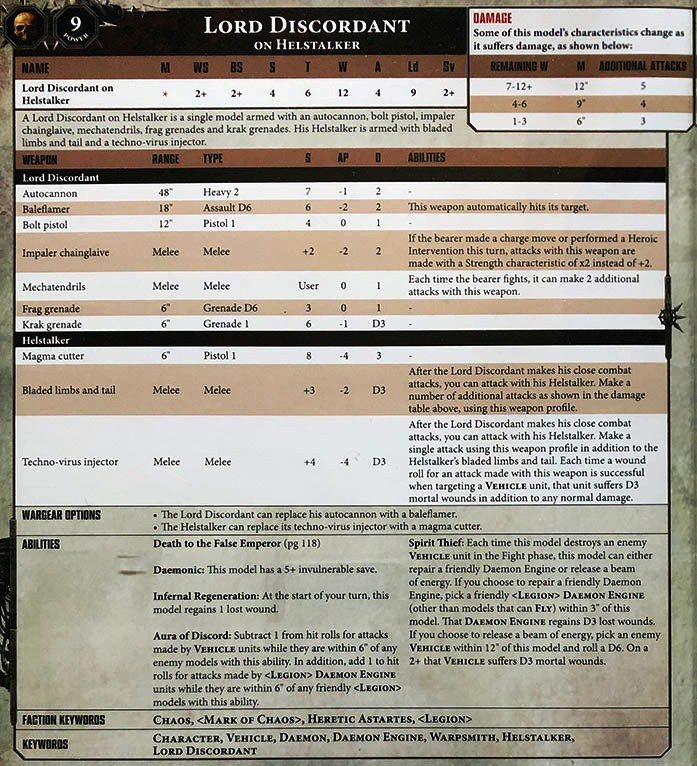 The First Impressions
As you can see, there is a wall of text. It moves as fast as a Knight, has the weapon and ballistic skill of a Chaos Lord, and has the save of a Warpsmith along with the invulnerable save of a daemon, and 12 wounds. Just like a Heldrake, it can have either a baleflamer or autocannon, and like a lot of daemon engines, it regains a wound at the start of every turn. It has a large number of attacks in close combat, can buff other daemon engines, including itself, and either heal itself or deal damage to an enemy vehicle, when it kills a vehicle. With all this going for it, why was it dismissed so easily by many players? Well part of the issue was the fact that it had 12 wounds. Although a good number for most things, as a toughness 6 model it didn't seem to have enough wounds to carry it where it needs to be and it also cannot hide from shooting even though it is a character. Add to that the fact that it is not an infantry, dreadnought, or bike, and you are also denied the legion traits that would help it both survive and excel at what you want it to do.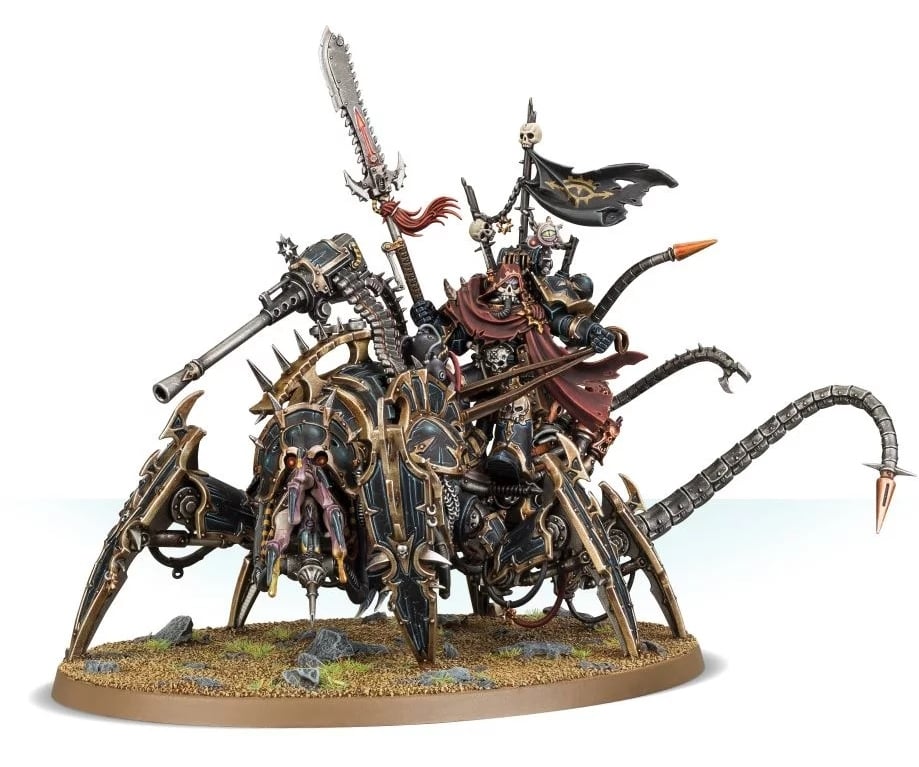 On Second Glance…
So what changed? The Spring FAQ is what released the Lord Discordant from it's shackles. There was an errata that stated the following:
Page 163 – Legion Traits
Change the first sentence to read:
'If your army is Battle-forged, all Character,
Infantry, Biker and Helbrute units in Chaos Space
Marine Detachments gain a Legion Trait, so long as
every unit in that Detachment is from the same Legion.'
The bold is mine. This is important because, before the Spring FAQ, if a character wasn't any of the three unit types described, then they could not benefit from Legion traits. With this new errata, you could have Lord Discordants with -1 to hit, advance and charge, or extra attacks, depending on what legion, or renegade chapter, you chose.  With the relatively low price, only between 160-180 points, you can field three of them and still have enough points left over to over saturate your opponent with other targets to worry about. This will ensure that at 1, maybe even 2, of them will make it to where they need to go. There are different ways to build the Lord Discordant into your army but we will go with the most common and, probably, most deadly.

Using the Discordants
So what you'll first notice is that they will be in a Supreme Command Detachment and there will be three of them. The shooting weapon they have will depend on the player preference  and/or points available. They will then take the Soulforged Pack Detachment from Vigilus Ablaze. You do this for a number of reasons. You have a warlord trait that has a +2″ movement aura, so they now move 14″, along with a stratagem that lets them double their wounds for determining where they are at on the damage chart, and, more importantly, they have a stratagem that lets a unit charge after advancing. So if a sorcerer with jump pack is nearby, and can cast warp time, your warlord has a potential move and charge range of 52 inches (Move/Advance x 2 plus charge). Although highly unlikely, this still allows you get him to almost anywhere he wants. Since the detachment has a stratagem that lets you advance and charge, you are free to choose a different legion trait. Most players choose Flawless Host. Their trait is as follows:
"Each time you roll a hit roll of 6+ for an attack made by a model with this trait in the fight phase, it can immediately make an extra against the same unit using the same weapon(this is in addition to any attacks granted by Death to the False Emperor ability) These extra attacks cannot themselves generate any further attacks."
What this means is that you get 2 additional attacks for every 6+ rolled by a each single attack. So 1 attack turns into 3.  They already add one to their hit roll because of their ability so now it happens on fives. You add the prescience psychic power and now it happens on fours, with a reroll if you use the daemonforged stratagem. With a total of 12 attacks, it can have a total of 36 attacks. I believe more, but I don't do math well.

How Do You Stop This?
Now this only really works against Imperial armies but it still generate a lot of attacks. Combine this with other units that have a lot of attacks, such as Chaos Knights, and you may be in some serious trouble. That being said, there are a few ways to stop or mitigate the carnage. The easiest would be to have some type of screen. Since the beginning there has been a need for good screening units and that is still true. If you are able to put a cheap screening unit in front, and keep your other units far enough so they don't get consolidated into, then you may make it out alive. Another option is to have durable units that can fly. If you have a unit that you think could survive the initial attack the you may have to throw them forward to absorb the attacks and hopefully fly away so they can be shot by the rest of the army. This is just a couple of ways to mitigate their power, as there are many other tips and trick.
Hopefully the article was helpful and that you learned why every one on Team Chaos has a Lord Discordant on their hobby desk. Mine is still in its box as spiders creep me out 😉
What has your experience been, both playing against and using a Lord Discordant?