Today's monster is capable of crashing into a yard and menacing your children and society in about 3-5 minutes. Meet the monster that's actually 30-50.
Today we bring you a very special monster spotlight because we're not featuring just one monster–but rather a whole horde of them. Appearing in swarms of 30-50, and resistant to most attacks, 30-50 Feral Hogs seem to be everywhere these last few days–they've been in popular song lyrics
plz tell me no one has done this yet #feralhogs pic.twitter.com/z69Gimy8VS

— Riley J. Dennis (@RileyJayDennis) August 7, 2019
CUT MY LIFE INTO PIECES
HERE COME THE FERAL HOGS
30-50. MY CHILDREN.
DON'T HAVE A GUN
SO I GUESS THE HOGS EAT THEM#feralhogs

— Mass for Shut-ins (podcast) (@gin_and_tacos) August 6, 2019
In popular video games:
A new Skyrim mod adds 35-50 feral hogs https://t.co/nLwVylZ6G1 pic.twitter.com/0sUjtth9sD

— Game Rant (@GameRant) August 7, 2019
And now, thanks to Walrock Homebrew, in Dungeons and Dragons, 5th Edition.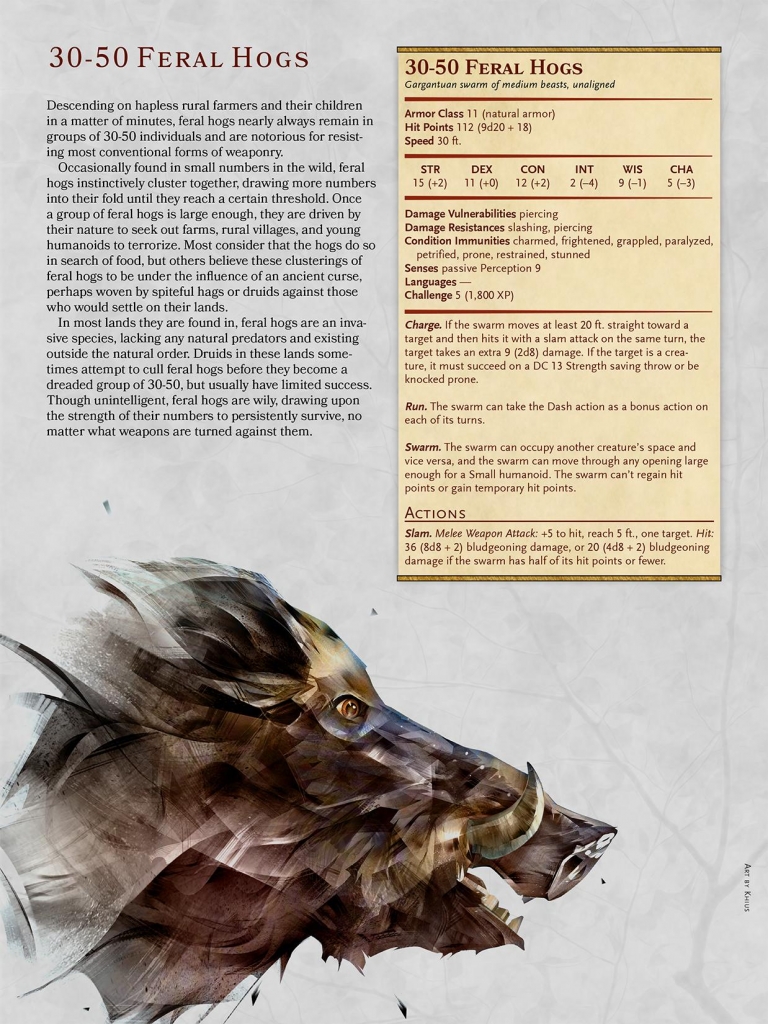 Where does this Feral Hog frenzy come from? As it happens, it all stems from a legitimate question posed of rural America on the internet.
Legit question for rural Americans – How do I kill the 30-50 feral hogs that run into my yard within 3-5 mins while my small kids play?

— William McNabb (@WillieMcNabb) August 4, 2019
And now, thanks to the science of 5th Edition, we can actually answer this question. Like any red-blooded American, your first instinct might be to reach for your trusty assault rifle–that's what the question seems to be implying. But my friends, you'd be making a deadly mistake and I can prove it with science. Turn to page 268 of your Dungeon Master's Guide.

With an average damage of 9 damage, that's going to you 12 rounds on average to take them out, but in reality only about 70% of your attacks will land, so it's more like 16 rounds. And that's assuming they're within your first range incremenet–but with its run and charge abilities, 16 rounds is enough space to cover 960 feet–by the time they get within range it's already too late.
Much better to use a greatsword, which does an average of 7 but also lets you add your strength bonus and take advantage of feats like weapon master–and if you're interested in protecting your children, you'd be better off taking polearm mastery and sentinel and using your glaive to stop them from advancing on your children.
A look at the history of this monster reveals that this encounter design has been true throughout D&D's history. In those early days, encounters with 30-50 Feral Hogs were rare. 1st Edition came about in the '70s-'80s, and in that time, there are comparatively few instances of 30-50 feral hogs. This is because back in those days, the rules were much more restrictive. You'd often go a whole year without hearing about 30-50 feral hogs.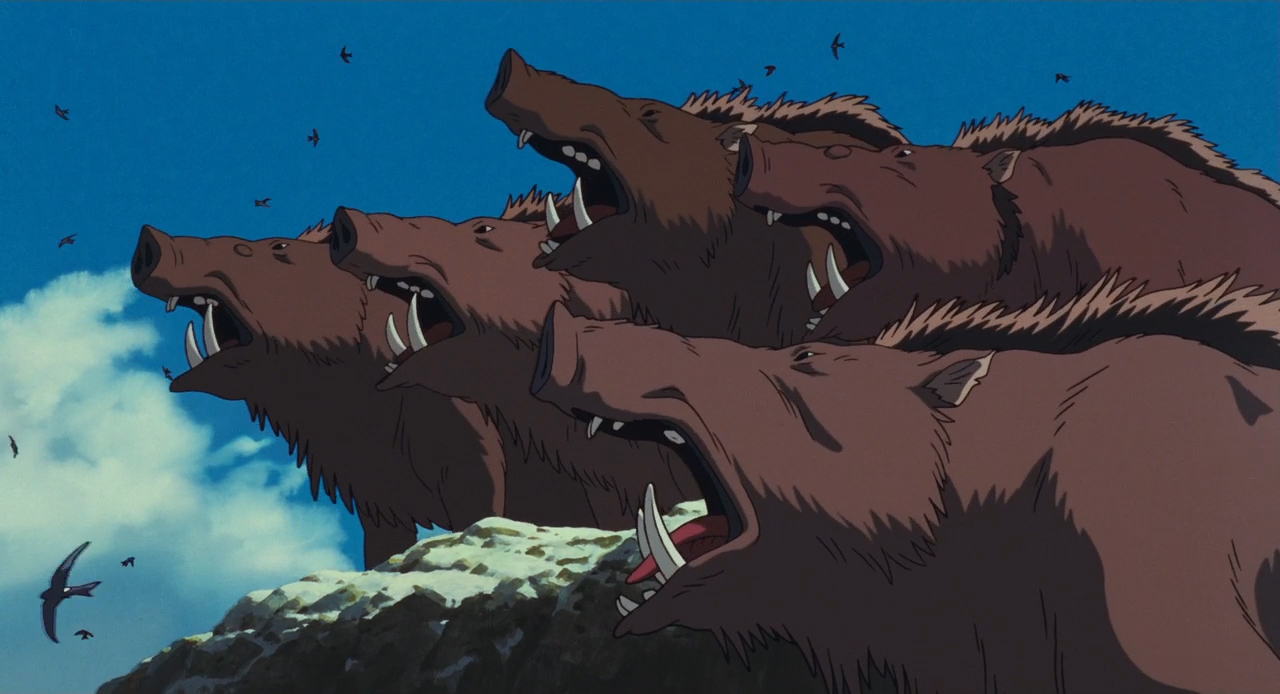 In fact, up until real recently, these encounters were spread out over about once every 200 days or so between 1982 and 2011 (most of 1st-4th Editions). Now between 2011-2014, the rules around encounter building and Feral Hog usage opened up and Feral Hog encounters became much more common. This nearly tripled over just a few years and continued on in an upward trend, so much so that going an entire year without hearing about Hogs seems unheard of in 2019, where there's been at least one of these encounters a day, every day since January. Current estimates hold at around 251 Feral Hog encounters 216 days into 2019.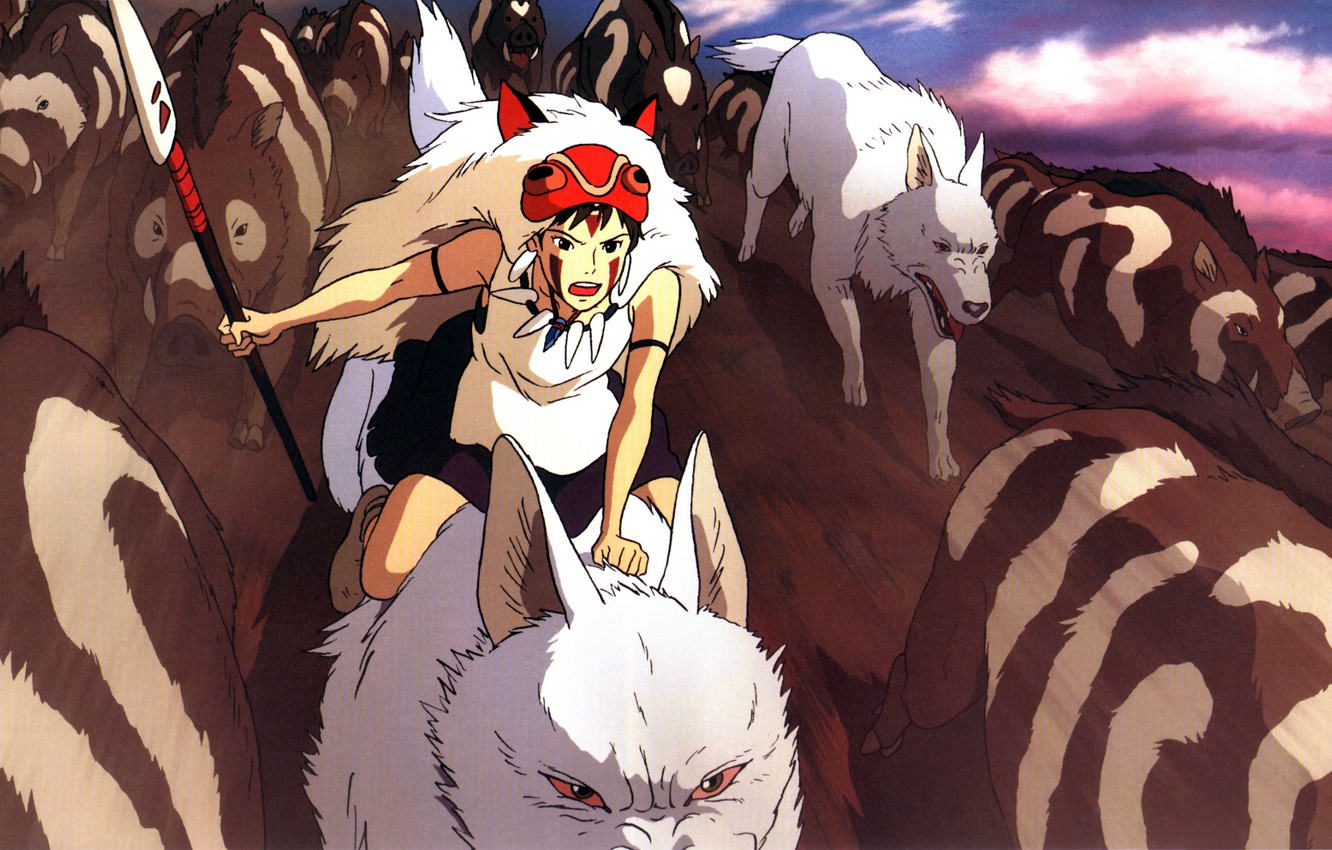 That feels like an absurd amount, no matter which way you measure it–but unless someone, or really a whole bunch of someones, call for changes to the rules, 30-50 feral hog encounters are here to stay, so I guess it's great that we have stats for them in our D&D games, because there, at least, we have a chance of defeating them once and for all.