The monstrous Super Star Destroyer arrives after a year, and it's bringing some friends with it.

The Super Star Destroyer Expansion Pack arrives to swell the forces of the Galactic Empire with the first ship of an entirely new class—huge ships. The pre-painted, beautifully sculpted Super Star Destroyer miniature within this expansion is the largest miniature yet created by Fantasy Flight Games, measuring over 24 inches from tip to tip.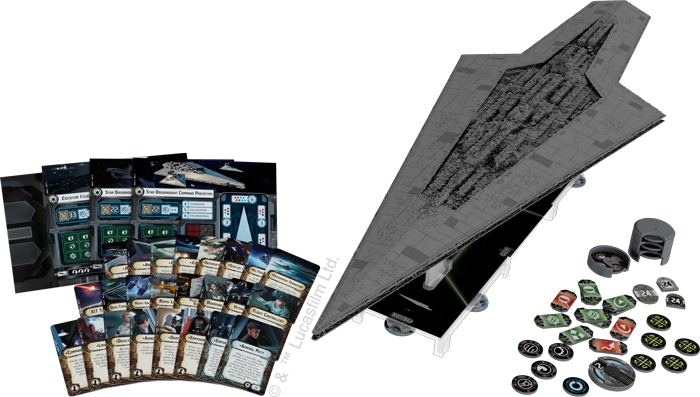 Of course, such a huge miniature serves as a stunning reminder of Imperial might on the battlefield—and it's also a fully functional warship that you can add to your Imperial fleets. With four unique ship sheets, an assortment of tokens, and twenty-four upgrade cards, including iconic commanders like Admiral Piett and Emperor Palpatine, any rival fleet will tremble to face the might of your onslaught.

With instincts honed in the trenches, Rebel veterans are often assigned the hardest and most vital jobs in the war against the Empire. Through the countless hopeless battles on desolate worlds that they have seen, Rebel veterans can always be relied upon to get the job done, to hold the line, or to fight to the bitter end.
Within this expansion, you'll find seven unique unpainted Rebel Veteran miniatures to add to your collection, including a Mark II Medium Blaster Trooper miniature that can be deployed as a detachment, offering valuable fire support to all of your units. Accompanying these miniatures are two unit cards, a selection of upgrade cards allowing you to outfit your veterans with new weapons and gear, and all the tokens you need to add them to your Rebel armies!
Take your Star Wars: Legion battles to the frigid plains of Hoth with the seven unique, highly detailed miniatures contained in this expansion! Five Rebel Veterans with A-280 blaster rifles are prepared to make the Empire pay dearly for any ground it gains while a CM-O/93 Trooper is ready to stop an Imperial unit in its tracks.
Bolster your forces with a Mark II Medium Blaster Trooper miniature and provide valuable fire support to your units.

The windswept plains of Hoth are treacherous even to native beasts, but tauntaun riders are trained to expertly handle their surefooted mounts, searching tirelessly for signs of the Empire. The tauntauns themselves can be quite dangerous, and few enemies wish to find themselves in the path of these ferocious snow lizards.
Within this expansion, you'll find two unique unpainted tauntaun rider miniatures, enough for one support unit, along with a new unit card for you to field in battle. Your tauntaun's natural speed and defense mechanisms make them useful in a number of situations, of course, and this pack also contains three upgrade cards that give you the freedom to find a role for them that fits your particular battle plan.
Support your Rebel armies with the two finely-detailed, beautifully-sculpted tauntaun rider miniatures found in this expansion! Two unique tauntaun riders stride across the frigid wastes of Hoth, their DL-44 blaster pistols at the ready.

Journey to the dangerous lands that lay just beyond the reach of Mordor in the eighth deluxe expansion for The Lord of the Rings: The Card Game, A Shadow in the East!
Three new scenarios draw you just beyond the reach of Mordor down the River Running to the capital city of Dorwinion, and to the cursed forgotten temples hidden in the Hills of Rhûn. Throughout your adventures, you will confront a dangerous cult that has surrendered to the sway of Mordor and now places the entire peaceful region at risk. Featuring the game's first double-sided hero and a new card type in the form of Contracts, it is up to you to build your Fellowship, travel to troubled region, and restore peace to the innocent citizens who have placed their faith in you!
This is not a standalone product. A copy of The Lord of the Rings: The Card Game Core Set is required to play.

Whether you seek the Ember Crown or you're investigating a rash of thefts across Eriador in Bones of Arnor, you can bring the dastardly villains you face in these campaigns to life with the Villains of Eriador Figure Pack. This figure pack contains three detailed, unpainted plastic figures that bring the Gulgotar, Atarin, and Coalfang enemies from these campaigns to life on your tabletop, plus six new trinkets and three exciting new titles to help you combat them.
~Come on SSD – GET ON MY HOBBY SHELF!