The first neoprene city map has arrived for Monsterpocalypse! We're checking out the Isle of Annihilation fabric mat coming to stores soon!
Lucky players at Lock & Load this year were able to grab this new mat in advance. But if you weren't able to snag one, fear not! These maps are arriving in stores this September with an MSRP of $29.99.
Isle Of Annihilation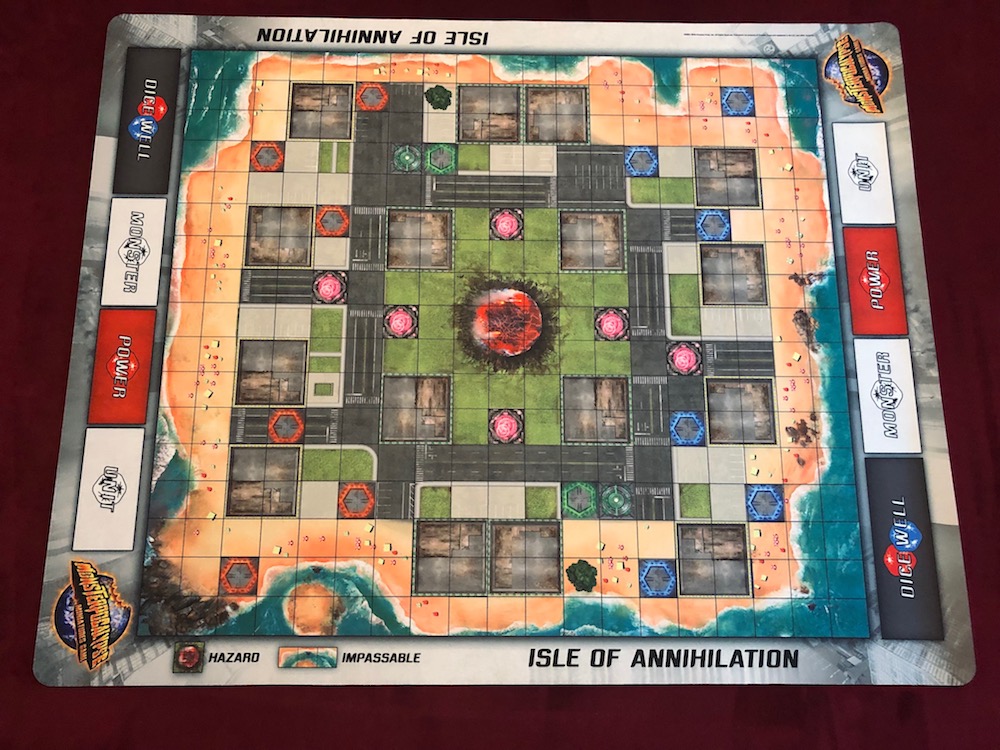 The map itself measures 23.5″ by 29.5″ and rolls up very nicely for transportation. The mat is made of neoprene, which is the same material as your standard mousepad. From the fiery volcano in the center of the map, to the peaceful beaches around the edge, the print itself is crisp, bright and overall very eye catching.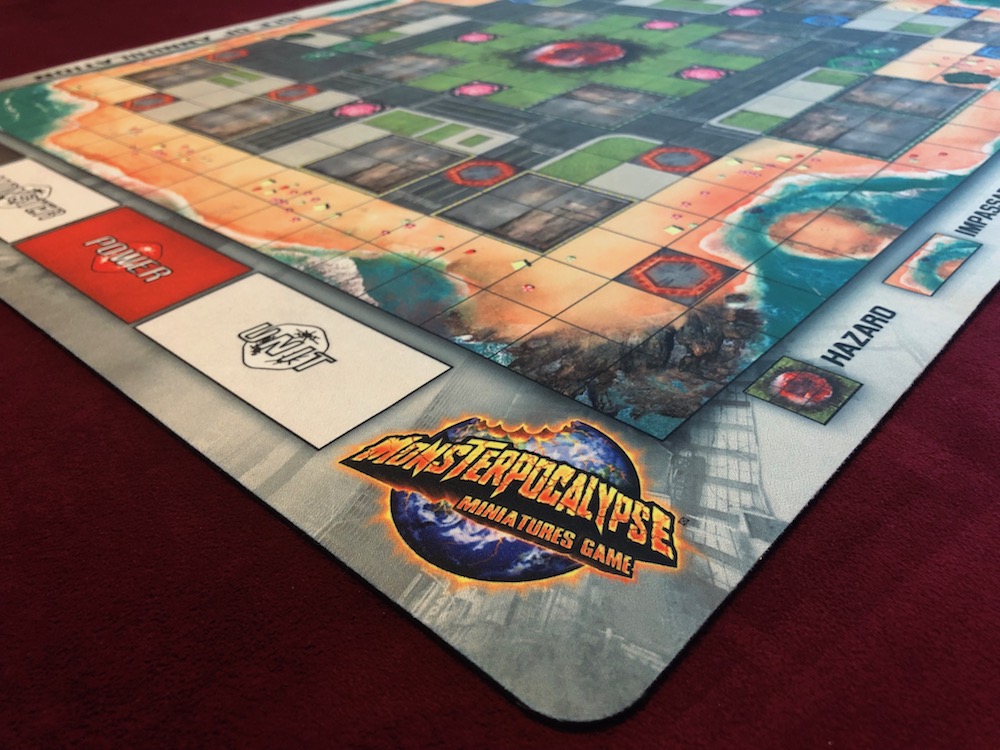 Gameplay
This map brings some new flavor to the lineup. Isle of Annihilation is the third MonPoc map, the other 2 are available in the starter boxes. Compared to the other maps, this island has fewer building locations but has a 3×3 volcano space that acts as a hazard. Due to the position of the volcano and nearby buildings, monsters without High Mobility or Flight will have some difficulty navigating across the map quickly without taking damage.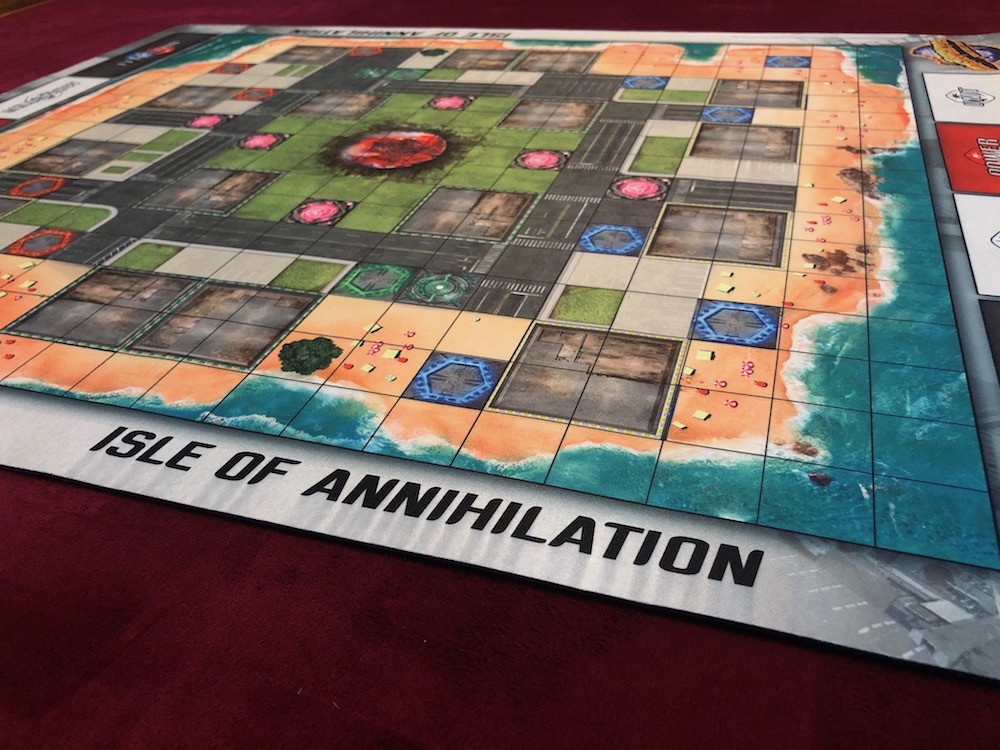 Monsterpocalypse is all about throwing, slamming and pushing enemy monsters into as many buildings and hazards as possible. The volcano opens up some nice central spots to get some extra damage onto the enemy. If you throw an enemy to a position where they hit a central building and land in the volcano, you're looking at 4 damage! That's one damage for the attack, one for hitting the building, one for the fire left by that building and the fourth point of damage from the volcano.
Other Thoughts
The 2nd player has the benefit of being able to choose the map. However up until this point that hasn't really been beneficial as the 2 starter maps are pretty similar. Isle of Annihilation is different in that it's harder on monsters without High Mobility or Flight, has fewer building spaces and also a central hazard that never goes out. Models with Armored(Looking at you Armodax) don't like to see fires as it's one of the only ways to get extra damage on them. You can read more about my Armodax thoughts here, Monsterpocalypse: Armodax and the Pointy City.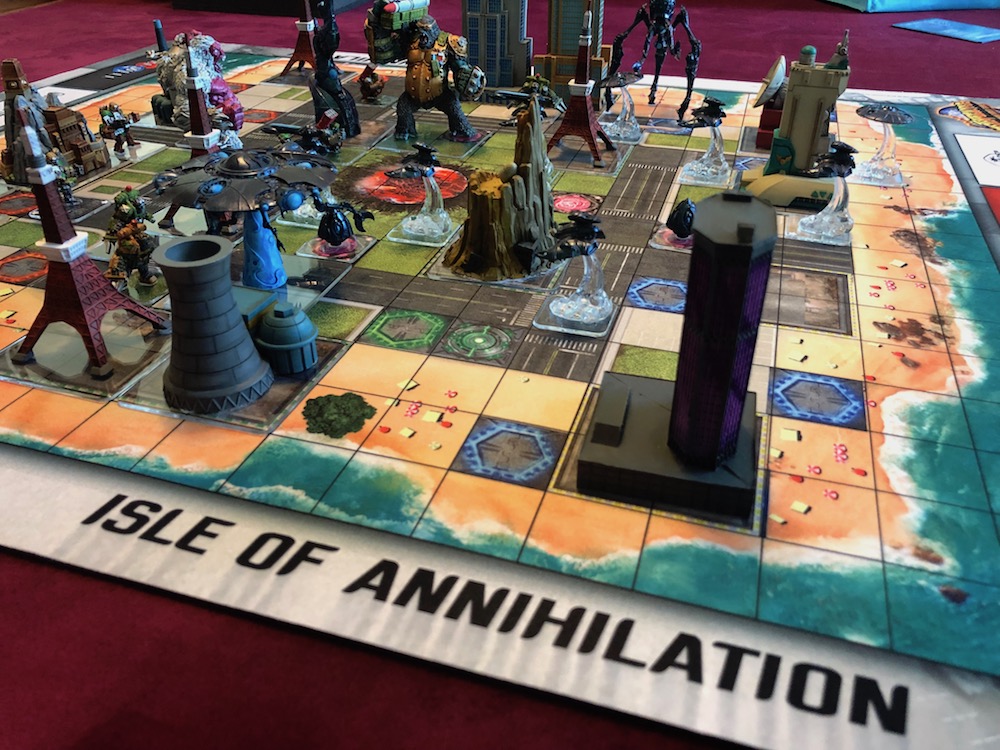 So, when would choosing this map potentially give you an advantage? Well, do you find yourself going 2nd against an Armodax player? Are you playing High Mobility monsters and find yourself up against an opponent who stays on the ground? Can you get by with fewer buildings? A Gorghadra/Hammerklak pairing that generates a ton of power dice might want to try and deny their opponent some resources. All of these are good potential reasons for reaching for Isle of Annihilation. Plus, it's just a sweet looking map.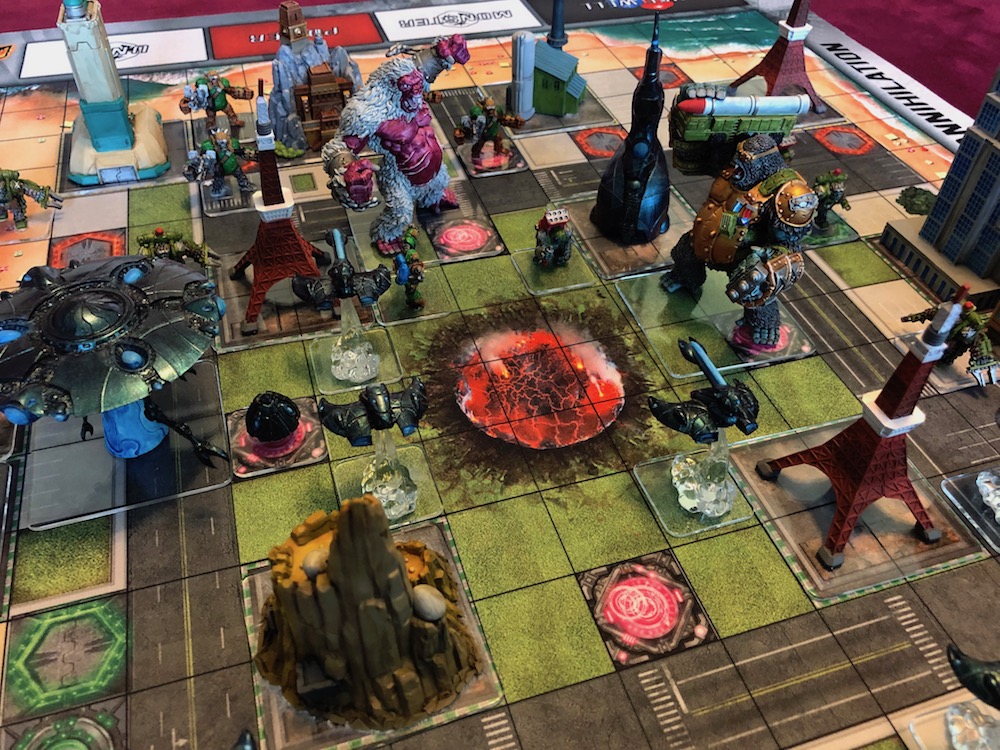 I'm loving this neoprene mat and can't wait for more, what kind of map would you like to see next for Monsterpocalypse?