We all play a visual game where appearances matter. Cutting corners on quality terrain comes with a high cost.
If there's anything that gets me excited it's looking over one of those fantastic tabletops that just draws you into the game. You know what I mean… stuff like this: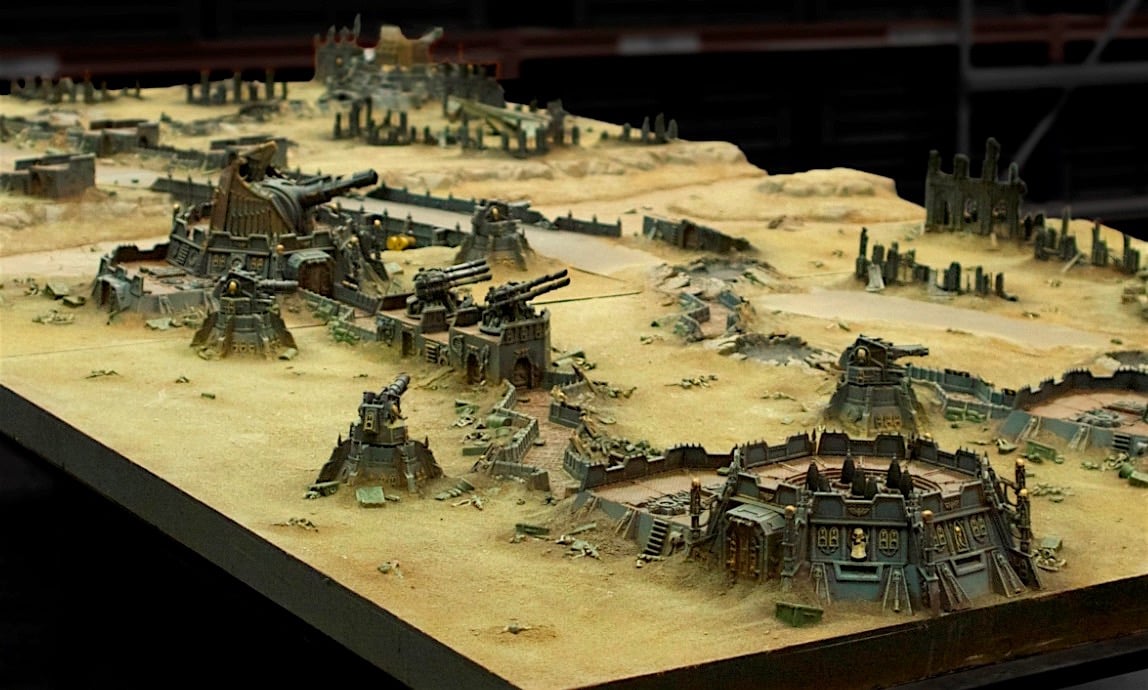 I want to jump through the screen and play on this table!
Tables like this are just amazing, and let's be honest – rare. These are normally only seen at GW stores, and occasionally at major tournaments as display boards. But the effect they have not only on us as players, but bystanders is unmistakable.  The game we play is visual, and appearances matter. If not for the physical aspects of the game we might as well be playing with chits and completely abstract terrain. A stunning table makes any game better and more memorable.

Welcome to the Real World
In the real world, players often take time to build up a single board's worth of quality terrain for their home. It takes time, and GW has quite the line of terrain for us all to gobble up. But with time and dedication, any of us can put together a solid-looking table with a handful of nice features and a nice surface ranging from a GW plastic table to a printed mat, to a simple green sheet.  We all have to start somewhere. Building up to your first home table is one of the most satisfying achievements in our hobby!
Enter Mass Production…
But as more and more of us play in ever-larger events we come up against the reality of mass-produced terrain. It's one thing to have to build one nice table for your home – it's quite another to have to produce hundreds of tables worth for an event. Suddenly things like price per table, and terrain density per table start to show up. Over the years lots of events have done a fantastic job and faced the challenge! Here's just a couple of typical tables you see out there in the wild as various events.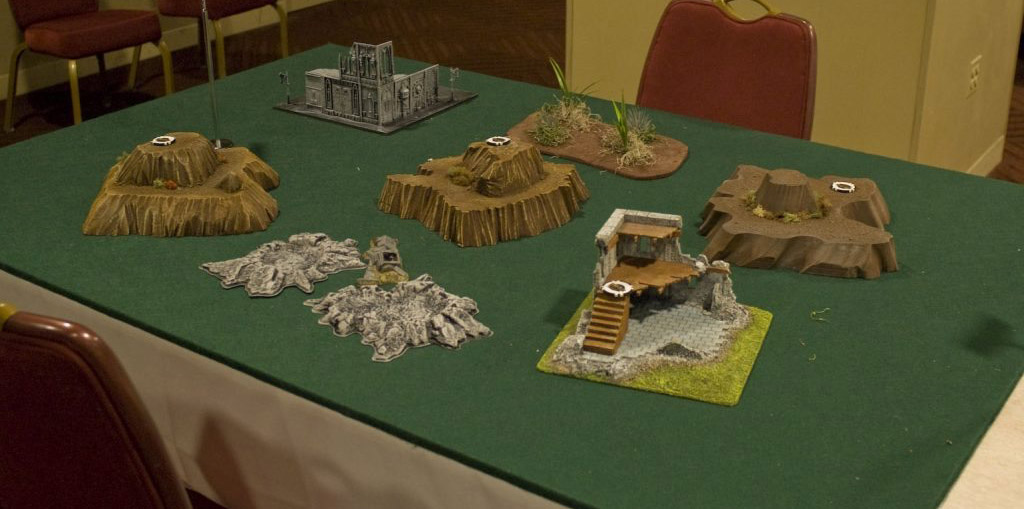 The de-facto standard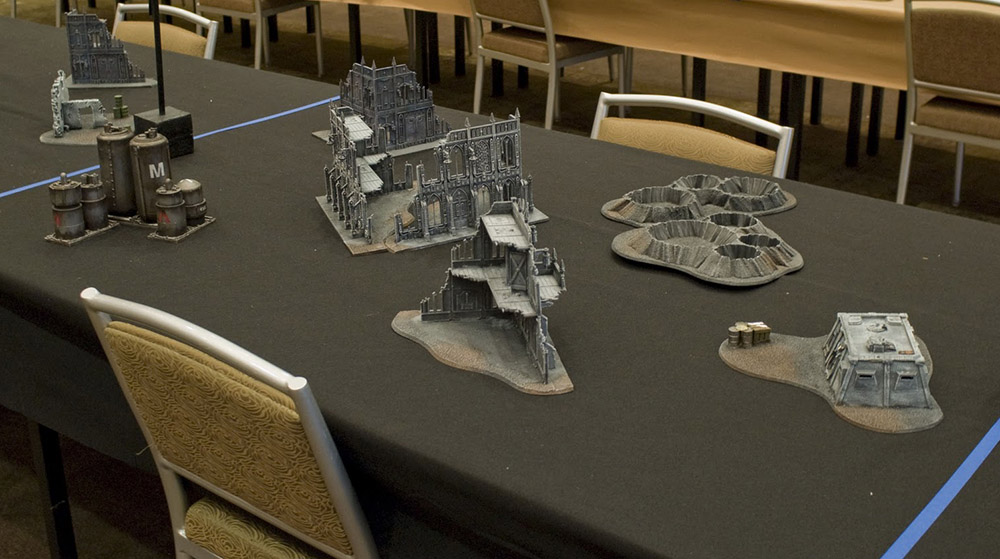 Nothing wrong here…
The Knight/8th Edition Challenge
Then 8th edition happened and a couple of things changed.  Knights became the new hotness, with their great height, and 8th changed the rules about how you measure Line of Sight to and from models.  A great amount of terrain became obsolete, and players ran towards the safety of giant LoS blocking terrain. All of us had to come up with a solution fast and what more and more are taking refuge in is "Tall-Ls"  By that I mean anything that is two 8″x8″ sheets glued at a 90-degree angle and plopped onto the table. there are tons of examples all over the net, and here's one to give you an idea: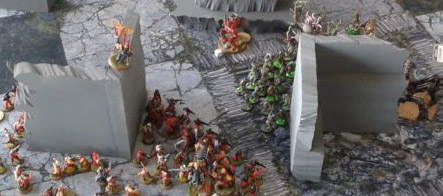 Hurry men, behind the L!
These things are trendsetters and more and more places are experimenting with them. While many places are using the "L" as a mere starting point and are turning them into full-fledged beautiful terrain pieces, many are going in the opposite abstract direction. While the best events are kicking out terrain that is mass producible versions of multi-layer terrain pieces inspired by this: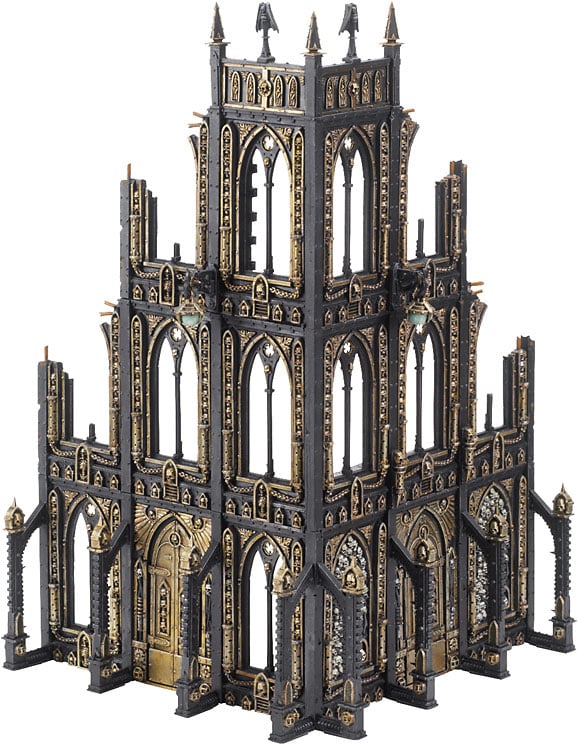 Now THAT'S a fancy "L"!
Some others are moving into a completely abstract direction. Designing tables that are purely about creating LoS blocking mazes that feel more like Atari's COMBAT than the Grimdark: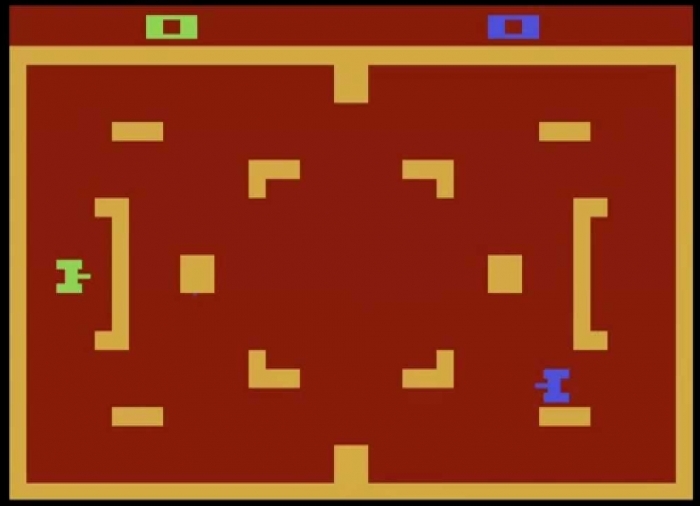 And remember… I LOVE COMBAT!  But purely abstract unadorned maze boards may block LoS, and provide a tactical challenge, but they also kill immersion and a connection to the background to the game that is so important to a giant amount of us.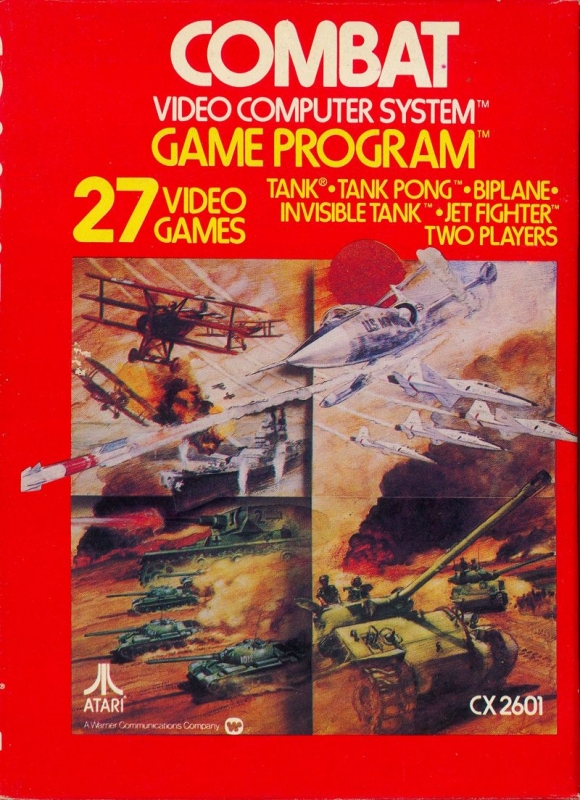 I ruled at this game!
So I wanted to plant a flag and just say that yes I understand – the Knight issue must be addressed everywhere, from our personal home tables to stores, all the way up to the largest events in the world. But I would just like to ask all of us to take a slight pause and remember that terrain appearances do matter in our beloved Warhammer 40k and don't throw out the baby with the bathwater.  We're already working on a set of advice and tutorials on how to make great looking and useful terrain on a budget. It'll be along soon.
~ What level of simplified abstraction do you want to see on your tables?