You've got the starter box and maybe another Monster or Unit pack. But what buildings should you pick up first?
So, you've started down your Monsterpocalypse journey and are trying to plan our your next purchases. You have some games under your belt and want to dive deeper and expand your strategic options with buildings. However at this point there are close to 20 buildings and you don't want to spend your precious hobby budget on a building you wont use much. Where to begin? What if you don't know if you want to primarily play Protectors or Destroyers or maybe both? Apes or Terrasaurs? 1 Monster or 2 Monster games? Aghh!
Worry not! This guide will help you make an informed decision. We're going to review buildings that are good early purchases regardless of Agenda, Faction, Monster or Unit. Let's begin!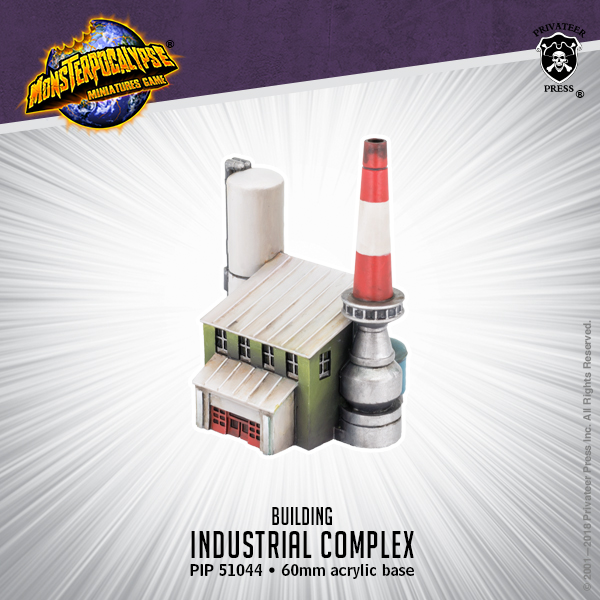 A great first pickup this building has one simple rule that grants +1 SPD to all allied models. There isn't a model in the game that doesn't appreciate this. For Monsters, this will save you Action dice on steps. Units can't step, so this will allow your models to dig a little deeper into enemy lines, or get to that key Power Zone.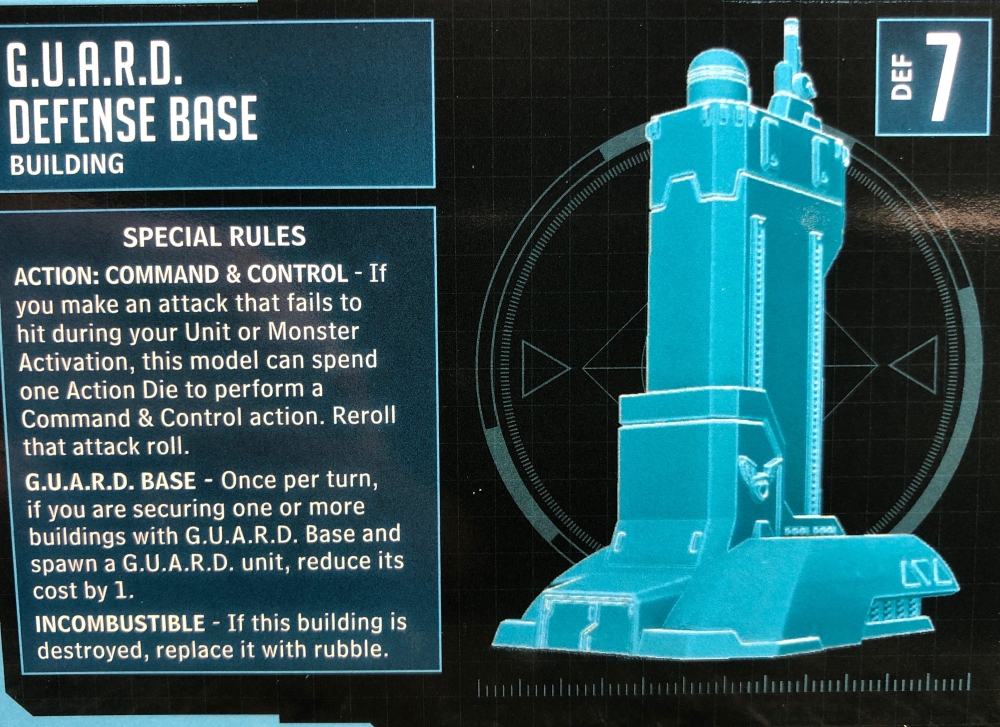 Having a Faction related building might seem strange in a generic buying guide, why would a Destroyers players want a GUARD Base? The reason is Action: Command & Control and that sweet sweet re-roll. Monsterpocalypse is all about looking for an opportunity to smash the enemy into a cluster of buildings. When those opportunities arise having a re-roll in your back pocket can ensure that everything goes according to plan.
In 2 Monster games this will help push your resources farther and set up more elaborate plans. Let's say you want your Defender X to throw the enemy Cthugrosh towards your Armodax, then Armodax will body slam the enemy into multiple buildings. There is nothing more disappointing than Defender X missing the initial attack and Armodax having nothing to do. The GUARD building re-roll will save your awesome plan and keep the pain train rolling.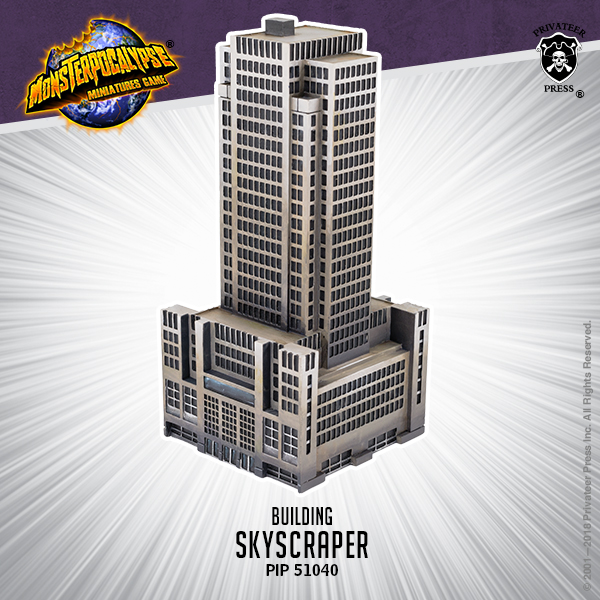 The Skyscraper offers a 1 cost discount on any unit during your spawn phase. No matter your game plan, Faction or Agenda you will be spawning units multiple times per game. Having a discount is always useful and will help your dice pool go farther. As you do expand your collection you can start getting multiple discounts. For example, bringing a GUARD Base and a Skyscraper means you can get a cheaper GUARD unit and another cheaper unit of any Faction.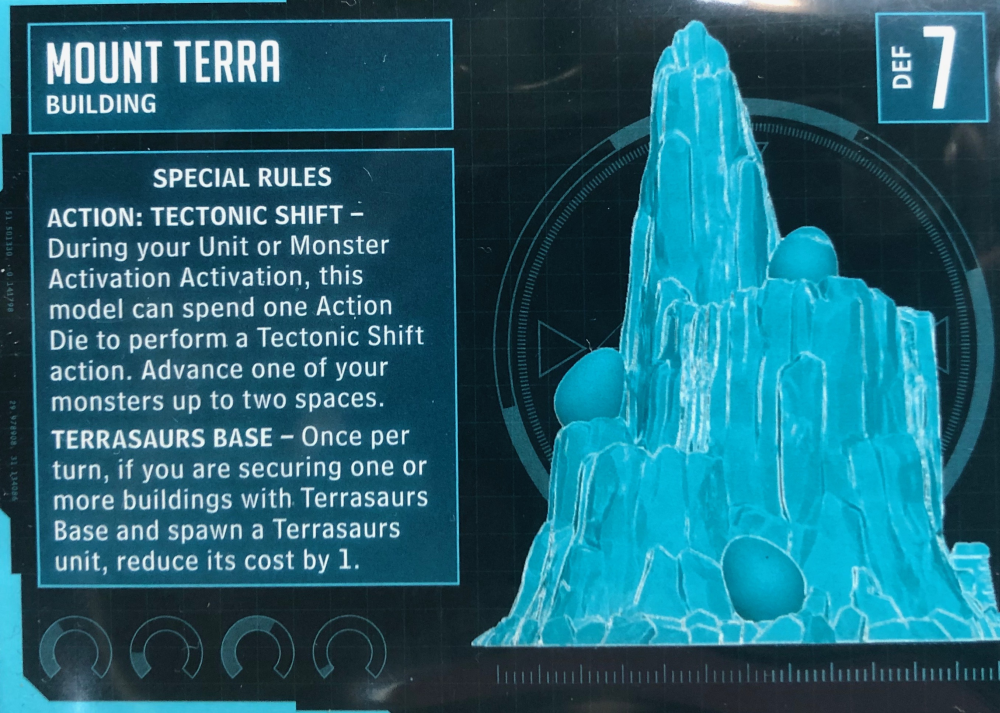 Another Faction building, Mount Terra has the awesome Tectonic Shift action. Similar to the Industrial Complex this will allow you to save on dice as you move across the map. While it does share a similar role to the Industrial Complex, don't let that stop you from picking them both up. One of my favorite building combos is the Industrial Complex and Mount Terra together. This gives you a ton of movement and can allow you to explode up the board. With +1 SPD, Tectonic Shift and a few steps you'll be shutting down that enemy power base right in no time!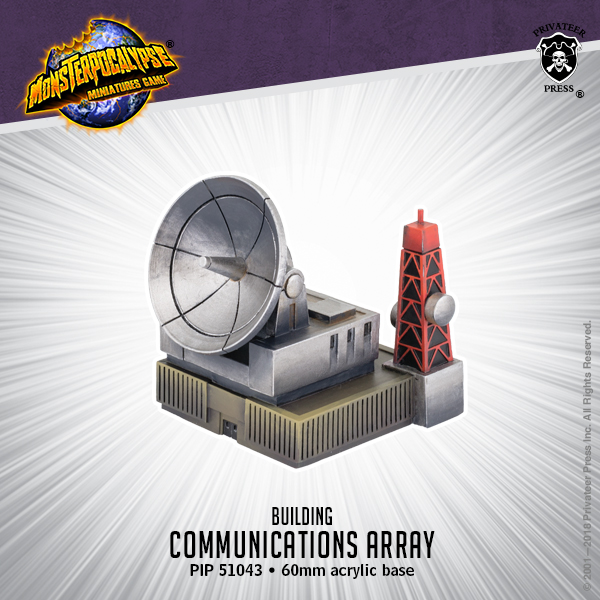 A simple yet effective, +1 RNG on all allied models blast attacks. Your use of this building will depend on if you have a Monster or Unit with a Blast attack you want to buff. With a ton of good Blast attacks in the game(Hello Rogzor and Rocket Apes) you probably will eventually, but if you are playing more Brawl oriented you won't need this building as you get started.
Wrap Up
I hope this helps you plan your building purchases. None of the buildings released are bad, but some of them are definitely better suited to a particular strategy(i.e. Armodax and the Pointy City). Choosing what Buildings to buy isn't necessarily as fun as choosing what Monsters to buy. But as you get into it –  picking your buildings is a very fun and interesting element to the game.
Experienced players, if you could only buy one building – what would it be?