Board Games: Defend Hogwarts in Harry Potter: Death Eaters Rising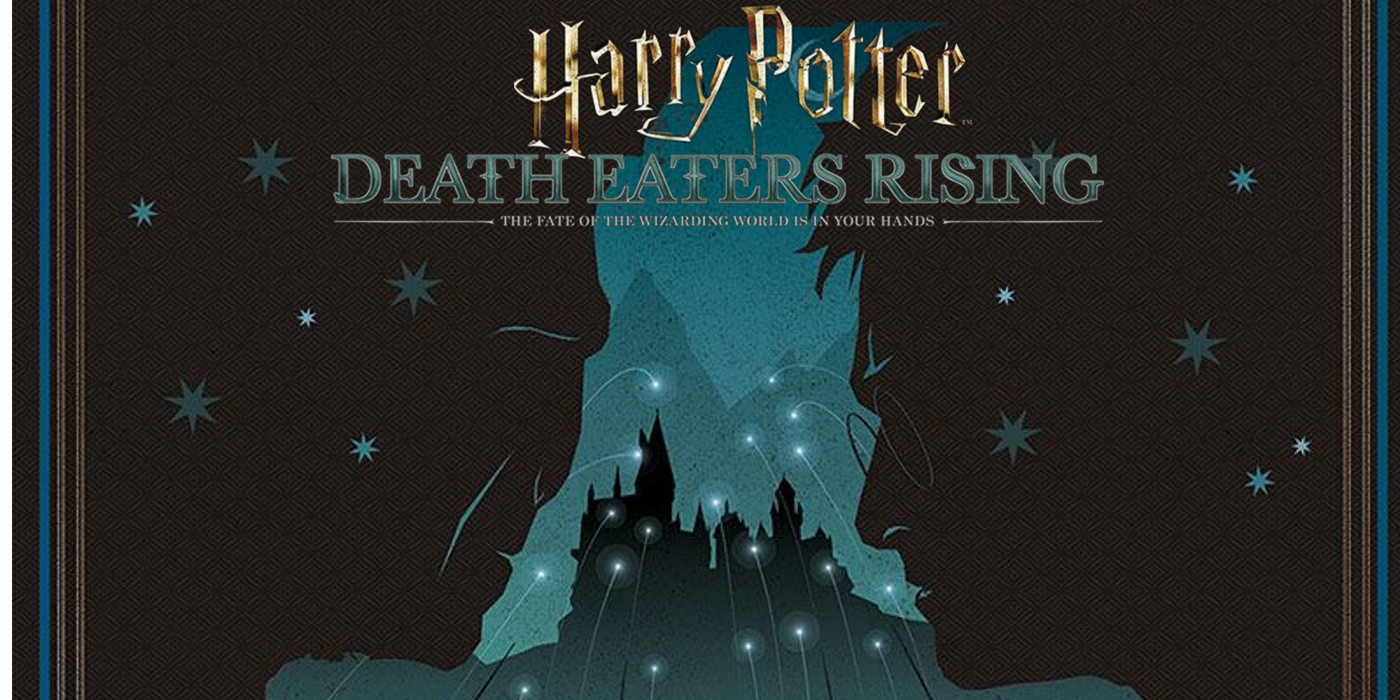 Trust in your friendships and loyalty. Test your knowledge and bravery. The fate of the wizarding world is in your hands.
Not too long ago, we looked at Harry Potter: Defense Against The Dark Arts. It was a competitive deck-building wizard's dual style game that my girlfriend and I had a great time playing. TheOP, who sent us a copy, has followed up with their line of Harry Potter games with this latest installment, Harry Potter: Death Eaters Rising.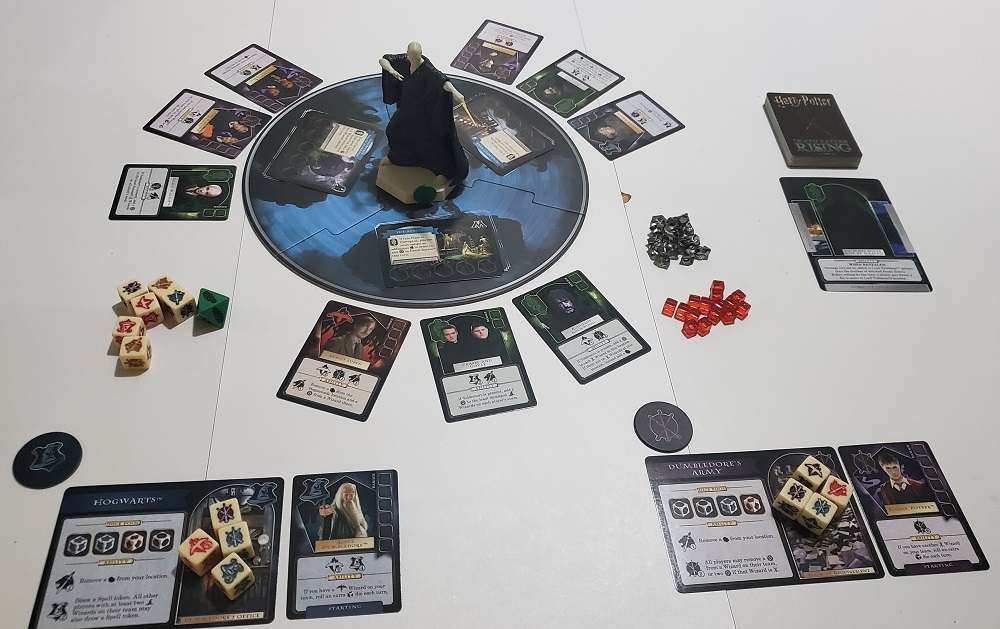 HP:DER is a cooperative dice and card game where players are assembling teams of wizards and witches to attempt to defeat Voldemort during the time of The Order Of The Phoenix. It's up to the players to defeat Voldemort before he corrupts the wizarding world!
Each turn begins with Voldemort and his dumb friends being huge jerks to everyone.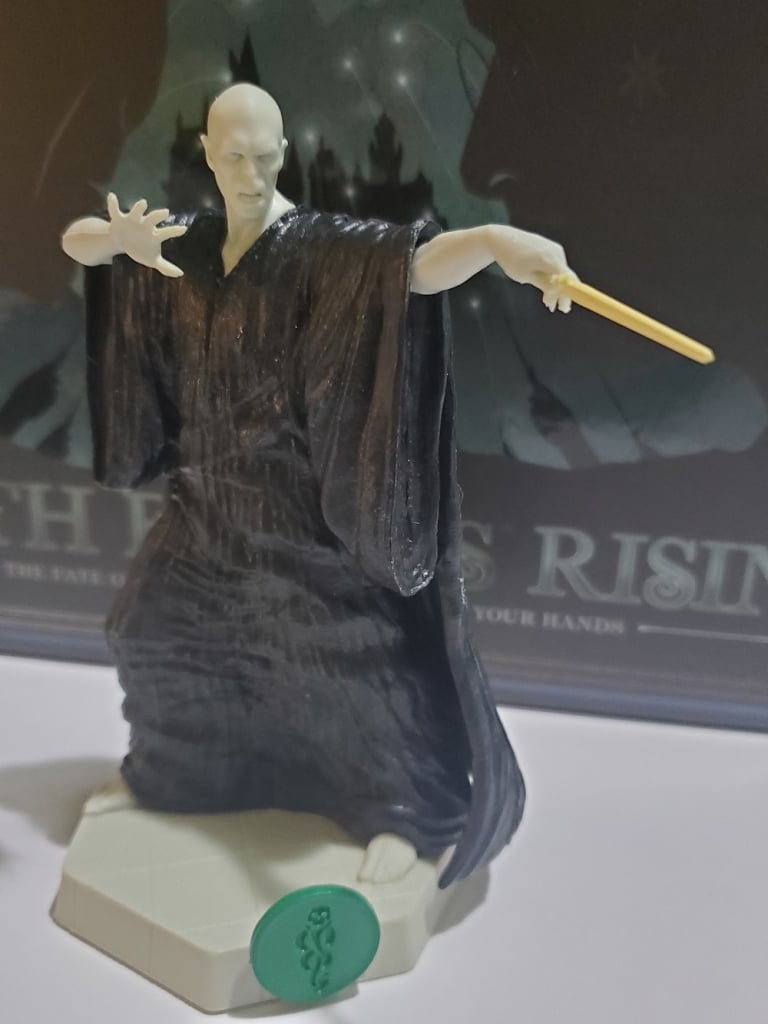 I'd be upset at his jerkness, but this figure is too great to stay mad at.
The Voldemort Die is rolled and its effects resolved, either moving Voldemort to a new location or activating the abilities of all Death Eaters not at his current location. Then Voldemort damages every Wizard at his location and adds a corruption token to that location. THEN all of the Death Eaters at Voldemort's location will have their abilities activated.
On each player's turn, they will travel to one of the places set up around the board, where there are the Death Eaters to defeat but also allies to recruit. Doing either of these things requires rolling dice!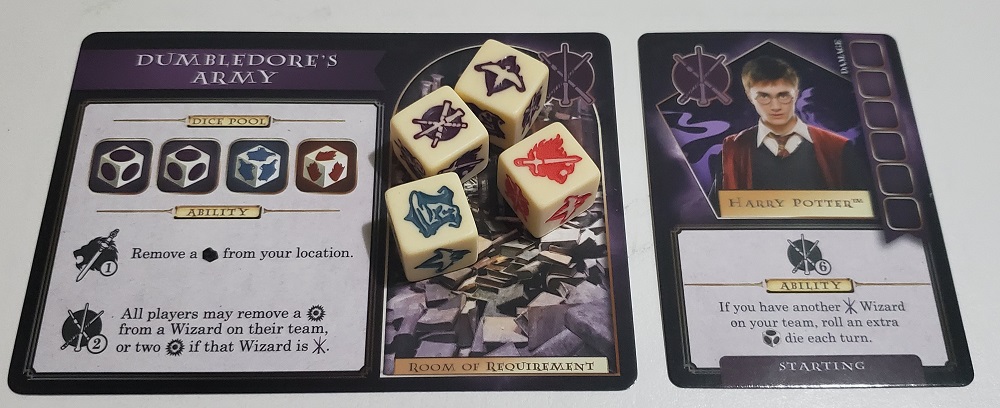 After being rolled, the dice are assigned to certain spaces on the different cards, matching the symbol rolled to the one on the card. After assigning as many dice as the player can, any remaining dice can be rerolled, in an attempt to get more of the desired symbols. If any Wizard has all of their trait symbols matched, they are recruited. If a Death Eater has all of their symbols matched, they are damaged and the player gains a Spell Token, which can provide useful benefits at any time.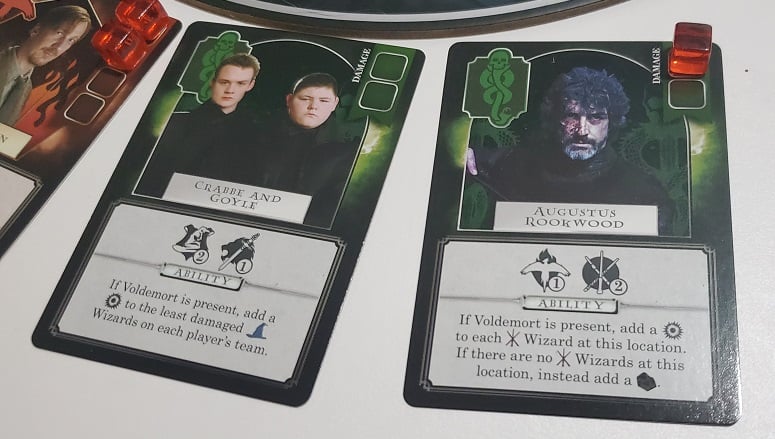 Subscribe to our newsletter!
Get Tabletop, RPG & Pop Culture news delivered directly to your inbox.
Once any character has as much damage as their damage capacity, they are defeated.
About halfway through the game, Voldemort's card will be drawn, meaning he can now be attacked directly at whichever location he's currently at. Unlike normal Death Eaters, Voldemort can only accrue as much damage as there have been Death Eaters defeated. So, dealing the 5 damage needed to defeat Voldemort, requires defeating 5 Death Eaters.
If the players win if they are able to defeat Voldemort before he can do any of the following:
Defeat too many Wizards (as determined by player count and difficulty)
Wipes out one player's entire team
Corrupts 4 Places (each location has 2 Places)
Fully corrupts 1 Location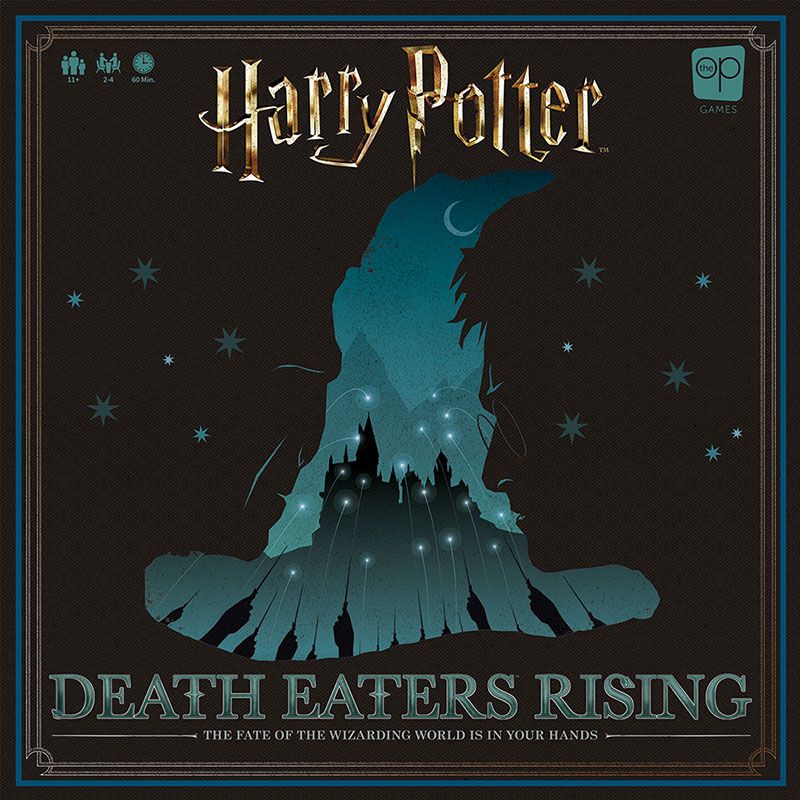 Also I actually really love this box art.
He-Who-Must-Not-Be-Named has returned! Lord Voldemort™ and his Death Eaters are a mounting threat to Hogwarts™ and the wizarding community, compelling everyone to combine their strengths against the dark villains. In this cooperative game, players must summon witches and wizards from Dumbledore's Army, the Order of the Phoenix, and Hogwarts to retaliate against evil Death Eaters and protect the Wizarding World from the Dark Lord's corruption for good!

Contains:

44 Character Cards
1 Custom-Sculpted Figure (Lord Voldemort™)
1 Location Board
6 Headquarters Cards
1 Large Villain Card
6 Mission Tokens
6 Place Cards
14 Ivory Colored Wizard Dice
1 8-Sided Voldemort Die
24 Spell Tokens
60 Damage Counters
15 Corruption Counters
2 – 4 Players
60+ Minutes
Ages 11+
Thanks for reading!