Barkham Horror: The Meddling of Mewlathotep – Yes, It's Real

YES! Fantasy Flight Games did it – Barkham Horror is actually happening! Experience Arkham in a whole new way.
Sometimes April Fool's gags have a way of coming back around in the most unlikely ways. This year, Fantasy Flight Games "announced" Barkham Horror. Again, it was a joke at the time, but I wrote about how this was actually an expansion I really wanted. Apparently, I was not alone because FFG has announced that Barkham Horror really is getting an expansion – FOR REAL.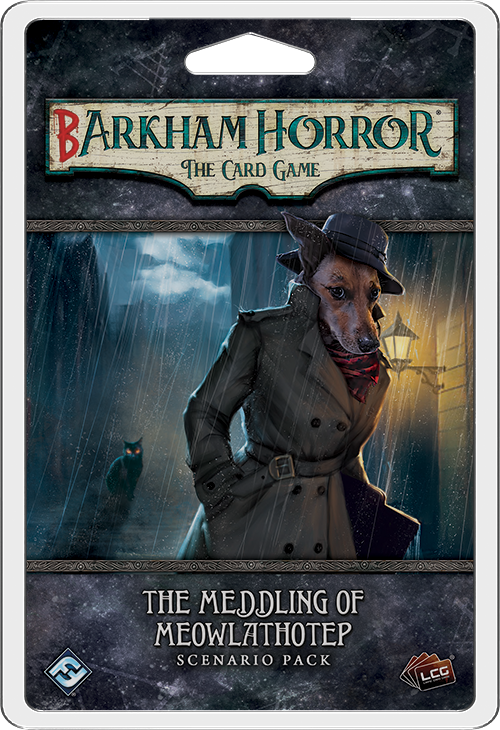 "The response from you, our fans, was incredible; and you asked, nay, demanded that we make this product. Well, we listened, and today we are proud to announce Barkham Horror: The Meddling of Meowlathotep, a 100% real, playable standalone adventure for Arkham Horror: The Card Game—now available for pre-order through our website and at your local retailer!

We're incredibly proud to bring this product to you, and we're also proud to support Pets for Vets®, a charity bringing veterans and trained companion animals together. To learn more about Pets for Vets and their important work, check out their website here."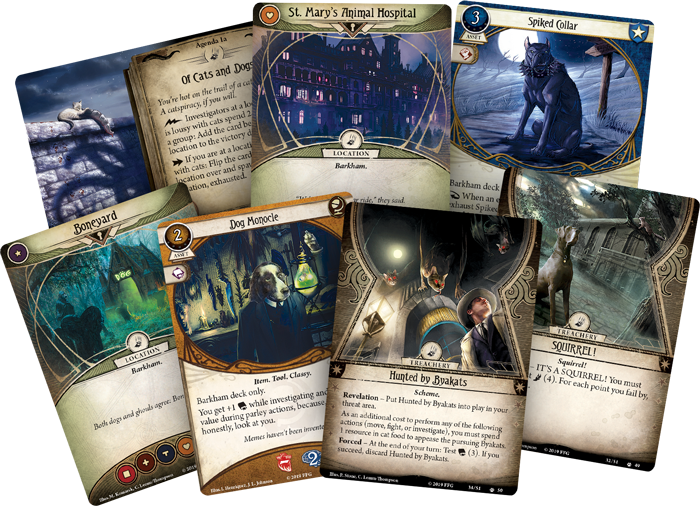 Oh man. This is going to be soooo Barking-awesome. Not only is this a completely new scenario, it's been reworked for our four-legged friends to be in the spot light. This might have started off as a gag but it has morphed into a real, honest to the Elder-gods, product! I cannot wait to get my paws on this one.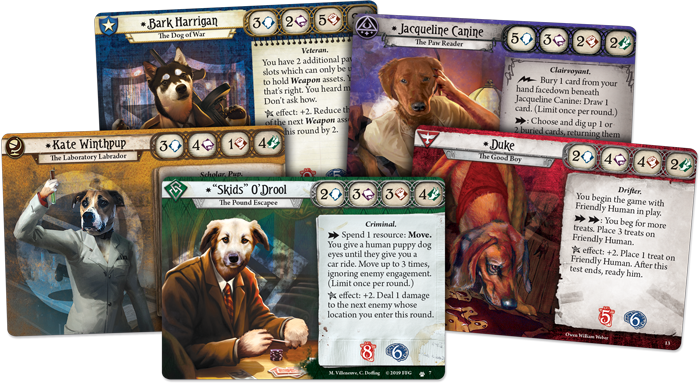 While the art work might have stayed similar to the April Fools gag, one of the dead give-aways from the April Fools gag was that all the icons and rules were different (and basically jokes). But if you look at the actual cards now, the icons have been reverted back to the actual game mechanics. Plus, from the teaser cards, we can tell that these "investigators" have 100% functional rules!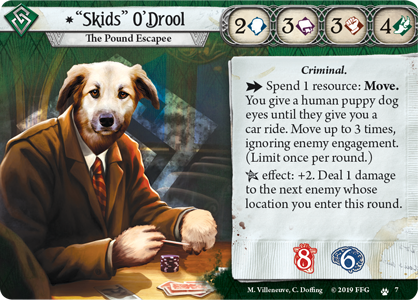 "Skids" O'Drool, for example, has the ability to move 3 times for 1 resource. That's actually a really powerful ability. And Duke is finally getting a real investigator card:
Subscribe to our newsletter!
Get Tabletop, RPG & Pop Culture news delivered directly to your inbox.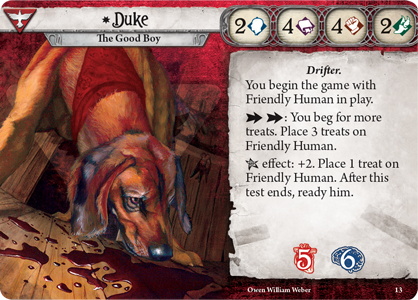 If you've ever played with "Ashcan" Pete, you know who actually does the work – and it's nice to see Duke finally get his due!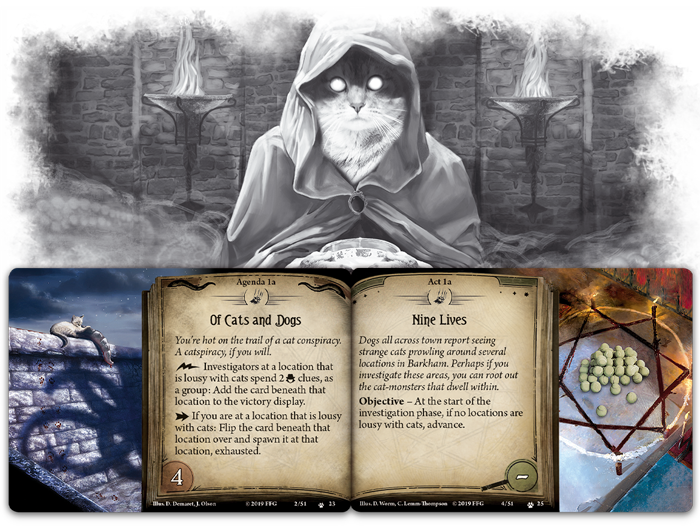 Now, this card pack does have a couple of exceptions – let's call them CATveats.
It's a 78-card standalone scenario pack
The scenario can only be played as a standalone scenario
The canine investigators included are not intended for use in the rest of Arkham Horror: The Card Game
You're not supposed to use human investigators for this scenario
The player cards from any Arkham Horror: The Card Game product may be used for building your investigator decks – except for a strict "No Cats" rule
However, because the mechanics are now based on the actual card game, there is techincally no reason you can't run with your Human investigators (or Dog Investigators in regular Arkham games for that matter). If you do decide to cross those streams things will probably get weird, but hey, it's Arkham!
Barkham Horror: The Meddling of Meowlathotep $19.95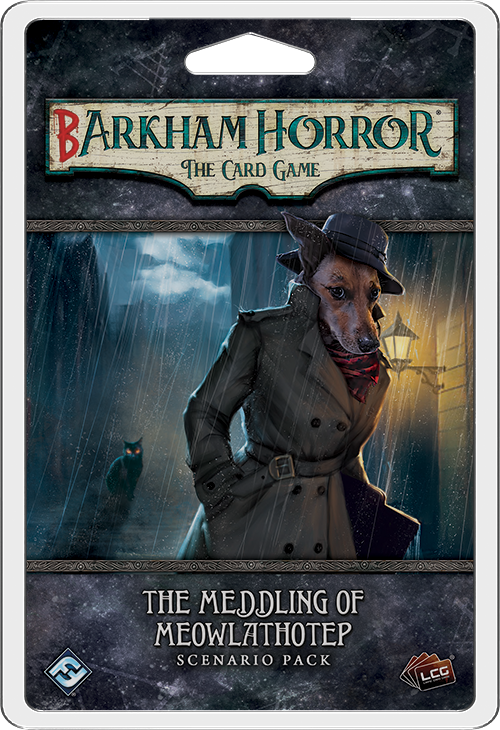 The fate of Barkham is in your paws. For real this time.

The fur will fly in Barkham Horror: The Card Game – The Meddling of Meowlathotep! Inspired by the 2019 April Fools article, this 100% real, playable standalone adventure gives players the chance to step into the role of canine investigators hot on the trail of a catspiracy. Dogs all across town report seeing strange, unnatural cats prowling around Barkham, and each day more and more pigeons are going missing. You've picked up the scent of something big, and once you sink your teeth into a story, you just can't let go. Perhaps if you investigate the areas of Arkham most plagued by these sightings, you can root out the cat‐monsters that dwell within and save your hoomans, your city, and the world.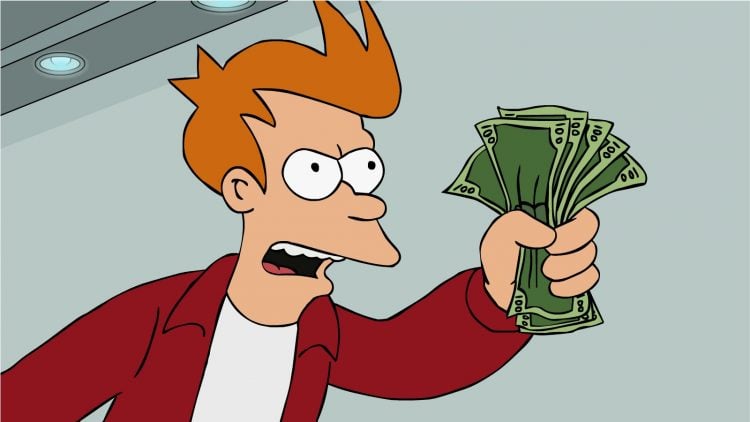 YES! Shut up and take my money.