Next week's new releases are an unboxing of sorts–the Sororitas Codex and new Battle Sisters are available individually, plus: Triumph of St. Katherine.
Only GW could plan the official launch weekend of an army months after their new Codex, minis, and even a new hero were already out in the wild. But here we are, next weekend is the official launch weekend for the Sisters of Battle, which I suppose makes sense, since we're rolling into the official release of the kits, instead of just a boxed set. You'll be able to snag the codex individually as well as the new Battle Sisters Squad, but these are the full kits, so we'll take a closer look–but if that's not enough, this is also the official release of the Triumph of St. Katherine, the most powerful funeral procession in the Imperium, and that's saying something. Let's take a look.
via Warhammer Community
Alright folks, if you missed it last decade, when the Sisters of Battle saw their big battle box release, now's your chance to take command of the Adepta Sororitas and build your own army piece by piece. Starting things off, there's the Codex, available on its own for the first time. If you'd like to know more about what's inside, you can check out our overview.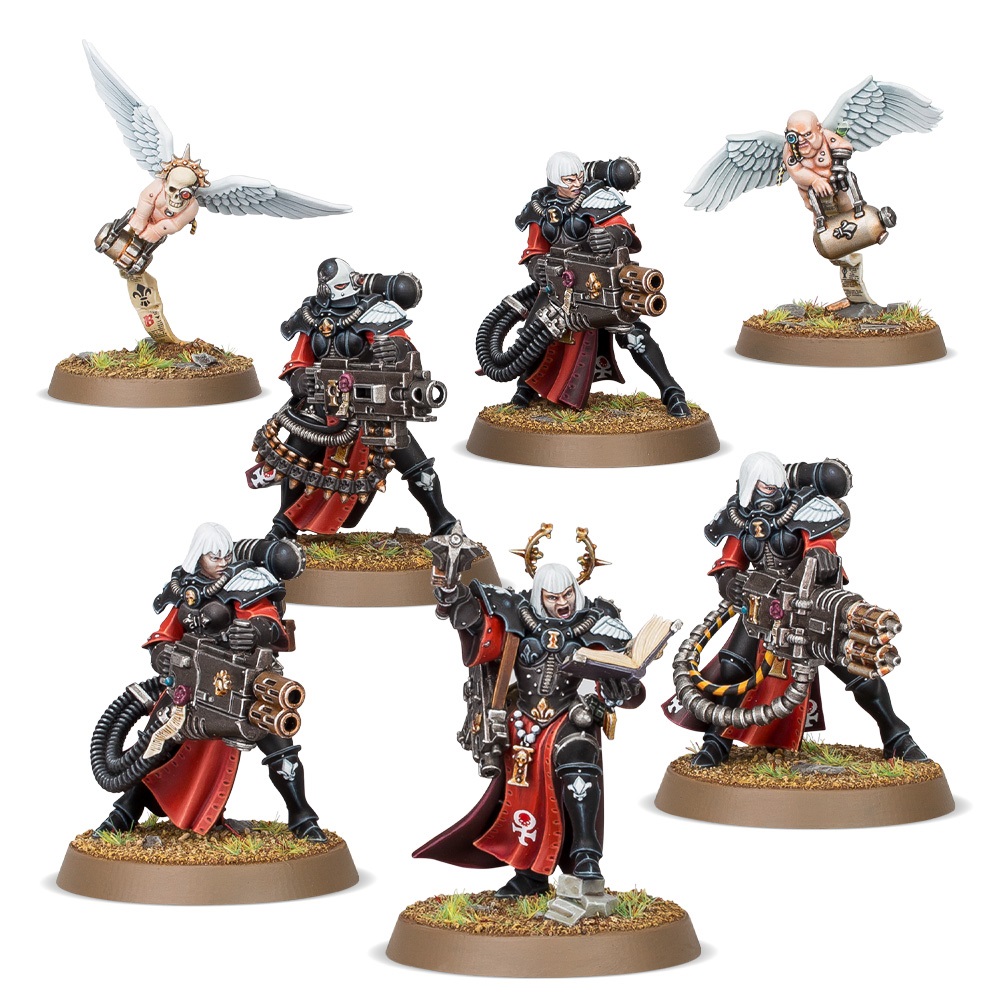 But you'll also be able to snag the full plastic kit for the new Battle Sisters squad. This multipart kit comes with everything you need to not just build the archetypal Battle Sisters, but with enough special weaponry and equipment to build out some of the more elite units in the Sisters' army, notably the Celestians and Dominions are all in one kit.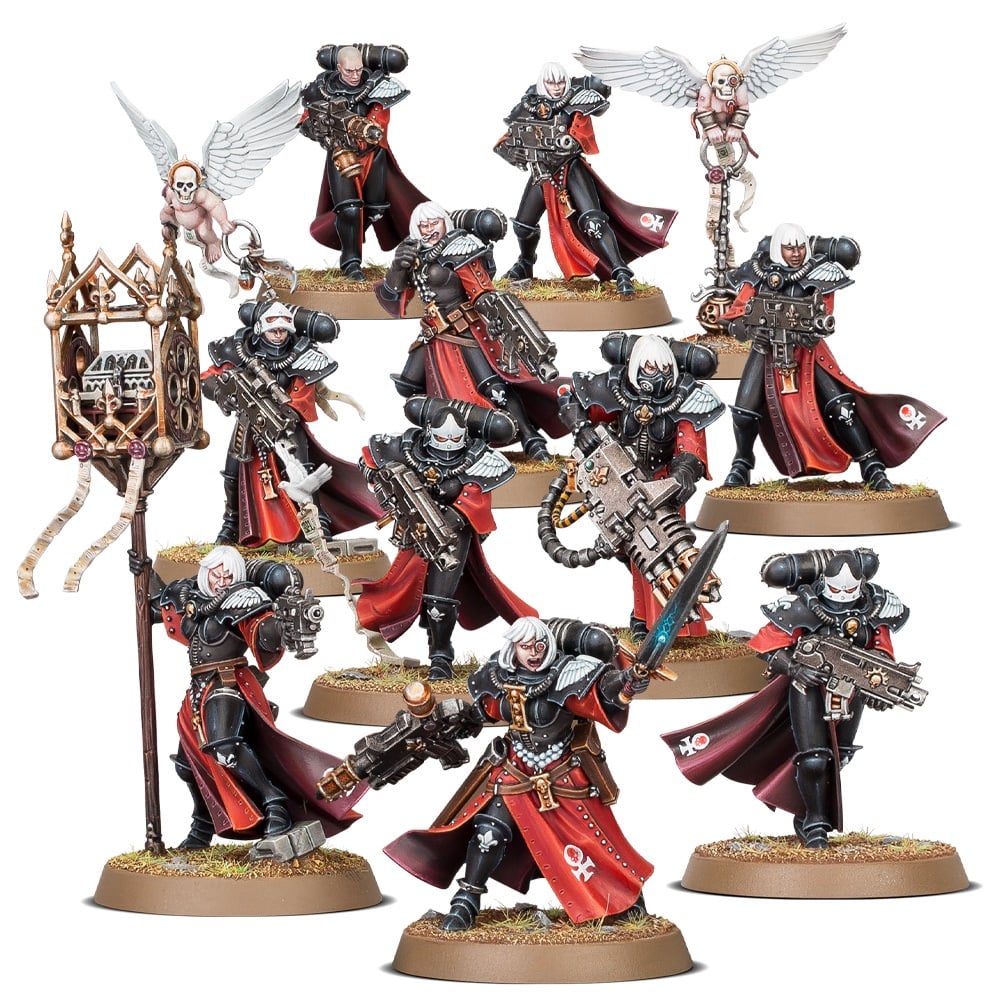 And if that still wasn't enough, this weekend you'll also be able to pre-order the incredible new Triumph of St. Katherine kit. Leaning into all of the trappings of church and ceremony, and putting the Gothic in High Gothic, this is a funerary procession that celebrates the accomplishments of Saint Katherine in the most 40K way possible: by dragging a dead hero's corpse around the battlefield so that everyone fighting near it can get some buffs in battle.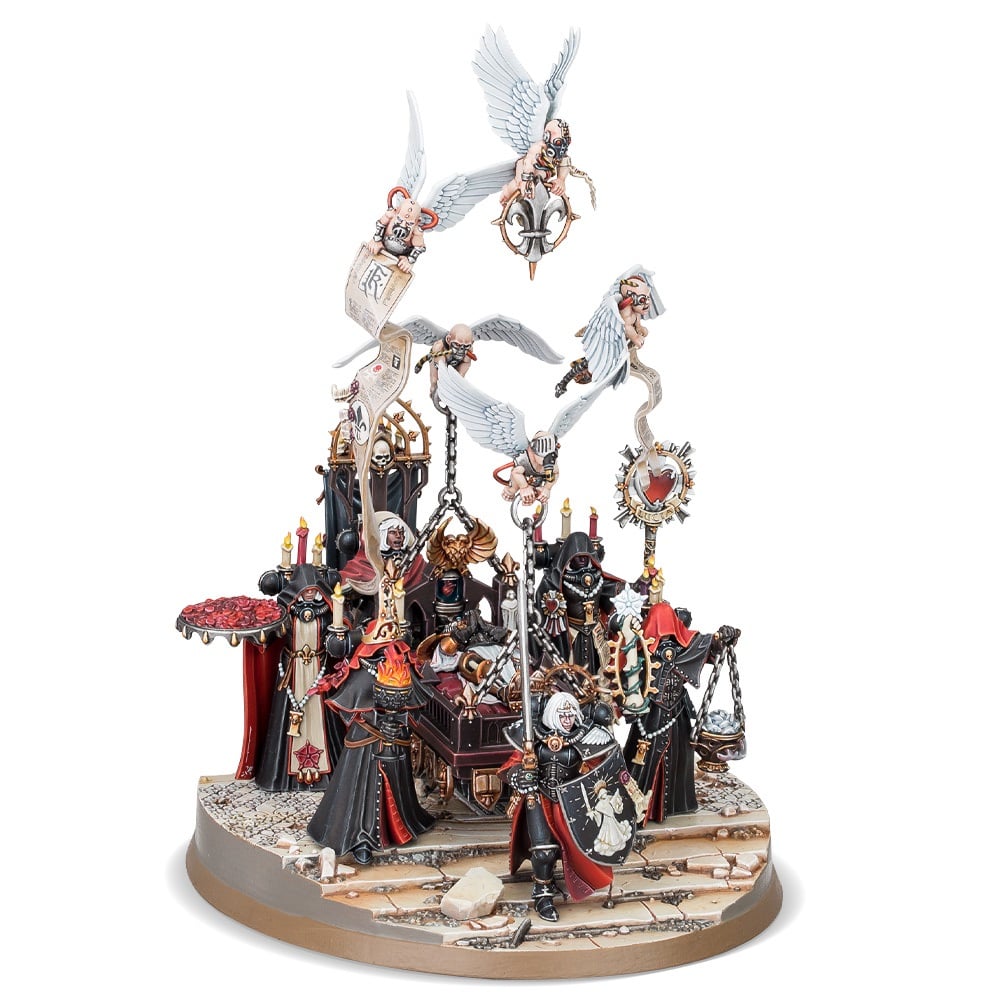 Accompanied by six Matriarchs and loaded down with sacred relics, this procession is loaded for bear and decked out for defense, because it wouldn't do to have your saint get blown up by a stray mortar round.
There is so much intricate detail packed into this kit, it is a hobbyist's dream. Check it out, all of it, next week!
Sisters of Battle out in full–who knows what else we'll see in the coming weeks, be ready folks!