Enroll in magic school, make a dinosaur person, exact revenge upon your cyberpunk dystopian employers, and cook slain monsters with today's look through DM's Guild and DriveThru RPG.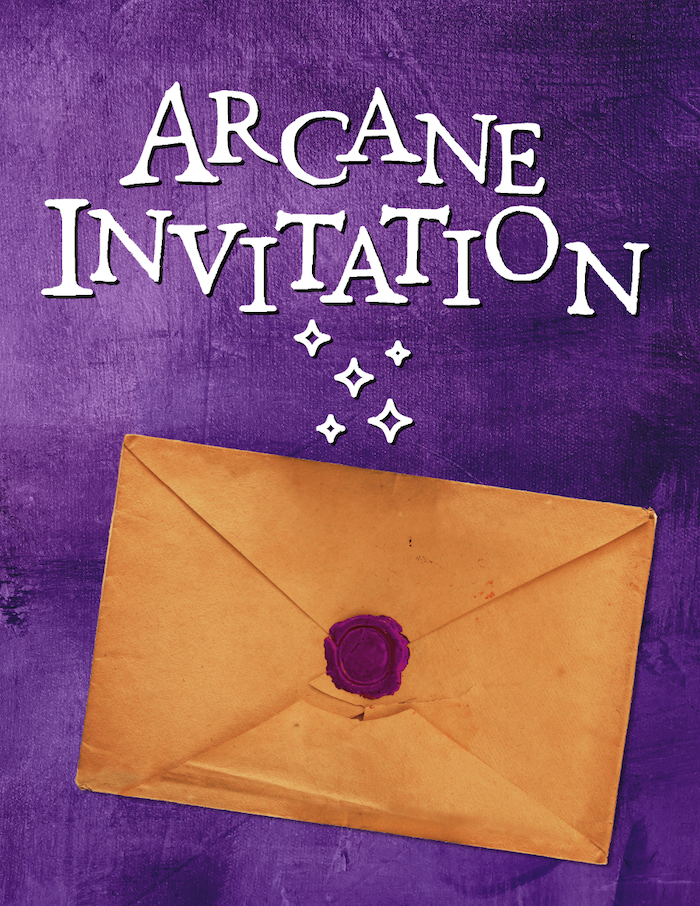 "Arcane Invitation is a toolbox for running academic adventures using 5th edition of Dungeons & Dragons as a core mechanic. You and your friends create kid characters, ready to take on the magical world through the lens of their educational experience. The DM adapts our curriculum of classes, professors, and mysteries into a campaign that brings out the best in your young heroes.

In this tome you'll find all the classes, feats, backgrounds, spells, magical items and more that will bring your burgeoning spellcaster to life. We provide rules for wands (or orbs, rods, or staves) that choose the wizard, puzzles and tests, schoolyard fights, arcane athleticism, social status, mysteries on the school grounds, vindictive or inspirational professors, and more. The mechanics of Arcane Invitation encompass the usual physical encounters, as well as the mental and social battles that take place at places of learning.

While the usual D&D races can be used with Arcane Invitation, the corebook also provides a system for designing school Houses to fill that role for a character. Each House aspires to certain virtues (or vices), which they impress upon their members. Houses are a great way to bind characters together, make them into rivals, or just give them a social hierarchy to navigate. Entire campaigns might plumb the depths of a House's origins and secrets, or explore the idiosyncrasies of its members.

Arcane Invitation is a D&D adaptation, not a campaign setting. It's a toolbox and a starting place for building your own campaigns. Heavily inspired by hit books and films set in magical boarding schools, it's designed to bridge the gap between our favorite young adult fiction settings and our favorite fantasy roleplaying system. It's whimsical and magical, but artistically and thematically focused on real life. Artwork in Arcane Invitation is made from turning real photos into seemingly arcane situations.

Character classes are built on existing D&D classes, allowing for flexibility in terms of abilities and casting style. If you'd like to be a traditional-style magic user, memorizing spells from books, there's a class for that. If you would rather just be a rascal, getting by on your luck and wits, well there's a class for that too. Since they're all built on the well-tested 5th edition D&D system, they work perfectly and can even be multiclassed or converted into "adult" character classes as the students grow up.

If you're looking for a way to play in your own campaign setting, based on Harry Potter or The Chilling Adventures of Sabrina, this is the book you need."
Magic schools are fun fantasy settings that allow us to take something boring and reimagine it as fun and fantastical and Arcane Invitation let's you incorporate that exact feeling into a D&D campaign. Using the same D&D mechanics you're already familiar with you can put yourself and your friends in the hall of Hogwarts or Wiz Tech or Miss Robichaux's Academy or the Unseen University or one entirely of you own creation. Go back to school, learn some magic, and try not to get detention when you receive your Arcane Invitation.
"5 Room Dungeons is my solution for combining the mythic story structure of legendary scholar Joseph Campbell and my quest for quick and easy adventure design.

This simple framework gives you everything you need to build a great evening of adventure for your friends.

Because of its built-in story structure, which you'll find present in everything from Star Wars to Game of Thrones, you don't have to worry about how to build drama or hook characters deeper into your plot.

The 5 Room Dungeon format has that baked in, plus clear guidance on what encounters to build and what kind they should be.

The Ultimate Guide to 5 Room Dungeons includes the full 5 Room Dungeon template, plus 87 example 5 Room Dungeons, plus a horde of tips on how to design and run 5 Room Dungeons.

This big book is 317 pages dedicated to helping you build fantastic adventures for your friends."
This giant book wants one thing and that's to make creating engaging and fun adventures quick and easy. If you're not great at writing plot hooks that your players want to sink their teeth into or you just don't have time to spend on regular plot and dungeon creation, 5 Room Dungeons may be your solution. DMing is hard, make your life a little easier with these 5 Room Dungeons.
"The Prepless Gamemaster is a complete system for playing RPGs without any prepwork.

You can just sit down and start playing whenever, wherever.

The tools of the Prepless Gamemaster will help you to effortlessly deal with the unexpected in a way that is exciting and drives the story forward. If you like preparing your games, the prepless GM will allow you to better deal with situations where players do not follow your carefully laid plans.

I know some GMs believe that you must always spend at least some time preparing for every game. But I've been running completely prepless games for over 20 years. And every time I came across a challenge – whether it was running a riddle, murder mystery, or even an escape room – I created a tool for running that story without any prep. The Prepless GM is the culmination of 20+ years of playtesting tools that will help any GM run a game on the fly.

For Beginners:

As a beginning DM, dealing with the unexpected can be really difficult. But if there is one thing you can count on, it's that your players will not always follow your carefully planned prepwork. No amount of preparing your sessions will keep you from having to improvise. You just can't plan for every eventuality.

The Prepless Gamemaster will teach you how to deal with situations where you don't have a story ready. And the best part is that you can use the techniques for the rest of your GMing career. It's what I wished someone had told me when I started GMing.

For Experts:

If you're like me, as you grow older – with more responsibilities – free time is at a premium. You don't always have the time to create adventures or campaigns. But you also want to surprise your players and keep the group together.

The Prepless GM teaches a style of play that allows you to play any RPG without any prepwork. With these tools you can create quality adventures and even campaigns on the fly. Now you can prepare as much or little as you wish and always have a story available.

Highlights:
Save hundreds of hours on tedious prep work.
Generate engaging stories on the fly.
80+ pages of GM resources.
Can be used with any roleplaying system.
Over 20 years of playtesting. No tedious theory, only tricks and principles you can actually use.
For beginners and veterans: I promise it will make you a better GM."
If you're a GM who likes to prep, you know that no matter how much work you put into making sure your entire session is mapped out, your players are going to do something entirely else that you had no way to ever anticipate or plan for. I once had a player look me in the eye at the top of a session and say, "I burn the hospital down." Needless to say I took everything I had written for that session and threw it away before it had even had a chance. Improvisation is a skill that's almost required as a GM, but it's not something that everyone is great at. The Prepless GameMaster wants to change that. Perhaps you'll never be the kind of GM who's comfortable running their entire session off of the cuff, but when your players decide to punt all of your careful planning right into the sun, you'll be happy for the ability to react with something besides wordless screaming into the void.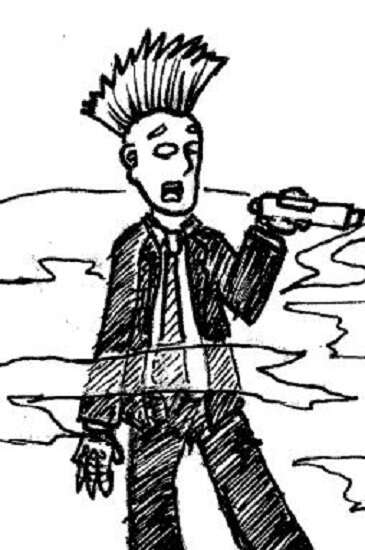 "A one-page one-shot roleplaying game. You're a badass cyberpunk data-warrior in the near future, riddled with chrome and advanced drugs – but you've been betrayed by your employers, because of course you have. As your bank accounts are drained of credit and your implants start shutting down as a result, can you enact your terrible revenge on the Whisperlight Corporation while you can still walk, see, hear and perform basic tasks?"
I love the super-short RPG systems. They're low on rules but they always have a ton of character and encourage a ridiculous amount of creativity in players. System Shutdown is a cyberpunk (possibly anti-corporate, if you chose to play it that way) game of revenge that way too many of us can probably find relatable on some level. Live out your angry fantasies about getting back at whichever boss has wronged you the most deeply while enjoying the future grit and glitz of the cyberpunk future.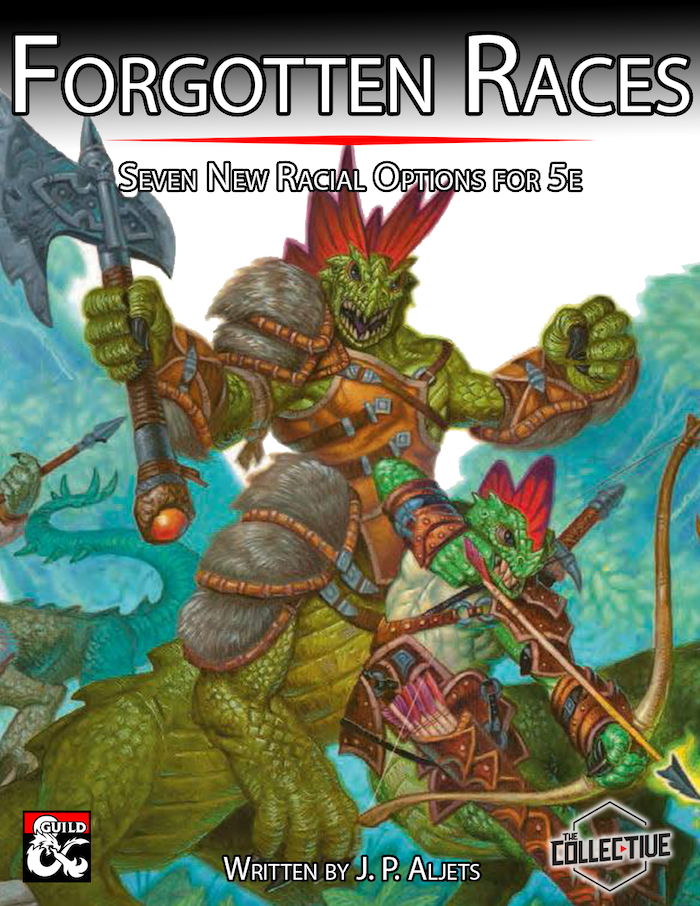 "Are you bored with the stock races? Having trouble finding new options that tickle your fancy? Why not try checking out Forgotten Races, a selection of seven new race options specifically made to spice up your next campaign.

Included in this document you will find five all-new races, including:

– Dinoborn

– Kithodians

– Ogrekin

– Serpentfolk

– Wildlings

Along with two new subraces options for elves and halflings:

– Snow Elves

– Thornchild Halflings

And hey! It's pay-what-ya-want! So if you really like it, feel free to throw me a few bucks. If not, no worries!"
Dinosaur People! That's rad. I'm not even sure what else to pitch at this point because I'm sold on dinoborn alone. The elf and handling subraces also look very fun, and ogrekin has so much potential in gameplay. But if I'm being honest, dinoborn.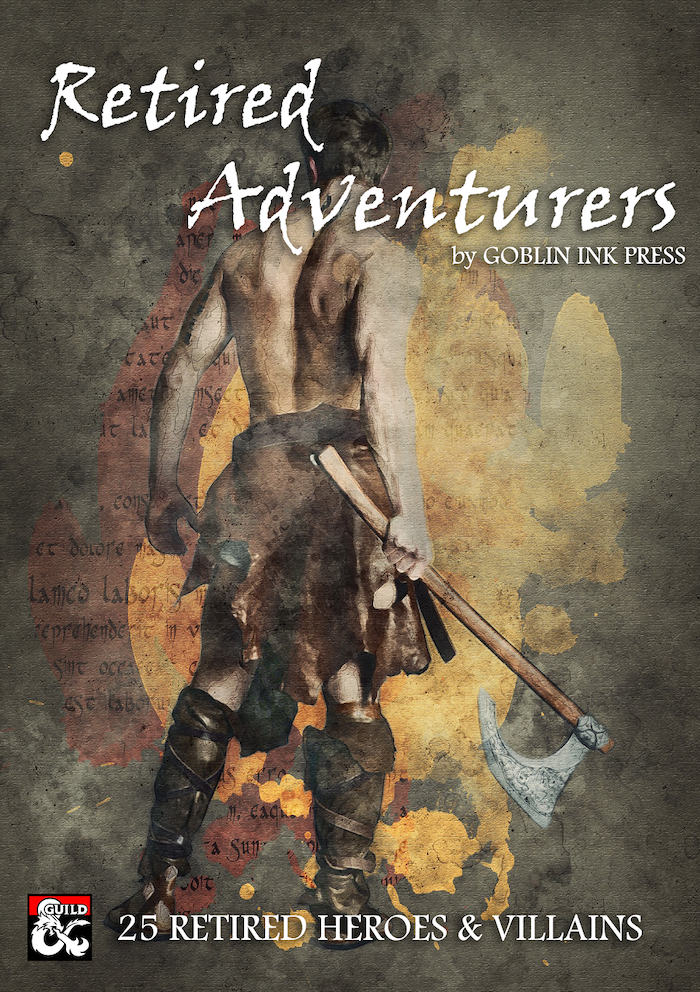 "Retired Adventurers

25 Unforgettable Retired Adventurer NPCs

With several coastal themed adventurers, this supplement is perfect for DMs looking to spice up their Saltmarsh campaign.

One cannot drink from an empty cup. As a dungeon master, your players rely on you to be constantly refilling their characters' creative cups with your own. You take on the responsibility of creating an endless stream of memorable, approachable character.  With Retired Adventurers we take some of that burden away. Meet 25 fully realized former adventurers, each with a story behind why they started, and why the stopped adventuring. Including character stats, quest hooks, and magical items for each of these former heroes (and a few villains), this supplement contains everything you need to bring to life a tavern, a city, or even a full campaign.

25 Heroes and Villains: 

Built with fully realized backgrounds, stories, personalities, and roleplaying advice. These retired adventurers are out-of-the-box ready into any campaign setting. With their own wishes and histories, these NPCs can be friendly quest givers, smoldering rivals, or kindly mentors to any party.

25 Magical ItemsEach adventurer comes complete with a magical item gained from their adventuring days:

— Tome of Boccob: A powerful focus for the discering cleric, Coralspike:  a magical javelin for holding enemies in place, Drunken Noodle Wraps: weapon or libation? You decide.

25 Quest Hooks

Each character comes with a built in quest hook tying their backstory to your world. Fight in arenas, rescue old adventuring comrades, punish old rivals, and try not to get sucked into the oblivion by Elrick's Tentacle"
In a world full of adventurers, of course your players are going to run into some of the old guard. Retired Adventurers allows you to pull one out of the ether without too much worry on your part, complete with backstories, items, and quests. Whether they'll be background flavor text or fully engrained into part of your campaign, these Retired Adventurers will add depth and weight to your world.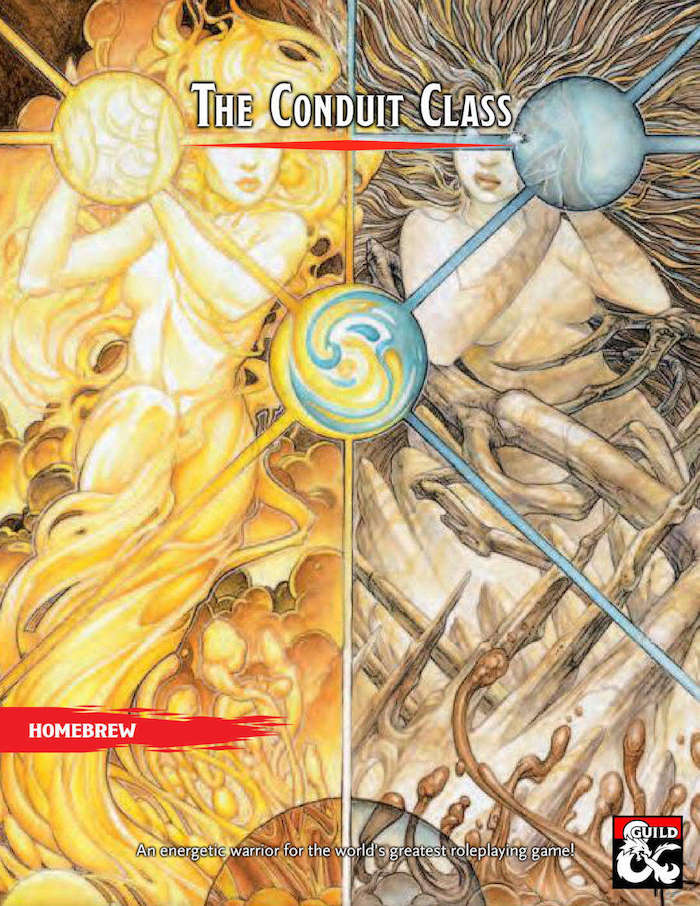 "Bring the power of another plane down upon the enemies on yours! As a conduit, you have a direct connection to planar energies, wielding raw, unadulterated power. Leave the books and rituals to the wizards in their ivory towers. You can conjure fireballs straigtht from the plane of fire itself!

The Conduit is a full class with Constitution-based spellcasting using your hit dice as a resource. It features three subclasses reflecting your planar power:
Elemental: You funnel power from one of the inner planes, shooting lightning, fire, acid, or frost directly from your fingertips.

Fey: You have an innate connection to the primal world of the fey. Animals, plants, and nature answers your beck and call.

Ethereal: You can see beyond the veil into the world of the dead. You can step into the ethereal as easily as you walk the mortal world."
This is one of the most interesting home-brew classes I've seen. The more natural, less studied approach to magic reminds me of sorcerers quite a bit, but drawing the power from various planes is very cool and opens up the player to some unique abilities and powers. Stepping into the ethereal plane? All of nature is your ally? Making your finger guns into acid guns? Yes please. Plus the cover art looks like a tarot card, and I personally like that a lot.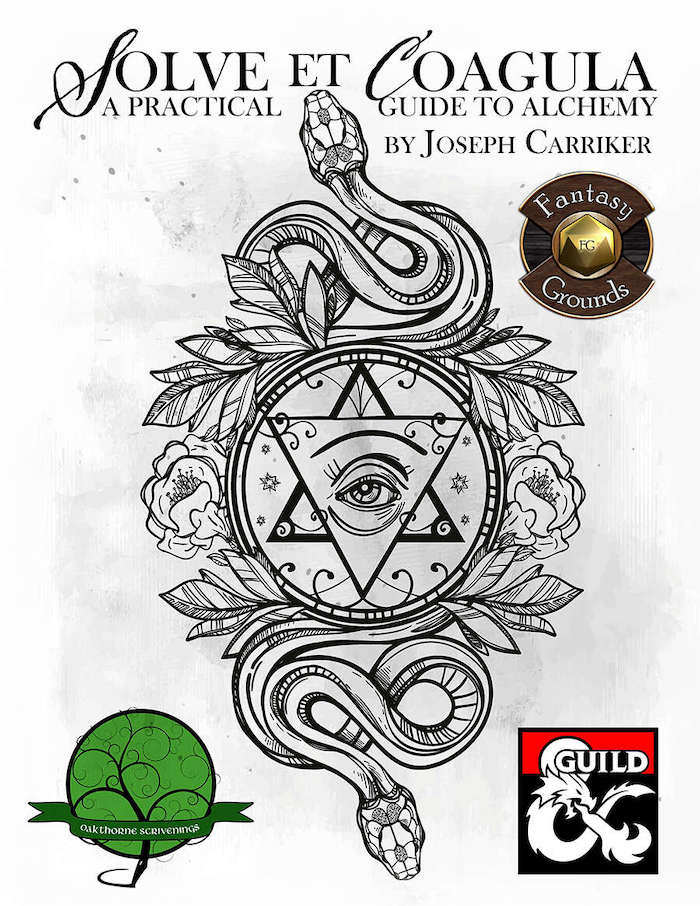 "A Practical Guide to Alchemy, now for Fantasy Grounds!

"Let this be the lesson, then. Nothing in all the world is unchanging. The practice of alchemy can thus be understood to be the quest to master the inevitability of transformation. There is no question whether or not all things – yourself included – will be changed. The only question is whether or not you shall direct that change."

–Druxus Rhym, Zulkir of Transformation, "On the Great Work of Alchemy," private papers, c.1354 DR

Every adventurer knows the benefits of having that vial of alchemist's fire or a thunderstone on hand. But there is so much more to the alchemist's art than that. Add simple but plentiful detail to these ancient arts for your campaign! This module contains:
A short history of alchemy in the Forgotten Realms.

Expanded rules for using the Alchemist's Supplies Tool Proficiency, as well as other alchemical equipment.

Brand new alchemical compounds, with recipes divided into Common, Uncommon, Rare, Very Rare and even Legendary formulas.

New Character Class Archetypes, including the College of the Great Work bard, the Mountebank rogue, and the Azoth-Infused sorcerer, as well as advice for how to use established Backgrounds to build alchemist characters."
Alchemy appearing in fantasy settings almost always only makes the world more interesting. As a science there should be hard and fast rules, experimentation, rules, formulas, etc. It exists in a world with magic and potions, but is something entirely unique and different. In a game that is already so very nerdy, alchemy manages to make it even more so, and I think that's great. The new class archetypes include bard, rogue and sorcerer, so you'll almost definitely find a subclass that hits your fancy, or you could just introduce more compounds-not-potions into your game.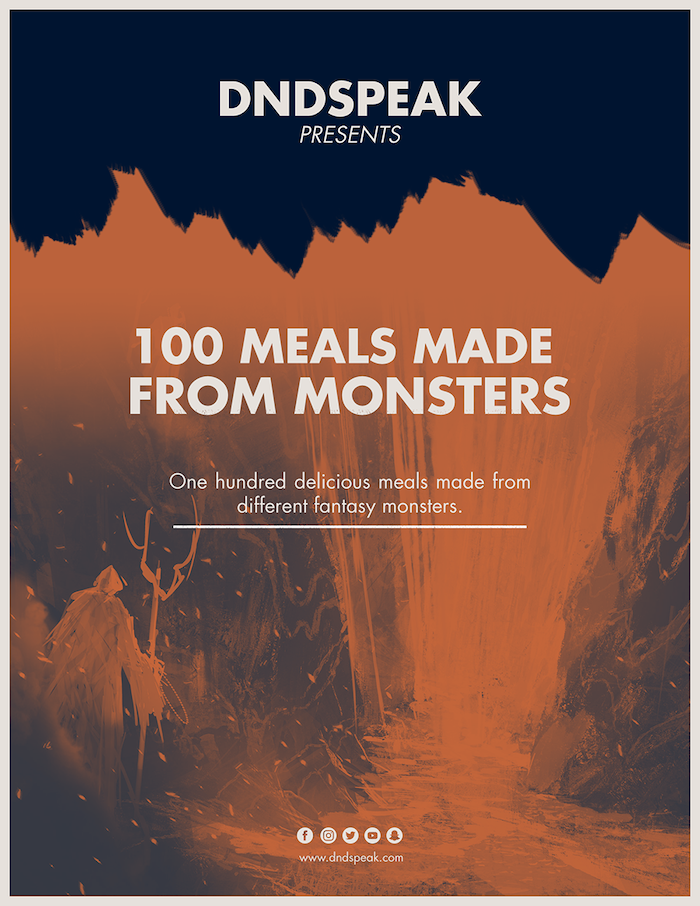 "100 MEALS MADE FROM MONSTER PARTS!

One hundred delicious meals created from the leftover parts of slain monsters."
Sometimes I open a link for this article because the art looks cool or the name I hilarious, and honestly, this is one of those times. Make meals from monsters. In your game or in real life? I don't know! Are there recipes? Unsure. Is this amazing? Absolutely.
---
What are you picking up this week? Is it any of these? I sort of hope so, some of my picks this week have been buck-wild. Let us know in the comments!