The Port of Yokohama is joining Odaiba as a home of a 1:1 scale Gundam – but this one moves. Take a look at some new photos and video of the massive suit under construction.
The 1:1 scale RX-78-2 has been in the works since 2014 – initially announced as part of the Gundam Global Challenge. It stands at nearly 60 feet tall, and it has some heavy moving parts (it has robotic elbows, wrists, hands, and fingers). Along with the suit the attraction includes the Gundam Factory where visitors can learn about the tech behind the giant and exhibitions on robotics. It's a pretty big undertaking.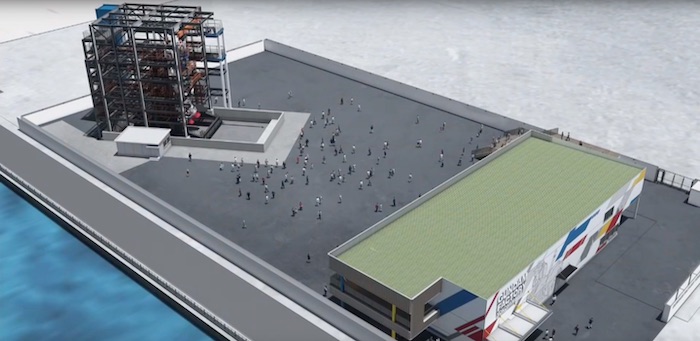 The whole attraction was set to open to visitors for limited time during the Olympics and then for a year long run in October, but that has been delayed.
We have made the difficult decision to cancel the Special Experience preview event scheduled to begin this July and postpone our grand opening scheduled for October 2020. We expect to have our grand opening within the year. Details will be announced as available. This decision was made to ensure the health and safety of our fans and employees in response to the worldwide spread of COVID-19. We apologize to all of our fans who were looking forward to our grand opening and ask for your understanding. In the meantime, we will be making preparations so that all of our visitors can enjoy themselves in safety.
The delay is to be expected at this point, hopefully a 2021 opening will be possible. In good news, there are are new photos and video of the building progress taken from across the bay. It looks badass. If you have some extra time, there's a bunch of official behind the scenes videos that show the design process and development of the moving parts (make sure you have subtitles on).
動くガンダムの施工状況!

フレームから頭部取り付け手前まで。 pic.twitter.com/bz37neCyND

— なんちゃん(祝ガンプラ40周年) (@nansei2) June 28, 2020
『連邦軍のV作戦をキャッチしたのです、ドズル中将』(笑)

横浜山下埠頭のガンダム撮影完了。

午前中は首周りの黄色いパーツの取り付けと不具合があったのか、左肩装甲を取り外していました。

頭がついてしまうと撮りに行く意味が全く無い(完成後いつでも見れる為)ので間に合って良かった♪ pic.twitter.com/3XcjbdrQol

— ふらんかー (@DD_flanker) June 29, 2020
動くガンダムのおっぱい感 pic.twitter.com/lIDnUh3te7

— なんちゃん(祝ガンプラ40周年) (@nansei2) July 1, 2020
実物大ガンダムを動かすプロジェクト
「ガンダム GLOBAL CHALLENGE」
上げた脚を元に戻す動作。こちらも8倍速に編集しています。#GFY pic.twitter.com/MmPZLpYSHM

— よ っ く ん /手洗いうがいをしっかりと (@yoshi115t) July 2, 2020
山下埠頭の横浜ガンダム、そろそろ頭が載りそうなぐらいな感じになってきました。動画の冒頭は今日撮影したタイムラプスを加えた山下公園からの定点観測。そのあとは、今日の作業の様子をビデオ撮影したものです。 pic.twitter.com/A0x3xtJMxA

— GUNDAM videographer (@darwinfish105) June 27, 2020
text