The 40k Cosplay Community is still united in these strange times.
We might be separated from each other physically, we might not be able to see each other in person… But the spirit of community is so strong in the Warhammer 40k world. This week, we take a look into the hearts of some amazing people and see just how the current crisis has affected them-and what keeps them going strong.
The last few weeks of self-isolation have lead to a LOT of free time looking around the internet. I normally spend a fair amount of time looking online for new cosplay ideas, artists I haven't yet discovered, and new sources of inspiration, but the Quarantine has exacerbated that to the extreme. While glancing at one of my favorite groups (40K Cosplay on Facebook), I came across a heartwarming post from one of my very favorite cosplayers – Dyfrig Griffiths of Iron Warrior Cosplay.
If you haven't heard of him, you obviously haven't been reading the BoLS Cosplay beat for the last few years because I have featured this gentleman NUMEROUS times (and for good reason). From my Cosplay Artist Spotlight with him to the Iron Warrior Sax Time video series, down to the beautiful tribute to Brand's Great Army… Dyfrig has been at the heart of the 40K Cosplay Community for as long as I have been covering it.
So as I clicked along through the 40K Cosplay group last week, I paused to look over a post that Dyfrig put up that day- a gorgeous group shot of a huge group of Cosplayers.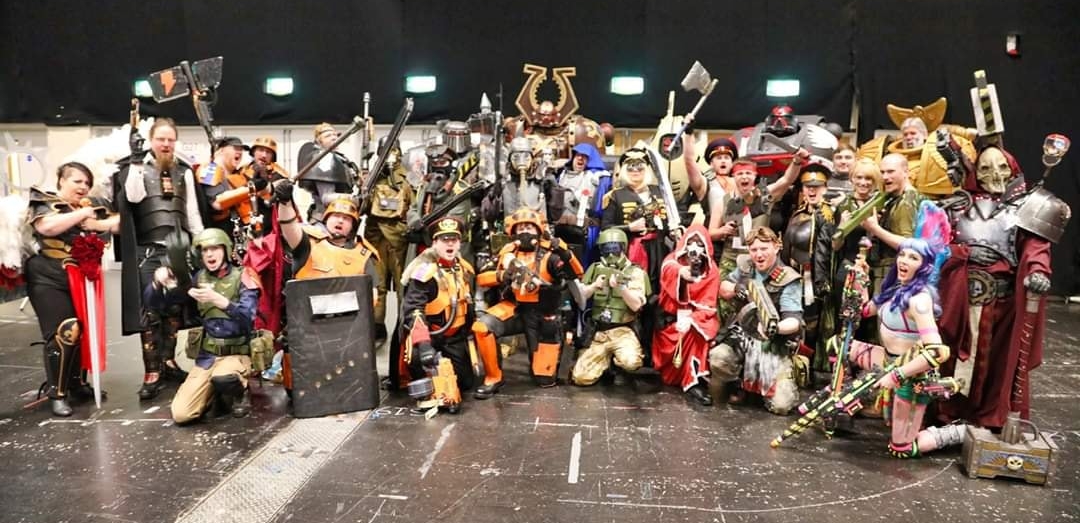 The Caption read:
"Really missing my Warhammer family, they are all amazing and beautiful individuals. This is us at Warhammer fest. One big happy Warhammer Cosplay family and I can't even begin to tell you how much I want to see them all again! IRON WITHIN!!" -Dyfrig Griffiths
This got me to thinking. I absolutely love how close-knit the 40k community is, so why don't we take some time to showcase it? I sent a private message to Dyfrig, asking him to message his army and have them send me an email with a picture, their social media links, and answers to a few questions. I was NOT prepared for the magnitude of responses, folks. For the next week, my inbox was FLOODED with emails, from all parts of the world. I am astounded, and honored, and humbled to see so many people banding together with the sole purpose of connecting, sharing their stories, and showing how much our community CARES. I hope you enjoy the results!
Exeter Cosplay
What Cosplays do you create?
I mainly create Warhammer 40K cosplays, Chaos Space Marines specifically. To date, I have built 5 full-size space marines all between 8 and 9 foot tall and even one set of full-size terminator armour. I'm best known for my 12th Legion World Eaters, Chaos Khorne Berzerker that is fondly known to many as "Big Red." I also have a human scale character, Kharn the Betrayer that is a gift for my son as he grows bigger and a pink Slaanesh marine for my fiancee.
Where are you from?
I live in Exeter, Devon that's the South West UK. The West Country has been really rather lovely during lockdown with this glorious weather and fewer people around visiting means we can enjoy long walks and just basking in the heat.  The last thing I did socially before the lockdown was to have Big Red's gorget motto "Carpe Omnia" tattooed across my collar bones and I try to live by this making the best of absolutely everything.
How has the quarantine affected you?
I'm always making stuff and i set my 3D printer going to create a true mini-scale Warlord Titan for my Death Guard army, photos on my Instagram. Also, my garden now resembles the decks of a pirate ship with a pub in the shed! My Fiancee Angel and I should have been getting married this week, May the 27th, but sadly all that has been postponed for a year, but my friends threw me an epic online stag do! You can check out the video on YouTube.
What do you miss/love the most about the Warhammer 40k Cosplay Community?
I miss my Warhammer and comic convention family massively we should have been at Warhammer Fest stomping in costume together, and I usually throw a party mid-May when the guys come from all over the UK for a weekend BBQ drinking and socializing out of costume and celebrating our combined birthdays.  Our local comic con went online which was weird but still fun.  Keeping up with all my friends online in both our public Facebook groups and private group chat, really shows how close we all are with regular video meets and drinks online!
Where can we find you online?
I'm online on Facebook, Instagram, and Twitter. And you can see some of the videos I have featured on YouTube channel Realm Pictures and my own channel "David Roth" where we had a great 40K punch up short video!
Lord Commissar Christie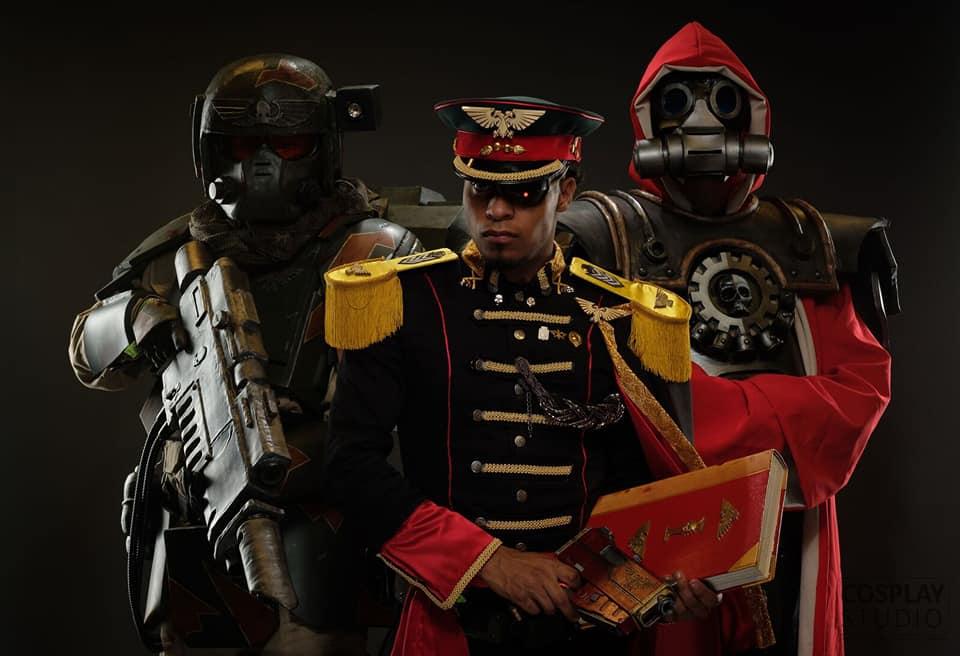 What Cosplays do you Create?
I have been cosplaying for almost 11 years now but started making my own just some years back. For the most part, I create Only Warhammer 40K cosplay and I love to focus on the Uniforms from the guard, navy, etc. I also do some other this but I have not done that for some time.
Where are you Located?
I am located in Oslo, Norway.
How has the quarantine affected you?
Well, first I was quarantined with flu for two weeks, it was not COVID-19. It was boring but I got time to work in my cosplays. Norway has been quick to shut down everything so the whole system was on hold and we are now re-opening. I lost my job at the end so I am looking for a new job but except from that, it's going great.
What do you miss the most/love the most about the 40k Cosplay Community?
I miss the conventions and to be able to meet other 40K cosplayers. What I love the most is how fast you can tell 40K cosplayers apart from the rest of the conventions, hehe – it's like aah… YES! that's Warhammer and you become friends super fast.
What keeps you going/inspires you during these times?
I am working on an Adepta Sororitas cosplay, so that gets me going is to watch videos of them, try to learn more stuff. Some Warhammer music helps also, like the soundtrack from Lord inquisitor.
Where can we find you online?
VaulsAnvil

What Cosplays do you create?
I'm a big fantasy Dark Elf fan so I have two Total War Warhammer 2 inspired dark elves, I have a Dreadlord that I'm slowly building up and a Har Ganeth Executioner, the armor I've made is mostly interchangeable between the two. These are a bit old photos from mid last year so I've got some cooler things on my Instagram but no current full costume photos
Where are you located?
You'll see me around Southern California convents, I go to a lot of them
How has the Quarantine affected you?
I've been off work since the middle of March but it gives me time to paint models, work on my own costumes, and others for commissions
What do you miss/love most about the 40k Cosplay Community?
I miss Fantasy, not a big fan of Age of Sigmar. I love finding other cosplayers that do dark elves, we are far and few between! I overall love the aesthetics of the tabletop miniatures for the most part and the books are great too.
What keeps you going/inspires you in these times?
I get the most inspiration for my costumes from the books actually. Fantasy has some GREAT books, my favorite is probably The Sundering or Doom of the Elves.
Where can we find you online?
Mainly on Instagram, I also have some stuff on Etsy that's Warhammer and I'm on Instagram.
Weetobuilds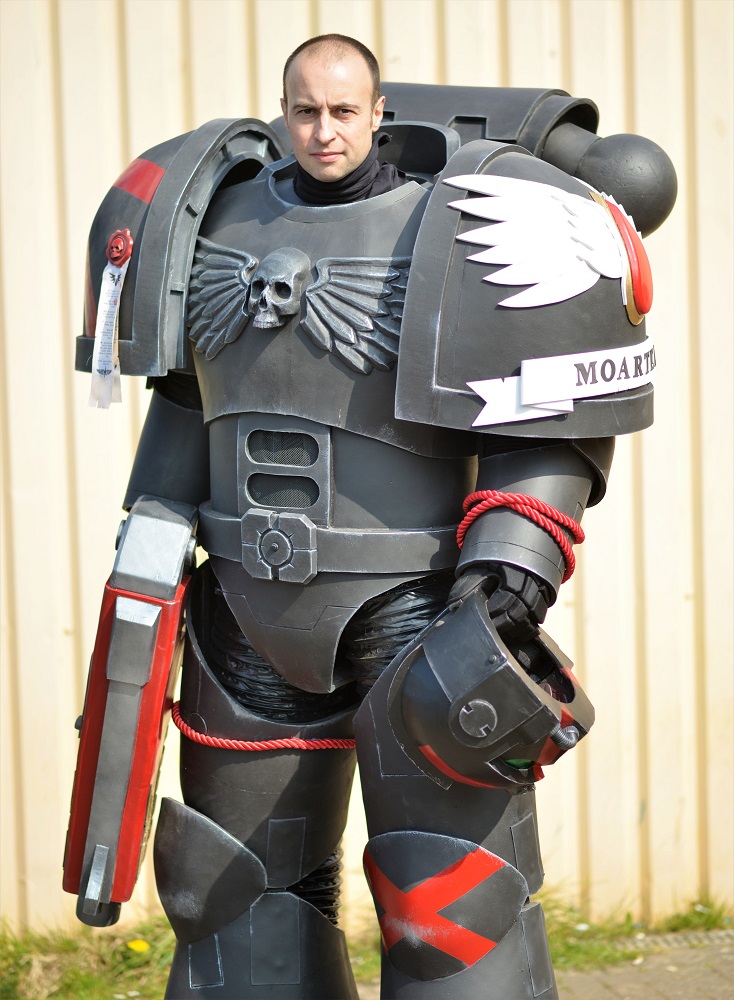 What kind of Cosplays do you create?
I've been part of the UK Warhammer Cosplayers group since I first saw Henrik Pilerud's space marine costume back in 2013. I started off by making the helmet, then the bolter, and finally the whole costume by 2017, by squeezing in odd hours in the garage at night after my wife had gone to bed. All in all, it took 250+ hours, with another 100+ hours spent on improvements, weapons, and add-ons.
How has the quarantine affected you?
So far I've had 3 weeks of working from home and a further 5 weeks furloughed. The enforced doing nothing has been very welcome and has made me realize just how busy normal life is. Weekdays I'm usually up 6.15 or 6.45 to catch the train just after 7 or 8. Full day at work, swimming in my lunch hour, home, eat, spend an hour getting the kids to bed, by which it's 8 pm and I'm too tired to do anything outside of Netflix. Sometimes it really is worth taking the time to do nothing. This is the most time off I've had since 1999 and I've been able to spend lots of time with my children, painting models and playing huge family Minecraft sessions together.
What do you miss the most about the 40k Cosplay Community? What do you love the most about it?
I miss the conventions. We're a very social group online and that has continued, supporting each other through the lockdown, but I miss spotting one of my brethren at a con as we tower a foot above other people. We were all meant to be meeting at Warhammer Fest this year which is usually the highlight of the UK Warhammer Cosplayers' year, but this year it sadly got canceled, so we did the only thing we could. Met up and got drunk on Zoom, in full costume 🙂
Last year, we all got together on the Saturday night of the fest for food and drink with good friends, but sadly it was not to be this year so we got together in costume via the medium of Zoom and drank and chatted into the night.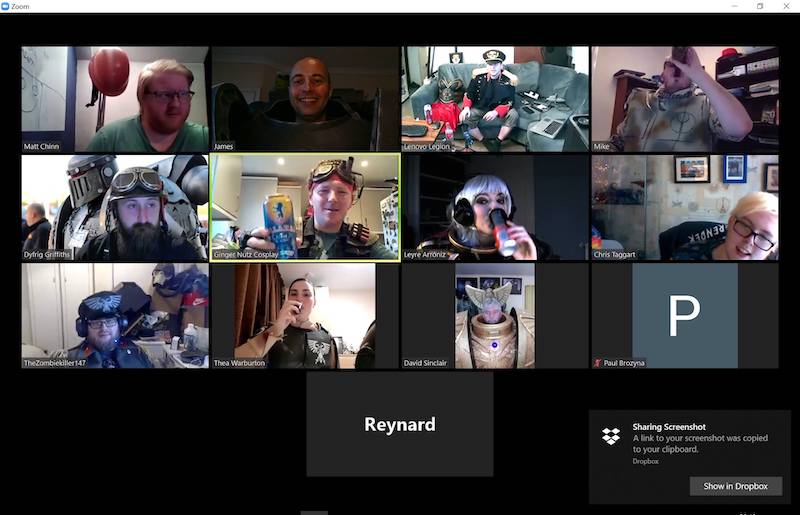 What keeps you going/Keeps you motivated during these times?
What keeps me going is the knowledge it won't be like this forever. It's given us time to add some improvements and repairs to our costumes and to reflect that as much as we love our hobby, other things are more important.
As much as we miss our friends and conventions, the next time we meet it will be all the sweeter for the wait.
Where can we find you online?
I can be found on Facebook, Instagram, and our group page is here.
Laidlaw
What Cosplays do you create?
Space Marines
Where are you located?
The small town of Masterton in New Zealand.
How has the Quarantine affected you?
7 weeks off work trying to motivate myself to do more than watch movies. Luckily had cosplay to work on and models to build and paint (games workshop and others).
What do you miss/love most about the 40k Cosplay Community?
I love seeing the amazing creations of other Cosplayers!
What keeps you going/inspires you in these times?
The thought of getting back to conventions and seeing other cosplayers in person.
Where can we find you online?
Facebook. I post the progress of my builds in Cosplay New Zealand, 40k Cosplay, and Evil Teds Foam Fanatics, and my non-cosplay page
Laidlaw Model Works
.
~Join us next week for more Cosplay Coverage~
Have a Cosplay question you would like Mayhem's Muse to answer? Know a Cosplayer you'd like to see featured? Send an email here!
Learn more about Mayhem's Muse