Goatboy here and the whole 3 wound reveal of the new terminator update has me thinking about Chaos.
I always thought the terminator body was almost there.  Heck in a lot of Chaos builds – a terminator squad was designed as the spear to come down and tear the heart out of the enemy.  Between the Red Butchers of the World Eaters to the stratagem stack you saw with the Blight Lords – the terminator hard candy shell was well used a lot of the time.  Do I think Terminators can actually make a comeback?  Maybe even become something of a token unit for Chaos?  I don't know – I think it really depends on if they do go up by 20% or maybe cheat a bit to keep them priced aggressively.  Heck I am sure GW has a ton of Chaos Terminator boxes left over that they need to sell.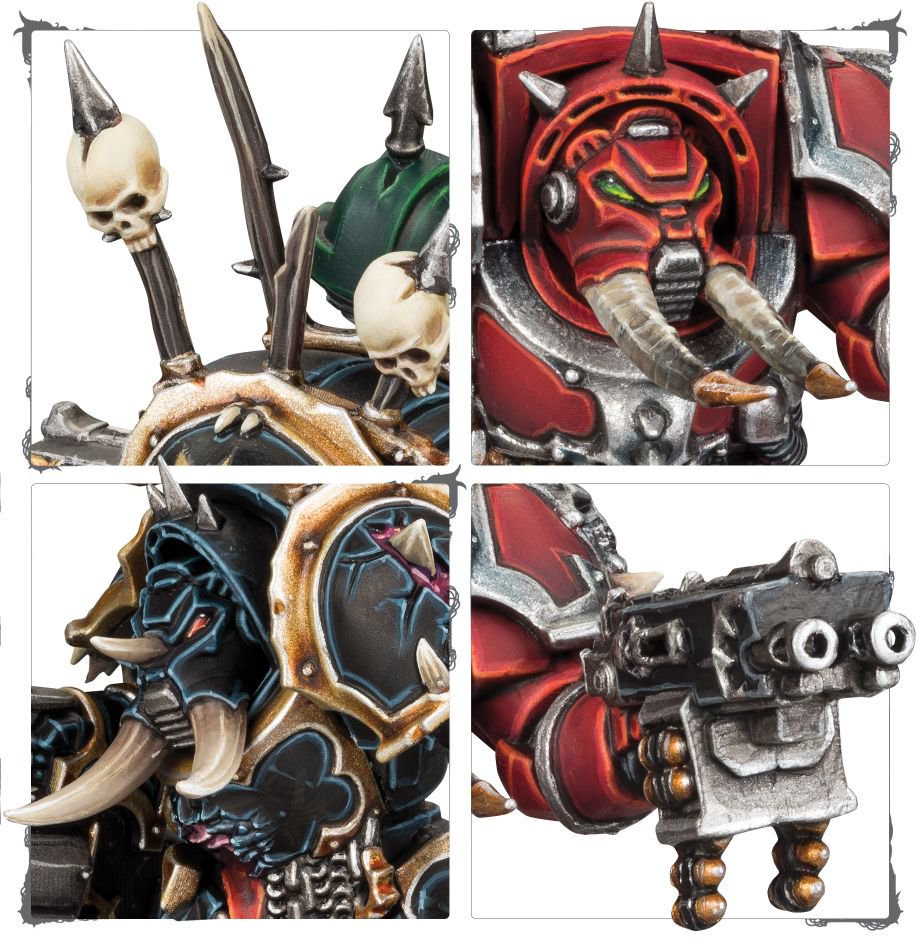 Let's look at each of the Chaos Terminator units we have available – from regular Chaos options, Death Guard options, and the Thousand Sons.
CSM Terminators
On the Regular Chaos front I think you really have 2 armies that really love Chaos Terminators.  The World Eater Red Butcher bomb seems pretty well set up to cause a ton of mischief in this environment with a ton of attacks, up to 3 activations, and just a huge amount of chance to bring the pain.  They don't have an ability to advance and charge – but they can move 9 inches in the first round plus you can do a few things to give them additional charge options.  I don't think you get right there – but again you can still just teleport them in, utilize a few +1 to charge, and of course the option to reroll the charge roll if needed.  Having 3 wounds means these guys have a really good chance to survive some counter punching and when mixed with some Prayer love they could be a real pain in the butt to deal with.
On the other side of it we could always just go Red Corsairs.  They get extra Stratagems, can utilize a double attack strat on Khorne Terminators, get prayers to have the +1 to wound, also get access to Warptime, and can advance to get mixed in as needed.  This is a lot of stackable options that just seems to scream to be used when playing with a Red Corsairs set of Terminator bombs.  Heck I think you can even start them on the table, have them move forward, belt things with bolts, throw warp time with advance, and get mixed into combat quickly.  It feels like it is something you can easily use to set up bully tactics – especially when terrain starts to look like 9th edition with obscuring walls that infantry love moving around.
On the regular Chaos Terminator side – I expect a simple 20% increase on their base cost.  They have one of the cheapest weapon options in the Chainaxe now too with the combi bolter add on.  They start at 23 pts and with the 20% increase they are most likely sitting at 28pts.  Throw in the Chainaxe and bolter and you see a 32pt model – right around the cost of them during a lot of 8th edition.  If you take units of 10 they set you back 320 or so points which is a lot but you do get 30 wounds to chew thru.  Chaos Space Marines themselves are not as exciting so a few simple troop units plus their older brothers to bully the enemy might set this up to be a powerful choice.  Or you can just throw all caution in the wind and just yell Khorne with the Red Butchers.

Blight Lord Terminators
Now on the side of units I think are going to be extremely powerful we have the Death Guard Blight Lords as well as the Scarab Occult Terminators for the Thousand Sons.  Will start with the Blight lords.  Just like the Regular Terminators the Blight lords have some cheap weapons to get equipped with.  They start out as one of the most expensive Terminator units – but have a 4+ invulnerable save, toughness 5, and Feel No Pain.  They have to take fairly expensive close combat weapons – but they have a ton of stratagems that stack on them well to turn even the lowest bolter shot into something to be scared of.  I also think this unit is more designed to hold the middle than to even think about crashing into the lines.  It feels more like a stand your ground unit design to weather the storm and punch anything that gets to close.  The 20% increase is pretty rough on them as it shifts their starting points from 35 to 42 most likely.  With 8 points of wargear stacked on you start to get a very – custodes like model that moves super slow.  This is all why I expect to see a single unit of these in some armies – all designed to hold the middle ground and allow the rest of your army to move around – most likely in a few Feel No Pain Rhinos.

Scarab Occult Terminators
The last Chaos option is the Thousand Sons terminator – which again starts pretty expensive but with some of its added abilities, spells, and strats could be very interesting.  I wish the army had gotten a better book like the Death Guard did thru Psychic Awakening – but the power of Psychic Spells really helps this unit work better.  Starting at 30 points the 20% increase would bring them up to 36 pts – and with a power sword and inferno bolter it brings the total to 44pts each.  You get a caster who loves to throw a +1 to their invulnerable save as well as the always annoying All is Dust option (Which I bet won't be nearly as good as we see a lot of armies looking to damage 2-3 weapons in the future).  The Thousand Sons army is in a weird place right now – it isn't bad as you have a ton of teleport options – but it just feels weird.  I want to like these Terminators but feel the extra cost of a wound almost makes it hard to justify.

Worth It?
This is a problem in a lot of these units.  20% looks to be right – but is it right in making these units good?  Do you think that it is too much and anything less would make a marginal unit into a powerhouse?  Is it worth it to have a unit that has a lot of fluff and power in the history of the game scary again?  I don't want a Centurion redux as I felt they added too much to Marines – but making Terminators feel awesome again isn't a bad thing.  I feel a smaller increase would be needed and allow for these once feared units to be good on the table top again.  How many stories have you read where a Terminator squad crashes in from teleportation and gets ready to bust some heads?
~Do you think 3W Terminators will do them justice?