To ensure the Grimdark has a bright future, Nottingham should turn to the past.
A guest editorial by Alex
Prologue: I swear I wrote the first version of this before the 9th edition revelations. I have the rare novelty of being impressed with myself for some accurate predictions.
Do you guys remember that bit in Breaking Bad when Gale is talking to Walt about the lab and the chemistry "still being magic", and that's why he loves what he does. Whenever I think about that bit, I think about wargaming. Watching videos of people turning junk into scenery, cracking open a new kit, selecting a new army and, perhaps more than anything, settling in for a game. These are all still magic. Over two decades of on and off hobby, they fill me with warmth.
I don't know how I'd feel about wargaming now if I hadn't done it when I was younger. I think I'd still be very sympathetically disposed (being a total nerd), but there's no denying nostalgia is a huge draw factor for me. I collected Warhammer with my older brother between around 10 and 15 years old. Then I stopped for about 5 years before picking it up again. During that time the smell of spirits, like how old GW paints smelt (and therefore local branches of GW), set me off in a giddy little memory spiral. 
Through all my phasing in and out of the hobby, I've kept one issue of White Dwarf that was old even when I got it. It covered the release of the Eldar Vyper Jetbike and there was a battle report in it in which Space Marines with attack bikes fought an Eldar force of almost all bikes (with some Hawks and Rangers). I still thumb through that report every now and again and at times of stress it grounds me, brings me some comfort and centre.
In fact, wargaming is one of those things I do now and I think "you know what, I can imagine myself reminiscing fondly about this moment in the future. I can imagine myself feeling nostalgic about where I am right now".
This is a powerful phenomenon. And yet, it's interesting that in the age of nostalgia – when video games and films rely on reboots and remakes, sequels and prequels, fan service and franchises – that GW seems to be so utterly oblivious to, or wilfully dismissive of, the enormous money earning potential that is nostalgia.
Do GW realise that the following conversation is how friends decide what to watch in their lockdown nights in?
"What shall we watch?"
"There's a critically acclaimed drama about a pressing social issue which is meant to be hugely innovative."
"… haven't they done a new Terminator?"
"… yes."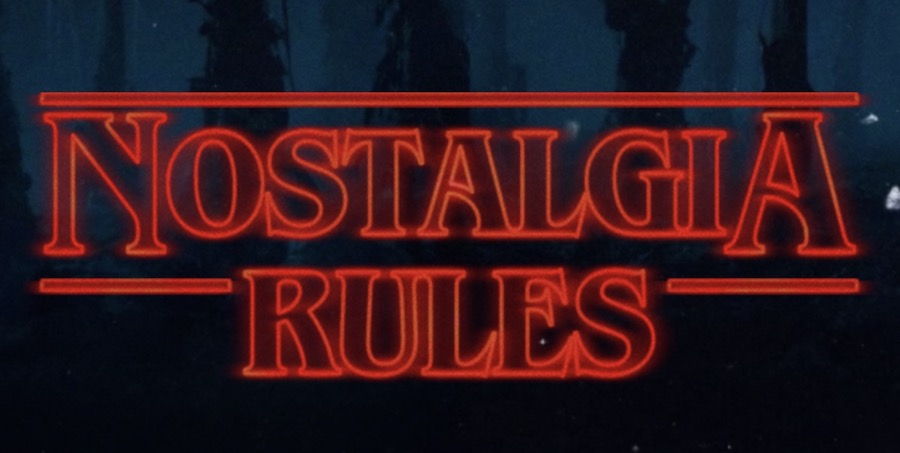 Nostalgia is an enormous factor in digital gaming and film industries. It's even big in music. After release of Views, Drake said that he'd "made a career off reminiscing". Yet GW made two decisions this decade which, whatever else you might think of them, were hugely brave in making a clean break with the past. These decisions were blowing up the Fantasy world and introducing Age of Sigmar, and the introduction of Primaris Marines.
The former you might argue became less and less brave as sales of WFB fell, because dramatic action became the only feasible course of action. However, the totality with which GW committed was quite something.
In relation to Space Marines, I'm aware of no such decline in sales (but happy to be corrected). GW took their most iconic, most beloved and one of the longest lasting pieces of intellectual real estate and, in perception if not in reality, turned it on its head.
You'll probably point out that space marines are still around and, yes, they've even done a new stunty marine librarian! You're right of course, however, just think of the colossal resource they've poured into design and development of a range that, let's face it, is divisive if we're being kind and, is a betrayal of the loyalty many fans have to the existing marine range, if we're indulging in some undeserved and unhelpful melodrama. 
GW didn't just make Primaris bigger of course. Their aesthetic changed from knightly orders to a sleeker kind of sci-fi. Their rules changed to make them specialists and even their tanks learned to fly. This is like taking away the Monopoly Man's top hat and replacing it with a flat peaked cap – some will love it, some will hate it, but either way it's a brave departure from a long established and very well loved norm. (If you touch his monocle, I will kick off!)
There's been sprinklings of these decisions in smaller forms too – introducing the Ynnari whilst so many beloved Eldar units remain in their ugly old 1990s form. 
In a way, I respect this. Kudos to GW for being brave and flexing their creative muscles. On another level, screw GW for not pandering to me and by base instincts to seek comfort in the familiar. Really, I sit between the two. This article is neither condonation or condemnation.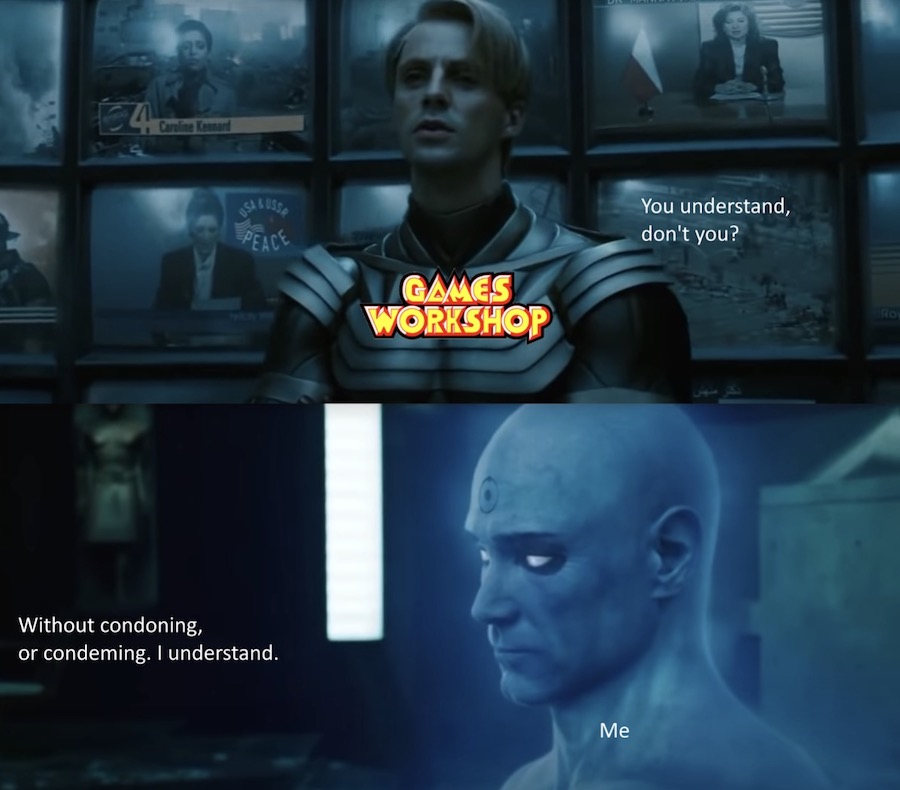 It's simply fascinating that GW is so willing to turn it's back on the past. I am ashamed of the fact that with every week's new announcement, I am much more excited when it's a character or unit I know, rather than a new one, even if the new ones are excellent in their own right and deserving of love. 
But the tables seem to be slowly turning back. The Ynnari have gone quiet in favour of remaking old Aeldari kits. Old space marine characters are being remade as primaris, with their old influences standing as template for their new forms. And now a range of new marines are heading our way with old influences – chainsword wielding assault intercessors, bikers and that landspeeder thing. 
GW made a point of mentioning the old knightly aesthetic in their live stream announcement of 9th ed. I can't help but see this is a partial U-turn, a 90 degree bend perhaps. Again, this is not a criticism, they try new things but respond to feedback. I'm not complaining, but it is interesting. I wonder if this stands as a herald of things to come. Less innovation, more replication. Updating over creating. 
To sum up, I want new Warp Spiders.
-Alex