GW has a new Terminator Chaplain on the way. Let's take a look at what he can do.
Warhammer Day (Halloween) is October 31st. From then till November 8th you will be able to order Terminator Chaplain Tarentus, and add him to your collection. but what exactly does he do?
We got a lot of little details from GW, so let's put them all together.
First the Basics
Here is the datasheet for the current Terminator Chaplain that we will use as a baseline.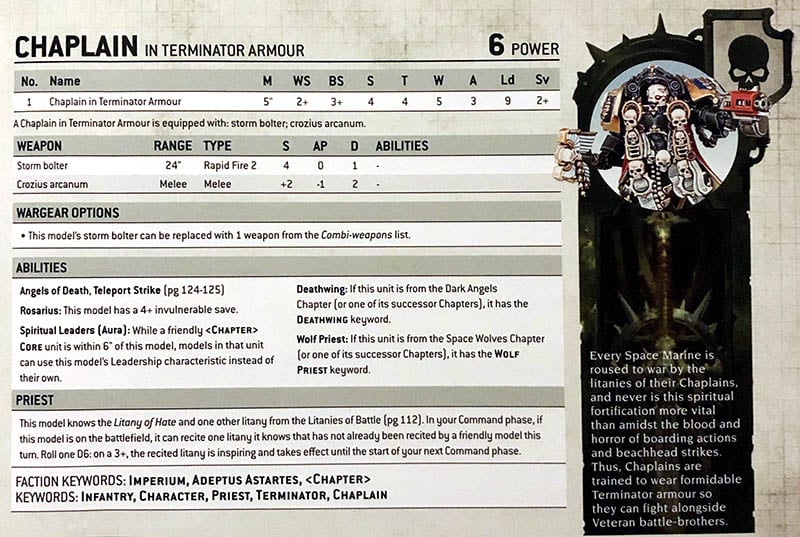 The basic codex guy clocks in at 95 points and goes up to an even 100 with any oof his 4 combi-weapon options.
Enter Tarentus
Onto the new guy. Here's the rundown of what makes him different:
Tarentus can be added to any army in Codex Space Marines
He's armed with a combi-flamer
His Death Mask is suggested as a standin for the Master of Sanctity's Relic – The Emperor's Judgement
The Mini
The mini is looking good, and is the only new Classic Marine we've seen in a long time.
The Verdict
There might be unique rules for Tarentus when he finally arrives, but as described he's is simply an alternative sculpt for the current Finecast Terminator Chappy. Tarentus should clock in at about 100 points. He looks plastic, but there is no official word one way or the other of his material.  I think this is the latest in the line of limited edition models like the Catachans we've seen of late out of Nottingham. Perhaps it's just GW continuing to chip away at the finecast line slowly but surely.
In any case – it's a pretty model, any who knows, maybe the last "new" Classic Marine?