Fantastic box art! Incredible game components! Amazingly expertly crafted board and miniatures! And…. well….
In an age long forgotten, there were two warring factions. While the worlds from whence these factions came were not so different, they could not see eye to eye. For only if they were able to band together, they might be able to overcome their differences and join forces to create a future greater than any could imagine. I speak, of course, of the early 90's casual board games versus the Hero Quest knock offs of the same era.
Hero Quest was released in 1989. Within the next few years, there was also Domain: The Warlock's Challenge (1991), Dragonfire (1992), Dragon Quest (1992), The Classic Dungeon (1992), Mutant Chronicles (1993) and Dungeon Strike (1993). But you know what else came out during that time? Loopin' Louie (1992), Electronic Dream Phone (1991), Knockout (1991), and Home Alone The Game (1991). My point is there was a lot of board games that came out in the early 90s and there was a wide spectrum of themes and depth.
That's a yikes from me, dog.
It Looks Great!
Among the list of early 90s dungeon crawlers I failed to mention is today's feature: Dark World. And it looks FANTASTIC!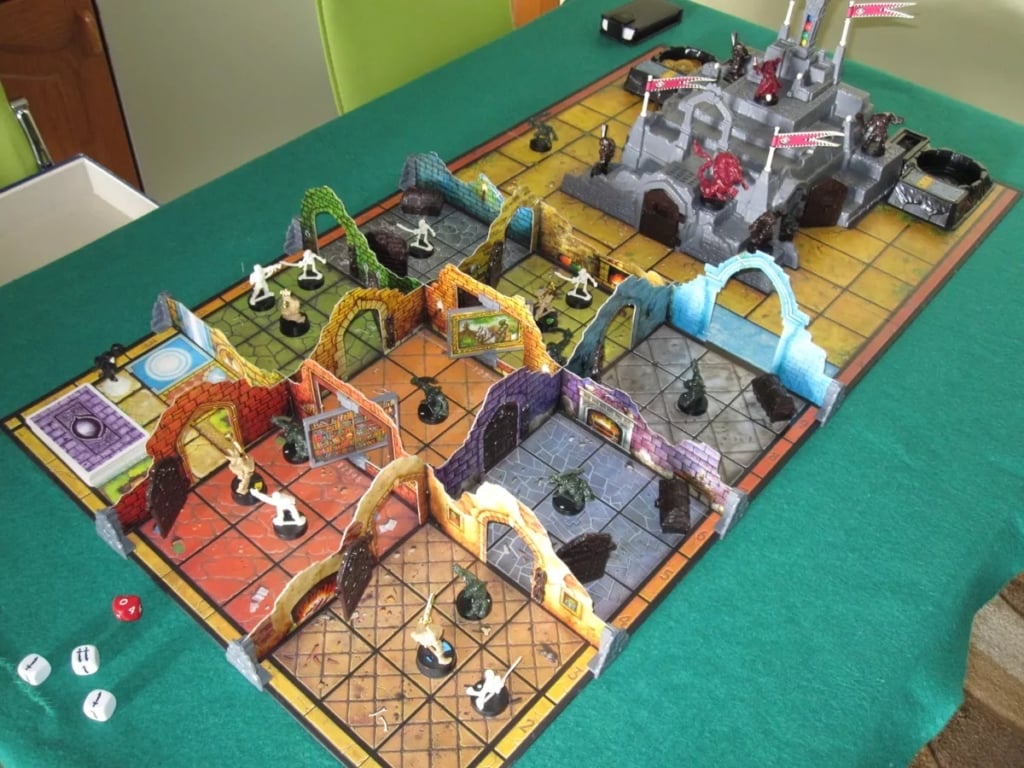 Released in 1991 by Mattel (US), Waddingtons (UK) and others around the world, the production value for this game is through the roof! Not only is it a (mostly) fully 3d dungeon crawler, its got openable doors and treasure chests, rotating hidden bookshelves, and a exceptionally constructed castle to raid at the end of the adventure. But that's not all!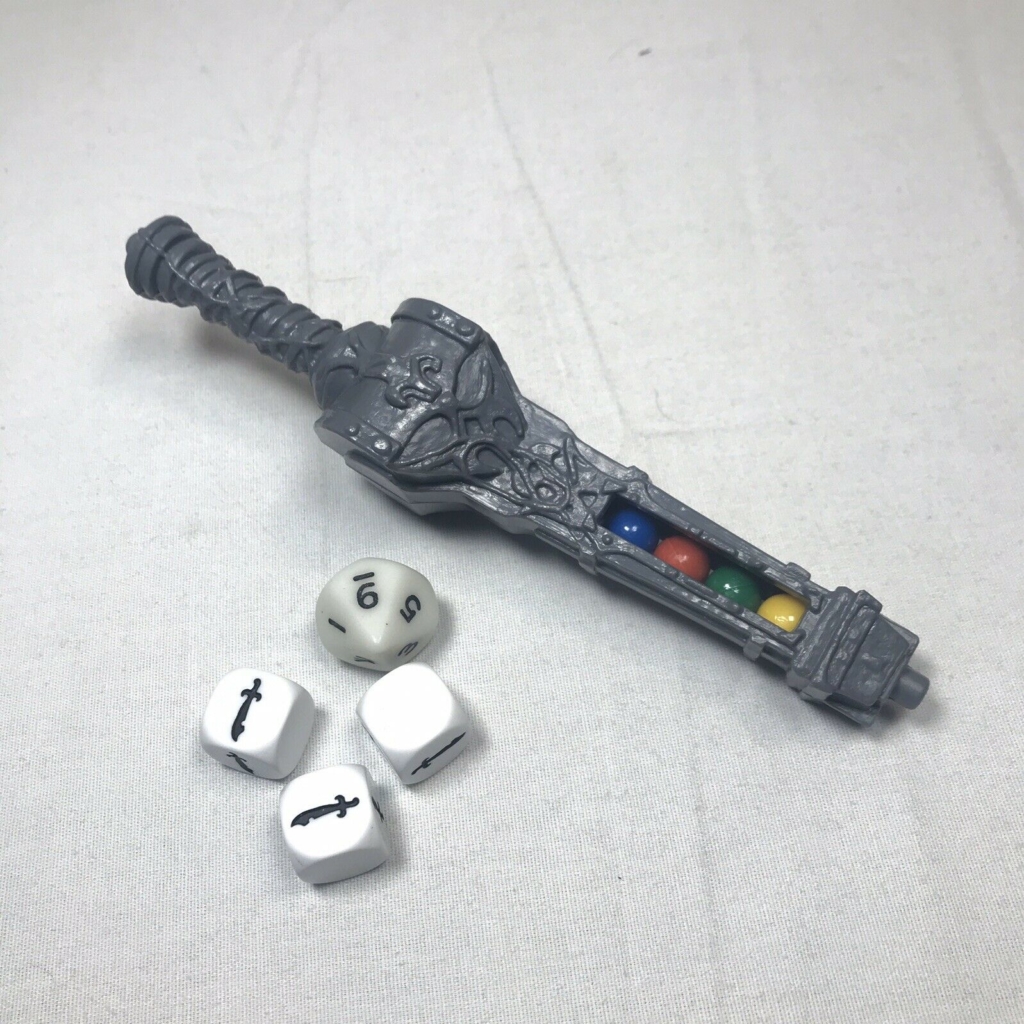 The game came with custom dice for attacking and the Mace of Chaos! At the beginning of each round, the Mace of Chaos is shaken and flipped to reveal the player turn order for that round by the colored marbles inside. But THAT'S not all!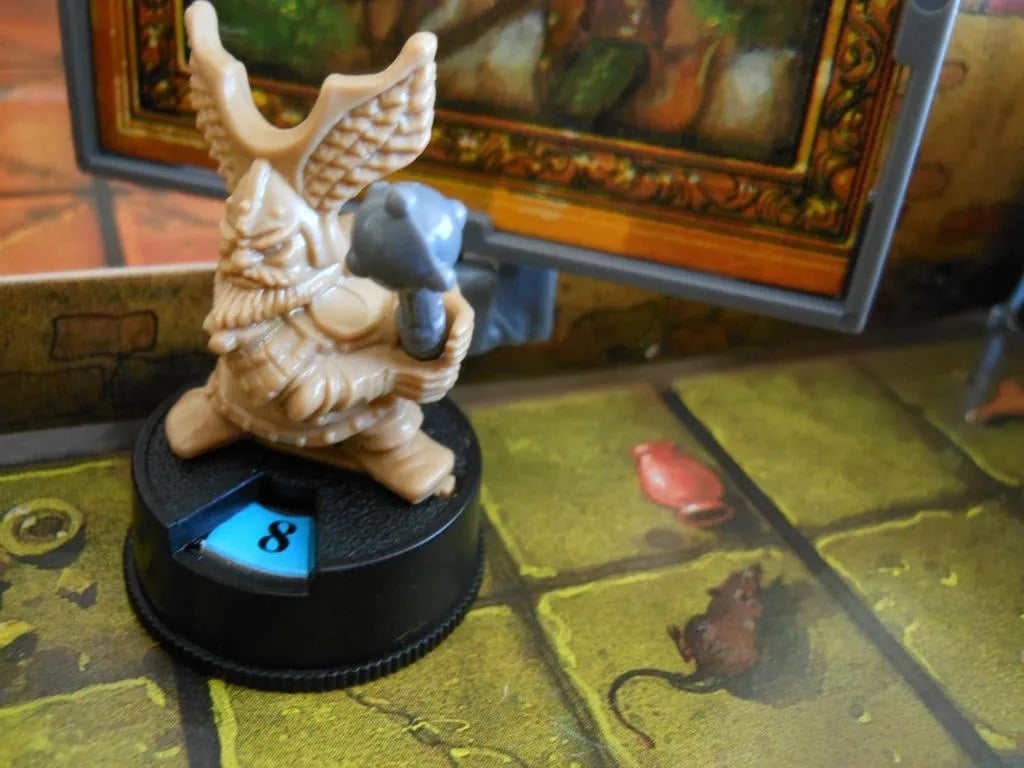 A full decade before HeroClix did it, Dark World featured a clickable base on each hero figure to show their current hit points. Also each mini had a Lego-style open hand to swap out different weapons, including the illustrious gold-plated magic items found in treasure chests or healing potions carried by the monsters within the dungeon.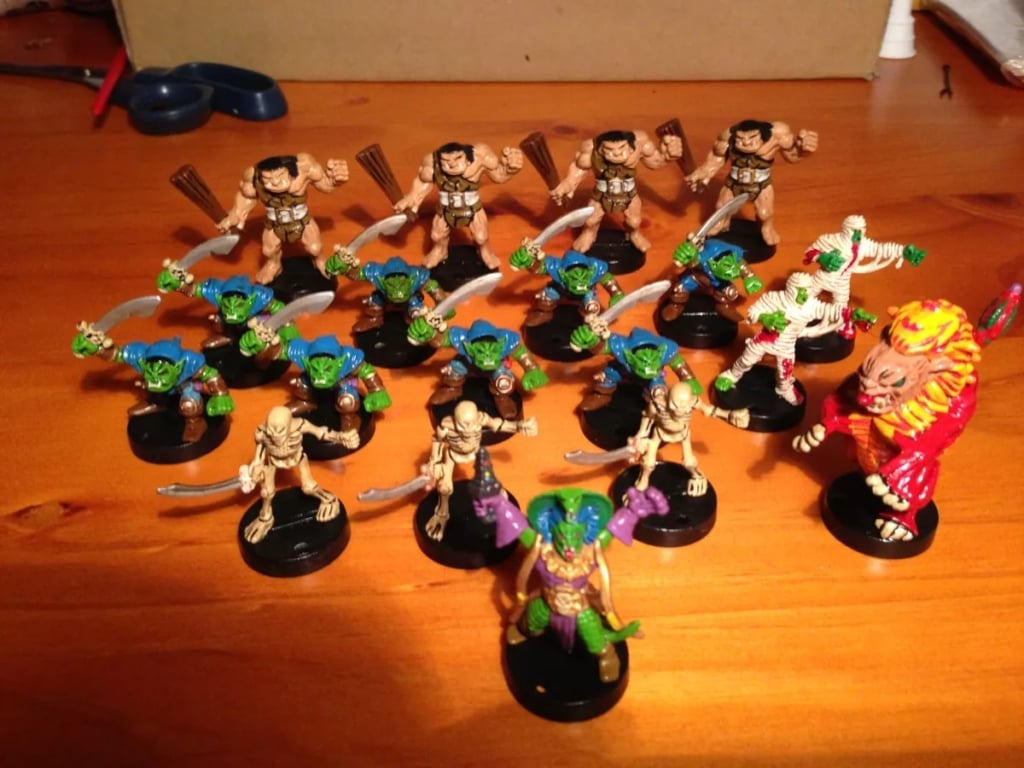 They don't come painted, this person just did an amazing job.
Well, with a game that looks this great, I can't imagine the following section is going to be an extremely great follow up to this and not at all disappoi….
It's Very Boring
Yup. Unfortunately, this game doesn't have a whole lot going on under the hood. Which is perhaps the greatest crime for a box art this utterly captivating. The artist for this game is listed as Chris Baker, who also did the cover art for the British and German covers of Redwall novels, and helped storyboard and concept design with Stanley Kubrick and Tim Burton, and worked with Games Workshop for a while.
It has a few really neat ideas. For example, one player is meant to control Korak, the bad guy. Each time the players enter a room, that room will have a number written on the floor.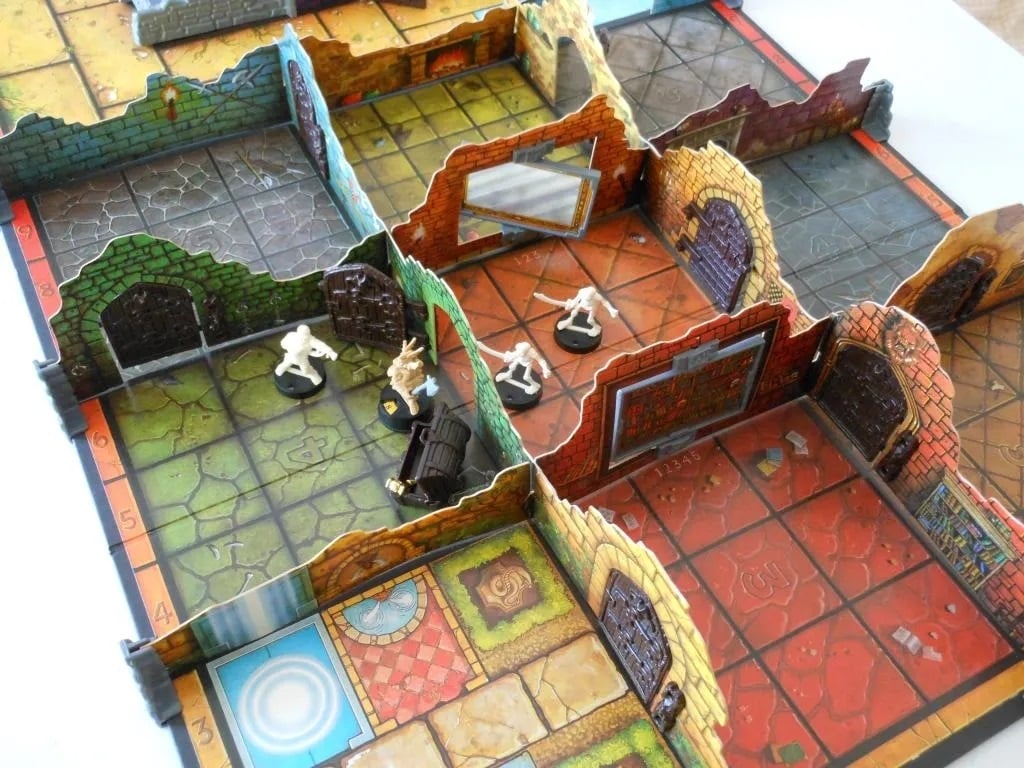 Korak can place any monsters he wants in that room, but only up to that amount of total hit points distributed among the monsters. This gives some flexibility in terms of being able to swarm the heroes or give them a single beefy monster. And to that end, the amount of hit points each monster has is secret, noted under the monster's minis.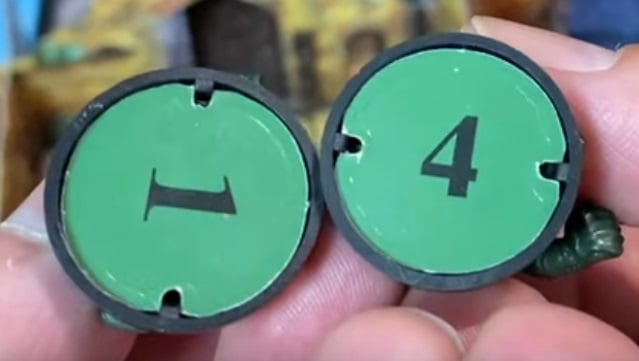 So two different orcs might have two different hit points. Combat has players rolling dice to determine how many hits they get, but they can use Hit or Miss cards to attempt to add damage they deal or reduce damage they take during combat. Using any magic weapon allows rolling an extra die during combat.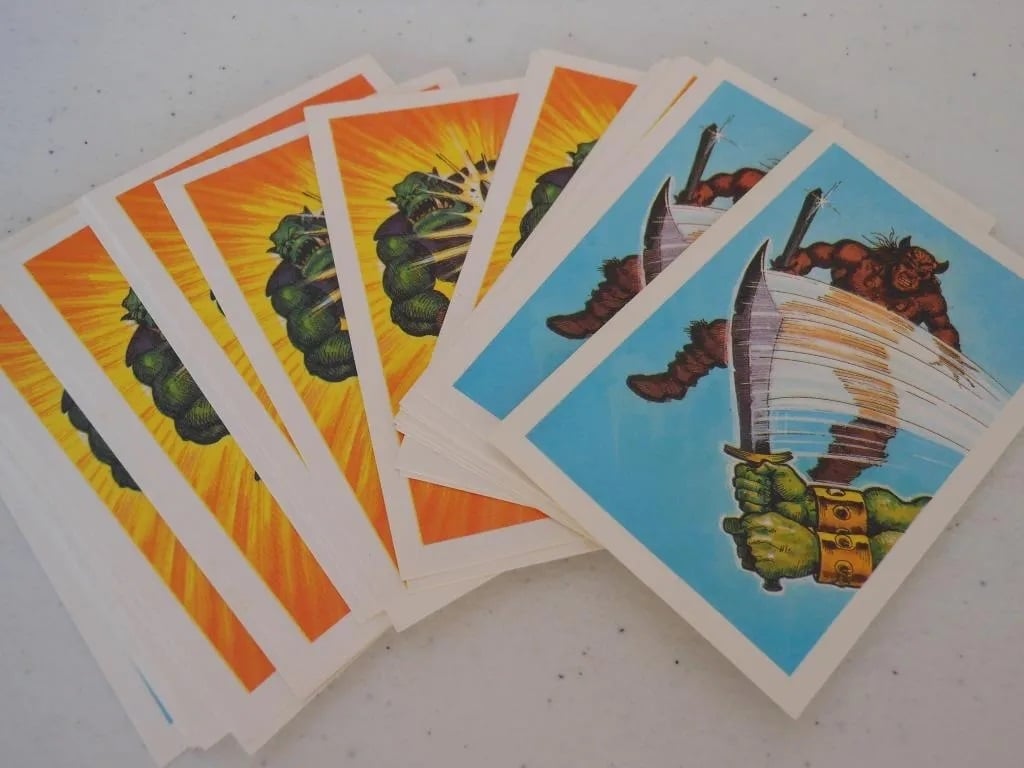 But there's no magic item cards, no spells, no unique abilities or stats, but the biggest disappointment about this game? Have you figured it out yet? You may have noticed it without fully realizing it. Something so core and central to any of these games that makes them ascend from just board games to being tabletop experiences. The most important piece is missing here.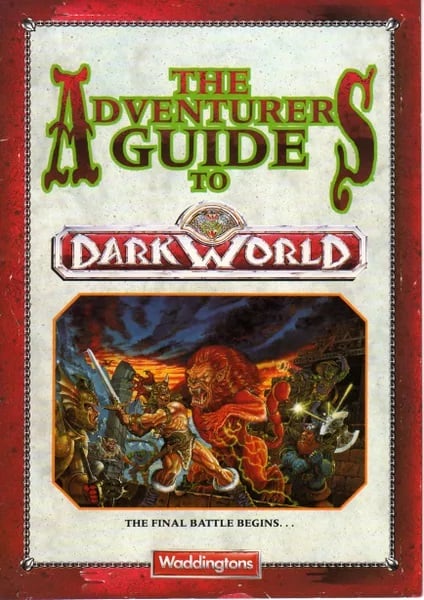 This book here? It's got the rules of the game. It tells you how to play.
And that's it. …Do you get it?
There's no scenarios! There's no campaigns! There's not even rules for setting up your own missions! Nothing!!!!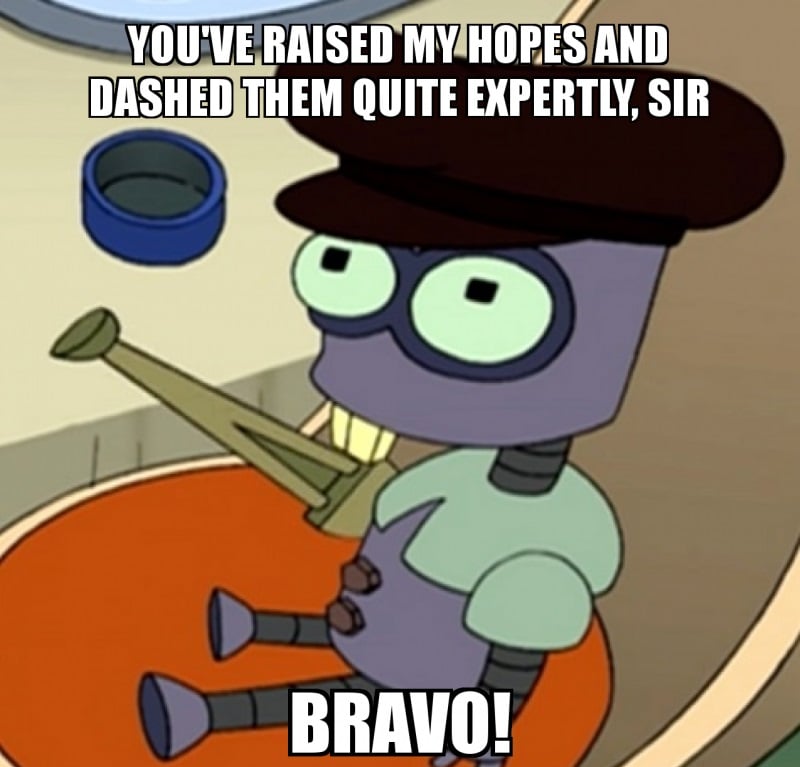 I've never been so extremely let down. Each game of Dark World plays out the same. Even the dungeon is completely linear! There's a single path going from room to room, excepting the hidden passes, which you have to roll to notice. But even still, there's no exploration, no clearing the floor before entering the boss room, nothing.
For a game with some a few really clever ideas and without a doubt the best production value of any game of its genre and era, this is the biggest frustration. Still, I don't think it would be too difficult to just apply a different game's rules to this game's setup. But the linear path is going to make that difficult. There's no way around that.
Thanks for reading!