'The Boys' Vought News Network Offers More Season 3 Hints In Latest Episode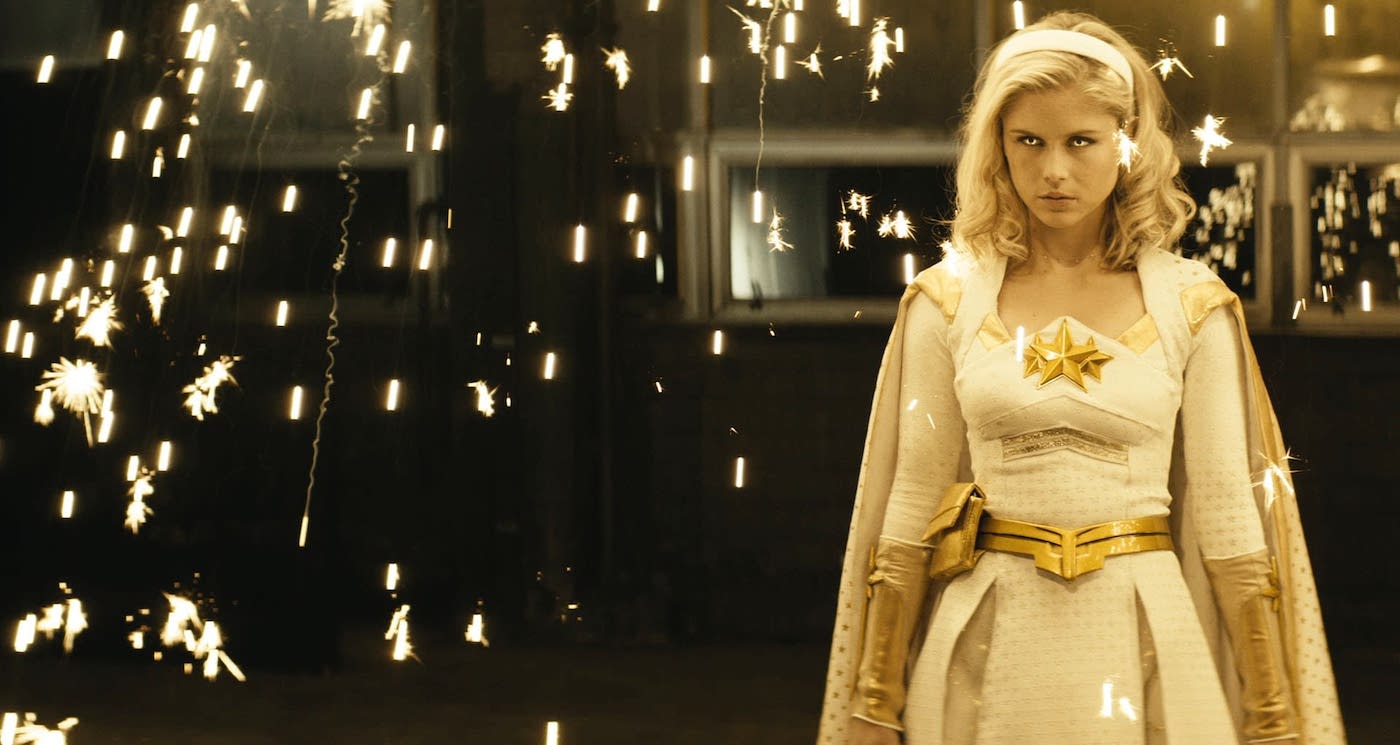 A new supe, Black Noir's new mission, what's going on with Stormfront, and more in this news update.
There's a lot going on in The Boys universe, so showrunner Eric Kripke has decided to prep audiences using part of Vought's machine – the Vought News Network. He spoke to EW about the news spots.
"Since the very start of The Boys, we've seen Vought's propaganda arm — I mean, news channel — VNN…We'll be digging deeper into those fair and balanced patriots next season, so as a teaser, we're introducing 'Seven on 7' with VNN's biggest star Cameron Coleman. The episodes are in-world canon, serving up brand-new information that bridges the story gap between Season 2 and 3. So enjoy the hot takes and catheter commercials, just like your parents do!"
You can catch past episodes on the VNN YouTube channel – June, August, and September. This month focuses on this year's Halloween costumes, Vought's problems with Federal Bureau of Superhuman Affairs, and up and coming supe Livewire.
Bringing you the latest news from the world of Vought. Today on Vought News Network:
Starlight Sells Out – Heroine's costume is almost as popular as Homelander's this halloween
Black Noir hunts serial killer to keep tri-state area safe
FBSA oversteps again as they target Ezekiel
Special Message from Liquid Death Mountain Water
No release date on season three yet, but filming should be wrapping very soon. I'm hoping for a release date next spring or summer. The cast includes Karl Urban, Jack Quaid, Laz Alonso, Karen Fukuhara, Tomer Kapon, Antony Starr, Erin Moriarty, Jessie T Usher, Nate Mitchell, Chace Crawford, Dominique McElligott, Claudia Doumit, and Giancarlo Esposito. Jensen Ackles as Soldier Boy isn't the only addition; Katia Winter is playing Little Nina.