Star Wars: That Time Darth Vader Built a Droid – The C-3P0 Breakdown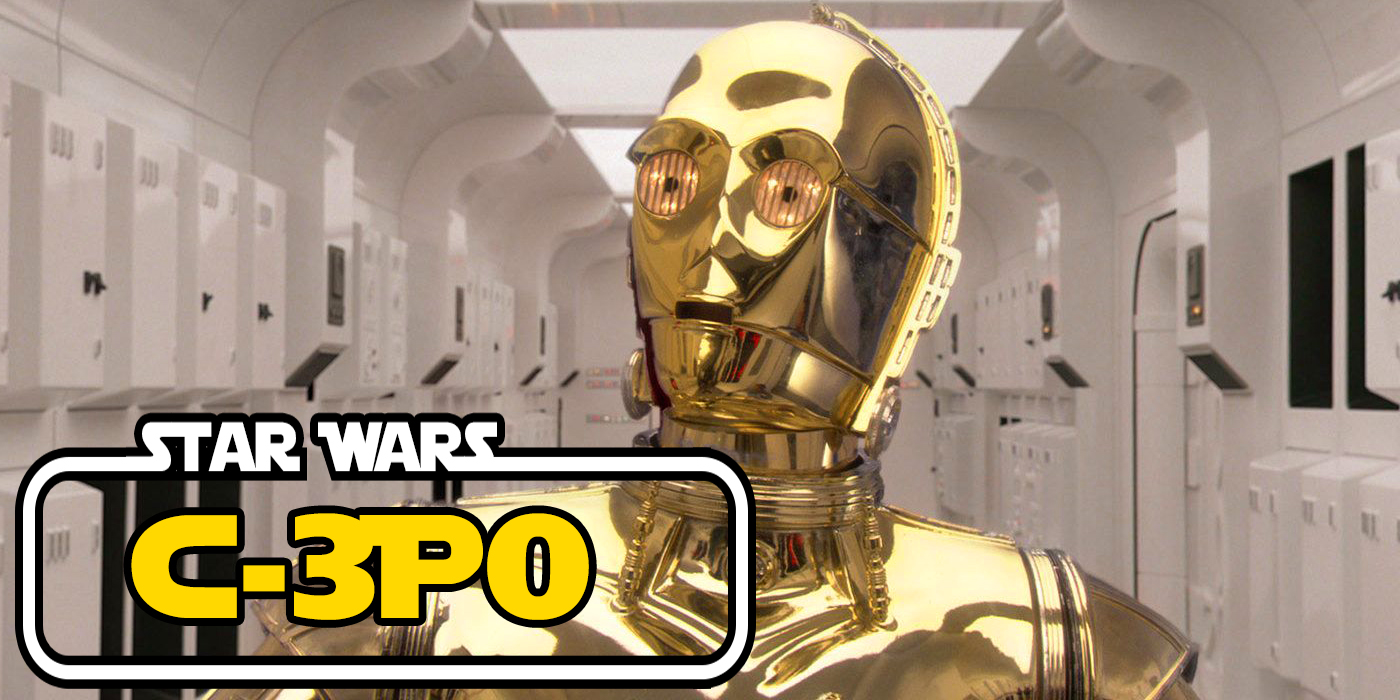 He's here to be fussy during a galactic civil war. It's C-3P0, human-cyborg relations. Just don't ask him how many languages he's fluent in.
When it comes to Star Wars characters, many are there for most of the saga. Some are even there for all of the most important bits of most of the saga. But c-3P0 is one of the few who can say that he's seen just about everything there is to see. Even if he can't remember it. Maybe R2 will fill him in. No, you're right.
C-3P0 is a fussy, tirelessly proper protocol droid. Fluent in over six million forms of communication," and riddled with artificial anxiety, 3P0 has one of the most distinct personalities in Star Wars.
Creation
Rebuilt from spare parts by a young Anakin Skywalker on Tatooine. He met his lifelong companion, R2-D2, at the time Queen Padme Amidala's droid, before while he was still "naked." But before long 3P0 would have metallic plating. Anakin left his droid with his mother, Shmi, when he went off world to train with the Jedi. Ten years later when Anakin returned home to safe / avenge his mother, he found his old droid working on the Lars' moisture farm and after killing a bunch of younglings, he took 3PO with him.
The Clone Wars
After this point, C-3P0 became a witness and sometimes active participant in the most major battles and developments of the galaxy. This started with the First Battle of Geonosis, the first battle of the Clone Wars.
During the Clone Wars, 3p0 spent much of his time with R2-D2 serving now-Senator Padme Amidala. This is when his silver plating was replaced with his signature gold plating. With Amidala, C-3P0's adventures and missions would take him to every corner of the galaxy and have him interacting with Hutts, commanding clone officers, and a future galactic emperor.
Unfortunately, C-3P0 is a character who has been programed to talk. He can't help but say anything and everything that comes to his electronic mind, and so as the Empire rose to power and Anakin became Darth Vader, 3p0's knowledge of everything went from a useful to a dangerous liability. When Padme died, Bail Organa was entrusted to care for her two droids and infant daughter, Leia. And Bail decided that the most safe way to keep C-3P0 around was to have his memory wiped.
This was also a convenient way for him to not remember anything relevant through the original trilogy. It would have been a much different series of movies if he remembered Kenobi, Anakin, the Lars moisture farm, etc.
The Galactic Civil War
Along with R2-D2, 3P0 ran Rebellion adjacent errands for Bail and eventually became the trusted droids of Leia Organa. Once again involved in everything, the droids would escape Imperial capture to smuggle the Death Star plans to Obi-Wan Kenobi on Tatooine. He briefly went back to the ownership of Lars before leaving the planet again with Luke. From this point on, C-3P0 was always in the background of every major galactic event.
From the war room at the destruction of the Death Star, to the Millennium Falcon for every major mission, 3P0 was there. He was one of the first to discover the Imperial presence on Cloud City, acted as translator when Luke Skywalker tried to negotiate with Jabba the Hutt, and always had a less-than-helpful piece of information to share along the way.
C-3P0's time to truly shine came towards the end of the war on Endor. Using his nearly endless list of known languages and Luke's force abilities, he charmed the Ewoks and convinced them that he was a god. After saving Han he regaling the Ewoks with the tales of their galactic adventures. It's likely the single reason they agreed to work with the Rebellion against the Empire as opposed to against both of them… Or simply hiding in the trees and staying quiet. And the Ewoks became invaluable in the Battle of Endor and the Rebellions victory overall.
The New Republic
In the new era of tentative peace, C-3P0 continued serving Leia as her duties turned toward the New Republic. At this time most of his duties included accompanying he Senator to meetings and event.
Subscribe to our newsletter!
Get Tabletop, RPG & Pop Culture news delivered directly to your inbox.
On a mission to rescue Admiral Ackbar, 3p0 was damaged with his entire left arm torn off. On the same mission another droid, Omri, who C-3P0 had come to consider a friend was entirely destroyed with the exception of his arm. He eventually replaced his arm with his late friends as a tribute. And then never gave up an opportunity to point out the red arm after.
Not a combat heavy character, 3P0 spent much of the next few years accompanying Leia and sometimes doing spy work for her. In one of this missions he, once again, had his memory replaced. This time it was stolen by rival spymaster, Terex.
The Resistance
Throughout the sequels, C-3P0 was once again present for just about everything of note to happen. From flagship bridges, to war rooms, 3P0 manages to always be right there.
What's your favorite c-3P0 moment? Which droid would you want to have accompany you around the galaxy? Do you think Darth Vader recognized the droid he built? Let us know in the comments!
May The Force Be With You, Adventurers!