RPG: Brandon Sanderson's 'Stormlight Archive' Miniatures Kickstarter Raises More Than a Million Dollars Day One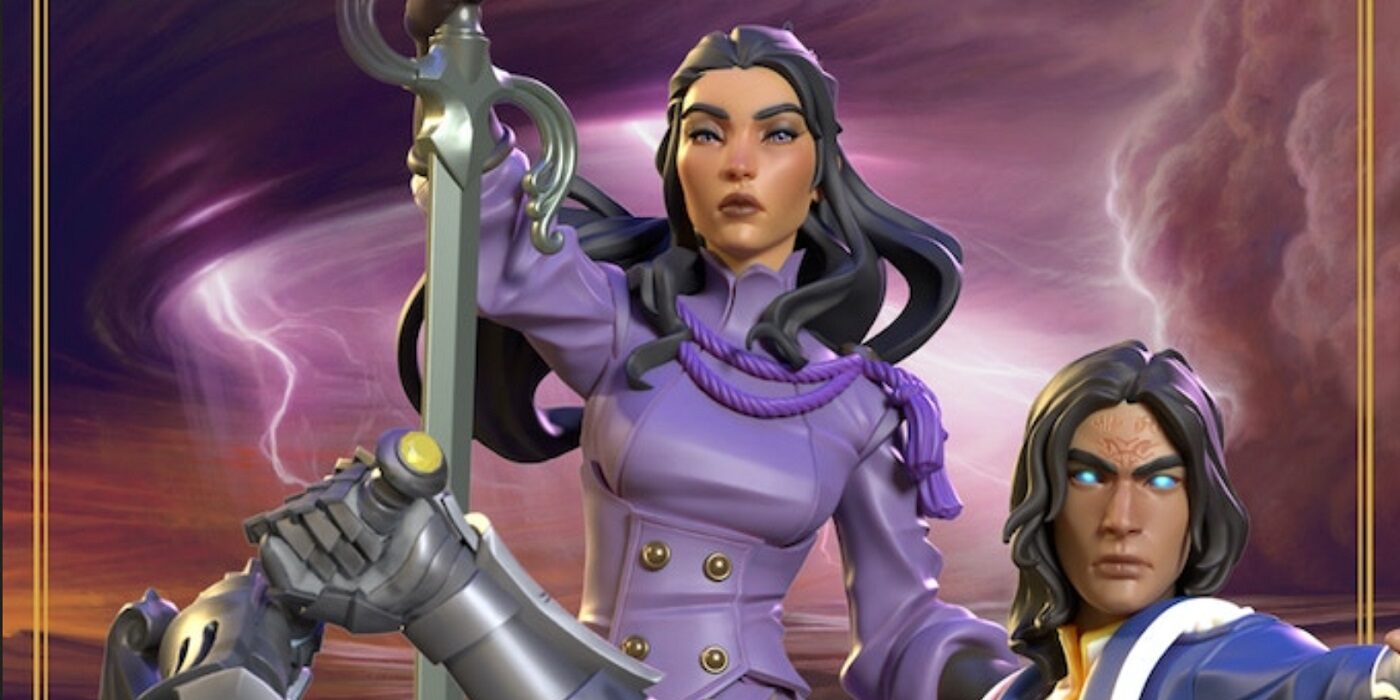 Speak again the ancient oaths, 'cause Brandon Sanderson's Stormlight Archive Miniatures Kickstarter hits more than a million on its first day.
Brandon Sanderson and Kickstarter get along real well. You might recall how earlier he Kickstarted "four secret novels" and raised more than $40 million. That's $10 million a book, mind. Even just being associated with the author who will probably end up finishing the Song of Ice and Fire and Kingkiller Chronicles series is Kickstarter gold. As Brotherwise Games found out.
Brotherwise Games has a new Kickstarter for premium miniatures and paintable figurines from the Stormlight Archives. The Stormlight Archive miniatures Kickstarter has already decimated its stretch goals. Take a look.
This is a Kickstarter to create "premium quality" miniatures. What does that mean, exactly? Here's what Brotherwise has to say: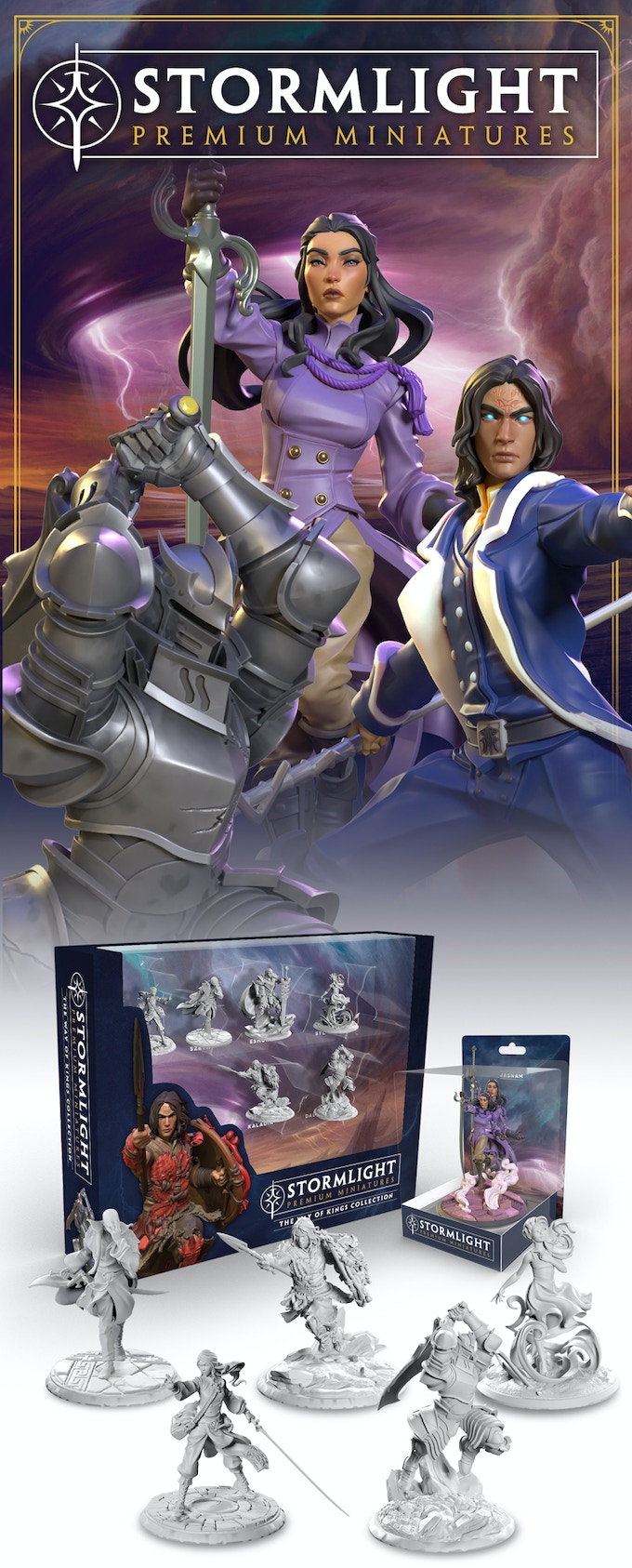 We know a lot of Stormlight fans will purchase these miniatures just to display them. With that in mind, we want to make sure even our unpainted minis are great looking collectibles. That starts with the sculpt. Our miniatures feature dynamic poses and intricate details because we split each character into several molds. Each miniature is then carefully assembled. Our 34 mm scale is slightly larger than standard 28-32 mm miniatures, allowing for more detail without looking out of place next to other tabletop RPG minis. Whether you use them for gaming or simply show them off your bookshelf, you can be sure these minis will look great!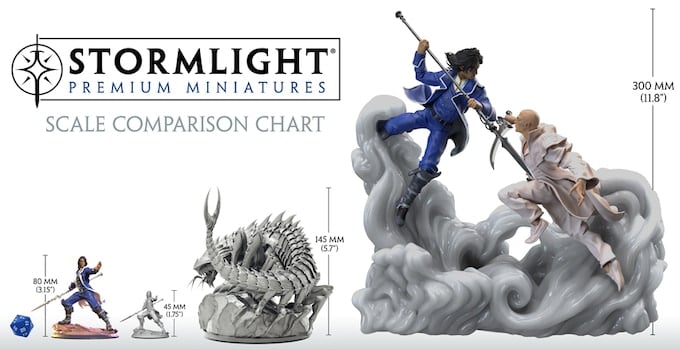 Our figurines are deluxe pre-painted miniatures, ranging between 3.15" and 3.75" in height (almost double the size of our minis). Every figurine is painted and presented in collector-quality packaging. This larger size allows us to balance the need to manufacture significant quantities while ensuring that every miniature is still hand painted. We've done our best to deliver a great-looking figurine at a price below the usual cost to commission a hand-painted miniature.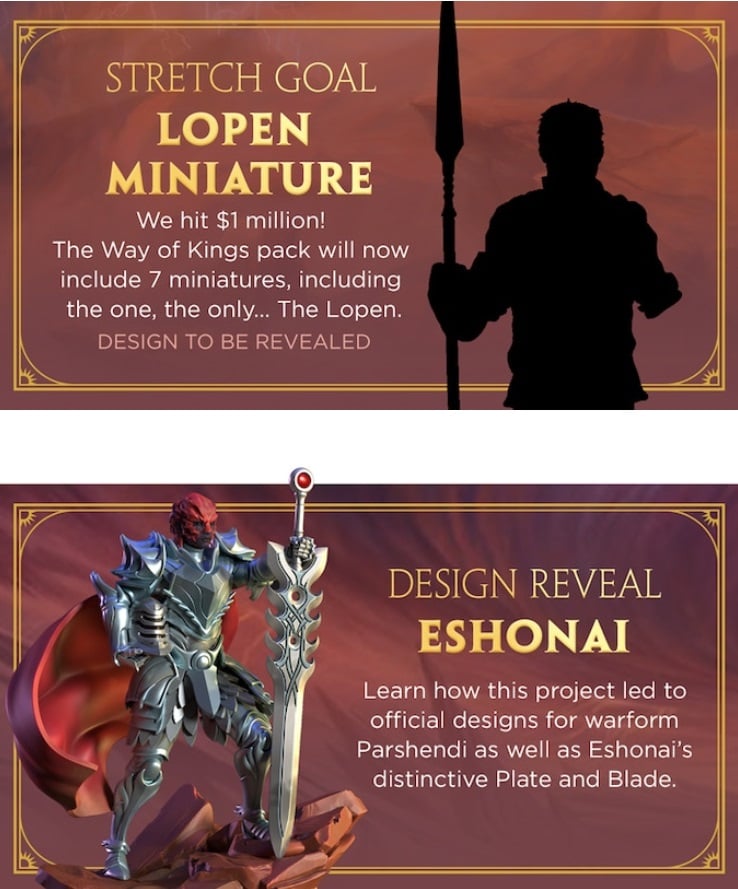 At the campaign launch, there were 24 unpainted main character miniatures, as well as four painted figurines, and a giant statue, all available as part of the all-in pledge. There are plenty of stretch goals to check out too.
If you like the Stormlight Archive, you won't want to miss these.
Subscribe to our newsletter!
Get Tabletop, RPG & Pop Culture news delivered directly to your inbox.
The Kickstarter runs through October 13th