Age of Sigmar: We Need To Talk About The 2023 Roadmap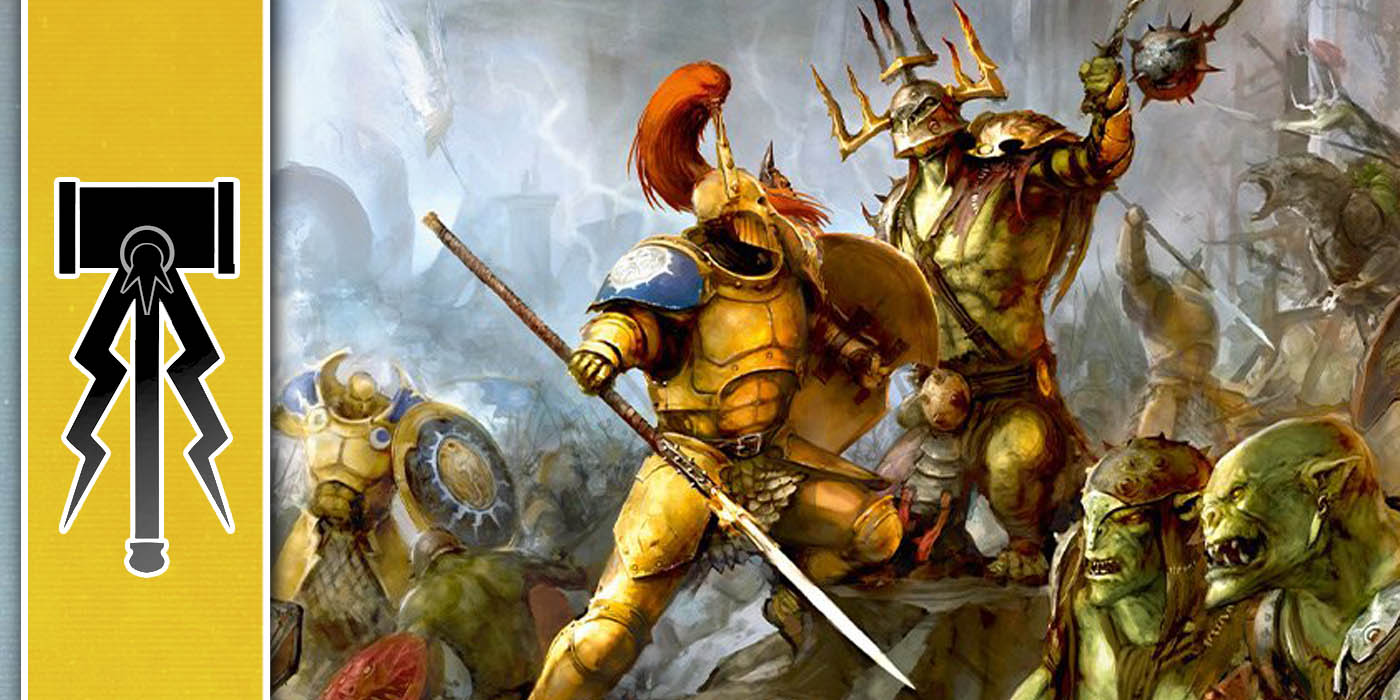 All aboard the Hype-Train because 2023 is going to be an exciting year for Age of Sigmar. Let's talk about that Roadmap!
In case you missed the news over the weekend Games Workshop laid out the Roadmap for Warhammer: Age of Sigmar up until summer of 2023. Plus they showed off the next two Battletomes so we've got a pretty clear picture of what's coming and it helps us deduce what's on the horizon.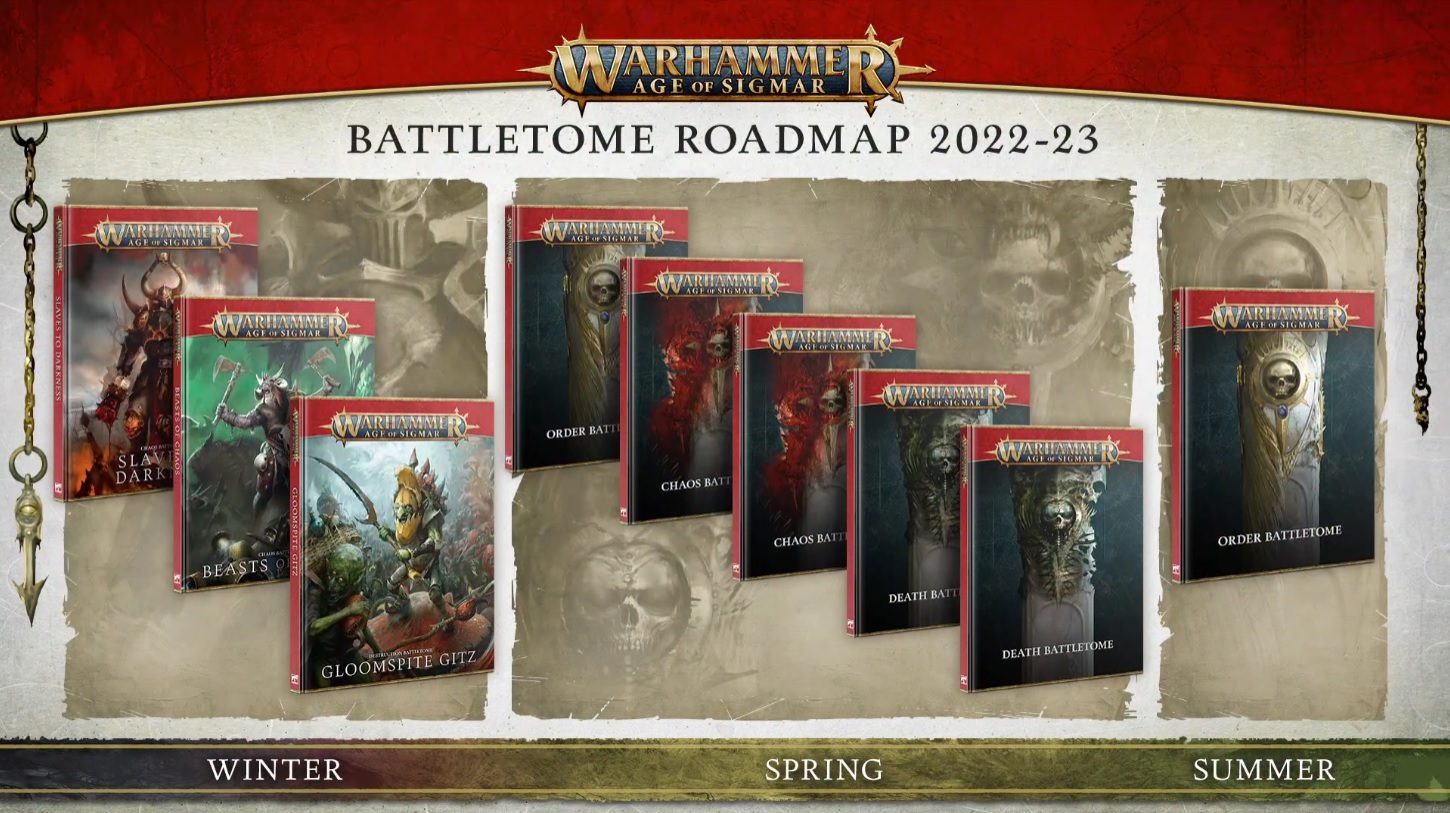 While I had some predictions/wishlisting about what I wanted to see next those were off by quite a bit. That's how it goes sometimes. GW marches to the beat of their own drum and while I thought I had some good reasoning behind my picks ultimately it's not my call. And I may be just a *tad* biased anyhow. That said, we can at least update our list and go from there.
Battletome Check-In
Already Released
Order
Stormcast Eternals
Idoneth Deepkin
Fyreslayers
Daughters of Khaine
Sylvaneth
Lumineth Realm-lords
Chaos
Skaven
Maggotkin of Nurgle
Disciples of Tzeentch
Death
Destruction
Orruk Warclans
Ogor Mawtribes
Sons of Behemat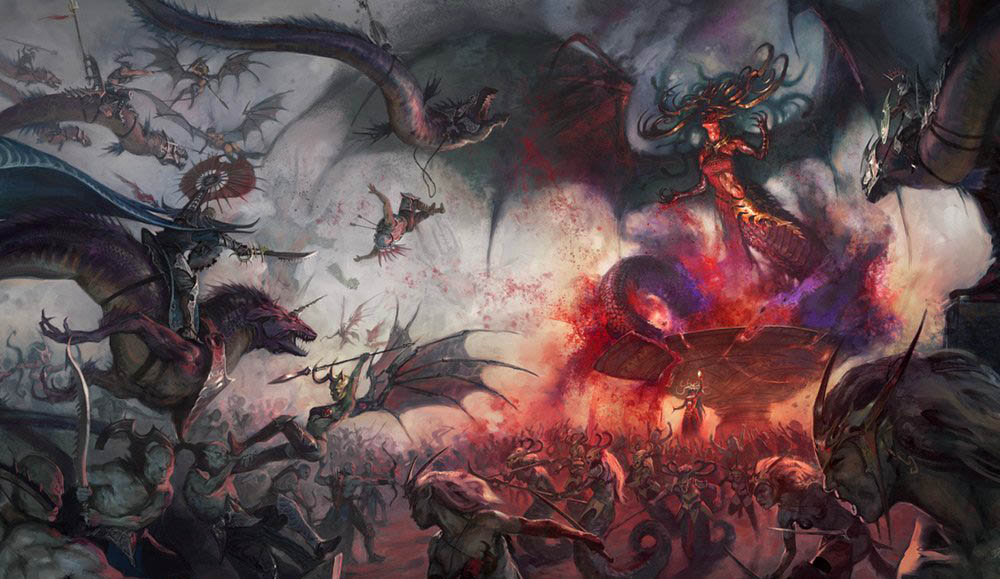 On The Way
Chaos
Subscribe to our newsletter!
Get Tabletop, RPG & Pop Culture news delivered directly to your inbox.
Slaves to Darkness (Army box is out, but the Battletome doesn't have a wide release yet)
Beasts of Chaos
Destruction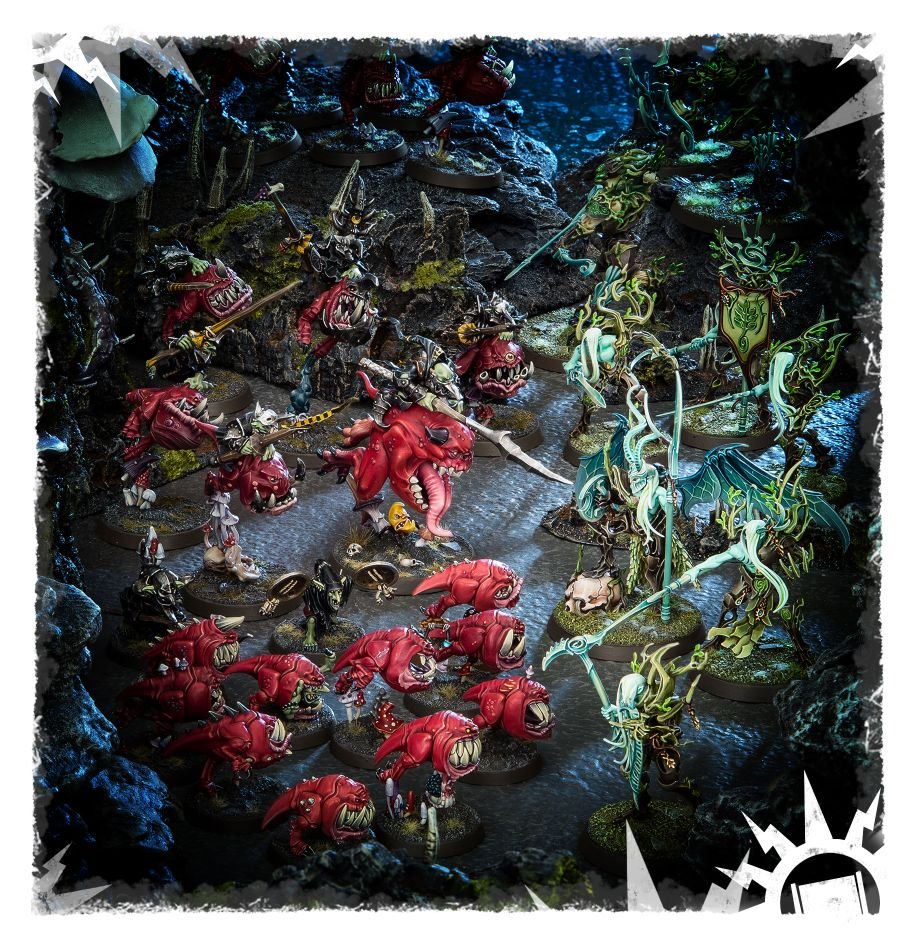 Yet-To-Be Announced
Order
Cities of Sigmar/Dawnbringer Crusade*
Kharadron Overlords
Seraphon
Chaos
Hedonites of Slaanesh
Blades of Khorne
Death
Flesh-Eater Courts
Ossiarch Bonereapers
Soulblight Gravelords
*We know the Dawnbringer Crusade is coming but don't have an official release date or announcement for them yet.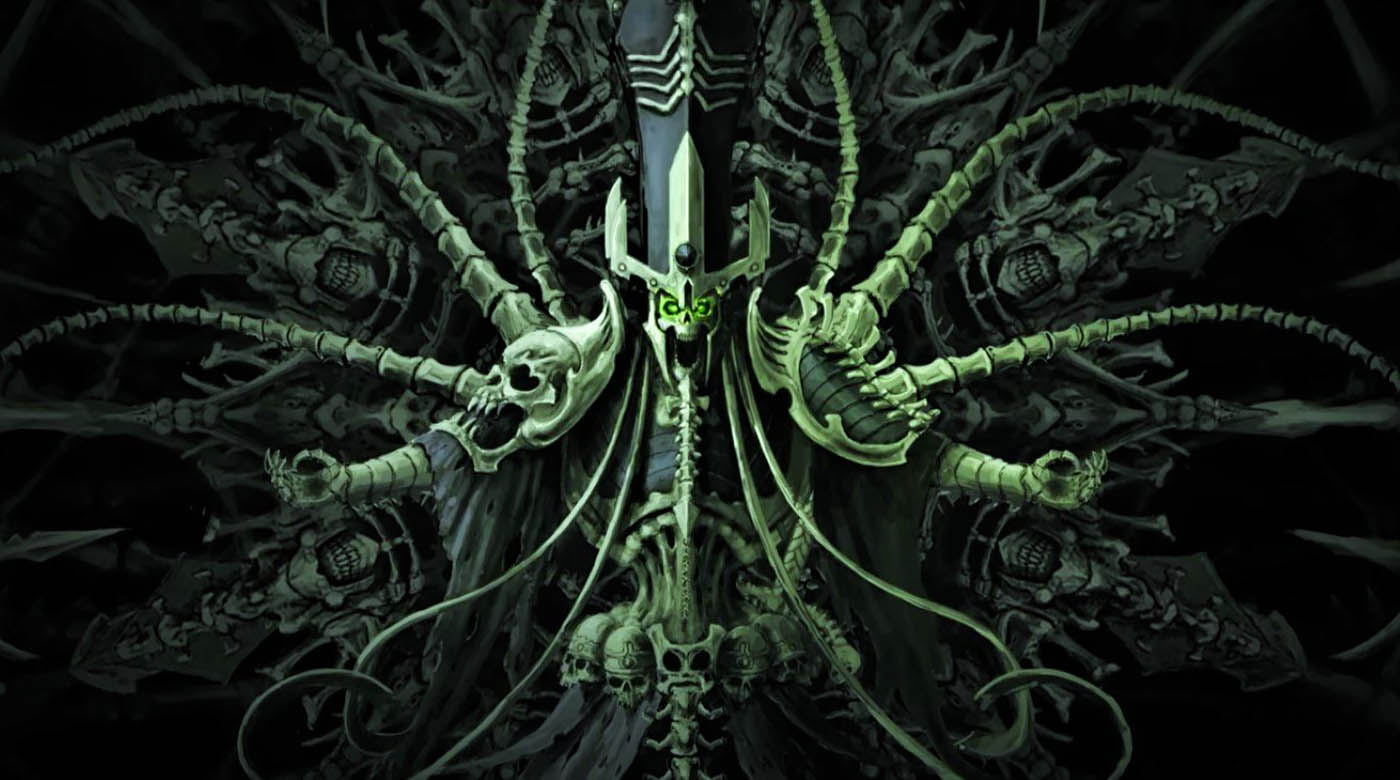 So…What's Next?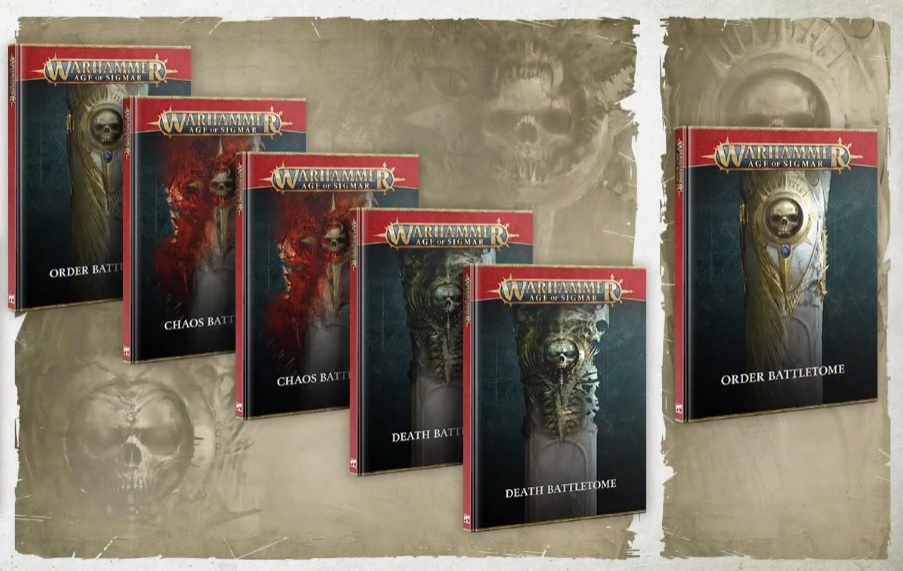 As you can see from the List above and the image we've got 6 Battletomes slated for the first half of 2023.
Spring
Order
Chaos
Chaos
Death
Death
Summer
And now that we know what's left we can now figure out what's coming — or at least make some more educated guesses. We know the Dawnbringer Crusades are probably a long way off. GW is still teasing 3D sculpts and if you compare that to the Adepta Sororitas releases, that's like a year out on that time table. So they are probably off the list — for now.
That means for Order you've got two slots and two more armies: Seraphon and Kharadron Overlords. Chaos also has two books left over at this point now that the Beasts of Chaos are spoken for. We've only got the Hedonites of Slaanesh and Blades of Khorne left.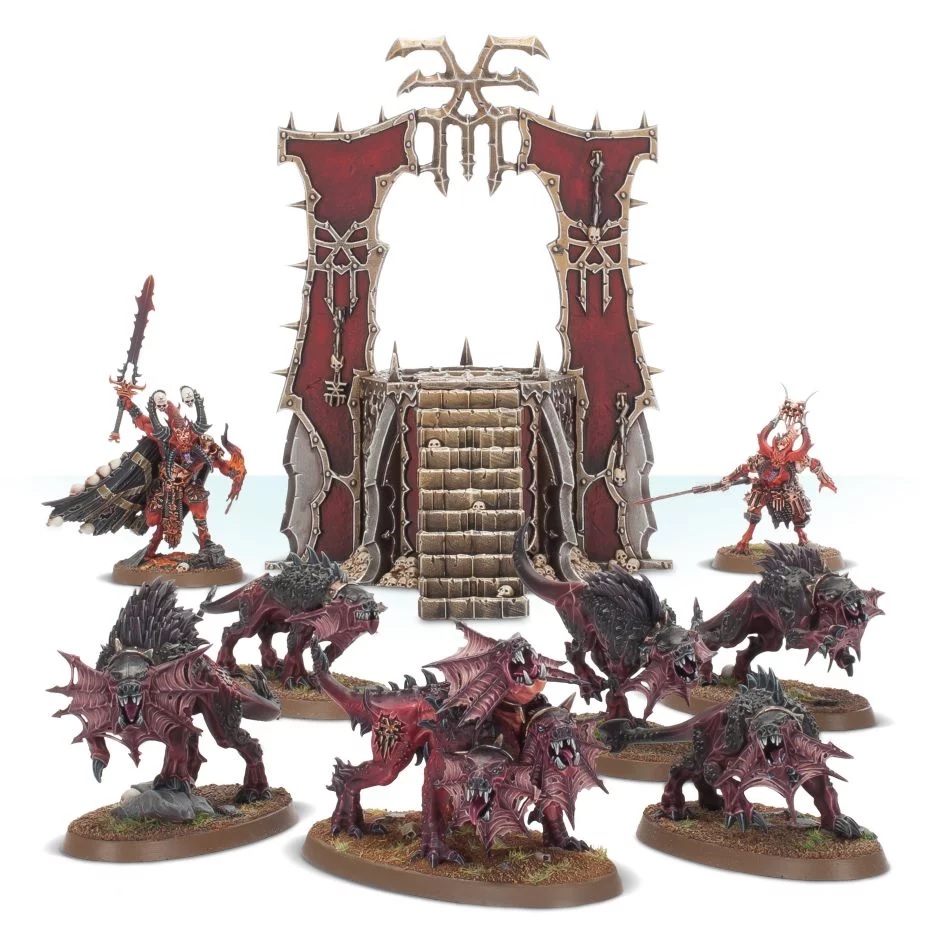 And finally Death has two slots but three armies remaining. Of the three, Soulblight Gravelords have the newest book so if we're just going based off age, that leaves the Flesh Eater Courts and Ossiarch Bonereapers. So what does the release schedule look like? We're not 100% sure but here's how we'd do it:
Spring
Order – Seraphon
Chaos – Blades of Khorne
Chaos – Hedonites of Slaanesh
Death – Ossiarch Bonereapers
Death – Flesh Eater Courts
Summer
Order – Kharadron Overlords
Honestly, I kind of wanted to see these paired off a bit and was hoping for some cool Battlebox match-ups. I guess it's still possible with this ordering but that's not my call. In the meantime, we're actually on track to see the rest of the Battletomes for AoS this year! So if nothing else that's something to be super pumped about! AoS 3.0 with a full range of books completed? Heck yes!
What order you think the Battletomes will release in?