Santa Really Slays in These Terrifying Christmas Horror Movies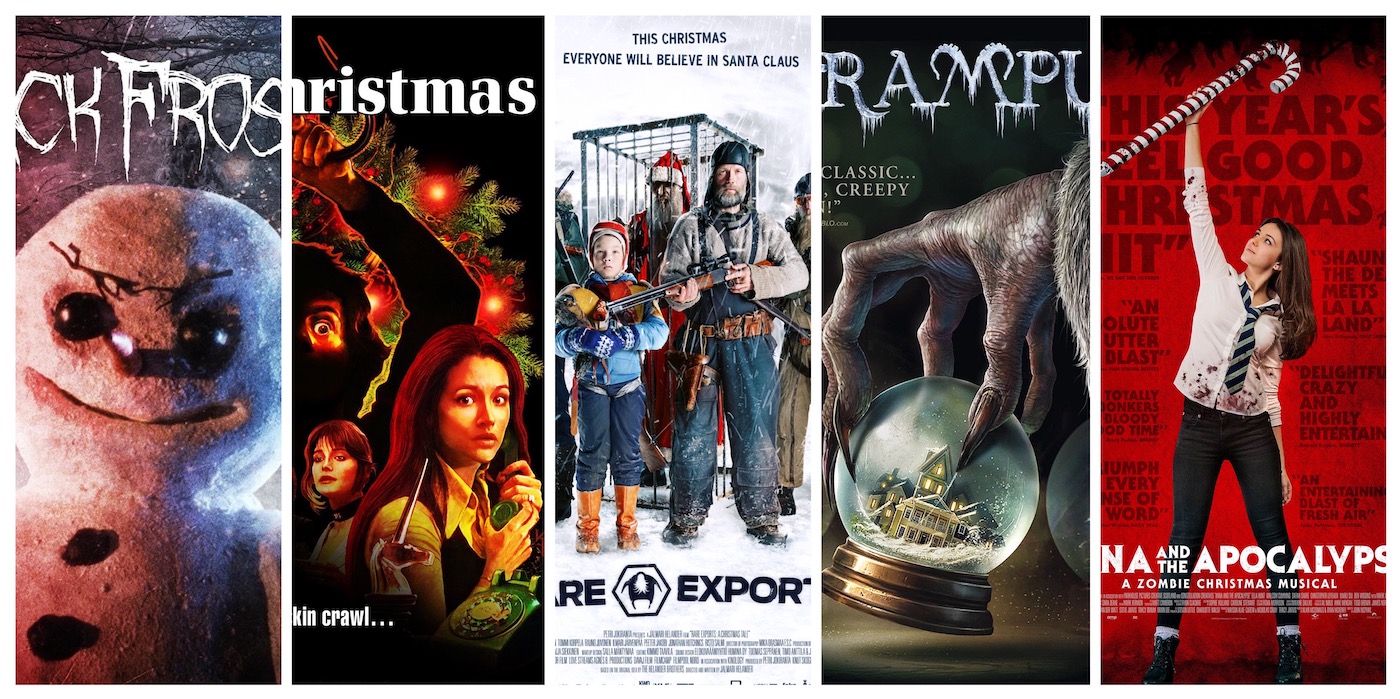 Deck the halls with screams and terror. These anti-Hallmark Christmas horror movies prove Halloween isn't the only holiday that evokes scares.
Christmas is a time to gather with family, friends, and monsters. And zombies. And serial killers. Here are ten movies you should watch this season, especially if holiday cheer isn't your thing. If you're looking for something newer, check out our list of holiday horror that's out this year and our review of Violent Night (go see it).
Jack Frost (1997)
Not the one with Michael Keaton. The other one.
"As notorious serial killer Jack Frost is being driven to his execution, the truck carrying the murderer encounters a bizarre accident that transforms him into a mutant snowman. Sheriff Sam Tiler, who caught the psychopath originally, has remained concerned about his return, and it seems that his fears were well-founded. Before long, bodies pile up, all killed in gruesome wintry ways."
Silent Night (2012)
A small town's annual Christmas festivities are the perfect hunting grounds for a vicious killer dressed as Santa Claus. Simple premise. The kills in this Christmas horror movie are plentiful and twisted. If you enjoy bad movies for the sake of them being bad, this Malcolm McDowell starring terrible terror is for you.
Red Snow (2020)
A romance novelist that specializes in tales about vampires visits Lake Tahoe over Christmas to relax and find some inspiration. And, boy, does she when she has to defend herself against some real-life bloodsuckers.
Krampus (2015)
A Christmas horror tale that knows what it is– not great. Krampus features gross special effects, creepy killer toys, and Adam Scott and Toni Collette. The monster horror is squished into a single house, leading to claustrophobic scares. Great for group watching with some boozy eggnog.
"While the holiday season represents the most magical time of year, ancient European folklore warns of Krampus, a horned beast who punishes naughty children at Christmastime. When dysfunctional family squabbling causes young Max to lose his festive spirit, it unleashes the wrath of the fearsome demon. As Krampus lays siege to the Engel home, mom, pop, sister, and brother must band together to save one another from a monstrous fate."
Better Watch Out (2017)
A horror trope wrapped in Christmas decor with a bloody Home Alone twist. It's gleeful and violent, and it has some really satisfying kills.
"Ashley travels to the suburban home of the Lerners to babysit their 12-year-old son Luke at Christmastime. She must soon defend herself and the young boy when unwelcome intruders announce their arrival."
Subscribe to our newsletter!
Get Tabletop, RPG & Pop Culture news delivered directly to your inbox.
Black Christmas (1974)
Skip the multiple remakes and go straight back to the Christmas horror classic.
"As winter break begins, a group of sorority sisters, including Jess and the often inebriated Barb, begin to receive anonymous, lascivious phone calls. Initially, Barb eggs the caller on, but stops when he responds threateningly. Soon, Barb's friend Claire goes missing from the sorority house, and a local adolescent girl is murdered, leading the girls to suspect a serial killer is on the loose. But no one realizes just how near the culprit is."
Day of the Beast (1995)
If you prefer dark and blasphemous humor, Alex de la Iglesia's wicked second feature will be up your alley. A psychic and a heavy-metal fan help a priest find the infant Antichrist in Madrid at Christmas. No, really. That's the story. It doesn't have the best effects, but it still manages to be gore-soaked and satisfying. This is not something to watch with kids around.
Anna and the Apocalypse (2017)
Warning: this is a musical first and a zombie movie second. It's an awesome one, but I know that's not everyone's thing.
"A zombie apocalypse threatens the sleepy town of Little Haven – at Christmas – forcing Anna and her friends to fight, slash and sing their way to survival, facing the undead in a desperate race to reach their loved ones. But they soon discover that no one is safe in this new world, and with civilization falling apart around them, the only people they can truly rely on are each other."
Gremlins (1984)
This is a Christmas movie. No arguing.
"A gadget salesman is looking for a special gift for his son and finds one at a store in Chinatown. The shopkeeper is reluctant to sell him the 'mogwai' but sells it to him with the warning to never expose him to bright light, water, or to feed him after midnight. All of this happens and the result is a gang of gremlins that decide to tear up the town on Christmas Eve."
Rare Exports (2010)
If you have time for only one Christmas horror yarn, this is the one. It's a treat with a great tongue-in-cheek sense of humor and an understanding of how creepy Santa is.
"A young boy named Pietari and his friend Juuso think a secret mountain drilling project near their home in northern Finland has uncovered the tomb of Santa Claus. However, this a monstrous, evil Santa, much unlike the cheery St. Nick of legend. When Pietari's father captures a feral old man  in his wolf trap, the man may hold the key to why reindeer are being slaughtered and children are disappearing."