From Ursula to Kronk: Disney Dupes – The Comedic Cosplays of MrThomasEnglish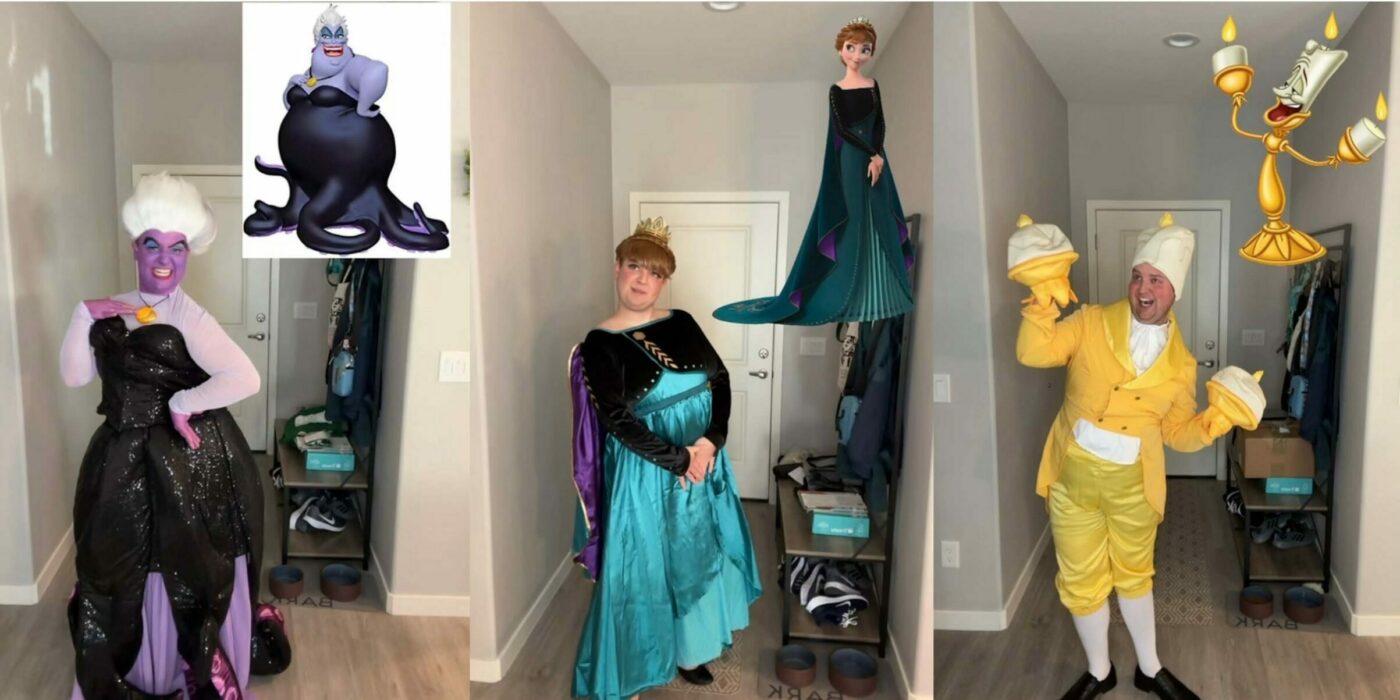 It takes a Queen to be both Villain and Princess, but this hilarious cosplayer takes the cake with their Disney Dupes.
In case you haven't hit up the internet lately, Miley Cyrus's savage breakup jam titled Flowers is trending EVERYWHERE. The video is an epic collage of comeback energy and is an excellent backdrop for TikTok/Instagram videos. To tie this into cosplay, we're featuring someone who does the most hilarious Disney Dupes videos to this song, because who doesn't wonder what a Disney Princess jams to?
 

 

View this post on Instagram

 
MrThomasEnglish is a hilarious YouTuber and internet personality known for his campy, over-the-top video content. He does a series he calls "Disney Dupes", where he tries on a wide array of store-bought costumes and parades around in them to excellent music. There's nothing more refreshing than someone who can laugh at themselves, and we're laughing right along.
We've featured many closet cosplay articles recently, and the trend is taking off. This collection of store-bought, cheesy Disney costumes is fun for everyone. There are so many hysterical videos on his channel- head over to TikTok or Instagram and check them all out!
Disney Dupes with permission by MrThomasEnglish
I've always enjoyed Disney as a whole, and have found it to be a great escape from reality whenever times get rough. As I started posting on social media back when I was teacher, I noticed that my followers really enjoyed when I would post about Disney items I found.

MrThomasEnglish
Subscribe to our newsletter!
Get Tabletop, RPG & Pop Culture news delivered directly to your inbox.
Eventually I came across a pair of Maleficent horns and shared them with my followers in a video and found such humour in dressing up as Disney characters. As I pursued content creation full time, I started to experiment more with full costumes from a range of my favourite movies, and slowly incorporated accessories and makeup to further emphasise the character I was replicating.

MrThomasEnglish
 

 

View this post on Instagram

 
I am constantly blown away by the support I get from people viewing my costume unboxings, and am just grateful that I get to share joy with so many people all over the world on a daily basis.

MrThomasEnglish
 

 

View this post on Instagram

 
~Join us next week for more Cosplay Coverage~
Have a Cosplay question you would like Mayhem's Muse to answer?
Know a Cosplayer you'd like to see featured? Send an email here!