Jinkx Monsoon is the Future of 'Doctor Who' Villainy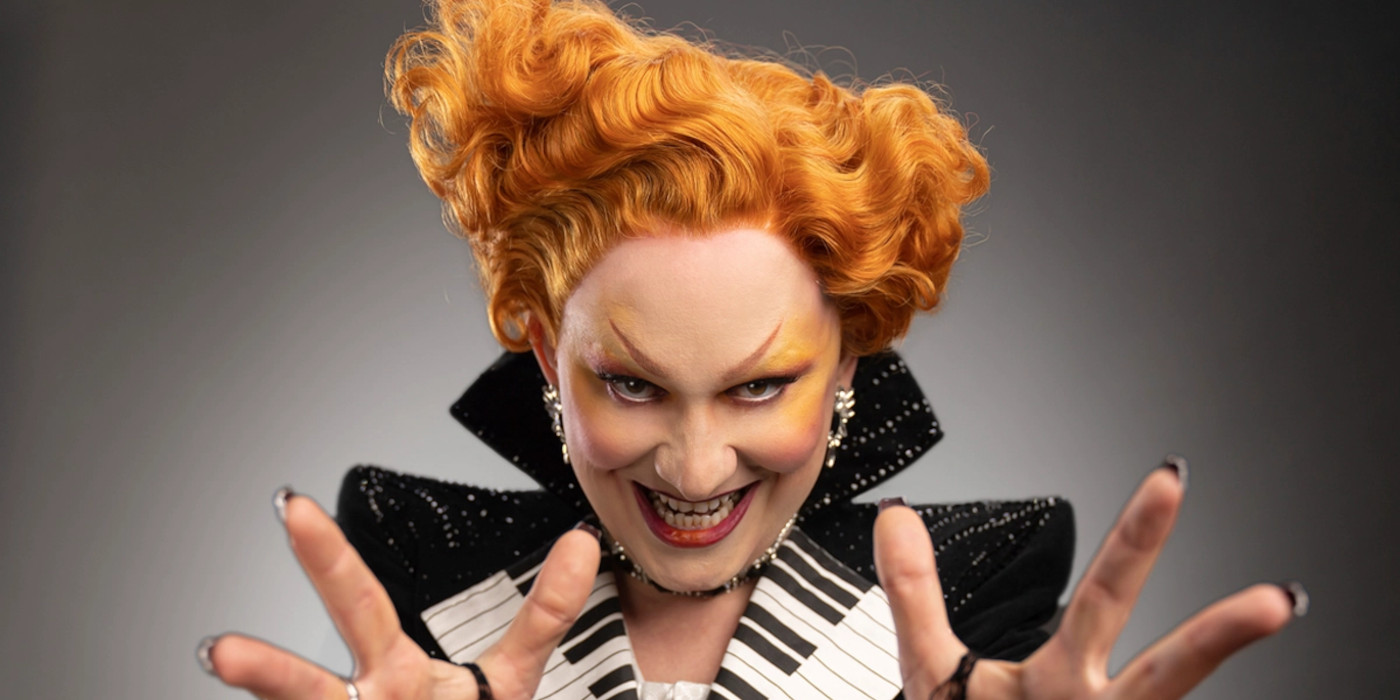 Jinkx Monsoon, the twice-crowned queen of Ru Paul's Drag Race, comes to Doctor Who in 2024. Let's talk about what a big deal that is.
Doctor Who is on the verge of a massive moment, maybe its biggest since 2005. There are so many returning faces. Russell T Davies returns as showrunner. Both David Tennant and Catherine Tate return for three specials at the end of 2023. And we've just recently learned that long-time composer Murray Gold is also back.
These familiar names are a wonderful foundation for the next, great era of Doctor Who. But the far more exciting announcements all surround the new faces joining Who for the first time. Sex Education's Ncuti Gatwa marks the first time a Black actor will play the role of the Doctor in an ongoing capacity. He's joined by Millie Gibson as the new TARDIS companion Ruby Sunday.
But what is Doctor Who without its villains? And while no doubt we'll see classic baddies like the Daleks, Cybermen, Silurians, Sontarans, and on and on in years to come, the most exciting news once again comes in the form of new faces. We've known for a while that Neil Patrick Harris is set to play the antagonist to David Tennant's new (old) Doctor.
The story we're focusing on however is the announcement that drag queen extraordinaire Jinkx Monsoon joins Doctor Who beginning in 2024 – and it seems like Jinkx may stick around for a while.
Who is Jinkx Monsoon?
Listen. Someone reading this right now has no idea who Jinkx Monsoon is. Are we going to leave that poor soul out in the cold? No! Unlike Jinkx, we're not villains!
So. Jinkx Monsoon is a drag queen. They first appeared on Ru Paul's Drag Race season 5 and described themselves as "Seattle's premier Jewish narcoleptic drag queen". And that's a good character summation, right? Kinda tells you the basics. Jinkx is a comedy queen, they have a gift for impressions, musical theater, and a little of the ol' razzle-dazzle.
And most notably, like so much DJ Khaled, all Jinkx does is win. Not only do they win that fifth season of Drag Race but they also go on to win Drag Race All-Stars season seven.
One of Jinkx's best bits on Drag Race is her impression of Judy Garland, which naturally includes singing (and hauling around an unnecessarily long microphone cord). And this translates over to actual Broadway where Jinkx Monsoon recently took on the role of Mama Morton for a sold-out eight-week run in Chicago. Also, if you're curious, Jinkx is also a nerd of some repute. They co-host I'm 40% Podcast, a Futurama podcast, with their long-time comedy partner Nick Sahoyah.
If we put all these skill sets together, it seems like Jinkx is a pretty solid candidate for Doctor Who. And you know who agrees: Russell T Davies.
When Russell Met Jinkx
"It was kind of a perfect storm, how we became friends," Monsoon explains in an interview. "I was dating my now-husband, Michael Abbott, who's a good friend of Russell's. So, our holiday show was coming through Manchester at a time that Russell was in Manchester, and my husband reached out and he came and saw the show.
"Russell said that he walked home from the show that night and decided, 'Jinkx is the person I want to have played this role'. So, he advocated for me to play this role, and it's just one of those moments where everything fell into place at the perfect time," Monsoon explains.
Subscribe to our newsletter!
Get Tabletop, RPG & Pop Culture news delivered directly to your inbox.
In an Instagram post, Davies plays up the importance of Monsoon's character on Doctor Who. "Jinkx Monsoon as… well who can that be?!  SO much fun! So much terror! And not everyone is getting out of this alive…"
The Doctor's Most Powerful Enemy
Monsoon's as-yet-unnamed character is already being described as "the Doctor's most powerful enemy". And part of why Monsoon's casting is such a big deal ties into that quote. Because there are plenty of powerful foes on Doctor Who. The Daleks are mini tanks with death rays. The Cybermen are authoritarian robot assimilationists. The Master is an evil genius capable of wiping out entire civilizations with the power of their mind.
But "power" can mean a lot of things. And there's a metatext to Monsoon's casting. In Jinkx Monsoon we have a nonbinary femme performer who is famous in ways and with audiences Doctor Who does not always touch. Back in 2005, Russell T Davies made waves by casting John Barrowman to play the omnisexual Captain Jack Harkness. One of the show's first season episodes features Jack kissing both the Doctor and Rose in the same passionate and romantic way.
And that was a big deal! Davies believes in the power of visibility. There's a reason his first major claim to fame is Queer as Folk. Jinkx Monsoon's involvement helps set a tone for the type of representation Davies wants to achieve. In a time where people are attacking trans people and Drag Story Hours in the name of "protecting children," we need Jinkx on our screens.
Who is Jinkx Playing?
This is the million-dollar question. Obviously, there's no way of knowing if Jinkx Monsoon is taking over an established role or bringing a brand-new character to life. Certainly, both the costume and the casting suggest a musical element. One thing worth mentioning – Davies did once lie and say that a hand we saw at the end of the episode "The Last of the Timelords" belonged to a Time Lady named the Rani.
If you don't know who the Rani is, she is another renegade from Gallifrey like the Doctor and the Master. However, her whole thing is that she's a brilliant but mad scientist with a total disregard for life. And in an episode called "Time and the Rani" she says the line, "Leave the girl – IT'S THE MAN I WANT!" And if you can't imagine Jinkx Monsoon saying that line, then you have some real soul-searching to do.