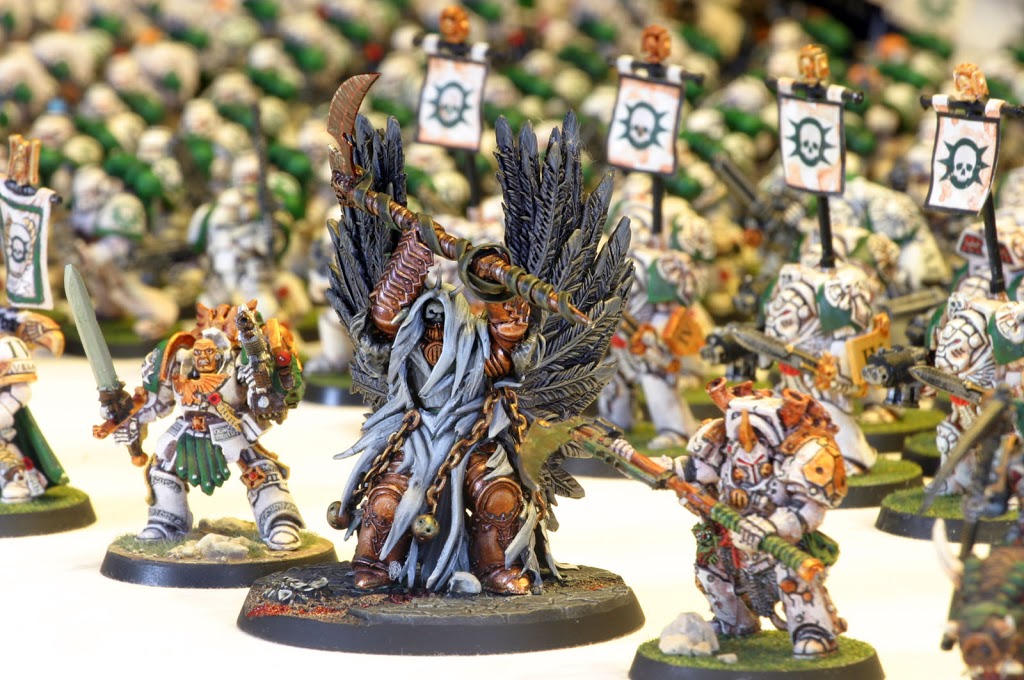 The Horus Heresy book is headed our way – and it answers the question at long last – what does a Primarch look like.
For years, dozens of homebrew rulesets have come out from Heresy groups around the world all trying to answer that vexing question. Are they only slightly more powerful than top end 40k characters like Marneus, or something more on par with scout titans? Opinions varied and with only fluff descriptions to guide us it was very much up in the air (remember the story of Vulkan defeating a titan in single combat).
But at long last lets take a look at Mortarion to get a baseline idea of that we're talking about.
We see a bunch of things here. Firstly we are dealing with models roughly 50-75% more powerful than the current top end of 40k Characters. Not too shabby.
We see wargear taken carefully from the Horus Heresy novels and extra rules to grant their supporting Legion units with fluffy special abilities. Truly a tabletop example of the Primarch strengthening his children Legionnaires by his mere presence.
In effect, we are looking at models that are powerful – VERY powerful, but also very killable. Rumors say that Primarchs will be labeled as Apocalypse only and while that is certainly fine, I have this funny feeling that with all the vortex missiles and Reaver titans running around they might be surprisingly short-lived in such an environment.
They almost appear to live in a grey area – too potent for your typical 1500-2000 point standard 40k games, and not quite up to snuff in the no-holds barred Apocalypse environment. Maybe that's what we are meant to deal with, models that will require custom tailored missions to keep them potent, but not an auto-win button. Still, a better option than where we have been for 20 years – with our Primarchs always "just over the horizon".
~ So are Primarchs of that power level too weak, too powerful, or "just right"? Using Mortarion as a model, what's your dream for your favorite Primarch?