There's been a lot of talk about theme forces lately on the forums. Let's look at one of my favorites.

As you may know from my previous articles or from my blog, I used to be a 40K player. "Fluffy" armies always had a strange appeal to me. They might not be as powerful as a spammy netlist, but they were unique and interesting. Other than personal satisfaction, though, 40K didn't offer any benefits to playing fluffy armies. Warmachine, on the other hand has these neat theme forces that reward you for taking things that fit well with a certain caster.
I've always wanted to play a theme force. Unfortunately, most theme forces are really difficult to make, or they just don't do much. Some armies have some really strong tiers (butcher + doom reavers, eVayl T4, eKreoss infantry swarm, Mortenebra with tons of jacks) or theme forces that open up some cool options (reznik with steelheads, eSkarre with a ton of Satyxis, etc). Unfortunately, I've been pretty discouraged by Skorne's tier lists.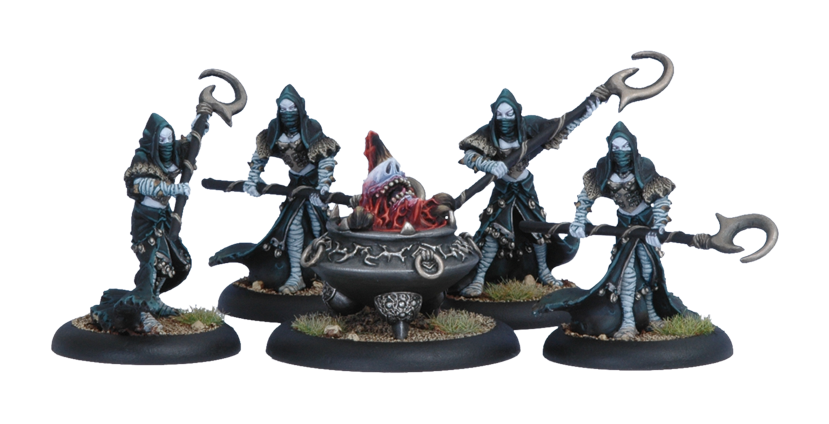 These guys are making a comeback. thanks a lot eVayl…
It's not that we don't have any good tiers, they're just hard to build. I'm not committed enough to playing tier forces that I'm going to get multiple units of karax or bloodrunners or swordsmen. I could do Rasheth, but I just don't like his sculpt. I could do Mordikaar, but I would need 2 more void spirits and 2 feralgeists, and not use paingivers. Surely there has to be a theme force I can run when I feel like playing something different, but won't require buying a ton of models that will only be played in that theme force.
My answer (along with answers to a lot of Skorne's problems) came with Domination. Probably the second best thing to come from that book was eHexeris (I pretty firmly believe that eVayl was the single best thing in Domination). Recently I started playing with his theme force, Practical Magic, and have been loving it. It's a bit of a strange theme, but it's deceptively good. Let's take a look at the requirements and my Tier 4 list.
Tier 1: contains non-character beasts; paingivers, praetorian units, venator units; agonizers, void spirits, Ancestral Guardian solos, Extoller solos. Benefit: for each Extoller in the army, one beast gets to use its animus for free for 1 turn.
Not too shabby. eHexeris doesn't mind not taking Karn or Tiberion, you still get swordsmen and paingivers and venators of either type. It even includes the agonizer. The benefit is worthless (with Fury 7, you need your beasts to be forced turn 1), but that's ok – this is only T1
Tier 2: Three or more Ancestral Guardian Solos. Benefit: Free Ancestral Guardian (non-character)
This is the big one. to get past Tier 1, you need 4 AG solos. This is probably why Tier 1 is so nonrestrictive. On the flip side, a free AG is a great deal. Take Hakaar and 3 AGs, and it's like you only spent 2 points on each AG. I'll talk more on this in a bit.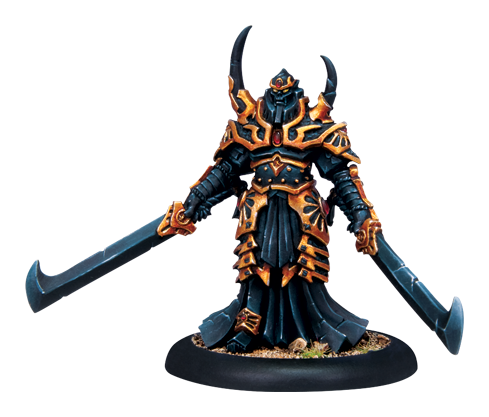 Why does this guy not get played more?
Tier 3: two or more units. Benefit: 2 extra inches on deployment
This is probably the easiest requirement in any tier force in the game. I've done T4 in a Fight Club game (2/3 of your army has to be beasts), taking a min unit of paingivers and a Skornapult. In most games you want more than that (those AGs aren't going to fuel themselves!). But really, you should have no trouble taking one infantry unit + paingivers. Bigger deployment zones are great in any theme force.
Tier 4: three or more warbeasts. Benefit: Advance Deployment on your bonded buddy.
Seriously? Yyou're going to give Skorne a benefit for bringing a measly 3 beasts with a 7 Fury caster? I don't even play with less than 3 beasts with infantry casters. The benefit is lots of fun as well. There are lots of discussions on who to bond to Hexy, almost all of them like AD. I personally like the bronzeback as an arc node. Beat back makes him really good at moving away from stuff that's trying to tie him up, or he'll just kill whatever was trying to keep him from arcing. I really like seeing my opponent's face when I tell them I'm done deploying, except for my AD bronzeback.
I've been running Tier lists off and on since Adepticon 2012 year. After Adepticon was over, I was looking at my lists and realized that I was tier 1 with eHexeris just using the list I had built for the 'con. All I had to do was drop a Canonneer and min my paingivers to add in Hakaar and 3 Ancestral Guardians. I already had everything else I needed to hit tier 4.
So far I've run Tier 4 in a 35 point tier-only event and took 3rd place with a really slimmed down version of my main list (Hakaar + AGs is tough to fit into 35 pts). I ran tier 4 with fight club restrictions for a summer rampage event (using min paingivers and a catapult as my 2 units at 50 points…). Usually I only run his tier list at 50 points. Here's the list I've been using lately: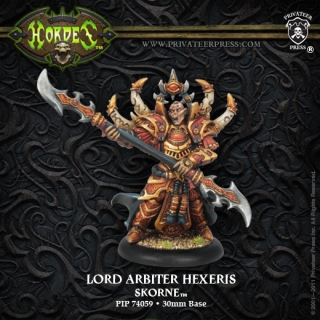 Guitar Hero Hexeris
Lord Arbiter Hexeris
* Bronzeback Titan (bonded)
* Titan Gladiator
* Cyclops Raider
* Cyclops Shaman
Agonizer
3 X Ancestral Guardians
Hakaar the Destroyer
Extoller Soulward
max paingivers
max swordsmen + ua
venator catapult crew
Depending on my other lists, I often swap out the catapult crew for Marketh. I've been running him alongside a beast-heavy pMakeda build, though, and she gets Marketh every time.
I enjoy playing the list. Iit's a bit different than my normal lists (only 2 heavies is unusual), but so far it has performed pretty well for me. eHexeris has a very strong spell list that works well with lots of different builds. This build may not the best way to play eHexeris, but it's a fun list that plays differently than most opponents expect. Only having 2 heavies is a bit misleading, as you also have 40 boxes of Arm 18 (or more in Hakaar's case) Guardians to get through. 3 defensive strikes and a righteous vengeance in the list also messes with angles and order of activation.
I started playing the theme force as a "fun" list on our Wednesday gaming nights, but I've gotten somewhat attached to the way Practical Magic plays. In the last 3 or 4 events I've brought eHexeris to, I've run the tier 4 list. I've gone about 50/50 with it, though my losses were generally close losses. The general feedback I've gotten from my opponents is that the list runs different than they expect it to. Ancestral Guardians aren't real common in skorne lists outside of Zaal, and people are often surprised by the damage output in this list. Black Spot can really get those AGs going, killing clusters of infantry easily and then using a high MAT defensive strike when they send in the next models to try to kill the guardian.
What theme forces do you use, if any? do you play tier lists for the extra benefits, or just because you want to try a theme-heavy list? what benefits do you look for when deciding if a theme force is worth using?