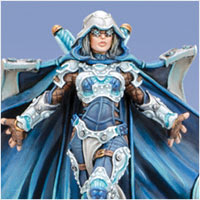 Privateer Press just released a slew of brand new minis that are on store shelves now.  Come check em out!
Victoria Haley has risen through the ranks of the Cygnaran Army to become one of the most potent arcanists in recorded history. Her mastery over the flow of time allows her to conjure echoes of herself from the past and future to fight at her side. By her unprecedented powers, Major Prime Victoria Haley bends the fabric of time and shatters the fundamental laws of reality as she outpaces and outfights the foes of Cygnar.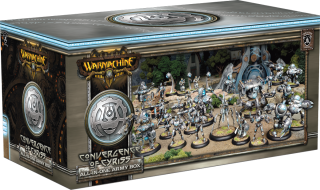 A perfect entry point for new players and an amazing value for seasoned vets looking to start a new faction, this All-in-One Army Box contains everything you need to quickly field a complete and competitive army suitable for every battlefield engagement-from casual games at home to organized leagues and tournaments. The conveniently sized rulebook containing the full core rules, along with the included strategy cards, will equip you with all you need to lead your army to victory!
This box contains a complete 35-point army with the following models:
Warcaster Father Lucant
Inverter Heavy Vector
Diffuser Light Vector
Galvanizer Light Vector
Eradicators Unit (5)
Optifex Directive Unit (3)
Reductors Unit (10)
Transverse Enumerator Unit Attachment
Enigma Foundry Solos (2)
Accretion Servitor Solos (3)

Nephilim stand apart from other warbeasts of Everblight's legion in their ability to wield weapons while maintaining all the advantages of beasts born of the dragon's blood. Their draconic strength allows nephilim bolt throwers to use artillery-style ballistae as hand-held weapons. Each bolt delivers tremendous stopping power against approaching foes before the bolt throwers carve up survivors with their heavy bow blades.

Everblight's long study of the elves has borne horrific fruit in the nephilim. Everblight selects certain pregnant Nyss to receive a special draught of his warlocks' blood. This blighted essence transforms the life growing within them into dragonspawn. Terrible hybrids of elf and spawn, nephilim soldiers possess the bestial strength and powers of dragonspawn while also being able to wield weapons as skillfully as the Nyss themselves.

The Privateer Press Extreme models embody the full-throttle attitude of WARMACHINE and HORDES cranked up another notch. These models represent the ultimate creative vision for the Iron Kingdoms' most iconic warjacks and warbeasts—taken to the extreme! Designed for the display case, these models are also legal for use in WARMACHINE and HORDES games.
This stunning model rendition of the Carnivean displays the ferocious might of Everblight's dragonspawn and will take a place of pride among your Legion forces.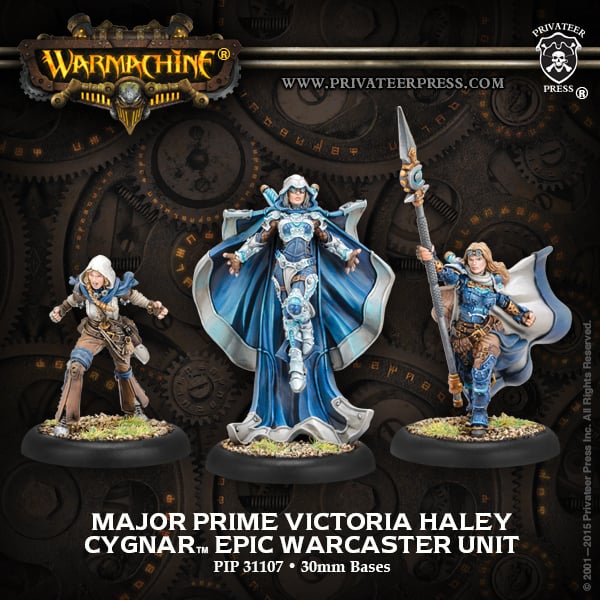 ~ That new set of three Haleys is very, very cool!